31 Silos to be set up in Punjab for increasing food grains storage capacity
Union Minister Raosaheb Patil Danve visits godown and silo of FCI at Jagraon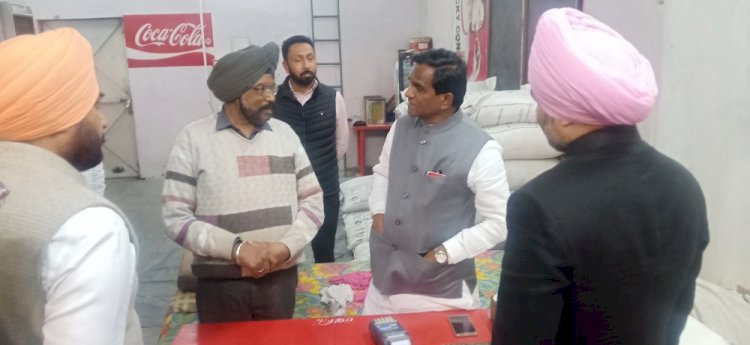 Jagraon (Ludhiana): Union Minister of State Ministry of Consumer Affairs, Food and Public Distribution Mr Raosaheb Patil Danve today said that to increase the food grains storage capacity, 31 silos would be set up in Punjab. He said that 21 sites for this purpose have already been shortlisted, whereas the remaining sites would also be finalised shortly.
    He was visiting the Food Corporation of India (FCI) godown and silo at Jagraon, today, where wheat is stored, cleaned and distributed in a systematic manner on a large scale. He was also accompanied by General Manager FCI Punjab Mr Arshdeep Singh Thind.
    During an informal interaction with media persons, here today, the Union Minister of State said that the Union government is going to implement ''One Nation One Ration Card'' scheme in the country and all states are being distributed into clusters. He said that till date, 12 states have been distributed into clusters, whereas Punjab and other states would also be distributed into clusters shortly. He assured that the beneficiaries of states would get ration on a single ration card, and it would ultimately help the people in a large way.
    He informed that earlier, he also visited the silos at Amritsar and Moga districts, where he also inquired about possibilities of setting up more silos in the state. He said that during his visit, he came to know about several problems of residents, beneficiaries as well as all stakeholders and assured that he would take up these issues with senior officials of his department in Delhi and find a suitable solution.
    Mr Raosaheb Patil Danve informed that latest technique is being used in the silos being set up in the country, through which the farmers do not have to take their produce to Mandis and can sell it there directly. He said that there is minimal use of labour in this technique, where wheat is directly lifted from the trolleys, followed by sampling and quality check through machines.
    He also visited some ration depots in Jagraon and showed satisfaction over their working.