8th All India horticulture, agri and nursery mela kicks off 
Growing hydrofonic gardens is new trend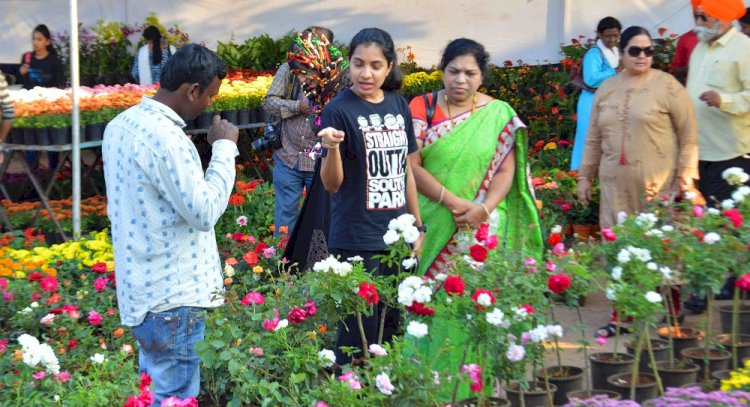 A young girl seen checking plants on display at Nursery Mela.


Hyderabad: A Five Day 8th All India Horticulture, Agriculture and Grand Nursery Mela kicked off here in the city today at People's Plaza at Necklace Road. It will continue till 27th January, 2020. It Is organised by Telangana Event Organisers.
                                                                                     
Venktram Reddy, Commissioner of Horticulture, Govt of Telangana inaugurated the Mela.
 
The highlight of the Mela include Hydrofonic Plants, Robotics Cultivation, Handmade and Designer Pots, Vertical, Rooftop, Kitchen, Home garden plants and many more.

A small stall was set up on Agricultural Robotics. These are robots deployed for agricultural purposes.
Hydrofonic Plants was new this time. Hydroponics  is a method of growing plants in a water based, nutrient rich solution.
Hydroponic Plants does not requrie soil, instead the root system is supported using an inert medium such as perlite, rockwool, clay pellets, peat moss, or vermiculite.
Some plants that work very well for hydroponic gardening, says, Dr. Satyanarayana Reddy, Infinity Green Farms, are Greens like lettuce, spinach, Swiss chard, and kale, Herbs like basil, parsley, oregano, cilantro, and Tomatoes.These are organic and natural. They don't need soil. They grow fast.  They are not prone to diseases much, they are affordable and yield very well, he informed. Growing Hydrofonic Graden is a new trend now, he shared.
 
Tray Trees, a Bonsai Studio by Dinesh Madaram was another attraction. He exhibited Hand Made Flower Pots.  Some attractive display were Vertial Bonsai, Forest with Fountain etc and others.  A handmade pot is as costly as Rs 70,000/-
 
Another stall, Home Crop promotes a concept of making terraces and balconies as the new farms. HomeCrop promotes easy to grow toxin-free vegetables at home.  Evergreen Organics which provides Kitchen Garden Services has put up stall promoting a Home as a Healthy Farm.  Leafepot exhibited some designer pots. 
 
Grow bags, Potting Soil, Bio Fertilisers, Water Plants, Grafted Cactus plants, Pure honey (unheated, unfiltered raw honey, ideal for medicinal use) were some of the other attractions.
 
The Mela has 120 stalls comprising Nurseries from Bangalore, Pune, Kalingpun, Kadium and Hyderabad, Kakinada, Faridabad, Khalid Ahamed informed.
 
A Chrysanthemum garden by Ganapathi Garden was another highlight and feast to watch. 
 
The Mela showcases different Gardening methods, Various Plant Collections from all over the country; Trends in Terrace Garden, Vertical Garden and Latest Technologies and Innovations in the Agriculture & Horticulture Industry etc.
.
The objectives of the mela, according to Khalid Ahmed is to create marketing avenues for Nurseries, to popularise different species of plant material, bring farmers and suppliers together, to provide a platform for those who are looking to set up a home garden, terrace garden, vertical garden, kitchen garden.  Also to spur interest in ornamental gardening and to spread knowledge about garden accessories, material and irrigation systems.
 
The other attractions of the show include Flower Plants, Indoor, Outdoor, Cactus, Succulent, Medicinal Plants, Bonsai and various bulbs and Seeds.  Organic Food Material, Confectionary Food Stalls are few other attractions.