Ashu holds meeting with Police and MCL Officers 
Asks them to prepare traffic management plan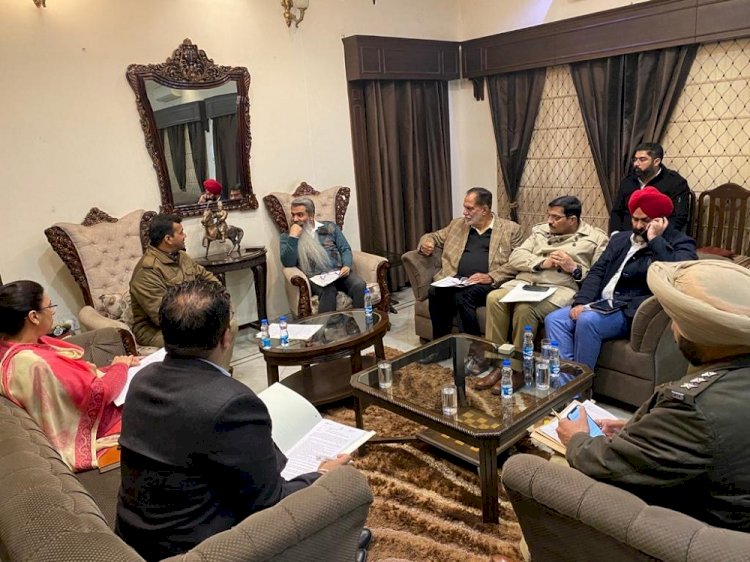 Ludhiana: In view of the ongoing development projects in the city, Cabinet Minister for Food, Civil Supplies and Consumer Affairs Punjab Mr Bharat Bhushan Ashu today held a meeting with the senior Police officers of Police Commissionerate Ludhiana as well as Municipal Corporation Ludhiana and has directed them to prepare a traffic management plan for the residents. He said that he has received several complaints of traffic congestion and traffic jam in some parts of the city, so both the police department should prepare their traffic management plan at the earliest.

Today's meeting was attended by Mayor Mr Balkar Singh Sandhu, Commissioner of Police Mr Rakesh Kumar Agrawal, MC Commissioner Mrs Kanwal Preet Kaur Brar, Deputy Commissioner of Police Mr Ashwani Kapoor, MC Councillor Mrs Mamta Ashu, traffic expert Mr Rahul Verma, besides several others.
Mr Bharat Bhushan Ashu stated that he is committed for the welfare of residents of Ludhiana. He said that we all know that under the Ludhiana Smart City project, the work on elevated road project is going on at Ferozepur Road, the work on Pakhowal Road Rail Over Bridge and two Rail Under Bridges and development of Rotary Club Road as Smart Road is to start in next few days, work on upgradation of Malhar Road as Smart Road and retrofitting of Sarabha Nagar Market is going on, besides some other development projects.
Mr Ashu stated that due to these development projects being carried out for the benefit and welfare of city residents, there have been reports of traffic congestion/jam in some parts of the city. He has asked the traffic police as well as MC Ludhiana to take this matter seriously and prepare their traffic management plan at the earliest. He said that the Tehbazaari wing of MC should also clear encroachments on the roads, where problem of traffic congestion is prevalent.
He informed that a special traffic awareness drive would be organised in the city from January 11-17, 2020, in which all NGOs, MC Councillors as well as social organisations would be roped in and the residents would be educated about traffic rules. He promised that all bottlenecks that lead to traffic congestion in the city would be cleared on priority basis.
Mr Bharat Bhushan Ashu has appealed to the city residents to assist the Punjab government during the construction of these development projects, because once they are complete, it would benefit our coming generations to a large extent. He also assured that he is monitoring the progress of these projects on daily basis and all these projects would be completed in set time frame. He also asked all the government departments to work in tandem to that Ludhiana city become free from traffic congestion.