Basra Streets- A Petro-fiction by Dr Ajay Sharma
A complete novel for the Readers of `City Air News'/Translated by Sandeep Chahal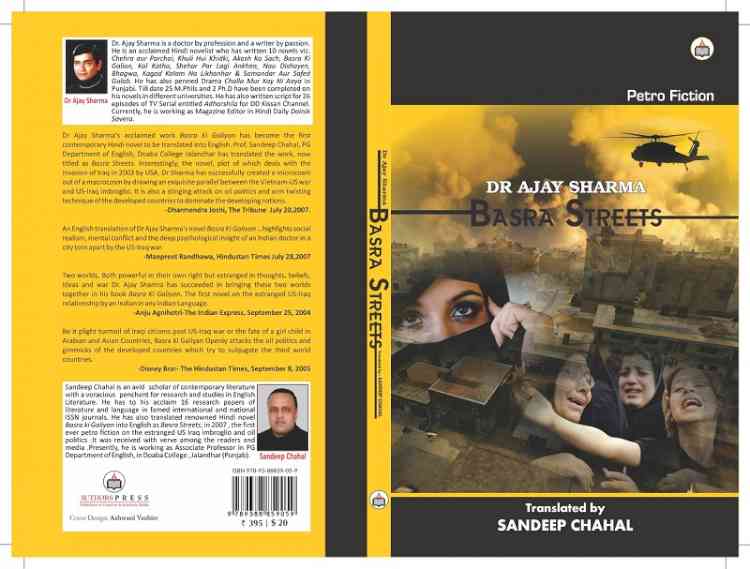 Translated by Sandeep Chahal

Acknowledgement
I express my unfathomable gratefulness to my bosom friend and acclaimed Hindi novelist, Dr Ajay Sharma, author of Hindi novel Basra Ki Galiyan, who inspired me to undertake the project and willingly shared his knowledge and rich experience to complete this endeavour. I express my heartfelt gratitude to    Sh Chander Mohan, President and Sh Alok Sondhi, General Secretary, Doaba College Managing Committee who have always encouraged me in creative ventures. I record my indebtedness to my former principals Sh Ashwani Kumar Sharma , Dr R.P Bhardwaj and current principal Dr Naresh Kumar Dhiman of Doaba College Jalandhar whose consistent encouragement goaded me to engage myself in literary pursuits. I am beholden to my mentors  Dr Sukhdev Singh, Dr Harbir Singh Manku, Dr Parminder Singh, Dr Gurupdesh Singh and Dr Yubee Gill, Department of English, Guru Nanak Dev University, Amritsar, Dr Tejinder Kaur and Dr Rajesh Sharma, Department of English, Punjabi University, Patiala,  teachers Dr Inderjit Rai Wadhawan, Dr V.K. Tiwari , Prof  B.P.S Bedi, peers Dr Anoop Kumar and Prof Sharad Manocha , Department of English,  D.A.V College Jalandhar have always been a source of encouragement to me in my literary and academic pursuits. Sincere thanks are due to Dr O.P Budholia, Dr J.P. Singh, Dr Rishi Pal Singh and Dr Sanjeev Khanna for their consistent help and valuable suggestions. I am grateful to the members of my family who bore with me and provided me moral support. I am especially thankful to my friend Dr Avinash Chander who has helped me in the fine-tuning of the manuscript. My personal thanks are due to Ashwani Vashist who has typed the manuscript so efficiently and has created a magnificent title. I am extremely thankful to Sh Sudarshan Kcherry of Authors Press, New Delhi for bringing the book expeditiously and elegantly. Last but not the least I am thankful to the Almighty Waheguru for guiding me to do this work to the best of my capacity. 
-Sandeep Chahal
Preface
Dr Ajay Sharma's magnum opus petro fiction Basra Streets is the most important literary work in the present times. Basra Streets (Basra Ki Galiyan) is a forceful novel based on the triangular struggle of war, peace and love. It highlights the social realism, mental conflict and deep psychological insight of an Indian doctor in the oriental city of Basra, Iraq torn apart by US-Iraq war. The novel effectively portrays the restlessness, helplessness and exploitation of the Iraqi citizens especially of the Iraqi war widows amidst the ugly US-Iraq imbroglio. The thematic structure of the novel traverses from romantic paraphernalia and reaches national and international dimensions. This anti-war novel depicts the civilized man's basic instinct of ruthless devastation and his inner urge of vain domination of the uncivilized and the civilizing world in the garb of a pseudo-political war. Basra Streets strikes a note of autobiographical element, robust optimism and stark realism. Dr Ajay Sharma  says:
"I went to Basra, Iraq in 1985 and even after 22 years the miserable plight and social condition of Iraqis is still fresh in my mind which has inspired me to write this novel which depicts the past and present of Iraq."
Dr Ajay Sharma takes us unknowingly to the exotic city of Basra, which is world famous for its priceless glimmering pearls. He unintentionally and spontaneously correlates these priceless jovial pearls with the painful pearly tears of Iraqi widows in the war torn towns of Iraq. The character delineation is par excellence; especially the characters of Bushra, Aliza, Julia and Indian doctor cum interpreter Akash are not only pulsating, but also down-to-earth. Dr Ajay Sharma has successfully created a microcosm out of macrocosm by drawing an exquisite parallel between the U.S-Vietnam war and U.S-Iraq imbroglio. The novel is also an open attack on oil politics and arm-twisting technique of the developed countries, which they often use to subjugate and dominate the developing countries viz Iraq, Iran, Kuwait etc. The novel is a fiery dictum against female foeticide, which is the main reason for the sudden decline in the female sex ratio in Asian and Arabian countries. The sarcastic, ironical and caustic remarks of the Iraqi citizens against the dictatorial and brutal attitude of Saddam Hussein are another highlight of the novel.
Dr Ajay Sharma has undergone a beautiful transition from medical profession to modeling in television advertisements; from modeling to acting in All India Radio dramas, from acting enthusiastically to active Journalism and finally from being in journalism to writing short stories and wonderful novels. Dr Ajay Sharma was born in a literary environment. His father late Sh. Rattan Lal Sharma was a teacher who inculcated in him habit of reading at an early age. His mother Mrs Pushpa Sharma, a retired Government School Headmistress instilled in him self-confidence which helped him to pursue his goal. It was in 1983 while Dr Ajay Sharma was doing his B.A.M.S that he penned his maiden story Tasveer that changed his life. Thereafter he brought a book of short stories entitled Lakeer De Aar Paar in 1998 , which won accolades. His maiden Hindi novel Chehra Aur Parchai (2001) depicted the cruelty of Mumbai like metropolis on the aspiring youths who run away to Mumbai to become an actor. His second novel Khuli Hui Khidki (2002) equally drew attention for the beautiful portrayal of the psychological turmoil in the life of a widow. In his third novel Akash Ka Sach (2003) , he has portrayed the world of journalism in its true colours. However, his fourth novel Basra Ki Galiyan has become a milestone and a beacon of light for the millions of subjugated people in the third world countries. 
Dr Ajay Sharma's Basra Streets marks a new beginning of new hydrocarbon genre in modern literary world. Basra Streets is a powerful petro fiction to date that focuses on the oil industry in gulf and portrays the cultural encounter between occident and orient.
Petro-fiction genre: Benedict Anderson in his seminal text on nationalism Imagined Communities, defines nations as 'imagined political communities', therefore Iraq also imagines its community 'through and with oil', it means that the communities are 'naturalized' in relation to the social, environmental and political effects of oil exploration and its production. For Iraqis, a nation is a community socially constructed, imagined by natives who perceive themselves as the part of that group. As Basra Streets is an imagined community, one imagined through oil, does not fit neatly within Anderson's paradigm but the novel's hybrid form (imagined community as protagonist) mirrors the hybrid formation of the hydro-carbon novel's imagined community. Therefore, Anderson's points are vital to understand the formation of an imagined community because of hydrocarbon capitalism instead of print-capitalism. Petro fiction refers to narratives that directly address the issues related to oil industry on one hand but also to fiction, that assumes the impact of oil industry on American culture. What makes particularly intriguing of this literary hydrocarbon genre is the indirectness with which it addresses the issue, where the oil is, who wants to have it and how they go about getting it. It relates to cultural encounters as the world is exposed to the scramble for oil by developed countries especially in the Middle East. Petro fiction studies the world literature of energy and natural resources. A work analyses the significance of oil. Our life is saturated in oil; it is the most significant resource of the modern capitalist world system. It is everywhere, especially in those places where it appears invisible, scarce, or undiscovered. It determines how and where we live, move, work and play; what we eat, wear, consume. It is heavily invested in the shaping of our political and physical landscapes. To think about oil is not solely to think about automobiles, spectacular spills, or barrel prices. Oil's universality makes it as controversial as it is ubiquitous in its apparent vitality and necessity. Modern culture is a Hydrocarbon culture, which germinates hydrocarbon genre viz Basra Streets. 
Basra Streets exhibits the ingredients of Petro-fiction as mentioned above at various levels. It is effectively portrayed through the characters of Akash, Bushra, Gulnar, Aliza, Julia, Abu Majid, Umar, Channan Singh etc. We are able to witness the different layers of meanings of hydrocarbon fiction of the countries like Iraq, Iran, India and USA. These characters undergo harrowing experiences in gulf countries against the backdrop of scramble for oil. The main protagonist Akash , Indian doctor cum interpreter has a keen desire to go abroad in search of better career prospects after completing his B.A.M.S in Punjab. Akash's three friends come back from Iraq and narrate to him the high standard of living, good salary package and exquisite lifestyle there. This motivates Akash and his friend Naresh to go to Iraq to earn money. Here we witness the nature of the migration of Punjabis to Middle East in lure to earn petrodollars. 
Oil Imperialism: Basra Streets reveals connected international patterns in literary form and thematic patterns that confirm the effectiveness of a recently reconfigured world literature as method and resource to map and critique the way in which the world's resources are unevenly produced, extracted, refined and exploited on a global local scale. It reveals vulnerable populations like in Iraq around the globe are subject to corporate and state oil imperialism. It portrays the eco-critical framework to view texts registering oil's relations with ecological crisis, war, urbanization, and campaigns for environmental justice. In tracking the development of cultural and political responses to oil production and use throughout the twentieth century, the text of Basra Streets also maintains a focus on speculative forms of future energy  and demonstrates why fiction offers a novel way to think about oil politics. Basra Streets is a forceful hydrocarbon genre based on the triangular struggle of war, peace and love. It highlights the social realism, mental conflict and deep psychological insight of an Indian doctor in the oriental city of Basra, Iraq torn apart by US-Iraq war. The novel effectively portrays the restlessness, helplessness and exploitation of the Iraqi citizens especially of the Iraqi war widows amidst the ugly US-Iraq imbroglio in the post-colonial world. The thematic structure of the novel traverses from romantic paraphernalia and reaches national and international dimensions. 
It depicts the miserable condition of young boys used as suicide bombers by Saddam Hussein's regime in the name of Jehad. The sarcastic, ironical and caustic remarks of the Iraqi citizens against the dictatorial and brutal attitude of Saddam Hussein are another highlight of the novel. Basra Streets portrays that mighty states like USA not only conquer the land but also conquer the psyche of the people that is the major factor responsible for the erosion of the spirit of nationalism like Iraq. 
Streaks of Nationalism: Basra Streets portrays that mighty states like USA not only conquer the land but also conquer the psyche of the people that is the major factor responsible for the erosion of the spirit of nationalism in developing countries like Iraq. Nationalism refers to a set of beliefs about the nation. Nationalism is not a homogenous but a heterogeneous concept. Nationalism is historically determined phenomenon based on past understanding and collective consciousness. Nationalism was also a spirit or consciousness that people developed during the colonial period when they resisted the designs of the colonizers. There are six factors which help to explain the concept of Nationalism and Nation explicitly namely geography, religion, language, history, culture and literature. Geopolitical boundaries determine a nation, divides people in terms of political divisions but it cannot divide the consciousness of the people. Religion divides, alienates and decimates but at the same time it is also a binding force and an integrating factor. Language often acts, as a powerful factor that strengthens the feeling of nationalism. Language is a medium through which people express their feelings, emotions and sentiments. Mother tongue is often used and admired where as the other language is termed as an alien language. Therefore, language can become a binding and unifying force at the same time and can divide people because of various dialects. If nationalism is liberating then it can be termed as positive nationalism and if it is oppressive then it is termed as negative nationalism. The concept of nationalism consists of two broad categories namely territorial nationalism and ethno nationalism. Territorial nationalism protects and nurtures our physical identity. Its boundaries are more physical and strength is measurable. Territorial nationalism is often need based and its loyalty is usually rational. Ethno nationalism is emotional, intuitive and psychological. Its strength cannot measured but always be felt. In contrast to nationalism, the nation is a particular kind of society. The nation is a territorial community of nativity. One is born into a nation. The significance attributed to this biological fact of the birth into the historical evolving territorial structure of the cultural community of the nation is why the nation is among a number of forms of kinship. Basra Streets depicts the concept of nation and nationalism namely territorial, cultural, ethno, positive, and negative nationalism at various levels. The glimmer of Iraqi Dinars attracts Akash and his poor parents are more than ready to send their sole son abroad, even if they have to borrow money. The sense of cultural nationalism is deep rooted in Punjabi families to such an extent that they can do anything to settle their children abroad in spite of all odds: 
 "I had often witnessed such a sight before, whenever there was need for money, the demand was instantly met …the gold ornaments of my mother were usually mortgaged." 
In addition, the sons believed in notion that money could be earned easily in a short span of time by working abroad. Thereafter, they would send the money back to their families in Punjab to uplift the standard of their living and it would  also solve their monetary problems forever. 
When Akash reaches Iraq, he has to work as a translator in a hospital at Basra. His job there is primarily to translate the conversation of the Iraqis and Asians into English to the concerned doctors and vice versa. Akash meets Bushra in a telephone exchange company situated nearby hospital. Bushra visits hospital daily in order to supply the delicacies of Basra , Khajoor biscuits. Akash develops strong affinity, fascination and later on an intimate bond of love with Bushra. One day, they decide to marry. Bushra's mother wanted the wedding ceremony as per Iraqi rituals and Islamic customs. Therefore, Bushra tells Akash that he has to undergo the traditional circumcision ceremony,  Khatna before their Nikkah, so that he is duly inducted into Iraqi community as per Islamic traditions:
"Bushra said," You will have to undergo traditional circumcision ceremony, Khatna, tomorrow morning. Then you would be formally inducted into our community as per Islamic traditions."
"I said, For God's sake at least respect our matrimonial alliance. The streak of hatred is already visible in our relationship. Do not aggravate it further by subjecting me to the cruel process of circumcision ceremony, Khatna."
"Bushra said, "Whatever we are doing is according to Iraqi rituals and customs. We cannot forsake our religious ceremonies for your sake…These rituals and customs are inseparable and integral part of our lives and remain strongly attached with us from birth until death. I said, "Is marriage a war? In addition, if at all, marriage is a war, and then you people do not know the real meaning of marriage. Marriage is a true union of two souls through physical consummation. It is indeed a bond of spiritual communion. In reality, marriage is a sweet process of discovering and rediscovering each other."
"Do not talk philosophically; this is not India but Iraq. Here, there is shortage of men. Try to understand the stark reality, in a war torn Iraq, the girls are speedily crossing their marriageable age. But in Iraq people do still believe, marriage is a war." 
Akash's identity is very shattered in the name of marriage. Bushra and her mother try to crush and devastate Akash's Ethno nationalism. Akash has to undergo the cruel and brutal ceremony of Khatna in the name of Islamic tradition. 
Akash loses his identity and individuality when he undergoes the cruel circumcision, Khatna ceremony for the sake of his survival in alien land.
Many a time Akash feels homesick as his ethno nationalism goads him to return to his roots, India:
"… I felt like going back to India, but the barren wrists of my mother often flashed across the screen of my imagination. And I thought if I went back, then the financial condition of my family would never improve. Therefore I postponed my plans to go back to India for some time." 
Many multinational companies run hospitals and other businesses in Basra. They sow the seeds of hatred amongst the workers of different countries because they often unite for their genuine demands. Therefore, the company adopts the strategy of divide and rule like the British Colonizers. 
The authorities of the multinational companies exploited not only the local Iraqis but also sowed the seeds of hatred among Indian and Pakistani workers in camp area. They were in fact worse than the British Colonizers as they not only paid the workers less wages and but also provided minimum facilities to them. When Akash finds the markets of Basra flooded with foreign goods, he realizes that these companies are there only to curb, crush and subjugate their nationalism. He at once remembers role of East India Company in India during British rule and Mahatma Gandhi's struggle against it.
"Basra's market was full of foreign goods... Iraq did not manufacture anything of its own. It was surviving only because of the strength of its vast oil production, Iraq's markets were flooded with foreign goods but later on I realized that Iraqis were leading their lives under foreign influence. Whereas in India long time back Mahatma Gandhi had launched the massive Khadi movement about discarding foreign goods under the slogan of 'Be Indian, buy Indian'. Suddenly a thought crossed my mind that Britishers had also initially arrived in India similarly in the garb of East India Company to establish their business ties but later on in the guise of trade and commerce." 
Plight of Iraq's war widows : In Basra, Akash and his friends often go to bazaar on every Jumma. There, they see hoard of hoors , posh butterflies of Basra. He comes to know that these posh women are in fact war widows of Iraq who dominate all the government offices of Iraq. Iraqi officials and most of the visitors often visited the war widows, who were pushed into to the profession of prostitution forcibly. Here,  Akash meets a beautiful hoor named Gulnar and is infatuated with her. He soon develops intimate relationship and visits her quite often. The character of Gulnar paints the miserable picture of the Iraqi war widows in a war torn Iraq. After some days, when Akash again visits Gulnar she says that due to US-Iraq war the inflow of tourists in Iraq has decreased considerably which has led to slump in flesh market.
"Slowly and steadily war widows like me were forced to compromise in these conditions and we took to prostitution. Gulnar further disclosed that war widows were forcibly sent to please high army officials, this had left them with no choice but to become an object of entertainment in this flesh market." 
However, Akash is married to Bushra yet his married life is not happy. After some time, a son is born out of their union. Soon there are rumours of the outbreak of the US Iraq war. Akash and all able-bodied males in Iraq were recruited into Iraqi Army forcibly, as per the dictates of the Saddam Hussein's regime. 
We come to know that in the war torn Iraq, there is dearth of men in army that is why Saddam Hussein's regime forcibly recruits young boys in army to take arms against USA. One-day Akash's friend Abu-Majid was sitting dejected in a corner, so Akash asked him about the reason of his dejection. Abu-Majid replied melancholically that his sole son was recruited forcibly into army: 
"I found Abu Majid was sitting dejected in a corner. So, I asked, "What is the matter dear friend?" Abu Majid replied in mixed Hindi, Arabic and English, his voice choked with emotions "My sole son is getting forcibly recruited in Iraqi army, tomorrow.
It is an unavoidable compulsion. Whenever a child fails after 10th class, he is forcibly recruited into army." 
Here, we witness the new war tactics of Saddam Hussein. Such is the shortage of men in Iraqi army that the dictatorial regime of Saddam Hussein forcibly recruits almost all able-bodied young, adult and old males into army to fight against the US army. Umar discloses the horror of war and miserable predicament of Iraqi women. 
Umar's father, a professor of language in Basra University philosophizes on the imperialistic attitude of the mighty western countries especially USA who always have an axe to grind and they subjugate and dominate the third world countries like Iraq: 
"… My father continued, Let me tell you another thing son, Generations change and races get transformed in war. So much so, clans and communities get changed. To tell you the truth though I am Iraqi but I do not know the nationality of my father…Revolt is a serious crime in Iraq. Those who revolt are considered bitter enemies of Iraq. They are instantly killed…every Iraqi child had forsaken his childhood and played with guns instead of toys at tender age." 
Umar also comments on the quest of his identity and impact of the futile war on the current and coming generations in this passage. Later on Umar acts as a savior to the protagonist Akash when he listens to his tale of woe. He feels sad when he comes to know about the cruel Khatna episode, unhappy marriage of Akash with Bushra and his miserable plight in Iraq. Umar disclosed to Akash that his mission was to kill US army general in Fidayeen attack. It is quite evident that it was not possible for the Iraqi citizens to revolt against Saddam Hussein and raise voice of dissent because he was very brutal and cruel during war. 
Saddam Hussein forcibly crushed his citizens and used them as human shields and human bombs for his own selfish ends. Still most of the Iraqis felt, it was better to be ruled by cruel dictator rather than by outside forces like USA. The nationalistic zeal of the Iraqi citizens motivated them to fight Saddam Hussein and US forces at the same time. That is why when Umar executes his suicide mission plan so perfectly that it paves a way for the liberation of Akash. 
When, Akash alias Mr. Smith lands in Basra with a team of US commandos, he comes to know that one of the commandos is a woman named Aliza. Aliza tells him that she got recruited in US army when her husband was killed in Iraq in US-Iraq war. We come to know that Aliza joined US army with a strong streak of hatred for Iraqis and with a zeal of nationalism for her country. But, slowly she also realized that USA was indulging in arm-twisting technique to subjugate lesser-developed states. This is the reason that she gets disillusioned with the war. 
"Aliza got away by saying, "I like you but you must understand since the day I have joined army, the womanly instincts have been totally subdued in me. I am now a woman minus woman. My body has become used to the intake of numerous hormones."
We are shocked to learn that the US army officers and policy makers exploits their own citizens in such a way that they become living vegetables like Aliza. Soldiers, like Aliza are used as decoys by the  US officials for their own selfish ends in the name of war. Thereafter Mr. Smith thought of a plan to get out of the war zone in Basra. He requested Aliza to help him and asked her to shoot bullets at his legs so that he could be hospitalized and finally be dispatched to India. 
Akash received medical treatment in US hospital and then he was sent to India. Akash returned to his roots and went to Haridwar to cleanse his soul and to discard the troublesome memories of Basra. His conscience finally goaded him to reach his native land, a place where he found solace. Akash's strong sense of Ethno nationalism motivates him to complete his journey from Basra to India. 
Arm-twisting technique of USA: In fact, USA had been using arm-twisting technique to subjugate Iraq and indulge in oil politics. French economist and business representatives had clearly mentioned in 1918 that the country that had total controlled on the oil wells of the world would have complete control over the world and would definitely become a super power. Even US President George Bush Senior also admitted that if the vast oil wealth of the world came under the direct control of Saddam Hussein then all the developed countries would face a grave danger. This shows the negative nationalism of USA, which poses a great threat to the territorial, and ethno nationalism of Iraq. 
"George Bush Senior often used to say, If the vast oil wealth of the world comes under the direct control of Saddam Hussein, then the lifestyle, jobs, security and sovereignty of our ally countries would be at stake forever and we would all face a grave danger.
Moreover former American Minister Lawrence Karbe's statement was also very amusing ,  he stated , If Kuwait was engaged in production of carrots then we would not have given a damn to it, but unfortunately Kuwait also produces a great deal of oil. That is why we are interested in it."
"Saddam at once retorted, Yes it is hundred percent correct. French business representative Henry Baranje , had clearly stated in 1918, that whosoever had total control on oil wells, would exercise complete control over the world. He said,  if we seize the heavy crude oil then we shall reign over seas and oceans of the world, if we seize pure hi-refined oil then we shall control the skies of the world and dominance on best quality oil shall make us lords of lands on this earth. Moreover, whatever money we get by selling oil barrels, would be enough to govern the affairs of the world easily."
This was the reason that Saddam Hussein hated US President George Bush Senior to the core and considered him as his sworn enemy. Saddam Hussein never let any opportunity to insult George Bush Senior. His personal animosity with him was also one of the reasons of the outbreak of US-Iraq war:
"Hostility between Iran and Iraq has long been a staple of regional politics. Early twentieth century added further tension that is the discovery of oil in the southern regions of the both countries most readily accessed to a large extent through Shat al Arab waterway through which both Euphrates and Tigris rivers flow into the Persian Gulf". 
The boundary of the two countries, which were relative to Shat al Arab waterway, was much in dispute between Iraq and Iran. US exploited this situation and in 1979 and used a satellite photograph taken by NASA and published it in Washington Post newspaper in which it was mentioned that this area had world's maximum oil reserves. Therefore, there was Iraq and Iran war due to this discovery. Unfortunately, Iraq and Iran fought for eight years and more than hundred thousand people were killed, mostly males. Such was the miserable plight of two countries that they got reputation of countries of war widows. USSR supplied weapons to Iran and USA to Iraq. In this way both USSR and USA managed to keep their arms and ammunition factories running in full swing. In 1988, USA asked the both countries to give oil-drilling rights to US companies, as Iran and Iraq had virtually no funds available to do so. Unfortunately, when the US companies reached his disputed border area, drilled, they found that it had minimum oil reserves. Thereafter, USA indulged in face saving exercise by publishing an apology in the same Washington Post newspaper that NASA had made an error while clicking the photograph of the disputed region.
     Basra Streets is a potent post-modern fiction of hydrocarbon genre and petro fiction category, which exposes the pseudo police officer role of developed countries like USA who try to establish their sway on the lesser-developed oil rich countries of Middle East like Iraq.
While translating a work of art from vernacular into English, the greatest fear and threat is to maintain and keep intact the spirit of the original work. I have tried to uphold and retain the original emotions, punch lines, feelings and spirit of Basra ki Galiyan in Basra Streets. I have tried to use Language in such a way to give the local colour, flavour and stylistic usage of language by the characters in the novel.
Sandeep Chahal
Associate Professor
P.G Department of English
Doaba College Jalandhar


 
Chapter 1
It was the day of my marriage. People had come to attend my marriage from different countries viz. Germany, England, Pakistan, America, Egypt, Poland, Bangladesh, Thailand and India. Though people had gathered from far and wide to attend marriage ceremony, yet I was sad and gloomy. Not even a single member of my family was present there. My kith and kin did not have any information of my marriage. I wanted to cry but could not do so. When I was in India, I had often built castles in air about the fabulous plans of marriage with my friends. "We would go in a luxury car, decorate it exquisitely and everybody would be awestruck by the grandeur of my wedding." 
However, today, on the eve of marriage in an alien land, only those persons were there who had become intimate with me just over a span of a few years. Although we did confide in each other, yet we still maintained a respectable distance.
I wanted to get married in a simple way but Bushra's mother wanted our wedding ceremony with full rituals and fanfare. Therefore, I had to wear a traditional Iraqi bridegroom dress, gifted to me by Bushra's family.
A Kaazi solemnized the marriage ceremoniously. He asked Bushra "Do you agree to this marriage, Nikaah?" I thought Bushra would readily give her consent but she kept silent for a moment and then ultimately replied in affirmative. When Kaazi asked me same question, I spontaneously said 'Yes' with soaked throat. Pearly tears trickled down my cheeks, which overshadowed the glimmer of the famous pearls of Basra. "But alas! Who can understand the agony of these beautiful pearls?"
Everybody had left for his or her home. My friends had also returned to their camps. It was for the first time that I had spent a night outside camp. It was indeed a horrible night for me. Today, my identity was shattered. They converted me from Akash to Salim , tore my passport into pieces and threw it into the fire.
Moreover, my ties with my near and dear ones also snapped forever. I very well knew, under these circumstances, I might not be able to see their faces in my life again. I felt like a fish out of water, gasping for air.
Sunlight was marching ahead to change its intensity. I was sitting in a small traditional mud cottage. Suddenly, a woman entered and conversed with me in Arabic. I understood a part of it and avoided to understand the other part intentionally. However, she continued to speak in Arabic miscellaneously. I kept silent and came out of the cottage. I had hardly covered some distance, when a small boy caught hold of my hand and tried to convey some message in a sign language. He was asking me to return home. Though I understood, his motive yet I was caught between the two fires. However, I followed the boy to the cottage.
When I reached cottage, I gave a dinar to boy and asked, "Fetch me some cigarettes, dear."
The boy sped hastily to do the errand instantly. I kept waiting for him, on a cot in verandah. I realized at times, it was so torturous to wait for someone. Bushra who tried to convince me in English and Arabic interrupted my silence. I understood what she had meant. Bushra said, "You cannot sleep with me in the same room, tonight! You will have to sleep in the adjoining room. You will have to undergo the traditional circumcision ceremony, Khatna, tomorrow morning. Then you would be formally inducted into our community as per the Islamic traditions." I did not give my viewpoint and remained silent. Whatever had taken place with me was not less than a misfortune. Therefore, I remained tongue-tied. When she repeated again, I replied, "I am a scapegoat, slaughter as per your needs." She could not understand my remarks. However, she could easily make out that I had no choice but to agree as per their whims and fancies.
It became chilly and night gathered momentum. I was alone in my room. I took tea at leisure from an Iraqi teapot, Samawar, placed on the shelf of my room. I realized, Basra's weather was similar to that of Punjab. It was scorching hot in summers and chilly cold in winters. The barren sand of the desert became cool at night and thereby increased the coolness, but during the day time sand became so heated up like a fireball that it was difficult to walk on it. I slid myself beneath the double blankets as there was no custom of taking a traditional quilt, Rajai,. However, I had a strong affinity to quilt and could not sleep without it in winters. In Punjab, I used to throw blanket aside at home, my mother often used to say, "Son, it is not that cold that you should take Rajai." I used to rebuff her spontaneously, "Mother, Rajai is cozy like a nest, please do not give me that rough blanket." I fondly remembered, my mother often sneezed repeatedly due to allergy, while taking out the quilt from a trunk,
Gone were the good old times. I covered myself with double blankets, poured warm water from Samawar, prepared tea and sipped it happily. Just then, the door opened, a small boy entered with a cigarette packet and some change in his hands,
I took cigarettes and gave him change as a tip. He hesitated initially, but I insisted, "Keep it; you have not asked for it, I am giving it to you willingly." The boy accepted the tip readily. I was lost in my world of fantasies. I had fully realized that my life was completely shattered here, "What is the use of earning these dinars? For whom I should earn these barren and icy cold dinars?"
I had developed physical intimacy with Bushra before marriage. However, I had never thought in my wildest dream that this physical consummation would devastate my identity so badly. I was surprised, Bushra had never raised such a demand before, instead she used to say, and "You are different from other men that is why I like you." 
Idle thinking motivated me to enter Bushra's room. As I got up and opened the door, I saw her cuddled in a blanket. Her mother and sister were sitting on the chairs near her cot. Seeing me, her sister vacated the chair and sat on a mat. Bushra gestured me to take seat, but my heart and mind did not allow me to sit. I spoke in English to Bushra, "I want to talk to you in privacy."
Bushra looked sideways and motioned her mother and sister to go out. Her sister at once left but her mother grumbled in native dialect Inte Mushkile – any problem!. Bushra replied instantly, Mu Mushkile – No problem. I at once understood, her mother had meant that we both could not spend night together in the same room. However, Bushra had somehow convinced her that there was nothing fishy between us and we just wanted to discuss something serious. Thereafter, her mother went out. I said, "Though you have deceived me, yet I have never complained. In spite of this game of deception, we still have become husband and wife. For God's sake at least respect our wedlock. The streak of hatred is very much visible in our relationship. Do not aggravate it further by subjecting me to the cruel process of circumcision ceremony – Khatna. It will further estrange our ties. Look at your sister's predicament?"
I had not finished yet, Bushra reacted strongly, "Don't drag others between us, this conflict is between us. Whatever we are doing, is according to Iraqi rituals and customs. We cannot forsake our religious ceremonies for your sake, and that too on such a relevant and festive occasion. These rituals and customs are inseparable and integral part of our lives and remain strongly attached with us right from birth until death. That is why we adhere to them strongly." I got enraged and furious at Bushra's silly remarks and questioned, "Is marriage a war? In addition, if at all, marriage is a war, and then you do not know the real meaning of marriage. Marriage is a true union of two souls through physical consummation. It is indeed a bond of spiritual communion. In reality, marriage is a sweet process of discovering and rediscovering each other. It is really sad that you consider marriage a war."
"Do not talk philosophically; this is not India but Iraq. Here, there is already shortage of men. Try to understand the stark reality, in a war torn Iraq, girls are speedily crossing their marriageable age. Everything has different connotations in different countries. But in Iraq people do still believe marriage is a war."
I could not hold back after listening to her bitter remarks, I replied sarcastically, "And if I consider your interpretation to be true then you have already won the war. Do not ruin my life and rob me of my identity. You have taken away my sacred thread Janeiu and have even forced me to eat beef. Heavens would not fall if I do not undergo the cruel Khatna ceremony."
I lighted a cigarette and puffed out one ringlet of smoke out of another. However, I was not that successful as I was mentally upset. I opened the bottle of wine lying nearby and gulped a Patiala Peg – without water. I felt hungry and it seemed as if some poison had entered into my body. I went to the kitchen and asked for some cooked vegetable. A woman, who was busy in the household chores, gave me stale food. I suddenly realized that I would have to eat beef in the name of cooked vegetable as per routine. I still remembered, when I had joined my duty, Dr Mona, my colleague had once said, "You are just like my brother." I had rebuffed her at once, "You eat meat of holy cow and one who eats beef cannot be my sister."
Dr Mona remained silent and said nothing. Unfortunately, I had to eat beef a number of times. Everything had become so topsy-turvy for me.
Suddenly a popular joke of Bhola Bhaji crossed my mind. He used to crack this joke to every newcomer and teetotaler in camp. He often discussed the benefits of drinking liquor relentlessly. Whenever he was dead drunk, the joke used to slip from his tongue effortlessly. Bhola Bhaji, as usual, narrated after consuming liquor, "Once, there was a Brahmin. One fine day, he was asked to eat beef and dance with some belle dancers of ill repute. The Brahmin said, "Ram! Ram! Ram! It is a great sin; I cannot do such a thing." Thereafter, he was asked to hurl abuses too. At this Brahmin said, "It is against the holy books." Then someone suggested, "Ok, consume some liquor, it is not a sin to drink and it is not against the holy books." The idea appealed to Brahmin, he clipped his nose with his fingers and gulped some liquor instantly. When the taste of his mouth became bitter, he felt hungry and he ate beef too. When he was fully intoxicated, he then danced with the belle dancers. While he was dead drunk, on his way to his home, he kicked a cow too in an abusive manner and said, "Get away you scoundrel, you are obstructing my way!" Bhola Bhaji also said jokingly, "One can accomplish great feats after consuming liquor." I had heard this joke a number of times. I refused to take liquor for the first time and thereafter nobody had asked me to do so. However, who can alter the working of fate? It was destined to happen this way. One cannot escape its repercussions. How long I could refuse. I had accepted my defeat. Suicide was the only way of mukti from this hellish torture. However, I was dead against it as it was an act of cowardice. Therefore, I decided to fight against all the odds undauntedly. 
Therefore, I swallowed beef and left aside all tensions. Everybody clapped as I ate beef. Hatred in my mind increased multifold with the increase of the intensity of clapping. The seeds of hatred grew in my heart forever. It began to germinate inside my body and I was full of contempt for all of them. 
 
Chapter 2
Night passed slowly but it seemed as if time had come to standstill. Bushra had informed me previous night about the baptizing cum khatna ceremony which was to take place the next morning. I wanted to oppose it strongly but somehow I could not do so. Bushra said unconcernedly, "The baptizing ceremony will be held in the morning – to convert you into Muslim."
I replied in rage, "What else are you going to do? The worse has already taken place. You have even changed my name." Bushra's mother shouted, "Anyone cannot be roped into our community by a mere change of name. He is addressed as a Kafir , that is why circumcision ceremony – Khatna is very important for us. You will also have to undergo today!"
"What do you mean?" I said. Bushra elaborated, "It means, the circumcision ceremony – Khatna which is usually carried out in our community in the boy's childhood, will be performed at the time of our marriage. A grand feast will follow it. We will celebrate this event for a few days in our own traditional way." said Bushra's mother. 
I was stunned and felt as if my body had become numb and lifeless.
 
Chapter 3
People gathered on the day of the baptizing ceremony. I tried to convince them, "If you are bent upon performing the Khatna, then at least take me to a hospital." They rebuffed, "No, it is against our traditions, everything will be done at home in a traditional way."
They shut me with a man, armed with a crude weapon in a room. I felt, as if a scapegoat mercilessly slaughtered at the hands of an inhuman butcher. He ordered me to strip. I abided by his instructions and fully surrendered before his sweet will. He pulled the foreskin of my vital organ, recited some scriptures and severed the foreskin brutally in a flash of a second with his crude knife. I uttered a shriek and the blood gushed out. He hurriedly applied some local ointment on the wound and bandaged it with a piece of cloth. I was conscious but I became senseless soon. However, my mind still raced in such a pitiable condition. For a moment, I felt as if I was relieved of inhuman torture. He placed the piece of foreskin on a plate, opened the door and went out. People applauded, clapped and sang folksongs. My pain mingled in the noise of their folksongs and festivities.
It was an alien land and a sense of being an alien, further deepened in me. Today, my heart and mind filled with hatred. I tucked these emotions in my heart secretly. There was a great risk to my life every moment. However, unfortunately I was all alone and could do nothing. I thought, surgery was a surgery, even if it was minor and it should have been conducted hygienically in a hospital. I still vividly remembered, whenever I said to my mother lovingly, "I am having headache." Then mother used to scold me spontaneously, "Aj kal diyan mundian nu tan shaukineeyan ne patt liya hai." These days fashion has spoiled the young generation "Sir te tel tan lana nahi, sir na dukhu tan ki hou." Boys do not prefer to massage their scalp with oil these days that is why it leads to frequent headaches. 
Mother often-entered kitchen and cursed my negligence. She used to warm Desi Ghee and then massaged my scalp with it at night.
I often complained, "Ma tun kyon mere sir vich tel la dini hai? Kayi kayi din sir chon Bo nahi jandi." , Mother, Why do you massage my scalp with Desi Ghee. My head stinks whole week. Mother used to say instantly, "Hai Hai lohdeya aa gaya hai." Stupid boy thinks Desi Ghee to be a mere stink! I used to remain silent, listened to views of my mother patiently, as I had no answer to her traditional logic. Even, when at times, I had severe fever; mother always sat beside my bedside and spent sleepless nights nurturing me. She used to monitor my body temperature by touching my forehead with her palm. She could easily guess whether fever had increased, remained stable or had subsided. 
I often said funnily, "Mother, give me blessings so that I may become a doctor. I would also not keep any thermometer in my clinic." Mother scolded softly, "Hun jiyada Galan na kar, nai tan bukhar fer chad jauga. Hun utarda piya hai. Dekh kina pasina aa gaya hai." Do not talk now; otherwise, fever would increase, though it has subsided now. See you are perspiring profusely."
However, if today my mother came to know of my miserable condition in Iraq, then she would definitely be disturbed.
My eyes welled with tears at this thought. Tears trickled down my cheeks and ran down my neck thereby giving a soothing sensation. I at once touched my cheeks to wipe them off as if nothing had happened. I was terrified, so, I went to the other side of the room, lighted a cigarette and puffed out ringlets of smoke.
Chapter 4
Initially,  I had no acquaintance with Bushra as she did not work in my department. I worked as a translator in a hospital, whereas she worked in a Telephone Exchange. Whenever I was free, I went to the Telephone Exchange and often chatted with her. One of my friends Dominique D'souza was In charge of this Telephone Exchange. I had no prior intimacy with him. When I had boarded flight from Mumbai, he was just a co-passenger. He was a resident of Mumbai and was very fluent in English. I was impressed by his fluency, and we had become good friends. Our offices were located nearby. He was quite experienced and had worked earlier in gulf countries. There was only one problem, whenever I wanted to talk to him; I had to walk down to the telephone exchange as he could not afford to leave his cabin during duty hours. But it did not matter much. Whenever I went there to meet him, we usually conversed in English. Although I used to speak in English with natives and doctors in the hospital, yet Dominique's accent and style was very impressive. He was very fluent, whereas I lacked fluency.
Whenever I went to meet Dominique, Bushra was also there. Sometimes Bushra used to bring the delicacies of Basra the Khajoor biscuits, usually made from Khajurs – date palm fruit. I found those biscuits very delicious. Initially we used to talk less, but slowly and steadily, we became intimate friends. I often demanded those delicious biscuits. Sometimes we often used to snatch biscuits from each other playfully. Such small naughty incidents had developed a special bond of friendship between us. However, we had never crossed our limits.
Bushra once shared her grief, "I have a widow sister who lives with us. Her husband was killed in Iraq-Iran war." She often talked about her mother, "My mother is also very lonely after the death of my father. She is garrulous and likes to criticize me in front of others."
I said smilingly, "Oh! Is that so ?" I did not understand Arabic completely, so she spoke whatever she felt. I had observed that her mother always behaved in a strange way. Whenever I visited their house, I found her saying useless things to Bushra and her widow sister. I could not understand the reason but Bushra's art of conversation impressed me. She was Masters in History and it had definitely polished her personality. She often discussed with me some of the finest and rarest facts of history of Iraq in such a beautiful manner that I was myself amazed to know about it. Bushra used to narrate some of the rare facts about Basra so effortlessly that at times I felt as if those events had actually taken place in front of my eyes.
One day she disclosed, "Although the civilisation of Iraq is responsible for the birth of Algebra, yet it did not discover zero. May be this is the reason that Iraq has time and again suffered defeat at the hands of various invaders." I had learnt to speak a bit of Arabic from Bushra. Bushra did not like to wear traditional Burqa temperamentally but on occasions, she wore it. I visited her home frequently. Her mother was a traditional woman, who wore Burqa regularly. At times, I felt the scorching heat of the summers when I saw her clad in Burqa. The Burqa was of a heavy synthetic material and was often jet-black in colour. Anyone would have perspired on seeing such a heavy and super warm stuff in such a hot weather.
She always used to serve Khajur biscuits along with traditional tea Kahwa. I often went to their place during lunchtime but Bushra forbade her mother to serve me anything. She very well knew that I was a pure vegetarian, whereas they always cooked non-vegetarian food at home.
There were many such little things and Bushra had left a deep impression on my mind. Gradually I became so intimate with her that our affair had become a hot topic of discussion in the camp. My friends often advised me to remain aloof from a native girl in an alien land but I was least bothered. I also realized that I was indeed a hard nut to crack.

 
Chapter 5
Many days had passed after the Khatna episode. I wondered, whether this event was a festive occasion or an unfortunate incident in my life. I daily dressed my wound myself. As medicine was not available from the medical stores without a proper prescription, so, I used to procure some medicines and ointment through my sources at hospital as and when my friends came to meet me to know about my wellbeing. Whenever I felt acute pain I took a pain killer tablet. A local native had advised me to avoid medicines because it was considered a routine matter. But I had experienced an unbearable torture and pain in enduring this painful ordeal. I was bed-ridden for some days and healing process started slowly. I often felt a creepy sensation while walking. Whenever the severed portion of flesh rubbed against the fabric of pant, it inflicted an unbearable pain. Sometimes, I checked it secretly in bathroom, but it turned out to be a mere doubt. Many a time, I felt as if it was a be-hooded organ.
When everything was normal, I also became habitual to that peculiar frictional painful sensation. I often ventilated my frustration through tears in front of my friends. Strange were the ways of fortune, I had spent my entire savings on this ugly episode.
One day, our Haryanvi boss came to camp. He was resident of Ambala. He said spontaneously, "Akash, we are sad at your miserable plight but unfortunately we cannot share your misery. But I have often heard, if a man is able to find some good moments in adverse circumstances then hard times will pass away soon."
"How can I forget sir?. Can, this misery be easily forgotten? My condition is similar to that of a camel that carries the load of its miseries at its back in a vast desert." My eyes welled with tears and I sobbed incessantly.
Bushra shouted when she saw me crying, "There is no need to mourn on the auspicious occasion of the celebration of the Khatna ceremony." I realized I had no right to shed tears in an alien land. As if it was a crime to share grief here. Camp boss took leave of me when he saw Bushra in anger. In addition, I mentally prepared myself, to gird up my loins to face these adverse circumstances.
As the camp boss left, I was lost in the quagmire of memories. I cursed the moment when I had decided to come to Iraq. However, during those days, I was adamant to go abroad. Naresh and I were dying to mint money. We were classmates. I had joined B.A.M.S. after the completion of my pre-medical studies, whereas Naresh had joined engineering stream.
Our three friends had already visited Iraq and had often narrated the standard of living and wonderful lifestyle there. This had motivated us to go abroad. During those days, terrorism was at its peak in Punjab. We had deposited our passports in the office of the concerned agent. During those curfew days, one day, while we were playing a popular game of cards Seep, mother rushed into the room and said, "Postman has brought a telegram." Telegram in those days never meant happy but sad news. Therefore, I also muttered the word "Telegram" under tension and followed my restless mother. When I reached home, I found that the postman was waiting for me. I enquired at once, "From where has this telegram come."
The postman did not speak anything and pushed a piece of paper towards me along with a pen and said, "Put your signatures here and then read the whereabouts of this telegram along with its contents." The postman moved ahead, ringing the bell of his bicycle. The telegram read, "Reach Mumbai to board flight." I was happy. Mother also asked curiously, when she saw me happy, "Son is everything alright?" "Yes, everything is fine." I replied. I said softly, "Mother it has been sent by my agent, he has informed me to reach Mumbai immediately to board flight to Iraq."
A smile spread across the face of my mother at this happy news. Soon the lines of tension were also visible on her face, as she very well knew that money had to be arranged soon, for making the necessary payment to the agent. We all knew that no one would lend us money during tense curfew days. People had become deeply concerned in dealing with money matters as they felt in bad times money was of greater help than a piece of land. I also felt that the telegram had brought happiness and misery hand-in-hand. Just then, I decided that I should enquire from Naresh whether he had also received a similar telegram.
Though there was curfew outside, yet there was no element of fear in the lanes of our locality. Naresh's house was located between the second and the third lane. In a few moments, I reached there. He was already standing outside his house. I came to know he too had received a similar telegram and was planning to meet me to share good news. We were very happy and went into his room to discuss our plans. 
There was a lot of discussion at home on our future likelihood of going to Iraq. In the end, we decided to make the most of this excellent opportunity and planned to make adequate arrangement of funds well in time. In those days, agents used to charge Rs. 9000 approximately for arranging visa for Iraq. An additional amount of Rs. 2000-3000 was charged to complete the formalities of papers etc. at Mumbai. Medical tests were done, thereafter. If there was any discrepancy in the medical report then they used to re-conduct the medical examination by administering the requisite medicines. In such circumstances, additional arrangement of funds always proved to be helpful and handy. We knew all about it, as our common friends who had undergone such an experience already informed us.
We knew well that the spent money could be earned back easily within a span of one to two months by doing hard work in Iraq.
Thereafter we reached my residence, and discussed with my parents about our plan. My father said, "When there will be relaxation in curfew, then I shall go to a known money lender. In past, he has often helped me in difficult times. Let us see what help he offers this time."
While saying so, my father looked at the wrists of my mother covered with gold bangles. I at once understood that money could be  arranged by giving them to a moneylender. I had often witnessed such a sight before. Whenever there was an urgent need for money in house, then the demand was instantly met, by mortgaging mother's gold ornaments. Earlier when I was kid, I could not understand anything when I saw wrists and the earlobes of my mother bereft of bangles and earrings. However, as I grew up I gradually began to understand everything.
I asked my younger brother to make tea. Next day, curfew was relaxed for four hours. Father went to the house of moneylender. Naresh and I met the agent at his office. When we reached there, we came to know that we had to deposit Rs. 9000 each. I had to work as a translator in Iraqi hospital. There my job would be to translate the conversation of Asians into English to the concerned doctors and vice-versa, whereas Naresh was supposed to work in the electricity department of a company. Our salaries were fixed 120 dinars per week and we were also entitled for overtime allowance. When I objected to my meager salary the agent convinced me, "Reach Iraq first, the probation period would be merely of three months, after the confirmation, the salary would increase multifold." Our agent assured us, "In case of any difficulty I am there to help you. So, board the train and reach Mumbai at once in a day or two." 
At last, we boarded the train. After completing the initial formalities at Mumbai, we finally reached Iraq. I was deeply moved by seeing the heartrending spectacle. The whole atmosphere surcharged with the sound of bullets during day and the relentless shelling of the cannons at night. At times, it seemed as if the whole sky was littered with black serpent of dense polluted smoke. The sky resumed its original colour only after sometime. When we saw different complexion of the sky and we felt as if caught in the whirlpool of life and death. Many a time, I felt like going back to India. However, the wrists of my mother without gold bangles flashed across the screen of my imagination. I thought if I went back, then the financial condition of my family would never improve. Therefore, I postponed my plans to go back to India for some time. Initially I had planned to go back after earning a handsome amount of money. However, the glitter of the dinars had forced me to stay back in Iraq.
Just in a matter a few months, we had become habitual of the Iraq-Iran war and the routine futile shelling. Our camp was safe in spite of this continuous war. Although there used to be shelling daily, yet there was no harm caused to our camp. Not even a single employee of our company was killed. However, the Iraqi people were badly affected by the Iraq-Iran war. Many people in camp used to say that they had seen this futile war for quite a couple of years, "They are fools, they fight relentlessly and die brutally, but it is none of our concern? Saddam has gone mad. One thing is very clear, though Iraq is a small state in comparison to Iran, yet it has certainly proved to be a nuisance to Iran." This useless war had led to shortage of men in Iraq. We often used to go to the market and witness shelling there. At times, we had to stay there in a safe place for some time. When we returned to camp, we used to narrate the scenes of shelling humorously to our camp mates.
Similar was the condition of our fellow mates. It seemed they had also become habitual of this warlike condition. The noise of shelling often subdued under the glitter of cold dinars with the passage of time and the people posed to be indifferent to this continuing shelling. I realized if I had gone back to India during those initial days then it would have been less torturous for me. I felt tense by thinking at these wavering of mind. Suddenly, my last conversation with Abu Majid crossed my mind. That day I was busy at work in the hospital. When I was a bit free, I found Abu Majid sitting sad in a corner. I went to him and inquired about his wellbeing. However, he kept silent. I still asked him to tell me the reason for his deadening silence. Yet again, he kept mum. When I strongly insisted, he lifted up his head and I was shocked to find his cheeks covered with tears. I was curious to know the reason of his tension. Therefore, I asked, "What is the matter dear friend?" Abu Majid replied in mixed Hindi, Arabic and English, his voice choked with emotions "My sole son is getting forcibly recruited tomorrow in Iraqi army,"
I asked, "What is the need to get tense at this, If you do not want to send him to army, then simply refuse it" At this, Abu Majid answered tearfully, "It is a compulsion here, which cannot be avoided. Whenever a child fails after 10th class, he is forcibly recruited into Iraqi army. If parents refuse to comply with their orders, then they are considered as traitors and are punished severely." When I asked him to explain the reason for such an inhuman treatment, he said, "The population of Iraq is quite less. At least one member from every household has laid down his life for Iraq in this Iraq-Iran war. This has led to a strange situation and there is acute shortage of males in Iraq. If you visit most of the houses, helpless and hapless widows with their small children who would never ever come to know when their fathers had left them to join war would greet you. Every family is suffering from the pangs of war, which has in fact taken shape of a sore wound. It has been indeed a long futile war."
Abu Majid shared his woe and heaved a cold sigh of relief. He continued after some time "If war continues for a long time, I do not know what will be the fate of Iraq? May be, it is in the destiny of Iraq to get devastated time and again in such wars."
He was also unhappy with Saddam. He even hurled an abuse at Saddam. Abu Majid's woe troubled me. He continued frankly, "Iraq is facing a double war an external and internal war at the same time. Saddam at times could be heard convincing local populace by his powerful speeches, "Enemy cannot succeed in its motives, do not be afraid. Iraq's glorious history stands by you. Victory shall be ours and justice will definitely prevail. We love our native land and can even lay down our lives to defend our motherland. It is the responsibility of every Iraqi citizen to safeguard the ideals, interests and integrity of Iraq."
I had read often in newspapers and had seen in television that Saddam used to dish out such punching dialogues only to motivate Iraqis. However, I often thought, "How many more will perish in this never ending war." It was quite strange; Saddam often loved to motivate Iraqi citizens to sacrifice their lives for their homeland, whereas as the first citizen of the country Saddam had disguised himself by creating his numerous clones and lived in palatial bombproof palaces and bunkers. Ironically, he preferred to lecture others to take arms against enemies. My mind raced speedily to the lonely and isolated streets of Basra and its exquisite bazaars, where houses had become graveyards, with the passage of time.
When I had initially arrived here, I had seen many king size portraits of Saddam Hussein fixed in the hospital. I felt strange when I saw such life size portraits. One day I asked Abu Majid, "What is the matter, why have you fixed portraits of Saddam everywhere? Why can't you remove them, it looks so odd? After all he is not God that his portraits have to be fixed everywhere." At this, Abu Majid had said hastily, "Inte. Mushkilee... Aada Nafar God." he also uttered many other things. All in all , I had fully understood the meaning. Abu Majid had meant clearly that Saddam was their bread giver and their demi-god. The removal of portraits of Saddam would mean that they would land themselves in deep trouble. Whosoever defied his orders was given death punishment instantly. My head got heavier and I tried to go to sleep.
 
Chapter 6
I was supposed to join duty after a gap of many days but I could not join it due to khatna. But Bushra joined duty after some days of our marriage. One fine morning after taking bath, I got ready for my job. Bushra had already left for office. I was still waiting for cab. I had already intimated Dr Mona yesterday about my intention of joining duty. I had asked her to send a cab for me. Therefore I waited earnestly for hospital cab which used to transport the hospital staff as per daily routine. Earlier the cab used to transport Iraqi hospital staff only. But as I was residing in camp, so, it was my maiden experience to travel by hospital cab from Basra to hospital. Time and again I looked at my wrist watch. Bushra's mother said, "Sit down son, and don't be anxious, when the cab arrives, then go out, it won't come earlier if you keep glancing at the watch."
I just showed indifference to her piece of advice and still kept glancing at my wristwatch intentionally, as I felt pleasure by troubling her. Bushra's mother continued, "You now belong to this country, it would be better if you learn the customs and traditions of Iraq."
I looked at her with intense hatred and, she went to kitchen. Just then, the cab arrived. I at once rushed outside the house and stood beside it. Chanan Singh embraced me affectionately. He was silent. I enquired, "Sardarji, How are you?"
"All is well by the grace of Waheguruji." said Chanan Singh. The cab soon headed towards the main road. I had to join duty after many days. Suddenly a thought crossed my mind, when we had arrived in Iraq, were allotted residential cabins along with identity badges. We were supposed to wear identity badges properly on our shirts and then move about in the premises of our company and at a market place. We had to face a strange problem on our arrival; All Indian and Pakistani engineers of our batch were required to clean the windowpanes at the airport terminal. Naresh was dejected when he returned to his cabin that night. When I asked him the reason of his dejection, he refused to share. Just then Abdul, who had also come from Pakistan, said, "It is just a trivial matter my dear. Yesterday a group of Indo-Pak youngsters arrived here and given big dusting papers. White men taunted and teased them by saying, "Sprinkle a little water on the windowpanes and then rub it nicely with a piece of paper. Everybody shall do his duty properly. If anyone is found gossiping then he would be sent back to his native country immediately." This threat used to loom large upon our heads like a sword.
Naresh got enraged when Abdul disclosed this and said, "I cannot work here under such humiliating circumstances. It is insulting for an educated person like me to clean the window panes of the airport terminal with a piece of paper publicly." A retired driver from army who used to drive a big lorry heard our conversation said, "You should have thought about this earlier before coming here. Now when you have landed here, and then do not worry. When you are already on the dance floor then why do you hesitate to face the music? Moreover, whatever you may try to do, after all you would be getting dinars for a work equal to an engineer. Therefore, it hardly matters! What kind of work you do?"
However, Naresh did not agree, he said frankly, "At least I cannot work here in this manner by killing my conscience." Rakesh who was sitting nearby said, "Oh! Do not worry, he is a new scapegoat, and is just afraid of being butchered. When he will live here then he will be coloured in the local colour. I have been living for five years in Basra and I have found that after living here for a month when one gets a computerized salary slip; one is always overwhelmed by the glitter of dinars."
I had seen many people who had joined here on a meager salary of ninety dinars. Experienced people often advised, "Just learn to flatter the white men, everything will be alright. Moreover, you shall get immense relief when you will receive a letter from your family intimating that your family has received money well in time. It would be followed with a piece of advice, work hard whole-heartedly; everything will be fine, when the debt shall be paid in three months. There will be no worries after that."
Many years had passed; but I could not understand one thing, people were earning a hell lot of money here, their families in India were happy, yet there were still some disputes related with money matters in their households. Some of them used to write, "My brother and sister-in-law have grabbed my entire money. When I shall go back during vacations, then I shall open a new bank account there. Yet another letter mentioned that they have bought a new scooter and have invested the remaining amount in the repair of house and have thus, spent the entire amount." Ironically, the boys employed here were empty-handed which irritated them a lot? When they would return home after five years, then what would they do? They enjoyed every comfort and facility here in Iraq, but they would get nothing without money in India.
Some old men narrated their experiences about how they had spent their entire lives abroad viz. Iraq, Dubai and Bahrain etc. They openly admitted that in spite of spending all their lives in alien lands; they just could not save enough money. Moreover, they could not reconcile their mind to do some petty job when they returned to India. In addition, even if they agreed to do some menial job there, they were not able to make their both ends meet. Whereas, if one had some kind of work abroad, then one's kith and kin also got an opportunity of better living conditions. They not only had the cake but they ate it too, by earning themselves and saving enough money at the same time. One day Rakesh also narrated his woe. He had arrived in Iraq about four and a half years ago. He had worked for two years in one company and for two and a half years in another company. Now, only six months were left, so he would have to leave, as no one was allowed to stay in Iraq for more than five years as per norms. Whenever he discussed this issue with his parents they said, "We could not save much money all these years. But we still have some money to get you married, whenever you come back to India." I said, "Why six months, you should work for some more time and earn some money." However, Rakesh said at once, "You cannot live in Iraq for more than five years. After the completion of five years, you have to leave Iraq at once." In this way, I also came to know about the law of five years stay term in Iraq.
Yash worked in a water treatment plant. However, he had worked for many years in Dubai, yet was empty handed. He used to curse his brothers quite often after consuming liquor. When his parents got him married, he was almost jobless that is why he had come to Iraq in search of work. His wife missed him in India and he too missed his family terribly. Once Yash said emotionally, "I had to leave my wife on the fifth day of my marriage. "Whenever her letter comes, she asks me to come back to India and live happily." However, I do very well know, we cannot fulfil our basic needs in India. Moreover life is tense there, families unnecessarily quarrel over trivial money matters. At least there is one satisfaction here; there would be no dearth of money. After all, I have learned from my own experience during these years. "Problems created by lack of money can only be solved by earning more money." People also used to say, "There was a famous local saying here, money begets money and problems begets problem." This meant money was the germinator as well as the key to rid all sorts of problems.
Different people expressed different opinions. However, at times I had realized, as if I had found a new world order here. Everyone was alive and kicking; they worked hard day and night but were living without his family. I had never dreamt of such harsh working conditions, while I was in India.
However, I had sincerely realized today, I had left one family in India and another at camp. I heaved a cold sigh of relief and looked outside the windowpane, the date palm trees were racing hand in hand with the vehicle.
Chapter 7
When I reached hospital I took my seat, and did not meet anyone. Whereas earlier I used to meet everybody but today I did not want to meet anyone. Just then, the telephone rang and I picked up the receiver. Dr Mona was on line, "Hello Akash, how are you?" I said softly, "Fine, thanks." Patients arrived and I took out their files and started writing down their names systematically. I took one patient to Dr Mona in her cabin. I told her that the patient was suffering from loose motions. Dr Mona gave him some medicines and advised him to take certain precautions. I also counseled the patient, "Do not take spicy food, and if possible take liquid and plain soup." This suggestion was also given by Dr Mona to all patients because we all used to get spicy food in our mess. Dr Mona had a firm belief that too much of spices were root cause of acidity and all stomach ailments.
When I had joined my duty on the first day, Dr Mona had fully apprised me of my routine work by saying, "Write the name of a patient on a chit, note the detail in a register and finally bring the patient to me along with his registration card." Initially I could not understand for some days the mode of working as some white men used to speak out terms Sorbe and D.V. Dr Mona told me that it was a vast project, therefore the company had leased out its franchise to many small companies like Sorbe and D.V. Every company had a separate almirah with drawers along with their company's name written on it.
"You will understand everything slowly." said Dr Mona. It happened accordingly and I began to understand everything with the passage of time. Whenever any patient spoke of a company's name, I used to open the almirah to take out its card. They gave me a welcome party on the first day and introduced me to everybody. There were two doctors in the hospital, one German, Dr James and other Egyptian, Dr Mona. There were also two Indian sweepers, three Iraqi dispensers, two ambulance drivers, one Iraqi and other Indian; both were deputed on respective duties by rotation method in morning and night shifts. However, Dr Mona and I were free from this rotation shift method. My duty hours were from 6 am to 6 pm, it included 8 hours of regular duty and 4 hours of overtime sometimes. I had to be on duty even on the day of Jumma but was duly paid overtime allowance. Salary and overtime allowance amounted to 10,000 to 12,000 dinars. It was the norm of the company, in which 80 percent of the emoluments earned by the person used to go directly to the payee's account and one had to spend the remaining 20 percent amount in Iraq; out of which 10 percent could be sent to home after one year. All the employees were entitled to twenty annual leaves. After service of two years, we were entitled for forty leaves along with back and forth fare expenses by the company. If anyone wished to avail, a holiday after one year he was entitled to take twenty leaves but then he had to buy his own ticket.
While the patients used to come early in the morning and the doctors arrived at 8 am. I used to prepare registration cards of patients in advance and took them to the concerned doctor as per daily routine. If anyone required medical leave, then he had to get it duly sanctioned from a doctor in advance, because many people used to apply for medical leave by offering lame excuses. As I had to discuss the entire matter of the patients with the concerned doctor myself so, I was on good terms with most of them. Many patients came with common ailments like stomachache, toothache and seasonal ailment. Sometimes patients also brought a chit mentioning their ailment and requested to meet Dr Mona instead of a German doctor. In such conditions, I used to take those chits and often felt amused after reading the exquisite useless details of their ailments. Some of them I remembered vividly, like one patient had once mentioned, "I am suffering from the problem of night fall for many years. I have consulted many Hakims – quacks and taken many medicines in Pakistan. However, I still experience nightfall 4 to 5 times a week. It is deteriorating my health day by day. I do feel that it is due to my wrongdoings of my childhood days when I use to masturbate. Though the nasty habit still continues yet I am terribly troubled by this problem."
When I glanced at the patient after going through his chit, I found him quite normal and well built; with no signs of weakness visible in him. Therefore, I asked him to sit beside me and he read his problem written in Urdu. When the concerned patient read his problem, I at once noted it down in Hindi. Thereafter I went to Dr Mona's cabin and read it out in English. While listening she said, "He is some crazy crank fellow, let him come in." I went out and brought him in; discussed his problem again with Dr. Mona. She gave him some medicines and asked him to leave. Many such crazy patients used to come there just to have a glimpse of Dr Mona with such lame excuses and fictitious ailments which included Asians, White men etc. Dr Mona was indeed very gorgeous. She was six feet tall and always clad in skirt and top. It seemed as if a fairy had descended on earth. Her extraordinary beauty smote everybody. It was under this heat of passion that our camp's General Manager Stodalik had once declared his love openly for Dr Mona whole-heartedly. One day General Manager Stodalik caught hold of Dr Mona's hand and confessed, "I love you." Enraged at this silly incident, Dr Mona slapped General Stodalik flat across his face. It was interesting to note that a company's woman doctor slapped a General Manager of company, who commanded tremendous respect from all, befittingly. General Manager Stodalik felt terribly insulted and wanted to avenge his insult. Thereafter, he deputed one or other officer, viz. In charge of Transport Section Killion or Departmental Store's In charge, Klien to duly monitor her time of arrival and departure daily. Even the German doctor kept full track of her movement in the hospital. Whenever she used to be ten minutes late, the German doctor immediately rang up the General Manager to lodge a complaint against her. When it had happened twice, Dr Mona started arriving at five minutes earlier and departing five minutes late. Still Dr Mona and German doctor had an intense argument on this issue. They adopted many new tactics to trouble Dr Mona. One day, she received orders to leave for Egypt, with prior notice of one month's salary, as per the rules of the company. Whenever, any employee was dismissed, he was duly given one month's salary along with a ticket fare. Dr Mona was terribly upset at this incident. To add fuel to the fire, the General Manager had ordered to cut off the water connection of her house. Dr Mona was in deep trouble due to this unwarranted action. She went to meet Iraqi High Army official in the camp; he was a close aide of Saddam Hussein. She discussed her problem in detail with him in Arabic. What happened after that nobody knew? Thereafter everything restored back to normal. The concerned High Iraqi Army Official used to come frequently in the hospital to meet Dr Mona. Sometimes she also went to meet him at his home. Dr Mona also said the same thing, according to the norms, the company could fire any one anytime but it was illegal and unlawful to discontinue the mandatory facilities like basic water connection to the employees. Therefore, one could take refuge in court. Therefore, Dr Mona filed a court case against the general and company. As a result, the water connection restored next day. She leveled certain charges against the Company's General Manager Stodalik in court. In the process, one-month salary notice was set aside; and Dr Mona resumed her duty as per schedule once again. As she was an Arabian, so she could easily put her point of view in Arabic very easily in the court and leveled many charges against white men.
Therefore, in a few days the judgement came in favour of Dr Mona. It mentioned that she could work in hospital for full five-year term. Stodalik got one-month jail sentence or multi thousand-dinar fine for outraging the modesty of Dr Mona. After this, the company cleared entire balance of Stodalik and   transferred him to some distant place. A new General Manager arrived thereafter and he stopped Dr Mona's overtime with immediate effect. He always tried to find fault with Dr. Mona's work but she was always vigilant. Just in a matter of a few days, Dr. Mona had become an apple of discord among the whites. In the meanwhile, Dr. Mona had developed intimate relationship with some influential Iraqis and whites. Now Dr Mona also started freaking out in the parties and meeting many influential people. Chanan Singh had already told me about this, I also very well understood this situation as the white doctor also felt extremely jealous of Dr Mona. All the heads of various department issued directions to their subordinates to write in card, the name of the German doctor for medical consultation instead of Dr Mona just to torture her mentally.
Now there used to be a great rush with the German doctor and Dr Mona used to sit almost idle. Only those patients came to Dr Mona who really wanted to have a glimpse of her.
One day I asked casually, "Don't you feel bad by seeing the less number of patients?" She said smilingly, "Not now, because I have become habitual of this ill treatment and I have consoled myself on this issue. After all, I shall get same salary for diligent work and similar for sitting idle. It is fine with me if the company wants to pay me without work. Why should I worry then? I just need salary after one month. And nobody can dare to stop it, so I am happy." said Dr Mona.
Although Dr Mona had said that she was happy, yet her face reflected sadness rather than emotions of happiness. Now few patients came to seek her medical opinion.
Suddenly when I heard someone calling company's name Sorbe my silence was broken. I found a woman was standing in front of me with a child, so I took out her file in the Sorbe almirah.
Patients came throughout the day, and showed sympathy. However, I did not speak more than yes! Or no!. In between, I took a few patients to the German doctor. Even the German doctor sympathized with me, as he very well knew that I had good equation with Dr Mona that he did not like at all. He had said, "It doesn't matter, a person should remain happy where ever and in whatever circumstances he or she lives in. Now see us, we have also left our native land to work here. Money is such an important thing. In addition, what more you need! You have got both the girl and the money." I did not give any response to his taunting remarks. There was only Channan Singh who very well understood my predicament.
 
Chapter 8
It was almost evening time. Abu Majid and Abu Ahmed loaded water tanks into their ambulance, which indicated it was time to depart for work. A hi-tech Water Treatment Plant was installed there, which housed treated drinking water. Abu Majid and Abu Ahmed used to carry drinking water from this place to their homes. It seemed as if a cart was placed before a horse, because as per routine I used to leave for my camp from hospital, but today we were heading for Basra, which had also become my second home. Ambulance roared its siren loudly. I did not feel like going there, that is why I had refused to accompany Channan Singh initially, "You kindly drop them there, and then I shall accompany you back to camp."
Channan Singh arrived in a short while and I went to the cabin along with him. I was lost in deep thought and it  made me tense. Channan Singh's cabin was similar to other cabins. Though I was allotted officer's cabin, right from the day one, yet I was not feeling at home. Manu Bhai used to go to other cabins to play the game of cards, but I did not know why I hated it. Some of my acquaintances resided in C-5 cabin and I often used to go to their cabins during evening time. They used to cook vegetables and pulses as per their own recipes, and their cabins were full of aroma of their specially cooked recipes. I found a strange tradition there; the Punjabis had set up their own small colonies in the form of cluster cabins. Similarly, the Keralites, the Rajasthanis and the Gujaratis had also set up their own cluster cabins according to their own native states. Such was the height of segregation, that even a Punjab based cluster colony comprised of people from Jalandhar, Hoshiarpur, Kapurthala and adjoining areas of Punjab.
Gradually, I had developed intimacy with the dwellers of C-5 Cabins, as they all belonged to the adjoining areas of Jalandhar and worked there as plumbers. Most of them were fifth standard pass, but all were sweet natured. Some of them used to come to me to take some medicines. When, I asked one of them, "You belong to which place?" They said instantly, "Jalandhar." I felt as if they were my very own kith and kin. Therefore, I asked curiously, "From which area in Jalandhar?" they tried to describe in detail the demography of their residential area in Jalandhar but I was not able to get it, may be that area was located far off from the main city. Thereafter, I visited their cabins quite often. A guy named Gurnam also lived in these cabins; he used to work in the water treatment plant. A retired ex-serviceman from Phagwara also lived there, he was a bus driver in the company, and his job was to bring the fresh arrivals from the airport to the company's camp. He loved to play chess. I often got an opportunity to play chess with him. One day while I was about to come back after my duty hours, telephone rang up. When I picked up the receiver, Bhola Bhaji spoke in sense tone, "ex-serviceman has been put in jail." 
"He has been put in jail, why and what for?" I asked inquisitively. 
"It is a long story, but for the time being you reach the jail premises to inquire his well-being.," said Bhola Bhaji. 
"But I do not have any vehicle" I said. 
"Do not worry, I shall bring my white boss' vehicle, then we shall go there together." said Bhola Bhaji.
A vehicle arrived in a few minutes and we raced towards the jail. When we reached jail, Bhola Bhaji disclosed, "Ex-serviceman was driving his bus in great haste. It ran over a person on the way, and he died on the spot. Thereafter, ex-serviceman straightaway rushed to camp from the scene of accident and parked his bus. Some of fellow drivers were standing there, along with some of local Iraqis. Ex-serviceman was terribly upset and could not hide such an unfortunate incident, so he narrated the entire story of that unfortunate accident to them. The Iraqi drivers listened sympathetically to his tale of woe but then telephoned secretly to the Police station. The police was already in search of culprit; policemen came, arrested and put him in jail." 
We often went to jail to give food to ex-serviceman but we found him dejected and lonely. Whenever I met him there, he often said, "It seems now my entire life will be spent in jail." 
But I often consoled and sympathized with him. 
At last, the medical report disclosed that the dead man had consumed liquor. Despite this fact, the family of the ex-serviceman had to pay thousands of dinars as the compensation money to the bereaved family to buy his freedom. When he came out of jail, he was a  meager skeleton.
The Indo-Pak members of camp had also voluntarily contributed their one-day salary and the company filled the rest of the imposed fine. The ex-serviceman had made up his mind to go back to India after this unfortunate mishap. I also advised him once, "Please do not go back." However, he said, "No Doctor Sahib. It is not possible for me to stay back now; the prison bars have broken my inner spirit. And even if I decide to stay back now then I would not be able to go back ever."
"Why do you think like that?" I said. He replied, "I am so afraid from within that I feel I would not be able to drive bus properly. In addition, if ever, I drive a bus, I may run it over someone else. I have a wife and small children who are very dependent on me. They would die of starvation. I have been saved this time by God's grace; now I do not have the moral courage to stay back."
Days passed, Ex-serviceman settled his accounts with the company and finally got freedom.
However, I am slave here for entire life and there is no scope of my freedom. I said to Channan Singh anxiously, "I do not want to stay here, please drop me soon at Basra."
I saw, Channan Singh had made a peg for himself, he said, "Let us take a peg each and then move." Thereafter, we consumed some pegs and Channan Singh dropped me at Basra in semi-conscious and drunken state. 
 
Chapter 9
It was my routine, to arrive well in time for duty in morning and consume liquor after departure. I used to carry filled water tanks to home as Bushra's mother had ordered me one day, "Why don't you bring drinking water home in water tanks like others?"
Today, while I was busy in my work, Bhola Bhaji came in his wagon and said, "We have to go to Basra, and shall be back by evening." I got serious and said, "It is not in my fate to come back from there."
Bhola Bhaji realised his mistake, as he had not expected such a curt reply from me. A few patients arrived in a meanwhile and I said, "We shall go after seeing them."
It was a strange game of fate. Earlier we used to come back to camp after going to Basra. However, today I had decided that I would not return to camp if I went to Basra. The vehicle gathered momentum in a few moments. Our company was at a distance of ten kilometers from the main bazaar; and we used to reach the premises of company via Amara and Samara. The Strawberry Company spread in the vast sprawling campus, which extended in miles. It was easy to reach head office in transport vehicle of company, whereas in a taxi, one had to mention Jadid Matar to airport, and the taxi-driver used to understand instantly that we were workers of Strawberry Company. We often used to travel by taxi in groups of 4-5 people, as it was cheaper and often-reached head office together well in time. Many a time we used to stand on the roadside and waited for taxi. Taxi-drivers used to ask, "Sharike Japan! Sharike England! Sharike Germany!" which implied, do you want to go to a Japanese company etc.? Many multinational companies had established their offices in Basra and it had created employment opportunities for local people.
Many foreigners roamed in the streets of Basra along with Indians. Many Indian films usually screened in local cinema halls of Basra along with a few Pakistani, Chinese, Iraqi and English films. However, quite a few of the cinema halls closed due to Iraq-Iran war; but still some of them were in good shape and condition.
Taxi often dropped us to camp. It comprised initially small Egyptian and Philipino camps, leading to a large Pakistani camp and then at the distance of about 700-800 meters there was a big Indian camp. These camps housed various cabins for workers. There were about ten wooden cabins in one row, each having lower and upper berths similar to the wagons of a railway train. The cabins were named A-1 to A-12 in single row, similarly another category was named B-1 to B-12 which often ended up to X. There were well-equipped toilets around all cabins fitted with 24-hour water supply. There were three places with adequate tap arrangements for taking bath etc. There were cabins for officer located nearby, made of wooden material, and fully equipped with AC, refrigerator and other basic amenities. I was also given a similar cabin right from day one and I shared it with a Gujrati fellow Manu Bhai. He had instructed me to shut off AC along with fan, if I felt cold, and use blanket as and when needed. AC was altogether a new thing for me at that time; so I was a bit afraid of it. I still remembered vividly that Manu Bhai once said, "Use AC minimum in winters, though it has an inbuilt thermostat and auto-cut facility, yet shut it down before you go to bed. It had once caught fire due to short circuit, a few days back, just before your arrival. Occupants rushed out of their cabins and watched their cabins burnt to ashes. A few days before this mishap,  a dweller named Joginder Singh's entire belongings were burnt to ashes. He was supposed to leave for India on vacation but had to cancel his plans owing to this unforeseen accident."
Joginder Singh said, "If I go to India without money, members of my family would not even welcome me."
Initially one or two such mishaps took place and people donated their one day salary to them, but some people raised strong objections to this and the practice of donation one day salary was stopped immediately. Actually things were done here as per the whims and fancies of the officers. I listened to his conversation attentively and realized that he had lectured unnecessarily to me, so I asked satirically, "Does anyone use AC during winters?"
It seemed that he had fully understood my taunting remarks and he quipped, "Well heavens won't fall down if you use AC during winters."
I retorted, "It would intensify cold, stupid."
He said smiling, "AC means air conditioner which is capable of adjusting itself the air i.e. cool in summer and warm in winters." I felt embarrassed at this revelation, as I had believed all these years that AC was equipment, which gave only cool air.
Manu Bhai had further informed that there were two types of messes here, one for the ordinary workers and the other for the officers. It was one's own choice to decide to take meals in any one of them. Initially, I went to ordinary mess but I soon shifted to special mess. Though,  the same type and quality of food was served in both the messes, except for one difference, one had to wash one's utensils in ordinary mess whereas one could just wash hands and walk away in special mess. Cabin dwellers normally carried eatables viz vegetables and pulses to their rooms, and most of them had also kept heaters in their cabins to warm food as per their requirement. Vegetarian and non-vegetarian food was also served at lunch as per the routine in mess. Thereafter, wine used to flow freely, which often added glitter to the dinner. Tea was also available throughout the day. Parantha with butter or jam was usually served during breakfast. The company's transport used to supply tea three times along with lunch to workers who worked at different sites.
Manu Bhai informed, "Now we do not get anything special from company. Earlier we used to get fruits, juice and dry fruits in breakfast. Workers often stuffed their pockets with them and even carried it to their sites. However, unfortunately it stopped due to conflict between Indian and Pakistani workers. Thereafter they imposed many restrictions. In fact, our own men were responsible for the imposition of these restrictions. They had poisoned the ears of white bosses who declared, "Workers should not be given the special treatment; it would save thousands of dinars." In this way white men employed some of our men as their informers and all the facilities were withdrawn which led to the hike in the salary of such self-centered informers."
I also became curious about the Indo-Pak segregation in residential colony of our camp after listening to Manu Bhai's conversation, so I inquired, "What do you mean by Indo-Pak segregation?"
Manu Bhai said, "When we had arrived here afresh, there was only one camp and Indo-Pak mess. Everybody was happy and there was no problem at all. Workers often united in a fraction of second on small issues, which irritated the bosses. Therefore, they segregated Indo-Pak workers by adopting the policy of divide and rule. They took help of the local hoodlums and anti-social elements and succeeded in their motive.
My curiosity increased further and I asked, "How did they do it?"
Manu Bhai said, "One day they cooked beef along with chicken and served to all. Everybody ate but did not come to know about it. However, when they returned to their cabins, news spread like a wild fire that Pakistanis had cooked beef with chicken and got it served intentionally in lunch to Indians. People got enraged at this incident and took out their weapons. Leaders clashed from both sections. Indian workers refused to go on work. No one dared to move out alone due to fear and it seemed one time as if Indo-Pak war had started in Iraq. Unfortunately, the Indo-Pak people who had shared each other's sufferings and sorrows together and had now become bitter enemies. This conflict continued for eight to ten days. In a few days, once again India and Pakistan divided on Iraqi soil into separate Indian and Pakistani camps. Those who spoke vociferously against whites were ordered to go back instantly to their respective countries. Others were issued strict warning that company would not tolerate any such anti-social element and activity, which was against their norms. Therefore, the remaining workers were terrified to their bones and nobody ever raised a voice of dissent. Therefore, the seeds of hatred and enmity sown during that period between Indians and Pakistanis had grown thereafter into a tree of hatred. However, circumstances changed thereafter and they started to work together again. The bonds of cordiality grew stronger between them slowly and steadily. After some time they had also started partying together in their free time."
Bhola Bhaji had parked his vehicle near chowk. I did not feel like opening my eyes but I could not turn my back to the startling truth. So, I opened my eyes and got down. Bhola Bhaji purchased some goods and asked me to select some. But I was not in a mood to tell him of my likes and dislikes.
Bhola Bhaji fully understood that even though I kept mum but he still kept on goading me to divert my attention from serious thinking. After shopping, we went to Sherton Hotel, took Coca Cola and came back. At last, Bhola Bhaji dropped me at my residence. Bushra at once came out of house and said to Bhola Bhaji, "Bhai Jaan, do come in, have a cup of tea." Bhola Bhaji promised to pay visit next time, whereas I looked at her scornfully and went inside.
Chapter 10
It had almost become a routine now. Whenever I used to go back to camp after work, I used to take liquor with someone. I often consumed Iraqi wine Ark at home and used to lie down on bed in a semi-unconscious state. Everything was moving at its own pace. I did not know why I was not able to make Bushra wholeheartedly mine even after such a long period of marriage. Her mother was not happy to see me dead drunk and that is why she casted contemptuous glances at me. Whenever I reached home dead drunk, Bushra came to my bed, caressed my back with her velvety soft hands. The effect of liquor used to be so strong that I hardly felt any sensation on my back. I never understood the carnal desires of Bushra but she continued to caress my back. Under the effect of intoxication and heat of passion, I also softly caressed and felt her flesh with my hands and spread her like a living vegetable on the bed. It seemed as if I ventilated my anger in this way while fondling with Bushra's body. But I could not understand one thing, on my weekly off days Bushra came over to my bed even during daytime and the same physical interplay began between us. But I did realize, whenever I had established physical relationship with Bushra, it was always under the influence of liquor. Though physical consummation was a way to ventilate my hatred for her yet it could not eradicate the root cause of hatred between us. I realized that Bushra had also fully understood this strange physical equation between us. She always used to come near, only when I was in semi-conscious state. I was surprised that she never had any complaint of any sort against me. She had never stopped me from consuming liquor and never scolded me for coming late or spending night out of home with somebody.
I vividly recollected, while I was studying in pre-medical class. Then I had read something interesting in book entitled Animal Behaviour about a creature named Salamander, which was similar to lizard, also known as Bahmni in Indian sub-continent. The courtship behavior of Salamander was mentioned in detail, "A female Salamander runs after the male Salamander to attract. It bites its companion softly on its back in order to excite it. Then they move together slowly in a circular motion to exhibit their love play." I suddenly realized, Bushra was like a female Salamander, and she often caressed my back just to excite me. Once, she was successful in her mission, she overpowered me for sometime in a heat of passion. Sometimes I felt as if she was some cunning and shrewd character from famous Arabian story Alif Laila.
One day, I said to her, "I daily come home after consuming liquor but you have never complained, why so?"
She kept silent for a while and said, "Every person has to suffer for his past deeds and has to suffer for his sins. Strange is the sweet will of God, you were nothing to me once, and now you are my life? I am so lonely; you just cannot understand my predicament. Your love has stuck like a thorn in my heart. I pray to Allah to give me death and when I shall lie in my grave then I shall request God, not to give such a harsh punishment to any woman that her husband neglects and hates her all his life." 
Her words hit me like a hammer and I said, "If you loved me so much then why did you keep me here as your bonded slave. Do you know, whenever any man is kept as a slave, then he cannot talk of love. He would only talk of freedom. I pray to God every moment, if He is up there and listening to my woes then, He should soon bless me with freedom. I do know whatever I am thinking is virtually impossible, as all my prayers always come back unanswered after striking with barren sand dunes and make me weak. You have killed my dreams and isolated me from the entire world." Bushra's eyes filled with tears while listening to my harsh remarks and she went into her room.
Chapter 11
While I was sitting in the hospital, the phone bell rang. I picked up the receiver, but I could not identify the caller. So, I asked spontaneously in my native dialect, "Who is on  line?" But I had to face embarrassment as somebody spoke in Arabic whereas I had enquired in Hindi. People sitting there stared at me. Thereafter the intensity of the telephonic voice gathered its momentum and I realized it was a voice of a woman of our neighbourhood who was trying to inform me about the arrival of a baby boy and had asked me to rush home.
I got up at the good news of the arrival of a newborn child and embraced Channan Singh. Channan Singh also huddled me and showered his congratulations and blessings to me. "I shall fetch some sweets" he said, and ran towards the supermarket. Everybody congratulated me. Dr Mona also heartily congratulated, kissed my hand and said, "You are lucky." Dr Mona's words pierced me like arrow; I became silent once again, took my seat and registered the names of patients on the respective files. At first, I had thought to rush back home but then I somehow avoided it. Channan Singh came with a box of pastries. He took out one pastry instantly and pushed it into my mouth. Channan Singh understood the reason of my sadness and indifference because I showed no sign of acceptance or rejection at this good news. As I was lost in the maze of deep thoughts, the cream of the pastry smeared my face and the base of the pastry fell down on the floor. I was sitting dead as a log on my seat staring blank. Channan Singh wiped off my pastry-smeared face with his handkerchief. I did not know what happened and tears flowed down my eyes intermittently. Channan Singh hugged me and said consolingly, "I have never seen smile on your face buddy since long, what is the matter dear?"
I burst into tears at his remarks and rushed to the bathroom, locked myself in and wept bitterly. I realized, I had not cried much even during the time of the cruel Khatna ceremony when they had brutally chopped off the piece of foreskin of my vital organ. My mind at once raced into the streets of India and many images danced before my eyes. I felt my condition was similar to a cow whose baby calf is taken away. I was lost in the maze of my thoughts inside the bathroom. My stupor was shattered after sometime when I heard the bangs at the bathroom door. I opened the door and found my staff standing there. Channan Singh took me away with him and convinced me to go home. Channan Singh sped Ambulance through the road speedily and we reached home soon.
Some women of our neighbourhood were sitting beside Bushra. When they saw me, they muttered, "He is carbon copy of his Abu father, may Allah bless him." My mother-in-law said, "You are a bit late, I wished you could have given Azan in the ear of new born child."
I kept silent. Bushra looked at me. I realized I had looked straight into her eyes after a long time without consuming liquor Suddenly the child started crying, my mother-in-law picked him up, and sang lullabies to pacify him. When he stopped crying she gave him to me. I took the child curiously in my arms and looked at him. I did not know what crossed my mind then I put the child to Bushra's lap and went to Channan Singh, who was sitting outside in drawing room and we left. We were at the premises of the hospital once again. I went back to camp after my duty hours. The news of a newly born baby boy spread like a wild fire in the entire camp and people expected a grand party. So, I drank liquor at night with them and thereafter staggered back to my cabin. In morning, I went to my duty as per my daily routine.
 
Chapter 12
I had could speak in Arabic fluently and was nowadays learning to write well in it. I had very well realized that one could not live in Iraq without developing good communication skills in Arabic. One day while I was on duty, Dr Mona called me into her cabin and intimated me about the decision of the Iraqi government. The Iraqi government had served a seven day notice to all the foreigners and had asked them to leave Iraq. There was chaos everywhere after this decision and everybody had decided to pack their bags and baggage. I had also packed my baggage along with Channan Singh. Many people left Iraq in one flight or the other. At last, Channan Singh also left.
In addition, when the last batch boarded bus to catch the flight, I realized that I would feel terribly lonely without my friends. I felt as if the iron walls of the dwelling place had acquired sudden strength because of this loneliness. Earlier I used to rush to the camp to chat with my Indo-Pak friends but now I was isolated and lonely due to their untimely departure. I did not know why but I had suddenly lost the zest to learn Arabic. During my initial days in Iraq I had developed a keen desire to learn Arabic. I had learnt certain Arabic words perfectly and quickly. Whenever any Iraqi came with medical prescription, I often said "Intdar doraak rajan." They were quite amused to listen to Arabic and often complimented "You do not seem to be an Indian, you speak Arabic so fluently and effortlessly."
At home, I intentionally conversed with Bushra in Punjabi, and quite interestingly, Bushra had also learnt some Punjabi words.
Ironically, Bushra and I met only for a few moments daily, as most of the times I was on duty during daytime and returned home late at night after consuming liquor.
Bushra used to open the door as per her monotonous routine at the sound of the approaching wagon.
I often returned home after taking my dinner at camp. I changed my clothes and without entering into further conversation, I used to go to bed silently. However, sometimes I used to be so dead drunk that Bushra had to change my clothes and she often helped me to lie down on the bed. Thereafter she joined me on the bed, placed her head on my bosom, despite that she hated the stink of the liquor. Then she kissed my cupid bow, caressed my back; which often resulted in outbreak of passionate emotions, which transported both of us into the realm of pleasure. However, this intertwining of two bodies often took place under the influence of liquor at night and once again, in the morning, the streak of hatred was clearly visible between us. I had noticed quite often, Bushra used to feed the stray street dogs with the leftover vegetables and a special Iraqi chapatti khaboos. When Bushra used to feed the stray dogs with the unconsumed food of the previous night, my mother-in-law often cursed her by saying, "Do you want to die of starvation? I do not know who has casted a spell of silliness on this silly girl. Don't eat if you don't want to eat it. However, there are other people in the household to feed. So, stop feeding stray dogs."
Bushra said, "It is my share and my sweet will to dole out accordingly, so, no one should have any objection." I had watched her often doing the household errands but the wall of hatred grew stronger between us day by day. This was the reason, which had made me reckless. Many a time I did not even bother to listen to her.
I often told her "I always take my dinner at the company's mess. You should not wait for me and take your meals well in time." However, she always remained silent and unmoved.
A strange change had come within me. I was disturbed by her deadening silence, which often troubled me. Quite often, I ventilated my anger by shouting at her in a loud tone. However, quite surprisingly Bushra always maintained her icy silence, which had transformed my strong walls of hatred into waxen ones. Suddenly Channan Singh's conversation crossed my mind. Channan Singh often said, "Doctor Sahib, it takes less time for the walls of hatred to shatter, only if you have made a firm resolution in mind to break them." Channan Singh often discussed and quoted Napoleon and Nelson Mandela in this regard. Sometimes he whispered softly into my ears, "Saddam Hussein is also similar to a pigeon that has become habitual of sitting on the walls of America." But I liked his statement, "Walls not only imprison but also give due protection in course of time. Wall is same but there is a slight line of differentiation between imprisonment and protection; which too can disappear at any given point of time."
Channan Singh further elaborated, "Do you know, a dropping of a pigeon is strong enough to create a breach in the wall. The droppings of a pigeon can easily shatter the wall, which sometimes cannot be broken by the best of the warriors. I have noticed this phenomenon a number of times. Whenever a pigeon drops its droppings on the wall of any fortress, a tree grows there. I have seen many Peepal trees growing out of the crevices of the walls of various forts. The walls of such forts soon develop cracks at places, where a tree has grown and they often get shattered with the blowing of the wind. That is why do not ever let a ray of hope die, because only hope sustains life. Have heart; remember the world depends only on hope. People have been waiting in their graves for eternity since ages. After all you are alive and kicking. Vouchsafe for hope, the elixir of life, my dear!"
Time raced as per routine. Earlier I went to office as per routine, now I had to spend most of the time at home. Sometimes I used to freak out for a brief stroll and talked heartily with my neighbours despite my mother-in-law's strong objections. However, I often irritated her with such little pranks. I very well knew that I would derive pleasure when she felt irritated and troubled. It seemed as if I had avenged myself by indulging in these silly acts.
 
Chapter 13
I was standing all alone under the vast sky. I was in a fix, as everybody had left. How would I lead my life here all alone without friends? I lighted a cigarette and went out for a walk. I had covered quite a distance leaving behind Indian, Pakistani and other small camps. I finally reached a place where there were emergency lights pole fixed with blue, green and red lights. Green light always blinked, which meant situation was under control and normal in spite of the continuing Iran-Iraq war. The blinking of the blue light signified that the residents were supposed to stand in a queue outside their cabins, leaving all their belongings inside; everybody was duly instructed to board the respective trucks in case of such an emergency for an evacuation. In case of blinking of the red light, the trucks were to be sped and rushed towards the Kuwaiti border. But fortunately, the red light never blinked. There was blue light signal many a time, whenever there was heavy shelling. Small bombs often exploded near our camp area but luckily nobody had died. All the inhabitants had become habitual of this continuous shelling. I myself liked shelling as it was an escape for me from this hellish life. But now there was a strange deadlock, and it had created a checkmate like situation. While bidding farewell, Channan Singh had said, "Doctor Sahib do not worry. Nobody can harm a person, whom God loves. Nobody knows what is hidden in the garb of future. Nobody had ever imagined that a big shot like Michael Gorbachev would be put behind the bars and a super power like U.S.S.R. would disintegrate in such a pitiable manner. No one knew that Bhutto would be hanged. Nelson Mandela had never realized that one day he would become the President of his country after remaining in prison for such a long time. These are the strange ways of life, which are sometimes favourable and unfavourable. I have firm faith in my Sache Patshah Waheguru the ultimate God that we shall get freedom someday. Then we shall meet once again. One more thing, anything which is big in proportion always disintegrates into small fragments , and U.S.S.R. is a living example in this regard." 
Channan Singh's words had once again troubled me mentally. Suddenly, I noticed that my cigarette had reached its dead end, now only a small fag was dangling across my fingers. I walked on the road, lost in the quagmire of thoughts. I stopped, once I reached the bank of a river. I looked at the bridge built on it. Iran was desperate to sabotage this bridge but could not do so as it was a folding bridge and was  used whenever a small ship passed under it. It remained folded, when not in use. This bridge was of great significance to Iraq as it was the only link between Basra and Bagdad. In addition, if ever this bridge was damaged by Iran then Basra would be totally cut off from Bagdad. That is why Iran bombed heavily at this place. However, fortunately this bridge always remained safe and sound. 
For the first time I had crossed the bridge by foot, otherwise earlier I had always crossed it by a jeep or bus. After crossing it I stood by the bus stop and waited for a bus. Soon I boarded a bus. Bus was almost empty but some people glared at me in a strange way, because all foreigners had already left Basra for their native lands, and I was the only one left behind. May be it was the product of my idle imagination, but I got down when bus stopped at Basra. I just could not decide where to go. Sun was setting steadily and its warmth had subsided. Suddenly I found myself walking towards Gulnar's home. I had visited Gulnar after a gap of so many days. I remembered, during my initial days in Iraq people had apprised me about some women getting fashion allowance in Basra. They often roamed freely in the streets of Basra. These posh women also dominated all the government offices in Basra. Some of my friends had often seen these posh butterflies rambling and hunting for their clients in the streets of Basra, and we often hummed famous Hindi song "Dekho ji chand nikala, peeche khajoor ke… Basra ki hoor nache aage huzoor ke." Whenever we saw these dazzling beauties, we openly agreed that Basra's dazzling butterflies and date palms Khajoor were indeed matchless. One of my friends often taunted and teased "See Khajoor date palm is the basic ingredient in biscuits here, but if I get an opportunity to taste the flavour of these dazzling butterflies, I shall have my day".
One day,  we decided to go to the bazaar on the night of Jumma the Thursday night. There we found numerous posh butterflies and it seemed as if we were in Garden of Eden among fairies. They tried to attract and entice us when they saw us. One of my friend hinted, these butterflies preferred foreigners to local people because of their sound financial status. Everyone selected his own butterfly as per his requirement. I was impressed by a butterfly clad in burqa. In a few moments I realized that the upper part of her body was covered with clothes and the lower was naked. I gestured her with my hands to remove her all clothes. She refused instantly by nodding her head sideways and instructed me in sign language not to touch the part of her body part that was clothed. I was a mere spectator there. In the end, I had sacrificed 20 dinars that night for nothing, which amounted to Rs.800 in Indian currency. My other friends also narrated humorously their freaky love tales; but I just could not forget that sleazy night. I discussed my problem with my friend, he suggested going again to her next Jumma night. So, we went to the same bazaar on the next Jumma night. My friend had been living there for the last three years. He struck the deal with a pimp who said flatly, "If you want to go to her, then you shall have to abide by her conditions,"
 "You select some other butterfly then you shall enjoy complete freedom." However, I had fallen head over heels after her. Therefore, I decided to go to Gulnar.
In a short while, I was with Gulnar in the same room in a similar condition. She lifted burqa from her face and smiled at my silliness when I offered her 100 dinars to her but she still did not agree to expose her upper part. She said, "Do not waste these dinars uselessly, what will you feel when the need of money forces someday your own mother or sister to take prostitution business like me." Her words pierced my heart and set my whole body on fire. Well I had once again wasted my 20 dinars on that night. 
Once again, on the next Jumma night I went to her as I wanted to get intimate with her. However, Gulnar said frankly, "If you want to talk to me then come home during day time, this is my work time."
 I often met her off and on; I often took leave from office for these special meetings. My friends had warned me about her, many a time but I had a strong desire to meet Gulnar. One day she disclosed that she was married two years back and her husband was in army at the time of their marriage. After just a few days of her marriage, she received sad news of the premature death of her husband, who had laid down his life for Iraq. She received his dead body wrapped in national flag respectfully but was not allowed to shed tears as per the orders. The army officials had said, "He has sacrificed his life for the sake of the country and the religion. Martyrs are given farewell with a smile and not with the tears." "Slowly and steadily war widows like me had learned to compromise in such conditions and took to prostitution". Gulnar further disclosed that war forced widows to please high army officials. This had left them with no choice and they became an object of entertainment in this flesh market.
One day when I went to meet her, she was very emotional and her eyes filled with tears. Gulnar suddenly bolted the door from inside and removed her clothes one by one. She was standing naked before me. When I saw her, she turned her face away sideways and said, "Today is my marriage anniversary." I was shocked as at that moment she looked like a pitiable and hapless woman instead of a dazzling beautiful butterfly hoor of Basra.
I at once, picked her clothes from floor and gave to her. She was impressed with my gesture and kissed my forehead after wearing clothes. I bade her good bye and came out of her house. After that fateful emotional encounter with Gulnar, today once again my feet started moving towards her house. When I reached her place, I knocked at her door. She opened the door and was surprised to see me as I had come to meet her after so many months. She took me inside her house hastily and said, "You have come after such a long time? I thought you too were like other men and had completely forgotten me." 
It seemed as if she was taunting me. Tears flowed down my eyes at this emotional moment and I moved towards the door. She overtook and bolted the door and said teasingly, "I didn't mean it dear, I do not mind your coming after such a long time. I am happy that you are happy at your home. Your wife must be fortunate that she has a wonderful and caring husband in you. Otherwise the circumstances in Iraq are such that one can't even dream of a word Husband."
I exploded on hearing Gulnar's remarks and I said, "Though I am married to Bushra, yet we do not enjoy a good husband and wife relationship. Her condition is even worse than that of a prostitute. When a man goes to a prostitute, he is completely in his senses when he establishes physical relationship with her and enjoys every moment of the ecstasy completely. However, Bushra plays with my vegetable self and that too when I am dead drunk. I am usually not in my senses when I consume liquor. She comes to me only when I am fully intoxicated and then she consumes me, then I have no control on my senses." I wanted to continue and elaborate further my predicament but Gulnar interrupted and said, "There is not much difference between both of you. You have suffered a lot, I do agree. However, it is also a severe punishment to Bushra that you just could not love her completely. This is a greatest suffering for a woman, if her husband does not love her. But you men can't understand."
Thereafter, she went to kitchen to make tea and returned in a few moments. Gulnar continued, "I am myself undergoing through pangs of torture these days dear."
I asked, "What has happened?"
"Nothing much", said Gulnar, "Actually as the foreigners have left Iraq, there has come a severe slump in flesh business."
I finished tea and moved towards the door. Gulnar also joined me. I looked at her and bade her goodbye, moved slowly out of her sight, smoking a cigarette. Gulnar stood at door and watched me move slowly out of sight.
Chapter 14
Many months had passed since my batch mates had left for their native lands.  I was informed one day that I might also be given a call to join the current war. A strange kind of turmoil was going within me. I did not share my tension with anyone. In the mean while my son had also become conscious about the outside world. Whenever he lisped words mama and papa, it aroused emotions of love and hatred in my heart at the same time. But I maintained my distance from Bushra and my mother-in-law and talked to them only when it was required. Bushra also never forced me. Though we all slept in the same room yet I had never touched Bushra in my senses. But whenever I consumed liquor, got intoxicated then Bushra used to come intentionally in my arms breaking all the barriers. At times I took black tea from Samavar and puffed out ringlets of smoke, read some Indian stories or a novel. Today while smoking an idea suddenly crept into my mind and I went to the sea-port wearing slippers.
I stopped by the side of magnificent Sherton Hotel built near the seaport. It was a five star hotel built on the shores of famous sea-port of Basra. Quite unfortunately, it was now more of a teashop rather than a grand hotel due to ongoing Iran-Iraq war. Some children were playing unconcernedly in a sea-ship anchored nearby. They were playing hide, seek, utilised the sea ship, and almost deserted Sherton Hotel for this game. Under the normal circumstances, children would never have got an opportunity to board this sea-ship or enter magnificent the five-star Sherton Hotel under normal circumstances. However, this time they were lucky to do so.
When I was new to this place, I had come to this bazaar on the day of Jumma with Bhola Bhaji for the first time. I saw this magnificent hotel and was stunned with its magnificence. Bhola Bhaji who had been living there for quite a sometime said, "Today we shall have Coca Cola in a 5 star hotel"
I told Bhola Bhaji, "They will charge a lot of money for Coca Cola. I won't go there." Whereas Bhola Bhaji just smiled and said nothing. Soon we were standing outside the entrance of the magnificent Sherton Hotel. When we entered the restaurant hall, we found that many people were sipping tea and drinking coca cola etc. Bhola Bhaji placed the order for Coca Cola. Coca Cola was still available in Iraq in spite of the massive destruction caused by Iran-Iraq war. It seemed as if Coca Cola had mingled in the blood of Iraqis to such an extent that they did not think about anything else. When I returned home after consuming coca cola, I found many shops were still open. Everyone was busy and lost in his work and no one had signs of fear on their faces. Foreign clothes and watches used to sell like hot cakes there. Although seaport remained closed, yet foreign goods still reached Iraq in big trucks via Kuwaiti and Saudi Arabian roads. People who wished to go to Iraq flew to Kuwait initially, collected in groups of four and five and thereafter dispatched by road along with their passports in a taxi – bound for Kuwait-Iraq border. Interestingly the value of a Kuwaiti dinar was more than that of Iraqi dinar. Many Indo-Pak families had settled in Kuwait, some of them had built their own houses and their children were imparted proper education. The company's bus was always available there to pick the passengers whosoever reached there by taxi. One-day sad news spread like a wild fire. A Trailer driver narrated an incident that a group of five Pakistanis about to board flight to Pakistan from Kuwait, entered into a brawl with their taxi driver, beat him, threw him away in the middle of the road, and disappeared from the scene.
They were not traceable thereafter, as the Kuwati authorities did not have their photographs. They had also taken away their passports and were hiding somewhere in Kuwait. Kuwaiti police desperately searched for them but was unable to find them . May be by then they had taken refuge in some house of their relatives. Luckily, this Trailer driver was one of my good acquaintances, a Pakistani named Baranudin. Whenever he came to Iraq in his Trailer, he occasionally met me to procure some medicines. I often gave him many medicines without informing the doctor. He used to purchase medicines in bulk because they were costly outside the hospital and was not available without proper medical prescription. He informed me further that the police caught one of the runaways of that unfortunate incident, Salim and they had tortured him cruelly. If anyone had seen his miserable condition, he would never dream of running away from police. Baranudin became tense while narrating this tale. I consoled him, "Baranudin why are you getting tense. Your work is satisfactory; you only bring your company's trailer here, which is fully equipped with television, fridge and gas cylinder. You can easily have warm food where ever and whenever you feel like. Moreover, you can move about freely to different lands like Iraq, Kuwait and Saudi Arabia with your trailer. What more you need, you are having the cake and you are eating it too?"
I said this because whenever Baranudin used to come to Iraq from Saudi Arabia he used to bring gold biscuits with him. He often sold it to the local Iraqis and minted enough money. But I was shocked, when he disclosed that after disembarking all the goods from the trailer in Iraq he used to fill liquor in it by cutting the trailer from the centre; thereafter he welded to seal it; and painted it all new. Baranudin said, he did this liquor smuggling as liquor was prohibited in Kuwait. Liquor was not easily available there. Most of the trailer drivers took Iraqi liquor back to Kuwait. In addition, when he reached the premises of the company, the owners of the company took out liquor from these Trailers and sold it on high rates and this was their real business. "And after seeing and reading in newspapers the miserable plight of Salim, I am myself thinking if I am caught by police someday, then I would also land in a same troublesome situation."
When I listened to Baranudin's disclosure, I advised him, "Why don't you leave this business of illegal selling of liquor. You already draw a handsome salary, and then what is the need for it?"
Baranudin said emotionally, "This is my last trip with illegal liquor. I promise I shall never do it again."
I did not meet Baranudin after that trip, and nor did his Trailer ever came to our company. I do not know what happened to him, whether he was caught red-handed or had left the job.
Slowly relationship of Iraq with Kuwait had turned sour and now goods came to Iraq via Saudi Arabia. The prices of the essential commodities now touched sky high. People just could not afford to buy even a few gallons of water. Even our flights took off from Bagdad itself. As sun was about to set and I walked towards home and puffed a cigarette.
 
Chapter 15
Days passed. Iran-Irar war was not over completely and there were rumours about the beginning of the Gulf war. At last, the day came, about which Bushra and my mother-in-law were always worried. One day, when I returned home after a walk I found an army vehicle parked outside our home. It was not something new for us. As I entered the house I saw a mournful atmosphere inside. My mother-in-law saw me and said with choked emotions, "Son, you shall have to join army as per the orders". I was happy at heart because I loved to see her in trouble, and it always gave me immense pleasure. My mother-in-law wanted to do certain rituals before sending me to the warfront but I did not agree. Though she was annoyed yet she did not speak anything. I said, "I have no problem, I am fully prepared, take me along with you wherever you want?" I was ready to leave for the front. Army men were waiting for me, outside in their wagon. It was a routine matter for them, whenever they went to anybody's house in search of able bodied males; he had to accompany them at once without any argument. Before I took leave of them I gave a cursory glance at my son Uday who was sleeping at that time. I also looked at my home for the last time from the wagon and I could clearly see the ghastly expressions in the eyes of my mother-in-law. My thought was disturbed by the unpleasant noise of the engine of army wagon. Bushra did not come out. After a brief training of a few days I was deputed near the bunkers constructed nearby the tunnel of an international airport. Very few people knew that there was an underground tunnel below it. There was a concrete road above the tunnel and the high speed vehicles glided speedily on it.
 
Chapter 16
The tunnel was about five kilometres long and it opened in front of the international airport. It was full of certain secret passages which had openings at different places so that one could easily get out of it at the time of an emergency. Another feature of this tunnel was that it was constructed in parts, whenever some part of this tunnel was under construction, it had to be stopped due to certain reasons, then new labourers and masons were recruited. Even many engineers were changed during the process of the construction of this tunnel that is why nobody knew the exact length of this tunnel. Everybody thought it to be merely a construction of a small secret passage. Nobody knew why and for what purpose this tunnel was constructed. I was also taken to this tunnel for a number of times because quite often the construction workers used to get injured and I often had to accompany the concerned doctor to interpret the injury of the injured. Mostly, I used to accompany Dr Mona and I never tried to interfere in the affairs of the tunnel because our job was only to give first aid and medicines to the injured construction workers. When I was posted there, I came to know about the most guarded secret of this tunnel. I came to know through a detailed map of this secret tunnel that it had many secret passages with different outlets. I was also told if I found anything confusing then I should take help of the soldier guarding our bunker. Smoking was prohibited inside the tunnel. I was amazed that I had come numerous times into this tunnel but had never thought about the utility of its secret passages. After covering a distance of about four kilometers it opened itself to five different secret outlet passages. One passage had an outlet beyond the terminal of the airport, second passage led to the bathroom which also had the lid of a manhole, near a urinal. Third passage opened up near the terminal, ahead to which there was a custom shop full of foreign goods. Two of the passages were having openings at some remote and distant isolated places. Soldiers informed me these passages would definitely prove helpful if ever the enemy soldiers came very close to us, and then we all would easily move out of the danger zone by moving out through this tunnel stealthily. And at a suitable time we could not only be able to attack our enemy but also capture their ammunition. I was amazed at this revelation, that was how Saddam Hussein moved about freely in and out of Basra and nobody was able to track his movement. Saddam Hussein frequently used these secret passages and other tunnels for his stealthy movement.
Chapter 17
I was enjoying the twilight outside my bunker. A twenty year old boy Umar was also standing outside his bunker. Though we were not familiar with each other yet we knew very well that we would attain martyrdom together one day. I went to him and said "We do not follow religion because religion does not preach war and it does not permit to kill anyone. Sadly our religion here is to only kill people." I gave him an extensive lecture on this topic. Umar disclosed that he was not just an ordinary soldier but a special one. I could not understand his words. Umar continued, "I am a human bomb and my mission is to kill the U.S. Army General. The moment I am successful, many other boys will follow my footsteps. It would be similar like igniting of the fire crackers in a festive season. Then we shall convert every small American platoon into small ringlets of fireworks by exploding ourselves in the name of holy Jehad."
Unusual zeal in tone and manner was visible in his narration of his woeful tale of becoming a human bomb. He narrated the objective of his mission so casually that it seemed to me as if he was least concerned about his life. He knew nothing about me and might have mistaken me to be an Iraqi. I asked him, "How will you kill your enemy?"
Umar disclosed, "I shall move stealthily through this secret tunnel passage and get out of an outlet near the airport terminal. The US forces have already advanced ahead and are busy in eating, drinking and making merry. They think Iraqis can never reach them as the air and land routes are now completely under their control. Sun was about to demise. There were emotions of remorse in me for this boy as he was going to kill himself in a suicide mission attack at such a young age. I glanced at his face and found that he was just in his prime years and was about six feet tall, a young teenager. I had disclosed my identity to him. He was surprised and sympathized with me on seeing my predicament. He cursed and abused Bushra on learning the reality. So much so, he became agitated on knowing the truth, which I had never expected. His human concern touched me. I asked him, "Would you like to smoke?" he replied in negative and said, "My father is dead against smoking."
I insisted, "Smoke one cigarette, your father won't come here." However, he said, "He will trash me if ever he comes to know about it."
"Do not talk nonsense," I said, "You are going to die in mission in a short while, and you won't meet your father any way. Puff it, if you feel like." He took one cigarette thereafter puffed it heartedly and thereafter we went to our bunkers respectively. The military truck arrived in a few moments to deliver food items to us. I took my meal, went to Umar's bunker after sometime. Umar shouted on seeing me, "Throw away the cigarette, if any spark comes here with a puff of air, the bombs will explode anytime." I teased him, "Let bombs explode before time, at least you would get liberated."
Umar got serious at my taunting remarks and said, "I shall get liberated only after completing my suicide bombing mission successfully. I would be in a prison, if caught alive; they may even amputate my hands and feet and throw me writhing in pain in front of fresh recruits who refuse to lay down their lives for Iraq. During our daily training sessions suicide bombing squads, some of the recruits were tortured in front of us so brutally that it was an unbearable sight. Then we all used to think that death is better than this kind of torturous life."
My eyes welled with tears on listening to his tale of woe. 
The boy continued, "Not even a single father in Iraq desires his young son to become a human bomb. The truth is, my father does not even know that I am 600 kms away from Bagdad near the Kuwaiti Border ready to blast myself off in this suicide-bombing mission.
I was shocked at this revelation and now realized that my plight was less miserable than his was. I felt pity and concern for the young boy and said, "You do not like this work, do you?" but he kept silent and returned to his bunker. My heart and mind was loaded with the tension at the boy's disclosure and his future predicament. I had fully realized that same woeful stories were narrated by Abu Majid to me long time back. I was deeply moved by the miserable plight of young boys in Iraq who had laid down their lives for Iraq in this futile war.

 
Chapter 18
I stood outside my bunker, puffed a cigarette and talked with myself. Suddenly I realized that the boy was telling the truth and his words were fully loaded with meaning. I clearly remembered when I had boarded flight from Mumbai to Kuwait, and then I had enjoyed drinking Coca-Cola in a tin can. Whereas in India I had never seen Coca Cola because only Thumbs-up and Campa-Cola were available there, that too in a glass bottle this had to be taken care of after use. Sometimes we even had to pay breakage charges of these glass bottles. But here in Iraq, Coca-Cola was available in disposable tin cans. That is why during my initial days I had preserved my first Coca-Cola tin can and enjoyed drinking water in it for many days. After some days I had thrown it away as tin cans were easily available in Iraq. Beer was also available in disposable tin cans. Basra's market was full of foreign goods. I had found here that Iraq did not manufacture anything of its own. It was surviving only on the basis of the strength of its vast oil production. That is why the cobweb of almost every country's commodities was effectively spun in the bazaars of Iraq. At first, I thought it was good that markets of Iraq were flooded with foreign goods but later I realized that Iraqis were leading their lives under foreign influence. Quite unknowingly, the Iraqi citizens had bound their lives under the shackles of western culture. Whereas in India long time back Mahatma Gandhi had launched the massive Khadi movement about discarding foreign goods under the slogan of "Be Indian, buy Indian". Suddenly a thought crossed my mind that Britishers had also initially arrived in India similarly in the garb of East India Company to establish their business ties but later on in the guise of trade and commerce, the East India Company had established the vast British Empire throughout India and the Indians had become their slaves thereafter. We had to sacrifice many innocent lives to get freedom from Britishers.
I suddenly found that my cigarette was almost over; I threw it away, opened a bottle of liquor and gulped some pegs. A strange turmoil was going on in my mind when one company had spread its unlimited anarchy in India; I wondered what would be the fate of Iraq, where there were several such companies. Unfortunately, Iraqis were lost in the glit and glamour of these companies but some day these companies would completely shatter economy of Iraq. India is also trying to repair the damages done to her by one such company. In addition, if some day these companies opened their floodgates in Iraq, then it would completely devastate the country. I also realized that in modern era the foreign companies did not require going to other countries because they could easily establish their control on the economies of other country through the flood of their manufactured goods and thereby control their entire market. This transition had taken place so rapidly over a period of hundred years that a company could sit in its own country and exercise tremendous control over the other small countries by fully establishing their control on their market. Iraq and Kuwait appeared to me as a mere suckling in front of massive Giant America who wanted to sabotage its economy by entering their market. Perturbed by these thoughts and gulped another Patiala Peg. I had felt a strange feeling of freedom after so many years, as if my slavery had vanished somewhere. Thereafter I went to the bunker nearby and called Umar. When Umar came out I embraced him heartily and tears rolled down my eyes uncontrollably. The boy wiped out my tears with his small hands; I stood silent and looked at him. I was happy to see him alive and kicking.
Chapter 19
I was standing outside my bunker, lost in sea of my thoughts. Suddenly I found, Umar walked up to me and said, "There is no urgent need for you to attain martyrdom in the name of Jehad. We are all Allah's children. I would be happy if I could be of some use to you. And if I am successful in this then I would be glad that I have done some good deed before my death. I am destined to die and I have to settle my account at Allah's darbar who has sent me on this land to accomplish the mission of suicide bombing. Our leader fortunately leads a life of comforts in a bullet proof palace. I would consider myself fortunate if I would be able to save your life. You know many Iraqi parents have lost their young sons in the name of Jehad. Many children have become orphans and many women widow in this war. This is what Jehad had done to us. I feel sometimes this ongoing war is neither a war in the name of Allah nor a war in name of Jehad. In fact it is the war of selfish motives. Though the countries involved in this war may be Iraq, Iran, India, Pakistan, Kuwait or America yet one thing is sure, end result of every war is never good. Will anyone be benefitted by my death? Will my friends ever get back their precious childhood days with my death? Hopefully never! Those who have made me their decoy are not using me for my native land but in fact for their own selfish ends. And if this war is going on in the name of Jehad then did you ever find the children of aristocrats and high status family fighting in this war. You know these army officers forcibly pick up beautiful women by seeing them at public places, such is the depravity of their character. Luckily by God's grace most of the women remain in Purdah. Iraq has already suffered a lot in Iran-Iraq war." 
Umar continued, "I do not know what will happen in this gulf war, perhaps Allah knows. My Abu used to say, "One of the main reasons for Iran-Iraq war was to establish Purdah system in Iraq. Saddam Hussein not only abolished Purdah system but also has also roped Western culture as a trend in our country, which has polluted the minds of people rapidly. The Iraqis have soon forgotten their own culture and have adopted Western culture freely which has led to Iran-Iraq war." Umar continued, "I often argued with my father on this issue and said, "Abu there must be some freedom to all of us as it is often good. Moreover freedom is our birthright and other things are secondary in nature." As my father was professor of languages in Basra University. He often said, "Son you are very small, you would not be able to understand the meaning of my words. Western countries are subjugating slowly and steadily our country. Our country is a gold mine and they want to engulf it. That is why Western countries are imposing their modern culture on us. In addition, this is the reason Pepsi and Coca-Cola have spread their tentacles in Iraq. Unfortunately these days a newly born child demands Coca-Cola rather that other things." My father continued emotionally, "It's my prophecy that one day these oil wells will become our graveyards and once if they catch fire there would be no way to extinguish them. Generations will be wiped off." I saw my father's eyes were full of tears. He continued further, "Iraq is under a strange kind of curse that is why it has been destroyed a number of times and reconstructed many times." I also used to get emotional on listening to these remarks and asked, "Abu what will happen when many people die?"
Father replied, "What will happen son, generations after generations get transformed and changed in wars. Iraq has participated in the first and the Second World War. Thousands of people came on the Iraq's soil during war and settled here. Many Iraqi women had fallen prey to the carnal desire of flesh of the foreign soldiers and many women took to prostitution out of compulsion. It is difficult to guess, but see as I live in Iraq, so I am Iraqi, but when my mother used to narrate me tales of the Second World War, and then I get fully convinced that I am not an Iraqi though I live in Iraq my dear son."
Then my father continued, "Let me tell you another thing son, generations change and races get transformed in war. So, much so, clans and communities get changed. To tell you the truth though I am Iraqi but I do not know the nationality of my father. Whenever I look into the mirror, I find my face has Asian features. In addition, when I look at my complexion and brown hair, then I find myself something else. That is why I do strongly believe that we are Allah's children and it is our duty and moral responsibility that we should sacrifice ourselves not in the name of religion but in the name of humanity."
Umar said, "Ironically when army men came to take me away, my father could not do anything and wept silently. I met and embraced my parents and brothers for the last time and cried heartily. My mother was not ready to leave me but army men snatched me away mercilessly and took away in their vehicle. Here they organized Jehad classes for some days and then trained me in using weapons and hi-tech guns." I asked, 'Umar why did not your parents revolt?" Umar said with choked voice, "Revolt is a serious crime in Iraq. Those who revolt are bitter enemies of Iraq. They are instantly killed." I was shocked that I merely considered him a small child but he was quite well versed in worldly matters. He bid me goodbye and I forgot my slavery and my heart filled with respect for this boy who was so wise. I had realized that in this ongoing Iraq-Iran war, every Iraqi child had forsaken his childhood and played with guns instead of toys at such a tender age. This was the reason why Umar had developed such mature kind of thinking. I kept on thinking on these relevant issues but could not find any solution to them. Finally, I lighted the cigarette, puffed out ringlets of smoke and went inside my bunker.
Chapter 20
An army wagon arrived in the evening and instructed us to get into the tunnel. I was also intimated that Umar would embrace the U.S. General and I was to keep a guard there armed with a stengun. I very well knew that they would be exploded in a few seconds and I would be duly caught by the American forces. Thereafter my predicament would be horrible and beyond imagination. We were supposed to move stealthily through the bathroom passage of tunnel which led to the U.S. General's Camp. I was told that it was an isolated place, where General used to come all alone regularly before his morning stroll. I was myself in a fix because Umar had decided to get me liberated from the clutches of the Iraqi army while completing his mission.
We moved forward slowly through the tunnel and came out at the outlet of the bathroom passage before dawn and waited for the opportunity silently. Just then, sound of the footsteps was heard. The U.S. General came to the bathroom, opened the door and went inside. We stood at the distance of 8-10 feet from the bathroom. Umar fastened his bomb belt to his abdomen. We had photograph of the U.S. General along with map of that area. The moment the U.S. General came out, I identified him and pointed my gun on him. He was shocked and said, "Who are you and what do you want?"
Umar said, "Your death, I am human bomb." General was surprised. I positioned my sten gun at the U.S. General, and was prepared to shoot him if he dared to run. We stood there for sometime as per Umar's plan, according to which I was to shoot Umar at his legs, Umar would sit down and shout, in the meantime I would run away with the U.S. General safely. Time sped speedily and we were in the same position. Umar gestured me to fire a shot; but I was confused for a moment. However, suddenly I got back hold of my mind and fired shots at Umar's legs, caught hold of the American General and ran outside. We had hardly reached hundred metres when we heard sound of explosion near the bathroom. I left the U.S. General there and returned to the sight of explosion. It was a heart-rending spectacle. It seemed that Umar had embraced a pole and had exploded himself. I once again ran outside, and heard a sound of "Bismillah-ir-Rahman-ir-Rahim" coming from a Masjid. I at once placed my hands on my ears, as my mother-in-law had once instructed, "It is sacred voice and one should place one's hands on ones ears on listening to it, because Allah keeps the mind and body healthy." Quite interestingly, I had never ever placed my hands on my ears earlier while listening to "Bismillah-ir-Rahman-ir-Rahim" but today it had happened automatically. My eyes closed, and I was lost in my thoughts. I came to senses when some American soldiers carried me and they gestured me to follow them.
Chapter 21
U.S. General took me along with him. My eyes were blindfolded and I never knew where I was taken and how I was transported there. In fact, I felt as if I had journeyed through unknown regions and was finally lodged in a big bungalow all alone. I had no one to confide and talk to. There was only one woman named Julia who used to give me food at short intervals. But she often came in evening and left that place before dawn. Sometimes she did not come for many days. When I inquired from another woman the reason for Julia's conspicuous absence, she replied in negative. I had tried to talk to Julia many a time but she kept silent. I came to know later that Julia was dumb. A bell was fixed near my bed, and I was asked to use it whenever I needed something. I remembered, I often pressed the bell out of irritation frequently and sometimes without any rhyme and reason, just to irritate Julia. She at once used to come at the sound of bell and waited for me to say something. Quite interestingly, she kept standing there, even if I kept silent. Then at last, I said, "Go away from this place, why are you staring at me?" She often took leave of me with a smile. I thought I had just undergone a transition from one imprisonment to another, and getting freedom was perhaps not in my fate. I felt wherever I might go, this imprisonment would prove torturous, as it had taken a long time for me to get out of my pseudo relationship with Bushra. And once again, I had to wait now for my freedom from this tricky situation. I had also realized that the famous proverb out of the frying pan into the fire, suited best to my current predicament.
After some days, I had to translate some of the Arabic newspapers into English in a special room duly equipped with a laptop. A computer technician used to come initially to train me, but he stopped coming after some days. Every morning I went through Arabic newspapers and I translated important news items into English with the help of a laptop. One day I was shocked to see a newspaper titled Basra Streets on my table. It was a very popular newspaper among the inhabitants of our camp in Iraq. They use to call Basra Streets as Basra Ki Galiyan. My mind and heart instantly were transported to the streets Basra on seeing the newspaper. I used to spend hours every day and translated important news items from Arabic into English. Time moved on at its usual pace. Meanwhile one day some army men arrived and instructed me to do some exercise and jogging. I loved physical exercise so much that whenever I missed them out occasionally then my dumb caretaker woman Julia always reminded me.
Thereafter, I exercised regularly as per my routine. With the passage of time this imprisonment irritated me. But there was no way to run away from this place as U.S. Army soldiers guarded the area very well. Quite often, I had made a plan to beat my caretaker woman Julia and run away. Then I had understood these circumstances well and had reconciled with them. My condition worsened day by day, I realized that absent-mindedly I could not remember date and time. Whenever I used to see the darkness out of the window, I came to know about night and day vice-versa. My mind was always lost in crazy thoughts and strangely, I missed Bushra badly these days. Sometimes my mind raced to my childhood days. In India, we used live in a mud house. It comprised two rooms at the back, a verandah at the front, a kitchen and a store adjoining to it. There was a small wooden gate on one side covering the lawn and a roofless toilet on the other side. My father was fond of gardening and had planted many beautiful flowering plants in addition to guava and pomegranate trees. My mother often painted kitchen twice a week with a traditional cow dung mixture. Even during celebrations,  we painted rooms with this mixture. Slippers were not allowed inside the rooms. So much so, additional set of sleepers were available while going into the toilet because of orthodox nature of my mother. Many a time there used to be a hot discussion on this topic. When I used to come back from school, I at once rushed to the toilet wearing shoes. My mother usually scolded and beat me for this negligence. I endured this silently as an argument with mother on this trivial issue would mean adding fuel to the fire.
Once, on a rainy day, I had reached home fully drenched in rain and I put my school bag aside and rushed straight to the toilet. Mother was busy in the kitchen. As I came out of the toilet, there were footprints of my wet shoes on the newly cow dung painted floor. Mother got enraged at seeing it and said, "You have grown big as a horse but you have no wisdom. You have not only spoiled the verandah but also not abided with my instructions. I have told you repeatedly to remove your shoes outside but it seems you will never pay heed to my piece of advice. I warn you for the last time, I won't tolerate such nuisance in future." Suddenly when my mother saw my father standing there smiling, she hushed for a moment and again continued her fury "O God please don't make me a woman but a man in my next birth so that I may also enjoy the leisure of coming back from my work, then I would also simply eat, drink and be merry." My father sat there silently with his head drooping as usual. He always spoke less.
I returned to the present moment got up and rushed to bathroom. I thought whether my old friends would be remembering me these days and they knew about my whereabouts. Then my inner voice convinced me they must have come to know about me because Channan Singh had promised me that he would make an appeal to the Government after reaching India to ensure my safe return to the my homeland. On reaching Bagdad, Channan Singh had met Indian Ambassador Shreaskar Pandey who was a resident of Bhagalpur and had apprised him about my predicament. The ambassador had expressed his inability to help me but I still had some hope left in the promise made by Channan Singh. Now many years I had passed imprisoned in this dark dungeon.

 
Chapter 22
One fine morning  U.S. General entered my room along with some army men. He asked them to wait outside, when he saw me lost in the maze of thoughts. He inquired about my wellbeing "How are you feeling now, gentleman?" I got angry at this formal gesture, but I kept silent. Though I had never thought of him all this time, yet on that day I felt bad as I had saved him from a deadly situation then, whereas he had enslaved me. He again asked "How do you do, gentleman?" I said softly, "I am alright." Julia was standing at his back; he motioned her to leave the place. Thereafter the U.S. General sat beside my bed and said, "Would you like to get recruited in the U.S. Army?" I was astonished to hear this. It seemed as if I was day dreaming. I instinctively said "Yes". Then I asked, "Where am I at present?" 
He replied, "You are in America and this is an army officer's rest house." He continued talking with me and intimated that I had been lodged in this dungeon for eight years now." Then he further said, "I am going to retire next year." He told that it was my last day in this dungeon and I had to leave it next morning and join army training camp. "Get ready in the morning. Army men will come and take you away, this is your last night here." The U.S. General went away but he had shared so many things so casually as if there was nothing special about it. My mind had become numb and I thought I had wasted the precious years of my life in this alien land where no one was my enemy or friend. I also realized that Julia never came back into my room after the departure of the U.S. General. I rang up the bell but she didn't come. I thought that she might be also a prisoner like me, might also have got freedom today and must have gone away. But it was my guess only, Julia was standing before me and had asked, "Did you ring the bell just now, speak out what do you want?" I was amazed to find out that she could speak. I gazed at her face and found her smiling. Her sarcastic smile taunted me. I shouted at her and she said, "Relax, Don't get excited and don't make an issue of it? " She spoke these words so spontaneously as if she never got angry. I became normal after sometime. She smiled and was busy in arranging the curtains of the windows. Thereafter she brought tea because she very well aware of my routine of taking a bed tea. She continued sipping tea, "This is your last cup of tea that I have made for you. Isn't it strange that we have lived here altogether for so long and have never taken tea together but today we shall have it for the last time? We lived like strangers under the same roof and remained as unknown entities in spite of living together." I retorted, "Am I to blame for all this? We could have had tea together if you ever desired." She heaved a cold sigh and said, "Some things look so simple in appearance but are so complicated in reality." "What was your problem?" I asked her. "There was no problem at all, I was on duty." "Duty" I asked surprisingly. "Yes duty, actually I am a psychologist and I work in a military hospital. They had instructed to keep an eye at your every movement. I had to note down your every movement day and night. I had to report to my duty in the morning in the military hospital every day before dawn. I had to observe, what you did, what you thought, how much angry you could get and to what extent you can get irritated? What was your tolerance level? Could you live all alone? Did you get thoughts of suicide while living alone? What was your mental strength? How could you adapt to the given circumstances and conditions at the time of emergency"
I asked her "And what did you find? " Julia responded "You have every positive trait which is required. I am going to prepare your final report and hand it over to the U.S. General.
Then she became emotional and said, "You were helpless because you never knew anything about the ongoing proceedings. However, my condition was miserable, earlier I used to be on leave twice a year but now it got converted to once a year. I have not seen the faces of my near and dear ones for so many years now. I talked with them on mobile phone daily. Well, we shall definitely meet if we remain alive but I pray to God to forbid such a happening. We do meet certain patients every time. Usually, we treat the injured soldiers during war front and those who are in the dire need of a psychologist. They do not come to know about it while fighting because during the wartime they are only concerned with the winning of the war itself. However, when they come back from the war zone, they often ponder that they had unintentionally made many people orphans, which sometimes drives them into deep depression. Therefore, it is our moral duty to bring such soldiers out of depression by giving them proper medical, psychological and physical treatment. Our hospital is full of such depression patients. Such insane soldiers and they are often treated by psychiatrists. It becomes difficult to see their miserable condition. It seems that in such a critical situation that I may also go mad. Therefore, I had to take good care of you and look after the patients admitted in the hospital throughout the day. It was more difficult to see the miserable condition of their parents. Well I pray to God that he may keep you happy wherever you live. May God grant you enough mental strength and a strong heart to bear all the hardships in life?" Julia sobbed, after saying these touchy words and left the place.

Chapter 23
My curiosity to talk heartily with Julia increased further. After sitting idly at my place for some time, I went to her and said, "Give me tea." She joined me with a cup of tea and started conversing freely. Julia disclosed, "We now know almost everything about you."
I asked, "I myself do not know much about myself, what you know?"
She smiled and said, "Channan Singh has got his daughter married. He occasionally goes to your house to meet your mother. I also know that one of your close friend, Naresh who came with you to Iraq. He was deported to India because he just could not wipe the glasses at airport. He has recently got married. He is leading a happy life and often misses you. Initially he was dead against you and used to curse and abuse you. However, the day he came to know that you have deposited some money in his account, he has realized his mistake and he wants to apologize to you. He now visits your home regularly in India and loves to share his sweet memories of school and college days with your mother. Your mother also feels sad when he cuts short his visits to your household for a few days as she also wants to know more about your college days."
I was dumbfounded and wondered how they had collected detailed information about my life. Tea was over and I asked for yet another cup of tea. Julia went away to make tea. I vividly remembered Naresh had argued with me before his departure. He had clearly said if I did not accompany him back to India, he would never ever talk to me. However, I had taken a calculated risk. I very well knew if I went back, then I would not be able to buy back the mortgaged bangles of my dear mother and pay off the debt of my family. Naresh went away without meeting me, and when I went to see him off at the airport, he refused to talk and criticized me badly in front of others.
I don't know why, today the wrists of my mother without gold bangles flashed back on the screen of my imagination. We were a closed knit family mother, father and my younger brother. My grandparents had passed away before my birth. My maternal grandparents used to live with my maternal uncle near Jabalpur. My mother used to say "Maternal grandfather looked after me in my infancy." Well I could not recollect well, as I myself had never met my maternal grandmother in person, but I always came to know of her wellbeing through letters. One day, a letter came and we came to know that she had expired. My mother was shattered and father had to leave for Jabalpur the next day. I also felt bad at her demise but could not mourn her death as I was very young at that time. I had noticed whenever there was a need for anything in the household or shortage of money, and then my father used to mortgage gold bangles of my mother to a known moneylender to tackle the critical financial crisis? Mother also readily sacrificed her precious gold bangles heartily for the interest of the family but she always used to say, "These are invaluable token of affection of my dear mother, please try to bring them back whenever the financial crisis is over." My father also realised their importance and tried to clear off the debt through easy installments every month. Face of my mother brightened up once again, when the coveted gold bangles were procured back. I still remember, when I had to seek admission to B.A.M.S., and then a fee of Rs.5000 to 7000 was deposited as a donation. Therefore, my father had to mortgage the gold bangles of my mother to arrange the funds. Fortunately, I got admission in college purely on merit basis, at a nominal fee of five hundred rupees only. My parents were very happy that their son would become a fine doctor one day. I received a gift of wristwatch and a bicycle on this occasion. However, who could alter the destiny, as I did not practice long as professional a doctor because I was more engrossed in literary pursuits.
Chapter 24
I delved out of my maze of imagination when Julia arrived with a cup of tea. She continued while sipping tea, "Let me tell you one more thing, Mr Akash, your beloved Sanchita had waited for you for some time and then her parents got her married in a good family. But strange are the ways of fortune, your beloved is not happy at her in-laws." I got anxious on listening to her revelation and asked, "What has happened to her?" She said instantly, "I don't know exactly but one thing I am sure, she couldn't adjust well at her in-laws. Though her husband is good but her in-laws are unhappy with her. Whenever she misses you, she cries bitterly." It was sad news, as Sanchita had never approved my decision of going to Iraq. But I was so adamant that I had said to her, "It is just a matter of a few days, and then everything would be alright." We had remained in contact with each other through letters for some time. But then I myself had stopped giving reply to her letters, but she still kept writing to me.
Though Sanchita was my college mate, yet she was three years junior to me. But I had soon developed intimacy with her during college days. Although she was short statured yet I was very fond of her. We had promised to become one eternally. Perhaps it was not acceptable to fate. Now I had realized that all promises were false. I felt, "We may build castles in air, in our minds, but all that happens or takes place in our lives is according to the sweet will of the God." It was quite true, as I myself now had a different name and a religion. I wondered, "A strange entity. I was a man practicing many religions and had multiple names.
Julia went away after telling me about Sanchita and I was lost in deep thoughts, "She knows almost everything about me." I also wondered at the efficiency and capability of American C.I.A.. They had my complete bio-data, may be the best possible information about me, more than I myself ever knew.
Chapter 25
Though I had followed the same routine, yet I was taken out of the bungalow and shifted to an army training camp. I was issued a passport in a name of Smith before being taken to the army training camp. U.S. General had said, "If you want to go to India, you can go there for some days. Your father is diabetic and is under the serious attack of paralysis." At first, I decided to go back home but then I did not know why but I had finally discarded the idea of going back. I was imparted every kind of modern warfare training in this Army camp. I was familiarized with the usage of smart weapon system. I had fully realized that during my imprisonment in this strange bungalow whatever I had been doing was an integral part of my military training. It meant that I was already working in U.S. Army all these years but was never aware of this fact. Later, I came to know that U.S. General Andrews had somehow got my tenure of captivity included in my total job profile. In a meanwhile, there was a terrorist attack on Pentagon and I thought I may be sent to of Afghanistan, to wage a war there, but it did not happen.
These days there was a rumour in our army camp about the imminent U.S-Iraq war, but nobody could clearly guess what kind of policy would be adopted in this regard and when would it take place. Situation worsened day by day. Saddam Hussein had disagreed to agree to any of the American demands. High U.S. Army Officials often said, "He is our own creation and is now threatening us." When I came to know about it, an interesting analysis Channan Singh at once crossed my mind. Channan Singh used to say, "Big developed nations have a nasty habit of rearing and nurturing small fries like Saddam Hussein who are akin to pigeons. The pigeons may do anything for a while and fly anywhere but they have to come back to their original shelter of their patrons, after getting tired during evening. However, there are certain pigeons that sometimes nurse an idea of independence in their heart during their flight, which leads to the pseudo-development of their personality. Real problem crops up, whenever such prodigy pigeons after self-analysis, realize that they have been over dependent on their masters unnecessarily. Thereafter they walk on the path of self-development and freedom headlong without rethinking. They make their way slowly and steadily and try to achieve their goal by establishing their small diminutive business empires. However, when their patrons and masters come to know about this bare fact then they often try to make them understand their folly with iron hand. In addition, when such pigeons refuse to comply with their piece of advice and dictums, then their patrons get enraged and threaten them to face the dire consequences. The masters then do not hesitate to frame charges against their own pigeons cum prodigies and often unleash their wrath upon them. This is the point where the real conflict starts. One more thing, which I always think, is that such rogue states not only establish their own puppet empire but also set up slowly their own formidable army. In such a situation, the patrons often declare such rogue states as promoters of terrorism and enemies of peace. It is from this point that the age old game of cat and mice begins." After going through memorable analysis of Channan Singh, I also realized that sometimes such estranged pigeons often developed a formidable nuisance value and became much capable of sabotaging the impregnable security zones of their patrons viz Pentagon. Every big nation tries to subjugate and dominate small nation by using the arm twisting technique. These big developed countries not only take the reins of the small nations in their hands, but also give them massive loans so that their economies lay forever in the quagmire of debt. When such small developing nations rebelled against the big developed nations then they did not hesitate to wage a hidden warfare with them. Same is the condition of the world where in certain regions the politics of oil or of some other commodity is the bone of contention between big nations." Many seasoned American Generals often talked about the frequent visits of Saddam Hussein to U.S.A during their honeymoon period. May be this was the reason why most of the Americans felt that Iraq was their own prodigy who was now trying to show its fangs to scare them.

                            Chapter 26
"Mr. Smith", "Yes sir", I said and came out of my tent. The U.S. army officer further instructed, "Your platoon will move tomorrow for Basra after sunset and we shall remain there for some days. I at once saluted my officer in affirmation and said, "Ok Sir". The name Smith no longer troubled me as I had realized that changing of names had become inseparable part of my life. Wherever I had gone I was rechristened with a new name time and again. Even during my school and college days when anyone used to omit Kumar from my name I used to get enraged. Unfortunately now Kumar was lost in oblivion and my original name Aakash had got coloured in many names. Quite often, I used to think about this strange equation of changing of the names but then I deliberately avoided this thought as it confused me a lot.
Well, I passed the information of progression of our platoon to Basra to my fellow soldier. They were happy at this news. Most of the young soldiers were glad as they were given an opportunity to do something for their country. Whereas, the middle-aged soldiers very well understood the horrors and realities of war. They were of opinion "War is merely a war which can neither be good nor bad. It is only the people who get affected in terms of good or bad during the war time". I noted seriously the valuable comment of one of our fellow soldier who said, "I had earlier participated in gulf war with enthusiasm but I was not aware of the practical aspect of it." However, now after ten years, a tremendous change had come in his personality. Now, he was always concerned with the practical aspect of war rather than a mere enthusiasm. May be during those ten years he had led a happy family life, reared and had seen his children grow and thereafter had witnessed the coffins of fellow soldiers and watched many innocent human beings killed. All these touching scenes might have transformed his ideas and changed his outlook towards war. That is why he often said, "Death is inevitable but God should not give it to anybody before time. I realized that we too had landed in Basra as the dealers of death. It was such a naked truth, which had converted stark reality into unreality and vice versa.
Chapter 27
U.S. soldiers swarmed and moved about like bees in Kuwait. Everybody was eager to kill innocent people. Some wanted to devastate Iraq with proven hi-tech missiles; some wanted to kill Iraqis by using deadly poisonous gases thereby choking the entire environment. I also felt like a fly waiting to kill its prey. But then, I felt I was different from those flies and was similar to a Dengue mosquito, whose modus operandi was more fatal and lethal. The deployment of the U.S. army was on full swing in Kuwait and at one time, it seemed as if there were more soldiers than Kuwaitis in Kuwait. One day I found nearly one third of Kuwait was converted into the base station of united army of USA led forces. We had also realized that Kuwait had not only openly supported USA's action against Iraq but was also helping U.S. led coalition united army against Iraq, thereby creating a tense situation in the Arab region. Many Arab countries had not approved the open support of Kuwait to U.S, and this was the reason that some countries were holding the meeting of the Foreign Ministers of Arab nations in that region in protest. Quite interestingly, not even a single Arab country now was ready to support Kuwait openly. We already had this inclination that this may escalate into a Third World War. Long-time back there was a prophecy, that 21st century would witness a warfare of limitless armies in which people would be engaged in guerilla warfare and terrorism, and it may soon get escalate into a full-fledged world war. This prophecy seemed to be so relevant. The world was severely troubled by the monster of terrorism. And Iraq was preparing in Bagdad to face the brunt of U.S. led armed attack by adapting to guerilla warfare technique. I also at once remembered all the various theoretical aspects of guerilla warfare tactics which were taught to me during my army training. I had often asked, "What is guerilla warfare?"
U.S. Officer said, "Most of the people fight guerilla war to bring about a change in the system, governance and usurp a government but Saddam Hussein is fighting to prevent his usurpation."

Chapter 28
We were air dropped by Apache helicopter gunships in an isolated desert area, situated at the backyard of Basra International Airport, during sunset. We kept on walking all night in that barren desert area. We soon got exhausted, not by walking for so long but by carrying back load of 40 to 45 kg. We had special super-cooled air conditioned uniforms, kept suitably cool with special portable battery unit attached at the back of it. This hi-tech uniform always maintained our body temperature up to 30°C. We had specially designed food warming hi-tech pouches to warm our food items. We also carried additional nutrient supplements in the form of energy tablets. Special booster chocolates also gave us instant energy at the time of need. One of our fellow commando soldiers who accompanied us was a woman named Aliza.
Aliza inquired while walking, "How far is the airport from here? I found that she was feeling thirsty. I wondered, time had changed so rapidly, as woman now walked hand in hand and neck and neck with man and had entered the war zone so effortlessly. The same woman was begetter of man and now had become the destroyer at the time of need. It was a great transition and transformation in the role of a woman in modern age.
I understood Aliza's condition, took out water bottle from my bag and said, "Take some water; we shall reach our destination by morning." I said, showing her the map of our destination. Aliza said, "I am not feeling thirsty at present, when I feel like I will drink it from my own water bottle."
So, I opened the lid of my water bottle and gulped some water to quench my thirst. At this, Aliza instantly snatched my bottle and gulped some water herself. I could clearly see the veins of Aliza's neck while she was drinking water through my night vision goggles. We got closer to our destination along with two other fellow commandoes. They were looking quite enthusiastic and charged up. Both of them were expert in operating shoulder fired Stinger and Tom hawk cruise missile. They told us about hi-tech cluster bombs, which were capable of wiping out the selected targets systematically with utmost precision. U.S. Air Force used cluster bombs for carpet-bombing a target, in which some of them exploded above the target and some after descending on the surface and then getting into it. "Once our attack begins friends, then we shall control the skies.," they said.
I at once recollected the detailed instructions given to us by U.S. officer during our army training session. He had instructed enthusiastically, "If you want to attain victory over a country then control its skies, because it means half a victory. In a meanwhile, the ground forces would try to go and hide in some safe place and we would get an opportunity to cause colossal devastation, which would definitely force our enemy to flee. So, always remember capture and control the skies of the enemy land as quickly as possible, then only we can win war because war does not go on for many days in modern age. Make the best use of your Air force and take the complete control of the situation. However, it was only a first step towards victory as it would be a Herculean task to win the hearts of the local people, treat the wounded citizens, feed the starving and war torn population, and distribute the pamphlets highlighting the atrocities and dictatorial policies of Saddam Hussein. And if possible U.S. led forces would have to work hard to spread communal hatred among Iraqis so as to factionalize them and segregate them into certain groups so that infighting and civil war starts in Iraq."
Chapter 29
The moment we landed on the Iraqi soil,  I at once realized that I had once again set my foot on a place which I had desperately wanted to leave. But still a great change had come during the previous and the current situation. When I had come here for the first time I was converted into a Muslim, and when I had come here for the second time I was baptized into a Christian under the name of Mr. Smith. I had set my foot on Iraqi soil after a gap of so many years and it had given me a strange feeling, as I had never thought I would ever come back here. I felt amused by this fact that I was a slave of this land and now I after getting liberated I had come here with a mission to destroy this very land. Earlier U.S. led army was supposed to enter through the Basra City but we had received a piece of information that there was some problem there, so our army had to change its plan in the last hour. Now U.S. army was to proceed through Bagdad. Daily, there used to be hectic discussion and new strategies were made as per the information received via internet through laptops. And it seemed that the U.S. led forces would be marching ahead speedily and systematically flouting the international norms and regulations. Sometimes it appeared as if the Iraq was far off but we were instructed to proceed steadily despite all odds. We were also aware of this fact that there was a strong opposition to U.S. led attack on Iraq from different parts of the world. I still remembered, leading Brazilian novelist Paulo Coelho had published a satirical advertisement in gratitude to President George W. Bush in newspapers deploring the U.S. attack on Iraq. It read "Thank you, great leader George W. Bush.
Thank you for showing everyone what a danger Saddam Hussein represents. Many of us might otherwise have forgotten that he had used chemical weapons against his own people, against the Kurds and against the Iranians. Hussein is a bloodthirsty dictator and one of the clearest expressions of evil in today's world. Thank you for making it necessary for Tony Blair to go to the British Parliament with a fabricated dossier written by a student ten years ago, and present this as 'damning evidence collected by the British Secret Service'." 
The newspaper advertisement further elaborated "Thank you for allowing Colin Powell to make a complete fool of himself by showing the UN Security Council photos which, one week later, were publicly challenged by Hans Blix, the Inspector responsible for disarming Iraq. Above all, I express my heartfelt gratitude to you Mr. George W. Bush for not listening to us and making fun of our piece of advice. But be assured, we are not only listening to you but will also remember you for all this forever." I realized only a good novelist had the capacity to criticize such actions genuinely through such meaningful words depicting truth and genuine human emotions. That is why such words would resonate forever in the ears of coming generations in times to come and would remain eternal even after hundred years.
 Chapter 30
We somehow spent night and it was about to dawn. We all were always in touch with our officers. I was instructed to read the important news from popular newspaper The Basra Streets from the laptop. And then I translated it into English. I did not know but somehow my mind and heart had not got accustomed to the name Basra Streets because I myself liked Basra Ki Galiyaan. Then we also used to remain in touch with our fellow soldiers through mobile phones while remaining lodged in different bunkers. 
One fine day as per routine, I wore an Iraqi uniform and started walking towards Basra, to buy some local newspapers to translate some news items into English. Nobody could judge, whether I was a soldier of an Iraqi army or of U.S. led unified army, because I was so well versed in Arabic. I reached a newspaper stall, after some time and bought The Basra Streets. It had carried Saddam Hussein's interview along with his message to Iraqi citizens on the front page. I started translating this top news item into English in my laptop, Saddam Hussein had made a frantic appeal to all the Iraqis "Do not get panicky dear citizens, Iraq is very much capable of taking arms against USA. We would not suffer defeat; we shall fight tooth and nail, until our last breath. We would not yield to USA." It further read out "American attack on us is not merely a matter of oil politics but also due to the speedy depreciation of its own dollar currency. That is why America has a dream to ride over through the oil politics but we shall sabotage their plans and see to it how far it can seize our oil wells." It was indeed an impressive and motivating interview.
The first question read, "Do you think it is all about oil politics only?"
Saddam had said, "O! Yes. It is merely a dirty game of oil politics. If you all remember George Bush Senior often used to say, "If the vast oil wealth of the world comes under the direct control of Saddam Hussein, then the lifestyle, jobs, security and sovereignty of our ally countries would be at stake forever and we all would have to face a grave danger."
Moreover, former American Minister Lawrence Karbe's statement was also very amusing – in which he said, "If Kuwait was engaged in production of carrots then we would not have given a damn to it, but unfortunately Kuwait also produces a great deal of oil. That is why we are interested in it."
"Do you think yours forces are well equipped and trained to take arms against U.S. led hi-tech unified army?" Saddam replied, "You are right. The U.S. led unified army is well equipped with hi-tech weapons but our army is also well prepared to fight them out. I would like to specify, U.S. should not consider its enemy to be weak, if it does so, then it would be committing a grave mistake. We have army of daredevils, who will not allow American army to succeed. Iraqi army would face the U.S. led unified army chivalrously and boldly. In addition to our army, let me give a word of caution to the Americans, we have brave hearts in the form of the Republican Guards who will stand like an impregnable barrier between Bagdad and the U.S. led forces; our die-hard soldiers are scattered in every nook and corner of Bagdad."
The last question read, "Is your statement about French business representative, Henry Baranje's observation correct, as shown in television recently?"
Saddam at once retorted, "Yes it is hundred percent correct. French business representative Henry Baranje had clearly stated in 1918, that whosoever had total control on oil wells, would exercise complete control over the world. If we seize the heavy crude oil then we shall reign over seas and oceans of the world, if we seize pure hi-refined oil then we shall control the skies of the world and dominance on best quality oil shall make us lords of lands on this earth. Moreover, whatever money we get by selling oil barrels, would be enough to govern the affairs of the world easily. However, I would warn George W. Bush, it is high time he should mend his ways, or else he would also have to meet the same fate as that of George Bush Senior. You see his portrait lies in shambles at the staircase of Bagdad hotel, so that everybody who enters its premises tramples it by setting his foot on it."
I had finally composed the entire matter of this interview in English but I felt as if my head was spinning; as I had heard long time back, that Saddam had intentionally put George Bush Senior's life size portrait at the entrance of a posh hotel in Bagdad, to degrade it. People disclosed, once a delegation of representatives from different countries visited Bagdad, there was an American amongst them, who saluted at seeing the portrait and refused to go inside. He at once rang up George Bush Senior, who had asked him to return to USA at once. Thereafter, George Bush Senior had talked with Saddam to remove his portrait but he did not agree to it. Then, Bush had threatened Saddam and given him an ultimatum that if he did not remove his portrait within a stipulated period of time, then U.S. would have no choice left but to launch an attack on Iraq." But Saddam didn't agree on this either. Saddam had gained popularity not only as a dictator but also as an obstinate ruler. That is why his life was like a lit cigarette and was often at stake.. It was more of reciprocation like situation as Saddam had mercilessly killed large number of communists, fought the never-ending war with Iran and had even used chemical weapons against Kurds in a large-scale war. Now, America had gathered the support of the big nations to attack Iraq in the garb of the lame excuses of the presence of chemical and biological weapons in Iraq. Quite interestingly, when Saddam had used these lethal weapons then nobody had raised a voice against him. Instead, the communist country had remained silent, had even given financial, and weapon aid to Iraq; whereas now same big communist country was raising clamor on America's attack.
Suddenly I realized, I had read somewhere that the American government into dirty oil politics and was under complete control of bankers, industrialists, former high army officials, bureaucrats and politicians who had their dominance in the politics of Britain. These people often decided the life and death of the common populace. I might not be wrong if I said that these very people were responsible for creating a war like situation in countries like Iraq, Iran, Kuwait, Afghanistan, Palestine, India and Pakistan etc. These bunch of people thought they had every right to interfere with the internal affairs of any country as per their whims and fancies.
I went towards my bunker and saw that there were very less number of army platoons in Basra. May be the platoons were deputed in Bagdad because Saddam was more concerned about the security of Bagdad. I kept moving towards my base camp, thinking on these lines.
Chapter 31
It was evening and moon was about to show its beautiful glimpse at the backdrop of the date palm trees. Even the sand was beginning to get cooler. I very well understood  weather of this area. The coldness increased just as the sand became cooler and cooler. Whereas in summer season, the sand used to get heated up as the sun rose steadily thereby increasing the temperature all around. I was about to reach my destination and everything appeared so familiar to me. But still many years had passed and I had often traversed through these roads. Even the date palm trees were fully grown and were loaded with ripe fruits. It seemed that some of them had been recently planted. I was accustomed to see most of the area being covered with full grown date palm trees. Some of them were planted near our hospital also. One day when I saw big holes being dug up near our hospital, I went up to my boss and asked, "Why such big holes are being dug here?" Boss replied, "For date palm trees." I asked surprisingly, "What do you mean?" Boss said, "It is quite evident, we shall plant full grown date palm trees here instantly." And after some days the whole road was covered with the gallery of full grown date palm trees, which gave the whole area a pleasant green look. Sometimes the date palm fruits used to tempt the onlookers and their mouths often watered. I also felt thirsty at the very thought of it, so I took out the water bottle from my bag and drank it. Thereafter I reached my bunker. My routine was same, every morning I used to leave for Basra, wearing Iraqi uniform, used to buy newspaper The Basra Streest, translated relevant news items into English in my laptop and e-mailed it to the U.S. General. In the meanwhile Aliza joined me, she looked exhausted whereas Tom and Victor were active and were waiting for the orders from their superiors.

 
Chapter 32
It was almost day break and I had started walking towards Basra as per my daily routine. The army vehicles were moving to and fro in the city. I bought Basra Ki Galiyan alias The Basra Streets newspaper from a stall and started reading it and found important headline, an ultimatum given by USA to Saddam and his sons to leave Iraq immediately. But it was also clearly mentioned in the news that Iraq had disagreed to comply with America's ultimatum and had ordered its army to face the U.S. led unified army bravely. It was also mentioned at one place France had decried U.S.'s decision to attack Iraq and said that it was against the desire of the International community. Bush's statement read, "Iraq has tremendous hatred and contempt for America and its allies, but America has nothing against Iraqi citizens. Bush stated, we agree and support the fact that Iraqi citizens have right for human independence." And along with these statements Bush had made an earnest appeal to Iraqi army and citizens not to wage war and allow the U.S. led united army to destroy the chemical and biological weapon arsenal of Saddam Hussein. President Bush had even said in a message to Iraqi citizens that their day of independence and freedom from Saddam's tyranny was approaching near. The message clearly specified that Americans were forced to take military action against Saddam to safeguard the interests of Iraqi people. It further elaborated that Americans had hoped to solve this issue amicably and peacefully but unfortunately could not succeed. There were many other news items but I did not find them relevant. I went back to the sand dunes which lead to the terminal there was toilet of Indian camp located. There I took out my laptop and composed some of the news items in the toilet secretly.
Chapter 33
I received the news in the evening about the launch of massive attack on Iraq the next morning. I was roaming restlessly at that time as I could not visualize the aftermath of current situation. Though there were less number of Iraqi soldiers on the streets of Basra yet young boys, adults and even old men were full of enthusiasm to fight and outnumber Americans in this war. Most of the people had shut down their work and had fully prepared themselves for this imminent war. Saddam Hussein was making a fervent appeal to the Iraqi people and to the world community through various television channels and newspapers that U.S. led attack on Iraq was in fact attack on humanity itself. He had even motivated and incited Iraqi population to wage an eternal Jehad with America. Saddam had also promised local populace that his army would never spare Americans and they would never succeed in their evil designs. Saddam said, "Do not be afraid, take out weapons, history stands by you, justice will prevail, we shall attain victory." Thereafter Saddam quite diplomatically used to raise slogans of Iraq Zindabad Palestine Zindabad so as to rope in the Arab support time and again. Saddam used to say that with Allah's grace they would surely attain victory over their enemy. He muttered, "It is the responsibility and duty of every Iraqi citizen that he should take arms against its sworn enemy America and safeguard the interest of their fatherland. He further said, "We shall face the brunt of America's cowardly act boldly and wipe them out from Iraqi soil." Saddam's speech was aired from his son Uday Hussein's private television channel. Saddam ended his speech with a poem in which he had mentioned that they would not hesitate to resort to guerilla warfare tactics if required and ended once again his speech with the slogans of Iraq Zindabad and Palestine Zindabad.

 
Chapetr 34
Next morning I got up puffed cigarette carelessly and went to Basra to buy newspapers as per my daily routine. When I reached the stall I found that newspapers had not arrived yet. This made me anxious, even the small tea-stalls nearby which used to open at dawn break were still closed. Though I was restless yet I was not afraid as I was wearing an Iraqi soldier's uniform and was well versed in Arabic. Finally all the newspapers arrived in a short while along with Basra Ki Galiyan alias The Basra Streets. The main headline of newspapers read "Bagdad set ablaze by Bush's madness. 40 Tom hawk cruise missiles fired, ignoring the world community's mandate. Ground onslaught launched." It was also specified that attack was for the liberation of Iraqi citizens along with a big bold headline Operation Iraqi Freedom.
I walked towards my bunker, reading this news. It specified , "Iraq replies with scud missile attacks."
The bottom story line read, "This war is to save the world from grave danger." George W. Bush had clarified his intentions in a television interview, just before the massive onslaught on Iraq, "The U.S. led unified army has launched a massive attack on certain selected targets on my orders. Presently, our unified army is in its first stage of operation of disarming Iraqi army so as to liberate the Iraqi citizens and safeguard the world from the grave danger of chemical and biological weapons." He elaborated "More than 35 countries have provided naval and airfield landing facilities to us in this mission along with intelligence, man power and technical support." Bush claimed and condemned that Saddam Hussein had intentionally placed Iraqi army and ammunition in and around its innocent children and women citizens to use them as human shields against U.S. led unified army. He said, "We are facing boldly the army of such a rogue enemy state that doesn't abide by war pacts and moral ethics." Another news at the right side of newspaper read, "India reaches world cup final." I saw a wonderful photograph of Indian Cricket team in which cricketers were standing hand in hand with each other in a jubilant mood. I delved into to past memories and reached the streets of my native land, where I used to play cricket with a thapi- a crude cricket bat, along with my friends. I did not know when and how I had graduated from thapi to sophisticated cricket bat and then to hi-tech weapons of modern warfare.
Soon, I came back to the world of senses and translated some other news items into English. I realized that an army man's life was to kill and get killed and both things could not be done peacefully. Quite interestingly, soldiers often loved fighting in style. Even when they spoke about it, often it seemed they were devoid of feelings of love. Suddenly Bola Bhaji's comment crossed my mind; he used to say, "Whenever an army man retires, he forsakes not only his rifle but also his wisdom. They take away the wisdom so that he may not share the secrets of army outside and also the rifle lest he should not misuse it in civilian life."
 
Chapter 35
Numerous helicopters hovered over Basra during night. It seemed as if numerous vultures were hovering ready to pounce upon its prey. I was constantly in touch with my senior officers and used to wait for their responses and messages patiently. And the moment I gave them message, numerous American soldiers came out of their barracks. I took them instantly to a safe place and asked them to wait in those wooden cabins for the final signal. In a short while, I received intimation from the U.S. General to ask these commandos to be prepared to blast the three terminals of the airport.
We moved in groups of four towards the airport terminal. Aliza was also with us, but I was still unaware of her nationality. Once we reached the terminal, we sabotaged it with hi-tech explosives in a fraction of second. It was a heart-rending spectacle and we very well knew that Iraqi soldiers would rush to the scene of ambush soon. Therefore, I took my fellow American soldiers into the tunnel, where we were safe. Four of us were dressed in hi-tech uniforms which were fitted with all modern gadgets of warfare viz. compact oxygen cylinder, miniature flood light, smart ammunition etc. We spent the entire night in tunnel. The next day, once again I went to Basra to buy newspapers. I had decided, I would translate news that day at my base camp, as a security measure. Today's headline read "Fierce U.S. onslaught on Iraq. Bush's US led unified army enters 180 kms interior in Iraq. 500 Iraqi soldiers surrender, many airfields, sea ports, and oil wells captured. Three terminals of Basra International Airport destroyed; Americans air raid devastates the targets and leave behind a trail of destruction. Some U.S. soldiers perish at South, a few British and U.S. airmen dead in a Kuwaiti helicopter crash, Iraq claims to shoot down some of the U.S. air planes, spate of cruise missile attack on Bagdad… Saddam's wife and daughters attacked, enraged Saddam sets thirty oil wells on fire etc." There was also mention of crucial news, which read "Saddam wounded in one of the attacks." My three companions listened to this news patiently; I translated and composed these news items speedily, to intimate the U.S. General. Thereafter I realized that this tunnel had an outlet for exit, but then anyone could also enter from that point. So, I asked my companions to sit silently and went towards the exit man-hole. I saw some Iraqi vehicles moving towards the Airport terminal. I at once came out of the opening leaving my friends behind. Then I entered the same Iraqi bunker nearby where I had lived so long previously. I found them all to be empty, as Iraqi army had already proceeded towards Bagdad. I still kept watching the movement of Iraqi vehicles for a while. After sometime the movement of vehicles stopped, then I gestured my companions to come out of tunnel and occupy those bunkers. We spent the whole night carefully in them, whereas I myself guarded their bunkers in Iraqi uniform.
The night passed by slowly, and the dawn began to set with the first rays of sunshine. At daybreak, I once again took to my task of buying newspapers to translate more news for the U.S. General. I took leave of them to go to Naseeriya and they bid me a hearty goodbye.
Soon, the whole sky was full of the U.S. warplanes and the U.S. led army had captured the whole of airport terminals. On seeing this I went to my bunker, changed my clothes and wore a U.S. uniform. Thereafter we walked towards the U.S. commander. He was very happy at our success and congratulated us on completing mission so successfully by saying, "Our four valiant commandoes have completed this mission so gallantly."

 
                            Chapter 36
Earlier it was thought by the strategy makers of the U.S. led unified army that the Shiaites in Iraq would take advantage of this situation and revolt against Saddam's regime, and would be of some help to the U.S. led forces. But unfortunately it did not happen. Neither any Shia leader joined hands with America nor there was any revolt. Many days had passed since the war had begun but the entire Shia population was silent which had spoiled the plans of the America's policy makers and frustrated the army commanders. I was also instructed time and again to go to the streets of Basra, try to find out anybody who revolted against Saddam and goad him further for a rebellion. I used to daily roam in the streets of Basra, rather hunt for news in newspapers, but couldn't find anyone who was ready to rebel or fight against Saddam. I used to stand patiently in the group of people, they used to discuss many issues but nobody dare to discuss the topic of rebellion. One day one youngster was saying, "How can anybody revolt against Saddam? Our nation is under threat this time? Moreover we all know very well the fate of the gulf war and of those who had revolted against Saddam. They were mercilessly killed. Even the American army could not do anything." I had also read one news in newspaper in which one of the prominent Shia leader had made an appeal to the Iraqi population "Do not favour anybody and never trust the U.S. led forces." He had cautioned the local population by citing many examples from the past experiences.
 
Chapter 37
Basra was soon under total control of the U.S. led unified forces. But Iraqi forces were still fighting with U.S. forces in Bagdad. Fierce fighting was going on in other cities of Iraq. Naseeriya and Basra were almost encircled by American forces and even the crucial folding bridge, which led to international airport was also now under complete control of U.S. forces. But we were not supposed to allow any army men to enter the interior of the city. When I roamed in the city in Iraqi uniform I found that localities were preparing for guerilla warfare in every lane and street. We had thought Shia population would be on our side but unfortunately Shia community along with Iraqi guerillas were offering stiff resistance to U.S. led forces in the holy city of Najaf. It was almost fourteenth day of Operation Iraqi Freedom; meanwhile Iraqi Guerilla's had successfully carried out suicide attacks on the U.S. led forces. Interestingly Iraqi forces had tried to fight out the U.S. forces initially at Basra and Naseeriya but had to retreat soon. Many of our tanks got destroyed in suicide bombing missions carried by Iraqi guerrillas. Soon permission was granted to U.S. led forces to use hi-tech smart bombs and cruise missiles on Iraqi targets which had started wreaking havoc, on Iraqi forces. After some days Basra and Nasiriyah were also under the U.S. led army's control. But still, it was getting difficult for the U.S. led forces to capture Bagdad. The main headline in newspaper read, "American forces open their new front at Kurdish area and also air drop their Para-troopers across Iraq, which will help the unified forces to intensify their attack on Bagdad."
 
                            Chapter 38
Many days had passed but my routine was same, I went to Basra, purchased some newspapers and dispatched the translated news items to the U.S. General. I missed Bushra badly these days, but I just could not afford to go to the lanes of Basra as I was not officially permitted to do so. We got used to the same scene everyday that is of the sky covered with black smoke after the massive bombardment. The skyline was mostly dotted with U.S. war machines, hi-tech helicopters and fighter aircrafts. Newspapers mentioned, "On the twenty second day of war, Saddam's life like statue at many public places is lying in shambles and the Iraqi population is free to move about in the city." This message was also relayed to the whole world through various T.V. channels, print media and internet. But Iraq was caught in a war imbroglio for years now; many households were devastated and engulfed by the ongoing cruel war. Great amount of money was wasted in these wars and many precious cities of Iraq including Basra and Bagdad had to face the brunt of these futile wars. It seemed as if it was the destiny of these cities to get devastated every time. Even when I used to live in Iraq, people used to frequently say, "Bagdad has got devastated innumerable times but every time it had shown a strange resistance and resilience to rise from its ashes and became more beautiful. That is why Bagdad was also known as Second Paris of the world. Some learned people also said, "Bagdad was also one time the capital of world's culture thousands of years back, it was here where world's most educational community of Western Asia dwelled." Bushra also used to say, "In 13th Century A.D. Changez Khan's grandson had devastated and burnt Bagdad City to such an extent that the water of Tigris River became red while narrating its tales of woe. That is why Bagdad has been repeating its story of progression and regression time and again. First the Mongolians came, then Ottomanians and then Iranians, this invasion continued. Iraq even remained under the clutches of Britain during the First World War. Britishers had to fight fiercely with the Turkish umpire to snatch away the Iraqi land."
Bushra further continued, "There was time, when Iraq was under the control of Khalifa Abasid. Then Iraq was the center of civilization and knowledge. Europe was undergoing through the phase of anarchy and chaos and Iraqi Muslim scholars were busy in the translation of ancient Greek texts into Arabic. The credit of the discovery of the Algebra and various other shades of literature is often given to the Iraqi scholars." Bushra often said, "Iraqis never knew the significance of zero that is why they battled with other nations. Europe was going through the dark ages whereas Iraq was in its golden period. Unfortunately every time the invaders tried to destroy the culture of Iraq by destroying its rich libraries and ancient museums. Bagdad was the centre of the Mesopotamian civilization. Initially, Bagdad City was surrounded by three walls viz-inner wall, army headquarters and the residential areas. The houses of businesspersons were at the outskirts of the city. Slowly and steadily, Bagdad became the most influential city of the world. It remained the centre of world's business and culture for many centuries. The degradation of Bagdad began on the arrival of Changez Khan's grandson who invaded it many times. He burnt the Mosques, destroyed the libraries, uprooted, and looted the population. In spite of all this Bagdad was still a formidable city because it was constructed beautifully during Saddam's regime which had given her name and fame of the second Paris in the world." I realized even our company was a foreign company; they were trying to beautify the airport but were also anxiously troubled by the ongoing shelling done by Iran. They were not able to understand the motive behind Iran-Iraq war because it only promoted mass destruction.
Then, Bushra said smilingly, "Do not you think this situation is like that of a preacher preaching to another preacher. No doubt certain sections of the world would get benefitted by the Iran-Iraq war but the local population has to suffer the pangs of torture of this horrible war. I have read and realised that the Britishers employed black labourers to reconstruct one thing or other in the process of colonization of Iraq." This meant that British government was present almost everywhere in Iraq, nobody knew of it, the airport that we had built with our sweat and toil was destined for destruction some day in this futile war; and then some other company would enter Iraq to reconstruct it. I often wondered at the interesting game of the arrival and departure of these foreign companies who always came with a motive to govern, rule, plunder and loot the under developed nations over the period.
Bushra continued, "Don't you think on these series issues, they are beyond human comprehension. Let the government think, why we should waste time." She hugged me while saying so and whispered sweet nothings into my ear. Suddenly I realized, I had been in Iraq for many days now and I felt as if I had missed Bushra all these days especially my sweet little son Uday who must have grown up into a boy by now. I wondered whether Bushra had ever disclosed to my son Uday about me. My restlessness increased as the evening approached silently. I took out a cigarette, lighted and enjoyed puffing out ringlets of smoke and started walking towards the Bagdad Chowk of Basra. I went there to see a huge lifelike statue of Saddam, situated there near the Basra Palace. I found some U.S. soldiers conversing there. One of the soldiers said, "America has shown the shattering scene of the statue of Saddam Hussein to the whole world through television and internet." The other soldier said, "Truth always prevails and attains victory."
Another soldier quipped, "It is the universal law of nature, whosoever achieves height has to face the downfall also."I realised that Saddam had built his lifelike statues only to display his fake power and glory. He had just wanted to immortalize himself in the eyes of public during his lifetime by this stupid act and forced them to worship him throughout Iraq. While I was in Basra then Saddam had installed his statues at different sites. However, people gave some reactions on Saddam's act of self-glorification but nobody could dare to speak about it openly. They often use to say, "This power shall wreak havoc on Iraq?"
That is why when common populace toppled Saddam's statue mercilessly; Saddam's might and power was also trampled under the mighty feet of America. In this way, Americans had proved the dictum that might was always right. The newspapers had flashed the news "Saddam's game is over". Still Saddam loyalists were not ready to surrender their arms. American forces had attacked and captured a Mosque in pretext of Saddam's hideout place but unfortunately, they could not find him anywhere. Claims were made every now and then of sabotaging the Iraqi forces completely. Three weeks after the ongoing operation freedom, some high officials had agreed that U.S. led unified army had completely vanquished Iraqi forces. U.N.O.'s ambassador at Davri had also agreed that Saddam's reign was over, his forces were badly defeated and now it was their primary task to re-establish peace in Iraq.
This statement had no doubt boosted the morale of the U.S. led unified army as we had achieved victory in this ongoing war by facing many hardships but still our goal was quite far off. I had also realized that we must not set on our oars and should gird up our loins to search and capture Saddam alive.
Suddenly I reached near a statue of Saddam, built nearby Bagdad crossing. I often used to stop by the Chowk of Babylon crossing to watch the lifelike statue of Saddam Hussein built in front of the magnificent Babylon Palace, reflecting its rich ancient past. It was indeed a special statue depicting an aristocrat clad in Lion's skin bending over a girl. I had tried many a times to understand the meaning of this posture of the statue. One day I asked Bushra, who said, "This is a statue of an aristocrat. In past, whenever any bride procession passed by this statue, the bride spent a night with this aristocrat and then only she was allowed to proceed to her in-laws. Everybody was aware of this dark reality but nobody had guts to oppose it openly. Many years passed, meanwhile the aristocrat's daughter attained adolescence. When she was of marriageable age, her bridal procession was also destined to pass by this Babylon's chowk. This news spread everywhere like a wild fire and the people decided that she would also meet the same fate as per the established norms. They went to the aristocrat and told him of their decision. One of their leaders said, "Kulu nafar sawa sawa." thereby meaning that there should be equality among people. The aristocrat became anxious and disturbed on listening to their decision. Thereafter aristocrat called a special meeting of his near and dear ones to find out the solution of this problem. He decided if he backed out, then there would be a blot on his face forever. Therefore, he had no choice. Aristocrat's wife also advised him to leave all these bad deeds and apologize from the people but he did not agree. At the end aristocrat decided, that he would spend night with his daughter by wearing a lion's skin. In addition, people say "the day when the bridal procession of his daughter was to cross the Chowk, aristocrat and his daughter got converted into statue of stone. However, luckily, his daughter was brought back to life by the sprinkling of blood; she was holding ceremonial garlands in her hands, which she threw on to the onlookers. People shouted the slogans, "Kulu nafar sawa sawa."
The same slogan resonated in my mind and I went towards my bunker. Tom and Victor had already left for their mission. I thought Aliza would be there in the bunker. So, I went inside to chat with her.
 
Chapter 39
Entire Basra city was under the U.S. led army's control. Their vehicles moved about freely and fearlessly on the roads. We were now free and at ease to live at any place nearby airport. But still Aliza and I had not left our bunkers and were still occupying them. When it became dark, I drove my wagon towards Bushra's house and parked my vehicle at one side of street, walked up to the house and knocked at the door. A woman's voice inquired from inside, "Who is there?."
I remained silent, as I could not understand what I should say. Once again, the woman inquired but I remained silent. Suddenly jolted by a sudden jerk; I could feel the rattling sound on my helmet. I looked upwards; the old woman had banged something against my head. I at once recognized my mother-in-law. I suddenly realized my mistake that I had disturbed them at midnight and that too in an U.S. soldier uniform. That is why Bushra's mother had hit me with a big boulder considering me an U.S. soldier. Moreover, she had started shouting loudly on understanding the whole situation. I at once ran towards my wagon and sped towards the airport, duly encircled by U.S. led forces. I felt tension free after reaching there, parked my vehicle and walked towards the Babylon chowk. Thereafter I lighted a cigarette and watched carefully the huge statue of aristocrat clad in lion skin for some time. I felt soon in times to come these huge statues of terror would be shattered and uprooted. Then these lifeless statues would themselves speak out the eternal truth that the life of dictatorial rulers was very short. Everybody needed peace and harmony. However, these statues would definitely narrate their tales after they were shattered. No doubt, the Iraqi Government said that these gigantic statues were the treasures and specimen of the vast cultural heritage but the people discussed it silently that Satan was not fully dead yet. Satan alias evil had changed its guise in the form of Saddam Hussein who was ruling Iraq. Nobody could say whether all the statues would be broken into pieces and when the era of peace would dawn upon the lives of the Iraqi people.
 
Chapter 40
I joined Aliza in a short while. I found Aliza was sad but she was vigilantly performing her duty diligently. I at once asked her, "What has happened dear, why you are lost in some other world." She remained silent. When I repeated my question she heaved a cold sigh and said, "I am tired of fighting this war, I want to take rest. Earlier I have already tolerated and endured Afghanistan war, now I am fed up of this desert life. Though the number of medals has increased on my uniform but in reality they signify the number of people I have killed in action and vice versa. I do not know why we have sabotaged and devastated unlimited number of houses in the name of establishing peace. And whenever I think of my own death, I tremble at the very thought of it. Just think for a moment, what my family would feel about it? They will have to undergo a an unbearable when they would come to know about my death." Her face was tense with these thoughts. I consoled her and boosted her morale. Tears flowed down her cheeks and she said, "You know, these days the news about death is delivered in a monotonous way." I asked, "What do you mean?"
"It is quite clear. Whosoever carries the information about somebody's death, there is a possibility that he might himself not be able to tolerate such a sad news because everybody knows that in a war like situation anyone, anytime, at any place can become a martyr in a flash of a second." said Aliza.
After sometime she continued, "I clearly remember, after the gulf war when army men arrived at my home to deliver the news of my husband's death, then I had slapped flat across the face of that soldier. He not only endured the slap silently but also consoled me in that crucial moment. A wife never gets anything, except for a little compensation for such a great loss. An army man's family can receive unpleasant news anytime. Such is the condition of every household of soldier. That is why the defence department of America considers it the most difficult thing to intimate the members of the bereaved families of army men about the death of their near and dear ones. Their hearts also tremble with fear while delivering such sad news. However, they have to perform this unpleasant duty because they are bound under certain rules and regulations. Before Vietnam War, the news of a sudden demise of the soldiers was delivered to the family through telegrams, but afterwards the uniformed soldiers started delivering the sad news to the concerned bereaved families during duty hours that is between 6am to 10pm. Thereafter it was made mandatory for the deputed officer to deliver the sad news of the death orally. There is a rule that the messenger cum carrier of sad news on special duty on behalf of Secretary of Army, Air force and Navy seeks prior permission from the household members of the bereaved family to enter the house. Only then delivers them the sad news. He enters the house respectfully and offers his consolation in a controlled tone so that he himself doesn't become emotional at that moment of grief."
Aliza continued, "These days it seems as if some messenger is standing outside my house to deliver the sad news about my death to my grown up daughter who has grown up and is waiting for my return anxiously. It seems as if that messenger soldier would also break down into tears, shout loudly and rush outside to intimate his wife about his wellbeing through his mobile phone. Perhaps he has also realised that his family is also perturbed. His wife enquires in sad tone,' When this war will be over? When will this torturous wait end?." Aliza burst into tears.

 
Chapter 41
At dawn, I was once again moving towards Bushra's house. I was wearing Iraqi uniform and I had duly packed American uniform as the U.S. led army had total control on the entire area. I was amazed that my Iraqi uniform was still not worn out and looked like almost new. It still fitted me perfectly.
I parked my vehicle by the side of the street and went towards Bushra's house. I knocked at the door. I expected my mother-in-law to come on the terrace. She came there as expected. When she saw me in Iraqi uniform, she came downstairs to open the door. I found that she had become old and haggard during these years and had calmed down with the passage of time. I vividly remembered when Iraqi soldiers had come to recruit me, my mother-in-law had wept bitterly and Bushra's condition was miserable. I was myself sad and tense, when I had heard the unpleasant news of my forcible recruitment into Iraqi army. However, when I saw tears in Bushra and her mother's eyes, I burnt with desire to wreck my vengeance on them. That is why, I had quipped "I am almost ready, to go away with you." My mother-in-law had got enraged and said, "Please do not take him away, it has been already decided that he would never be recruited into Iraqi army." 
Her remarks had added fuel to the fire, which was burning inside me, and I said, "I shall definitely go, when I have already adopted every rule and regulation of this country, then it is but obvious that every norm which is applicable on an Iraqi citizen is also applicable on me too." I wore my shoes and came outside to join them. My mother-in-law had caught hold of me and begged earnestly not to press on this issue for the time being. She said, "I would go with my request to Abu Raj, he would definitely give due consideration to my genuine plea." I at once freed myself from her grip and boarded the army wagon. Then suddenly I got down, rushed inside, picked up my son, kissed him all over and left a parting kiss on Bushra's eyelids, which were full of tears. Her eyes welled with tears, smeared my lips and I could still feel the warmth of those tears even today. 
My mother-in-law at once identified me, uttered a shriek of happiness and rushed inside I also followed her silently. Thereafter she herself started speaking, "It was just difficult times which we just could not avoid, otherwise nobody could have dared to meddle with our household affairs. Whenever there is any breach in a house, then outsiders do get an opportunity to interfere and dictate terms. We have helplessly witnessed the whole scenario. One should learn to face the bad times boldly and try to tide them over smilingly. Similarly one should also have the capacity to shed a tear in adversity and prosperity as both are short-lived." I do not know why but I had never liked her, rather I used to get enraged on seeing her and sometimes abused her in my heart because I had always held her responsible for my predicament. My mother-in-law was perhaps also aware of this fact but still she had never lost an opportunity to talk to me. However, I had always maintained a strange silence with Bushra. At that time, my mother-in-law's face was full of glow and vigour. Now with the passage of time her face was full of wrinkles, her eye balls had sunk deep, hair had turned into white but she still spoke with same fervour and enthusiasm, as she used to ten years back. It seemed as if my mother-in-law's heart had gladdened when she saw me after so many years. She kissed on my forehead repeatedly, prayed and thanked Allah for my wellbeing and blessed me numerous times in Arabic. Finally, I sat on a chair placed outside. Tea arrived soon but Bushra was still in her room. I got curious and became impatient to meet Bushra. 
My mother-in-law continued, "We are so happy to see you back safe and sound." We had earlier thought that you had attained martyrdom in war. We had seen your name in the list of martyrs as published in newspapers. Bushra had become almost dumb after listening to this unpleasant news and had stopped taking her meals for many days. However, how long can one survive without eating food? She has become a living vegetable now, with no trace of emotions left."
For the first time, my mother-in-law's remarks did not trouble I and I felt like talking to her. Suddenly I wished to meet Bushra in person, so I went to her room without saying anything to mother-in-law. I uttered a shriek of grief when I saw Bushra. I was shocked to see her, as she was a mere shadow of her majestic self. Bushra was five feet six inch tall and she was known everywhere for her majestic gait and grand beauty. When she used to smile, it seemed as if a fairy had descended on earth. Her deep-set fascinating eyes often motivated the onlookers to gaze at her continuously. However, today she just smiled mildly on seeing me and got up and sat on the bed with a great difficulty. She was looking pitiable and miserable. Suddenly my mother-in-law came there and said, "Well it's good, you have finally arrived; now we all will live happily together."
I stared at her and said, "You cannot trap me here. I am a U.S. soldier now and have come here to get you all liberated from your dictatorial ruler. I got my freedom eight years back." 
 Bushra, who was sitting silently and looked mere a frame of skeleton, got angry and said loudly, "You are free, go away from here. You desired freedom you finally have it. As far as our freedom is concerned, you do not worry about it. It is better to be a slave of our own ruler rather than ruled by an alien ruler. Well there is not much difference between our dictator and you all. He is merely fighting to save his skin. It is quite evident he lacks guts to become a martyr. Thousands of Iraqis are sacrificed in order to save him. He is so concerned and worried about his own death that is why he moves about in various disguises. In addition, you are so much concerned with your freedom that you cannot value anyone's emotions of true love. I had heard that Indians could not only forget and forsake their country but every possession for the sake of their love. You have turned out to be so selfish; you have come to sabotage the country whose daughter had once fallen madly in love with you. You are indeed a chameleon."
I felt hurt at Bushra's sarcastic remarks and said, "Love is always an emotional attachment. Anything, done forcibly, is a pure loot and passion. The only difference is this that you had forcibly looted me emotionally but still you couldn't win my heart."
 My mother-in-law became emotional at my remarks and muttered, "Son, Bushra is not at fault, I am responsible for all this. I had forced Bushra to marry you. May be, the motherly instinct within me had forced to do all this. You very well know the miserable plight of Iraqis. Due to the prolonged continuous war, every household was full of war-widows. The population of males had drastically declined and only Hajis old men and children left in every household. So much of imbalance was created in the sex ratio in Iraq that it would have taken hundred years to restore it back to normalcy. In addition, if there was an eligible bachelor in any household, still the girls were not ready to marry any male, as her parents very well knew the consequences of marriage, because soon that male would also become a martyr by joining Iraqi forces in name of Jehad. Only upper class families were safe in Iraq in their well-protected palatial palaces. They were the ones who were benefitting in war and did not bother about any rules and regulations then. "
My mother-in-law took a pause and then continued, "Just to tell you the truth, when Bushra was pregnant, she had told me clearly, "I won't get married mother and I shall get the baby aborted." I do not know why but my motherly instinct had goaded me then to believe that you were the right choice for my daughter and she might also get an opportunity to lead a happy married life in war torn Iraq. Moreover, the Kaazi had assured us that as you were Indian, you would work in company and never  be recruited in Iraqi army as per norms for foreigners. This was a great ray of hope for me as I was sure that Bushra would never become a war widow." My mother-in-law started weeping, looked at her second daughter and said, "Look at her, she could spent just a few days with her husband as he too had become martyr in this brutal war. Such is the heartrending story of every household in Iraq, which is full of war-widows. That is why you brought a ray of hope in our barren lives."
I got angry at her remarks and said instantly, "Alright I may agree with all of your arguments but what was the need for Khatna, do you think I would have not loved Bushra dearly if it had not taken place."
She replied, "You have misunderstood the circumstances dear son. Whenever there is a breach in the walls of the house then every trespasser gets an opportunity to peep through it. The condition of our house was also same as that of Iraq, its walls had developed cracks and every nation had an opportunity to peep through it and meddle in our internal affairs. Similarly, when the news of Bushra's marriage with an Indian, travelled outside the four walls of our house it had started creating problems for us. The pressure of society mounted on us day by day. The Kaazi who had solemnized your marriage with Bushra had taken a decision of on his own to get the Khatna ceremony performed soon. He had announced this inevitable decision in front of public by saying that it was an important ceremony of cultural and religious significance to rope a Kafir into their religion and society. I had gone to Kaazi's residence and had pleaded to spare you from the torture of Khatna but he had refused to do so. We also could not dare to oppose his decision and finally you had to bear its torturous ordeal. I knew in my heart it was wrong on our part and our society to subject you for such a torturous ordeal." 
I was shocked at this shocking revelation made by my mother-in-law. I asked mother-in-law to make tea, took out cigarette and puffed out ringlets of smoke. Bushra's sister also went out when she saw her mother going to the kitchen. There was pin drop silence in the room; Bushra herself broke the silence, "I am very happy at least you are free and breathing in free air. There was a great burden in my heart; I had always felt as if I had committed a great sin, not to be purged even after my death. Now on seeing you as a free bird I am relieved of that guilt. People are dying and shall keep on dying in this war like situation as no one can sit at peace during war. Have you ever realized that your own son is also among the people whom you have come to devastate and destroy in this war?"
I went blank when I heard the words "Your son" and asked impatiently "Where is my son."
"Do not get impatient and excited; he is thirteen years old now and gone for training to get recruited in Iraqi army. In addition, if this war continues like this, then one-day father and son might face each another. Let me disclose one more thing. One more son was born when you left but unfortunately he died after some days." said Bushra.
I heaved a sigh of grief, "He died." Bushra also heaved a cold sigh and said, "Doctors cited the reason for his death was the prevalence of poisonous gases in the atmosphere because of war. According to them, he had caught some infection named meningitis, which had finally engulfed him. I think it was good that he died; at least he escaped the endless suffering of war. All boys of his age group now are still suffering from one lethal disease or other. I just could not bear that horrible sight and would have committed suicide, but I could not do so because he resembled you most. I often saw your glimpse in him. So, I often smiled and sobbed with him heartily."
I kept mum for a long time, it was almost midnight when I took out bottle wine from my bag and gulped a few pegs. I felt intoxicated after some time but I was still in senses; I could feel the stupor but was still under control. I got up to test myself and went towards the bathroom and on entering, it found that I had full control on my limbs and they were not at all staggering. I could not realize what had overtaken me there, for a moment I was lost in the quagmire of thoughts. I clearly remember when I had left Iraq my son Uday was only three years old and he used to speak less because he stammered.
Though Uday used to stammer a lot yet still he tried to say something on seeing me back home after my duty hours. Uday often used to come on to my bed, lie down, and looked at me continuously as if seeking my love and affection. He used to play with a lifeless callus like growth on the side of my elbow and go to sleep.
When he was in deep sleep, Bushra used to pick him up and put him on her bed. Sometimes in this process, he used to open his eyes and looked lovingly towards me as that why I had left him. I also understood his emotions very well and said, "Shoo shoo" which he understood very well. I myself had christened him as Uday, as this name was common in both countries. Slowly and steadily he became so attuned with me that whenever he felt like urinating he would say, "Abu bada, shoo shoo" and used to run towards bathroom and urinated himself without my help. I had gone back 10-12 years to relish these old memories and realised that Uday might have become old enough to play with sophisticated guns instead of toys. I wondered in my heart, "Such a small boy with loads of responsibilities on his shoulders." I still remembered my mother used to caution me so lovingly during my college days, "Son, go on a bicycle carefully, there is great traffic on the roads." In addition, if she saw a knife in my hands, she uses to take it away at once by saying, "It is not meant for children." I realized children always remained darlings of their parents, who always doled out their love and affection on them unselfishly. Suddenly I came back to the present moment, opened the door of bathroom, went to the bed and posed as if I was out of senses. Bushra was sitting on the other bed. I closed my eyes and waited for her patiently. When nothing happened for some time, I opened my eyes and found that she was sitting patiently on her bed and was lost in her thoughts. I became tense, so I gulped a Patiala peg from the bottle. I told Bushra, "I have met you after so many years; I thought you would embrace me on seeing me but it did not happen. What is the matter with you?"
Bushra broke the silence and said, "I myself wanted to embrace you heartily. I just could not get up from my bed just because of the happiness of seeing you back. I felt as if I was relieved of some mental stress after a long time. My joys knew no limits. But I had never realized this happy moment would be so short lived. I could not even enjoy it to the fullest. It would have been better if you had not come, as I had already consoled my heart on receiving the news of your martyrdom. Now I have become tenser with the realization that you will not live here permanently. My whole existence shattered due to this stark reality. The pleasant moments come only for a brief moment in our lives and then leave us making sad forever. After listening to your tale of woe, I just could not mug up courage to rush to your arms and embrace you. See Allah has brought us together at such a crucial juncture. I committed one mistake and I have suffered for it a lot."
Bushra continued, "Then one day I heard the sad news of your martyrdom, cursed myself for it and held myself responsible for it. However, all that time I felt that your untimely demise was quite unjustified because you had sacrificed neither for any country nor for any religion. However, after listening to your part of story, I wonder why have you butchered numerous people and what for? After all you are neither fighting for any country nor for any religion. Then, what is the relevance of this bloodshed? There is not much difference between you and Saddam. The only difference is that Saddam's acts of cruelties have been exposed to outside world by media but diminutive Saddam is like you are moving freely in the lanes of Iraq in search of their prey desperately. Do you know even Gulnar weeps bitterly; she often comes here and misses you very much. Her flesh business is almost over and she is on her last legs. She was quite sure of your return and used to say if there is an entity named Allah then you shall definitely return someday. Even I had never thought about it. You were so desperate for freedom. Go away now. I set you free from the bondage of our relationship too. And remember never ever lie on the bed after consuming liquor or else I would feel as if a pitiable slave is tied up in chains and waiting here miserably for his paramour."
Bushra said all this so spontaneously that I had never dreamt of such frank and candid remarks. My stupor of liquor was lost instantly. Suddenly I felt heavier and decided to go out. I got up wore my cap, and walked towards main exit of house. Bushra said, "Do you know, your son Uday loves Indians very much. He also loves to philosophize, like you used to do. He has imbibed your traits." Bushra said, when she scolded him he used to say, "Mother every child learns to speak Mom and Dad instantly." Then I realized he spoke so correctly. Children are images of Allah, it is for us the parents who lead them astray on the path of religion and send them on a mission of safeguarding the country. No doubt, the government has forcibly handed him weapons in his hands but Uday is still a child at heart. Whenever he comes back to home, he often shares his "Shoo Shoo" anecdote with me lovingly. Ironically, you are still alive after being dead in the eyes of world and I am almost dead in spite of being alive. There are very few gutsy people like you who can  uproot and usurp any regime. I congratulate you. You have successfully uprooted and sabotaged Saddam's regime." said Bushra and started weeping bitterly. I became restless after hearing her true comments and went outside. Buhsra followed me but her mother stopped her by saying, "Let him go away, if anybody comes to know about him then they would chop off his hands and feet publicly." I was touched for the first time at my mother-in-law's kind gesture and I rushed out of their sight.

Chapter 42
I came back from Bushra's house. I had never thought, she would treat me in such an indifferent way. Her words were still resonating in my mind and had disturbed me. Aliza had very well read these emotions. Aliza was living with me for many days now and I had realised, most of the times she remained seriously lost in her thoughts. I lied down beside her and closed my eyes. Aliza placed her hands on my eyes and said softly, "What is the matter?"
When I still kept silent, she caressed my face affectionately and repeated same question again. I remained silent. Tears flowed down my cheeks and trickled down on to her hands. Aliza herself began the conversation, "If you do not want to share it, then I won't force you, but your tears have told me of your untold tension which is bothering you now. Your tears have so much warmth that they can make a barren land fertile. I can easily understand the language of tears being a woman. These emotions are in fact very rare, which the nature has embedded in the human nature. It often expressed through tears rather than language sometimes. Whenever the emotions of happiness and sorrow come on the face is usually expressed through means other than language. Your tears are narrating a tale of some sorrow. So, I do not need to inquire about It.," said Aliza and then she wiped away my tears softly.
I realized Aliza had in fact touched my Achilles heel. Now I wanted her to goad me further on the same topic, but she remained silent. I took her hands in my hands, got up, opened my eyes and lighted a cigarette. Aliza also got up and lighted her cigarette too with my lighter. I could see clearly in the light of lighter that some teardrops had evaporated on her cheeks too. I asked, "What is the matter Aliza?" Aliza retorted, "Nothing special, you did not share your trouble, I do not know why I missed someone near and dear one at this moment. I feel tears ventilate our sorrows, and often flow out through eyes."
I puffed out ringlets of smoke and said, "Aliza my story is quite long, you would not be able to listen to it."
Aliza said instantly, "Please do not forget I am also a true soldier, and have come here to participate in this war with a firm determination, to the kill enemy and if required I can lay down my life too for my country."
I said softly, "I do agree with your sentiments, you may be a true soldier but do not forget you are also a woman. It seems we are at strife with Nature. A woman who should be ornamented and beautified with ornamental objects is now being loaded with modern gadgets of warfare." Aliza felt hurt by my remarks and said, "No one picks up weapon on her own sweet will." "Then what was your compulsion", said I.
Aliza continued emotionally, "My husband died in gulf war. We were just newly married. The sudden demise of my husband sowed the seeds of hatred in my heart and goaded me for recruitment in U.S. army. That is why, I am here fighting with you in this mission. However, I have realized that war cannot bring or cultivate peace. I do not know what kind of peace we are trying to find out by killing innocent people. We are running a never-ending race. But we cannot do anything because duty is duty and it has to be discharged dutifully." I became emotional at Aliza's touching remarks, and narrated my tale of woe to her. Aliza was shocked to hear my story. I also told her about my recent meeting with Bushra, and the way she behaved with me. Aliza uttered a shriek of grief on listening to Bushra's predicament and said, "Bushra is a great woman. She still loves you truly, it seems she does not want to repeat the same mistake again, that is why she has set you free." I took her hands once again in my hands and kissed her softly, but Aliza got away by saying, "I like you but you must understand since the day I have joined army, the womanly instincts totally subdued in me. I am now a woman minus woman. My body has become used to the intake of numerous hormones. I took special hormonal tablets before coming to war zone so that I do not have menstrual cycle during wartime. When a woman loses her femininity and body language of a woman, I think then she becomes useless like a living vegetable. But when I was told I had to accompany you for mission Basra, then only feminine instincts once again awakened in my body. Then I consoled myself about its wrong timing, as the situation demanded action at the battlefront rather than love making. After all we are here to take and lay down our lives."
 
                            Chapter 43
After listening to Aliza's views, I went to the other side of the room and puffed a cigarette. Bushra's taunting remarks had disturbed me and I felt as if I was awakened from a stupor. I wondered how I spent all these years without such kind of genuine thinking. I had never ever thought of doing a self-analysis before. I had always dreamt and talked of freedom, bloodshed, and restoration of peace and disruption of peace all those years. Quite surprisingly I was living all these years with loads of heavy weapons on my shoulders. All these years I had never thought that how I was befooled, and led a life of a fool, bearing all the burdens on my heart like a helpless slave. Even after living in Iraq for so many years I was always troubled by the thought of living there as a slave. Quite interestingly after getting liberated from there, I was again caught in the clutches of another country's slavery. But I could not realize the gravity of seriousness because there were all kinds of facilities available in that slavery which had never made me realize that I was befooled so systematically. There we were viewer only given a formal training in the army training camps to butcher others mercilessly and to lay down our lives at the times of need for our mission. I had no connection with the outside world. When the U.S. General had brought me with him to America, I had remained under house arrest for eight years. I was given the best facilities of food, lodging and comfort and my name was changed to Smith. Quite surprisingly, I was happy when my name was rechristened by the Americans, whereas I had got enraged when my name was first changed in Iraq. I just could not understand the reason for it.
I do not know why but today I had fully understood Bushra's frank remarks and I had realized the truth. I just could not evaluate my past deeds in the light of my participation in the ongoing bloodshed. I felt as if I would go mad. So, I took out my bottle of wine and gulped some pegs neat but suddenly I realised it was forbidden to drink in duty hours. Therefore, I stopped. Thereafter I thought if Saddam did not surrender willingly before the U.S. led forces then the Iraqis would have to face dire consequences as innumerable innocent children and citizens were killed mercilessly by the U.S. led forces. I still remembered about the fate of the gulf war in which many people were killed due to the usage of poisonous gases and thereafter many children were born physically deformed. I was terribly moved by the word physically deformed because my second son was also victim of it. I would have definitely seen and met him if he were alive today. My whole body shuddered at this thought of using poisonous gases in war, which always had a long term and everlasting negative effect on the coming generations. I was also worried about my elder son Uday whom I had never seen or met. He was also taking training in an Iraqi army camp. I wondered what shall I do if we both accidently met each other. All these memories haunted me and I once again lighted up a cigarette to ventilate my tension and moved ahead.
 
Chapter 44
The night passed somehow and the dawn crept in slowly, but my sadness further intensified. I did not feel like talking to anybody but then I realized I had to buy newspapers and send the translated news items to the U.S. General as per routine. So there was no room for emotions but only for facts. While I was reading the newspaper I got fascinated by a news item with a photograph of some children fighting with each other while standing in a queue in order to drink water from a water tanker. I was wandering all this time no one had ever bothered, to think how many people died?… how many got wounded?... in this brutal war… but still I got worried for those innocent children.
Suddenly I flew back into flashback of my memory. I remembered my good old days spent at Lakshmi Narayan Ayurveda College, Amritsa, when I was studying in the last year of B.A.M.S. I found myself in the class our teacher Dr. Anup Gakkhad, he was teaching us about the spread and control of epidemics. After listening to his lecture I had asked, "Sir what is the meaning of epidemic?" Dr. Gakkhad replied spontaneously, "In Charaka Samhita, an epidemic is defined as a condition in which many people or a major portion of a population die because of some reason. The reasons of the death may be due to lethal weapons or some fatal disease. For example in the battle of Mahabharata nobody knew how many people died and of what reasons. Similarly plague or black death or pestilence is also capable of wiping out a sizeable number of human populations instantly." I further asked, "What happens in an epidemic and why does it takes place?" Dr. Gakkhad remained silent for a while then tried to explain by resetting his spectacles on his nose ridge, "The main reasons for the outbreak of epidemic are non-religiosity, evil and immorality, God Atrey once told Agnivesh, due to epidemic air, water, country and time are mainly effected. Immorality and widespread of evil often pollutes the atmosphere fully. Usually the evil deeds committed in the previous birth against the establish norms of religion and shastra are the main cause for sudden development of immorality, atheism, non-religiosity and evil in human beings which often leads to the outbreak of epidemic. Whenever any guru, administrator, chiefstan or official commits a crime against his own populace in a town, village, city, council or a country, it results in the development of bad deeds. Such malicious people usually deviate from the path of religion and follow the devil thereby leading to the spread of misdeeds in the society. In such a situation, God also leaves such immoral persons in lurch, thereby forcing the nature all around to react in an anti-human and negative way. This thing helps in the spreading and outbreak of the epidemic in an area. This is the reason why we sometimes witness draughts and heavy rains, drying up of water resources and polluting of rivers etc. All these things contribute in the massive destruction of plant and animal life thereby contributing in the outbreak of various epidemics." Similarly, Dr. Gakkhad further elaborated, "According to the Shastras the main reason for the outbreak of epidemic is immorality. Those who become victims of guilt, anger, pride, lust and desire, they insult the weak… humiliate their own brothers and even do not hesitate to destroy them by using modern weapons of warfare." Today I had realized that Dr. Gakkhad was right. Many days had passed since I heard of the chirping of the sparrows. The people were leading a life of savages here under a shadow of death. The water resources here were polluted and it seemed people were ready to leave their native land but were afraid to do so under compulsion. I also felt as if the whole world was struck with numerous epidemics like earthquakes, droughts, floods, bird flu and scare of anthrax, which was engulfing the innocent human lives every now and then. All this had created an imbalance in the society and an atmosphere of terror in the minds of the people all around.

Chapter 45
My mind was restless and agitated as I desperately wanted to run away from this place. At times, I thought if I had wings then I would have flown away instantly but unfortunately I had to live here till the war continued and we could not leave this land till we received further orders. One day, I got an idea that there was a way out if Aliza could readily help me. I talked to Aliza about my plan but she got angry on listening to it and said, "Why do you want me to commit sin. I cannot do this." 
I tried to make her understand by saying, "It is not a sin but a good deed. There is a slight difference between sin and good deed. When we kill our enemy with these weapons, it becomes a good deed and when we kill our own then it becomes a sin. It is only the mode of thinking which makes us think so. Even if you do not help me, I may not live long. So, please help me to get freedom from this hell or else you may receive news one day that I have librated myself on my own.
Aliza became silent after listening to my predicament and we sat silently for some time. Then she said, "Ok. I shall shoot bullets on your legs as per your plan." 

                            Chapter 46
Many days had passed since Aliza had hit bullets on my legs. Soldiers had rushed to the site of action on listening to the sound of bullet shots, so as to find the intruder. Aliza had also joined them in this search. I was immediately given first aid and airlifted in a helicopter and flown to Bagdad. There bullets were taken out of my legs and it was duly plastered. The U.S. Army Officer had said, I had to remain there for some more time as some pamphlets had to be printed and distributed across Iraq soon. Moreover I was only well versed in Arabic. Thereafter I would be sent to USA. One day an officer arrived with the matter of pamphlet. I started writing it down manually in Arabic. Just then I realized that many days had passed since life like statues of Saddam were shattered. In the meanwhile Iraq was totally plundered. Saddam's brother and two sons were also killed. There was anarchy and lawlessness everywhere. People had started indulging in arson and loot everywhere, especially in the big offices of Saddam. The scenes of many people spitting and hitting blows with shoes on the massive portraits of Saddam were shown on television. There were also widespread rumours that Saddam was shot dead in ambush. But still we received orders from our high command that war still going on and was not over. Our high command had made 55 photographs of most wanted bigwigs of Iraqi forces and only 37 had been caught so far and the search was still going on. Though I was not feeling well yet I had to translate material of pamphlet from English into Arabic; so I began writing it on a piece of paper.
In a pamphlet, an earnest appeal was made to the Iraqi people, 
"We have no enmity with you. Our only motive is to get you all Iraqi citizens liberated from the clutches of a cruel dictator Saddam. We make an earnest appeal to all the Iraqi citizens to help us in trapping the rest of the Saddam's officers. Those who would help us would be duly rewarded. Do not get panicky; there is no reason for being afraid. We have sabotaged Saddam's fake pride and futile dreams. Saddam is so merciless that he has shot dead his own son-in-law and has curbed the voice of his own daughters. He is a tyrannical ruler who is cruel and torturous even to his own near and dear ones." 
To, further incite the feelings of the Iraqi citizens it was also mentioned that Saddam had ordered to kill his own army men. It was also mentioned that in 1980, the Iraqi kurds were mercilessly butchered and in 1988 alone, nearly one lakh kurds in 40 Kurd towns were killed cruelly with poisonous gas, which was the greatest crime against humanity. It was all mentioned in bold letters to encourage a Kurd rebellion. It was also stated that Hassan Ali Majid was responsible for butchering thousands of Kurds in 1988; but quite luckily, he was no longer alive. There were many such facts mentioned so that the U.S. led unified forces might win the sympathy of local Iraqi citizens. But one thing was very strange, the armed forces of Saddam raised slogans "Forget past, and move ahead."
 
                            Chapter 47
The day of reckoning had finally come, and I was told by my officers that I would be sent to America next morning. It was a pitch dark night. I boarded an army wagon as I wanted to see Bagdad for the last time. At one place, I saw the glimpse of a park, then I reached a special place which Sri Guru Nanak Dev Ji had once visited long time back. I had visited this sacred place twice earlier when I worked at Basra along with Channan Singh and Bhola Bhaji. Bhola Bhaji used to share that while he had come to work in company in Bagdad, one day he was intimated that Sri Guru Nanak Dev Ji had come to meet the Peerji, a seer a care taker of the graveyard here. Slowly and steadily people came to know about the relevance of this sacred place. Thereafter people constructed a small room there and placed Sri Guru Granth Sahib Ji ceremoniously. Bhola Bhaji also said, "Before 1980 there was not a single Sikh here, but thereafter in Saddam's rule many Punjabis came and settled here in Iraq. This area is now known far and wide as Nanak Peer." So I asked driver to stop wagon there so that I may offer my respects to this sacred place. While paying my reverence I remembered lines of Channan Singh which he always hummed:
"Khurasan khasmana kiya hindustan daraya,
Aape dosh na dai karta jamkar mugal chadaya
Aeti maar payi kurlane tein ki dard na aya"
I boarded the army wagon after bowing my head respectfully and paying my respects to the shrine and asked the driver to move ahead.
Chapter 48
I lived in USA for some time and missed Bushra very much. At times under the influence of liquor, it seemed she was near me. Many a times I could not sleep due to pain, though my leg was in plaster, doctor had given me some pain killers along with sleeping pills. I usually used to take medicine two to three times a day so as to curb the pain. The heavy dose of medicine not only helped me to forget pain but also Bushra to some extent. Soon my leg got cured and the plaster was removed, but I was still addicted to sleeping tablets as I felt relieved of tension and worries. I realized that I had become habitual of reading five to six newspapers, whereas these days only one newspaper came at my residence. Though my leg fully healed yet I still staggered. Doctor had said everything would be alright soon in days to come.
When I reached India, I met everyone. Naresh used to visit almost daily. When Channan Singh came to know of it he too rushed to meet me. I was surprised to see mobile phones in everybody's hands. When I had left India for Iraq, mobile phones were not common here. Only a few persons in our locality had a mobile handset, whereas all of them had two wheelers viz. motor cycles and scooters. Interestingly the cost of Bajaj Chetak scooter was merely six thousand rupees in foreign currency in those days. I realized time had changed drastically during all these years. When I saw new cars speeding up and down the highways, I felt as if I was in some other country instead of India. Everybody was curious to ask many things from me but I avoided because I knew it would further aggravate my tension.
I was at home now for many days. My younger brother had got married, and his children had also grown up. I used to feel happy on seeing them and sometimes got worried about their future. Mother was so happy that she daily used to make stuffed potato paranthas for me but I did not like them these days as I had become habitual to bread and butter. Sometimes mother used to get angry and force me to get married, but I used to evade the topic smilingly. Then mother used to quip, "Who will cook food for you son when I am no more, so get married soon." I still avoided the topic and consoled her lovingly. I had noticed my mother's wrists were still devoid of bangles, as she had given them to my brother's wife. So one day I went to bazaar and bought four gold bangles for her. But she removed them by saying, "I would not wear them at this age son, you select a girl, get married, I shall then gift them to my bride."
Days passed on somehow but I had soon disinterested in routine things. I had also stopped taking sleeping pills now. One night I decided to go to Haridwar. I had often visited Haridwar before leaving to Iraq. I liked to sit beside the bank of holy river Ganga which used to give me a soothing effect. Therefore, I mentally decided to leave for Haridwar and thought about it, lying awake on the bed. Suddenly I got up and stood before my father's portrait; and noticed the pale garland hung around its frame. My mind flew through various domains and pondered on many useless things and finally I went to sleep.
I got up early in the morning, took bath, freshened up and told my mother of my decision of going to Haridwar. She along with other household members opposed it strongly but I was adamant. Brother also said, "At this time there is no direct train for Haridwar." I said, "No problem, I will go up to Ambala by train and board a bus from there to Haridwar." So brother offered me to drop at the railway station by scooter, but I refused softly.

                            Chapter 49
I went to railway station as I wanted to see the streets and lanes, where I had played, roamed and enjoyed heartily during my adolescence. When I had landed in India, strange thoughts had crept into my mind, I felt terribly isolated and alienated as if I were a stranger to the surroundings. I felt so because my identity and name had changed completely. My soul trembled with fear, at the thought of getting old as it signified isolation, decay and loneliness. I suddenly realized that I was already forty years old now. And if human life span was seventy five years then I had spent the prime of my life in worldly pursuits. Thinking on these lines, the scene of young hapless Iraqi children flashed across the scene of my imagination that were mercilessly goaded and motivated forcibly to join Iraqi army at such a young age. I felt sad about their fate as they lost their infancy and could not enjoy teenage days joyfully. Suddenly I realised that I had gone quite far from the railway station lost in my world of thoughts. So, I called a rickshaw puller and said, "Can you take me to railway station?" He agreed at once and we proceeded towards our destination slowly. As the rickshaw passed by Sain Dass School, I at once remembered my good old school days. Our rickshaw glided through the road monotonously leaving behind Valmiki Gate, Mai Hiran Gate and Domoriah Bridge and finally reached the railway station. I gave rickshaw puller a twenty rupee note and went inside to buy ticket. Thereafter I lighted a cigarette and went to the nearby bookstall; which was in almost same condition as when I had left India, one side there well stacked newspapers and on the other side were detective novels properly displayed for the onlookers, along with different magazines displayed in the middle. I said to the bookstall keeper, "Give me a newspaper." He quipped, "Hindi or English." I realised thereafter all these years I had read numerous newspapers in almost every language to such an extent that I had got fed up of them. I felt like reading Hindi newspaper, so I said instantly, "Give me a Hindi newspaper." He gave a Hindi newspaper entitled Dainik Jagran. On seeing it I inquired, "Which is this desi newspaper I want Punjab Kesari, the popular newspaper."
He replied, "You may take Punjab Kesari, but do not call Dainik Jagran a desi newspaper, as during the last four or five years it has also turned out to be one of the number one best seller newspaper. It is indeed a newspaper of long standing reputation, earlier it had monopoly in Uttar Pradesh and Bihar, now it has developed a strong readership base. Just has a glimpse all around the railway station, you will find it fully illuminated with the glow signs of Dainik Jagran."
When I looked around, I could clearly see the glimmer of Dainik Jagran all around the glow signs had declared Dainik Jagran as the number one readable newspaper among readers in the country. So, I said, "Ok give me Dainik Jagran newspaper along with ever popular Punjab Kesari." I also saw Ajit and Ajit Samachar newspaper along with Outlook and India Today magazines in Hindi. I suddenly witnessed a pleasant change in the world of print media and it was heartening to see the rise of the Hindi newspapers and magazines. I bought newspapers, sat on the bench, and started reading the important news. One lead news item read – "Foreign daughter-in-law sacrifices prime ministerial berth and offer Dr Manmohan Singh the same post." At another newspaper it was mentioned – "It would be for the first time a rare occasion when the reins of the country would be in the hands of an economist and an eminent scientist." There was a big advertisement of Coca Cola at the bottom of the newspaper. I had found on reaching India that every T.V. channel was flooded with Coca Cola and Pepsi advertisements at frequent intervals and people had also became habitual to watch them. Many a time, I felt as if a newly born child also nurtured a dream to dance with his girlfriend with a can of Pepsi in his hands. I was shocked to see the increasing impact of Western culture on the youth of the country, and they were totally addicted to it. I at once remembered the fact that it took us the Indians many years to throw out one East India Company but today there were numerous such foreign companies, which had spread their tentacles in all the parts of our country. I also remembered when people used to say in America, that whole world was a global village, I just couldn't follow but now I had fully understood its terrible consequences." Train was about to arrive soon.  I bought some other English newspapers along with some news magazines, after the final announcement of train's arrival. Train arrived well in time on the platform; I boarded it and occupied my berth.

 
Chapter 50
I was in Haridwar for almost three days now. I used to sit at the Ganga ghat for hours during day and returned to my room only at night. I would have left Haridwar earlier, but I had seen a banner on the Ganga ghat which informed that Swami Gyaneshwar would teach people Art of Living in a twenty one day meditation camp. Therefore, I went to their officer in charge who was at a hotel nearby Hari Ki Paudi and got myself duly registered for the camp.
 
Chapter 51
Many people had gathered from far and wide in this meditation camp. I used to reach there, punctually at 4a.m sharp. Swami ji used to sit in Padma Asana posture at a raised pedestal with his eye closed and in utmost concentration. Swami ji then opened his eyes and glanced at the assembled congregation. Thereafter he closed his eyes and instructed all to close eyes by saying, "Recite OM and concentrate on individual inner self so as to go deeper into the process of meditation." I also closed my eyes and tried to meditate but could not concentrate. Suddenly I visualized a big tree full of birds and animals. A monkey was also sitting among them who had eaten up completely the meal of the cats while helping them out in sorting out their differences. Vultures and owls had also occupied their respective seats. Snake and mongoose were also sitting there. As their ring master was not there with them; so they were all looking at each other full of hunger and hatred. A Cunning fox, swan and crane were making their own observations. A lion was standing in front of that tree, looking for an opportunity to eat any bird or animal if they dared to come down within its reach. Suddenly a rat, under a fit of naughtiness, thought of teasing the lion. It climbed up its back and started troubling it. Quite interesting the lion found him helpless and hapless before rat, as he could not stop its prank. Lion offered peace to all the animals but none agreed. But a cat thought of making peace on getting convinced with lion's fake persuasions; and on the pretext that lion would not be able to climb a tree if at all she felt any threat to her life. Just as the cat jumped down from the tree, rat at once rushed to take refuge in its rat hole. Suddenly the lion also realized it had got rid of rat and then pounced upon the cat and stood outside the rat hole waiting for the prankster rat to come out so that it could kill it with paws there and then.
I was not able to meditate properly and was thus, not able to get my peace of mind. I kept on sitting at my place and opened my eyes. Then Swamiji's words reached my ears. He said, "Let all types of thoughts enter your mind, do not stop them, you would get rid of these vague thoughts slowly with the passage of time and your mind shall then become calm." So, I followed Swami ji's instructions, but felt as if Bushra was standing nearby and saying, "Sinner trying to become a saint." Once again, my concentration to meditate lapsed and I opened my eyes. Therefore, I got up and went towards the sacred river Ganga. I stood on the banks of river Ganga and watched its turbulent flow. I realized life was also like ebb and flow of a river and no one was able to understand its secret designs. Suddenly my hand slipped into my handbag and I took out my Iraqi and American army uniforms and threw them into sacred Ganga river water. Thereafter I went again to join the meditation class of Swami ji, sat at my place, closed my eyes and tried to meditate. Though I tried hard to concentrate, yet my mind raced here and there. I was physically present there but mentally absent. Swami ji's instructions once again resonated in my ears. "Let thoughts come freely into your mind, this is only a class, which shall teach you to remain silent and learn the art of meditation. You are all learners. People of every religion can join this class, after twenty one days you all shall return to your respective homes." It seemed for a while that I had forgotten all my tensions and worries. Suddenly all thoughts stopped coming to my mind and my level of concentration increased, then I saw chameleon sitting there gazing ironically. My mind raced to the streets of Basra and I felt as if there was peace all-round there and citizens were celebrating their freedom. I also realized that the streets of Basra were similar to the Vietnam's streets. Swami ji's thoughts finally liberated me from useless vague wanderings of mind. Swami ji continued "Take deep breathe, recited Om and breathe out air slowly."
I followed Swami ji's instructions, took a deep breath, recited Om and enjoyed my meditation session.