Buddha Nullah of Ludhiana needs elevated road as well as side roads within city limits in addition to its rejuvenation
Director-Ludhiana Smart City Limited and Chairman-IIA Punjab Chapter Ar Sanjay Goel writes to Punjab CM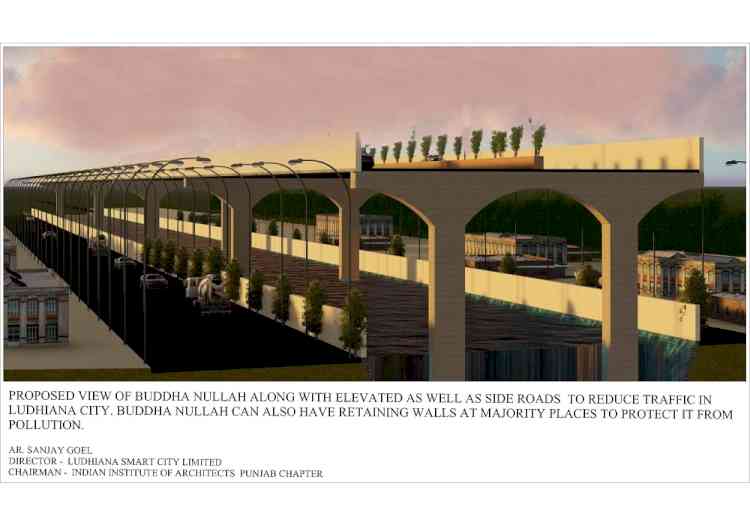 Ludhiana: Director-Ludhiana Smart City Limited and Chairman-IIA Punjab Chapter Ar Sanjay Goel has written to Punjab Chief Minister regarding Buddha Nullah of Ludhiana stating that this nullah needs elevated road as well as side roads within city limits in addition to its rejuvenation. 
The communication reads that "this is to share with yourself not only problems but solution too for Buddha Nullah, especially about roads as water treatment issue already being undertaken by Punjab Government. 
Buddha Nullah is one of the major example of live water pollution not only in Punjab but in India. Buddha Nullah is mainly a rain water channel running 34 kms app  from Machiwada to river Sutlej and app half of it passing through Ludhiana City.
With the passage of time, during the past few decades, due to mix land use many industrial units including dyeing units and dairy units have come up along Buddha Dariya. A large number of residences have also come up along Dariya. In majority of areas, along the stretch of Nullah, on both sides, there is no sewage system provided by Government.
Majority  industrial units are discharging their polluted liquid waste illegally into the Dariya. In spite of the best efforts of all the Government departments including experts from Central Government, State Government, District Administration, Pollution Control Board, neither people could stop discharging their liquid waste into the Nullah nor could the Government provide sewage disposal system and garbage disposal system in the localities along Buddha Dariya. Population of Ludhiana city has also increased 4 to 5 times during the past few decades. Due to mix land use and haphazard development, Ludhiana city is messed up and pollution of all types has reached the alarming point. With increase in population, number of vehicles has also increased at an alarming rate whereas road infrastructure in Ludhiana city is very poor and traffic congestions are a routine everywhere.
The maximum load of vehicles is on few major roads unlike Chandigarh and Delhi having multiple choices to go from one point to another. Buddha Dariya which has now become Buddha Nullah, although needs solution to water problem and garbage but Government must simultaneously find a solution to traffic related issues by constructing roads along Buddha Nullah as well as an elevated road can be provided above Nullah, so as to solve the traffic problem of upcoming Smart City. With this the land prices will also increase along Buddha Nullah and people will be more cautious to use their  land and buildings.
It is good that Punjab government has approved more than 600 crores for rejuvenation of Buddha Nullah but without addition of road network, specially above it in elevated format, only rejuvenation will not provide desired relief to Ludhianvis in long run. 
Aim of architects from Ludhiana under the banner of Indian Institute of Architects is that apart from solving the issue of water pollution Government must construct excellent roads including elevated roads as per sketch attached,  along Buddha Nullah passing through the city limits. Government must start laying sewerage system in the localities along Buddha Nullah. Industrial units including dyeing units and diary units  must be fined heavily, if found polluting Buddha Nullah in future."