Cabinet Minister Bharat Bhushan Ashu reviews opening of level rail crossing near Vikas Nagar along Sidhwan Canal
Deputy Chief Engineer (Construction Division) also accompanied Ashu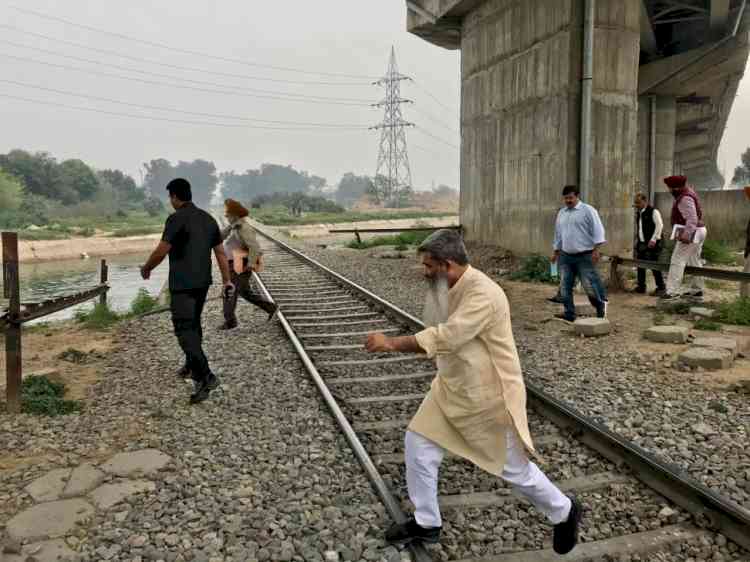 Ludhiana: Punjab Food, Civil Supplies & Consumer Affairs Minister Mr Bharat Bhushan Ashu today reviewed the opening of level rail crossing near Vikas Nagar along the Sidhwan Canal. He was also accompanied by Mr Williamjit Singh, Deputy Chief Engineer (Construction Division), Northern Railways and other senior officials.
It is pertinent to mention that Mr Ashu and MP Mr Ravneet Singh Bittu had met Union Railways Minister Mr Piyush Goyal in Delhi on March 18 and had urged him to ensure that this level crossing is opened for vehicular traffic on temporary basis because the main level crossing on Pakhowal Road have to be closed for some time when the construction of Rail Over Bridge starts.
Mr Bharat Bhushan Ashu informed that the temporary opening of a level crossing (no S3-A at Km 4/6-7) near Vikas Nagar area along the Sidhwan Canal was discussed with the Union Minister on March 18, 2020. Mr Ashu stated that the construction work of Rail Over Bridge and Rail Under Bridge on Pakhowal Road has already started and the construction of the ROB by the Railways would involve the closure of main level crossing during the execution period. Therefore, it would be essential to divert the traffic on other arterial roads during this period and so, a level crossing, no S3-A at Km 4/6 -7 existing nearby was closed subsequent to the construction of Rail over Bridge across it. This level crossing, if opened temporarily during the construction period, would immensely help in the management of the traffic.
•    RAILWAY OFFICIALS ASKED TO SPEED UP THE OPENING OF LEVEL CROSSING: BHARAT BHUSHAN ASHU
•    SAYS PAKHOWAL ROAD RAIL OVER BRIDGE & RAIL UNDER BRIDGES ALSO DISCUSSED & OFFICIAL ASKED TO ENSURE WORK ON RAILWAYS PORTION STARTS SOON
•    LATER, ASHU ALSO VISITS LEISURE VALLEY IN BRS NAGAR & INSPECTS ONGOING WORK
•    ISSUES WARNING TO CONTRACTOR OVER SLOW PACE OF WORK
Mr Ashu said that it was after his meeting with the Union Minister that Mr Williamjit Singh was sent to Ludhiana to work out the plan. Mr Ashu also asked Mr Williamjit Singh to ensure that the tendering process for construction work on the railways portion for the Pakhowal Road ROB & RUB project should be completed soon so that the construction starts.
Mr Ashu stated that the Deputy Chief Engineer assured that all the issues would be redressed on priority basis.
The construction of a Rail Over Bridge (ROB) and two Rail Under Bridges (RUB's) on Pakhowal Road has been a long pending demand of the city residents.  This joint project is worth around Rs 120 crore and would provide much-needed respite from traffic congestion to the city residents. He informed that the ROB would be 839.83 meters in length and would be constructed from Sidhwan Canal side towards Hero Bakery side, along Pakhowal Road over existing Railway Track, the RUB 1 would be 458.20 metres in length (from Hero Bakery side towards Sidhwan Canal side, along Pakhowal Road under existing Railway Track), whereas the RUB 2 would be 1018.46 metres in length (from Ishmeet Road towards Rotary Club Road and Ferozepur Road & Ishmeet Road towards Pakhowal Road).
Later, Mr Ashu, accompanied by Ludhiana Improvement Trust Chairman Mr Raman Balasubramaniam also visited the under construction Leisure Valley opposite DAV Public School in Bhai Randhir Singh Nagar and supervised the ongoing work. Perturbed over slow pace of work, he also issued a warning to the contractor and asked him to pull up his socks and finish the work with the deadline.
He informed that the leisure valley is of around 1.5 kilometres in length (starting from opposite DAV Public School till Railway Crossing near Pakhowal Road) and is being developed with a cost of around Rs 3 crore. 
He informed that near DAV Public School, the vacant chunk of land was literally being used as a garbage dump. He said that this space would soon be fully transformed into one of the best leisure valley's of the city. Here, the Municipal Corporation has also constructed a rain water recharging well. Mr Bharat Bhushan Ashu informed that the this project (near DAV Public School) was designed by former students of Horticulture Department of Punjab Agricultural university and the features will be modern infrastructure, benches, canopies,  imported grass, plants, lighting etc. He informed that this leisure valley would also have tennis, badminton and volleyball courts, along with a senior citizen home, an open gym, besides several other facilities.