Capt Amarinder Singh should be conferred with `Idle CM' award: Harsimrat Badal
Says CM deliberately delaying completion of Rs 117 crore mega food park at Ladhowal for 3 years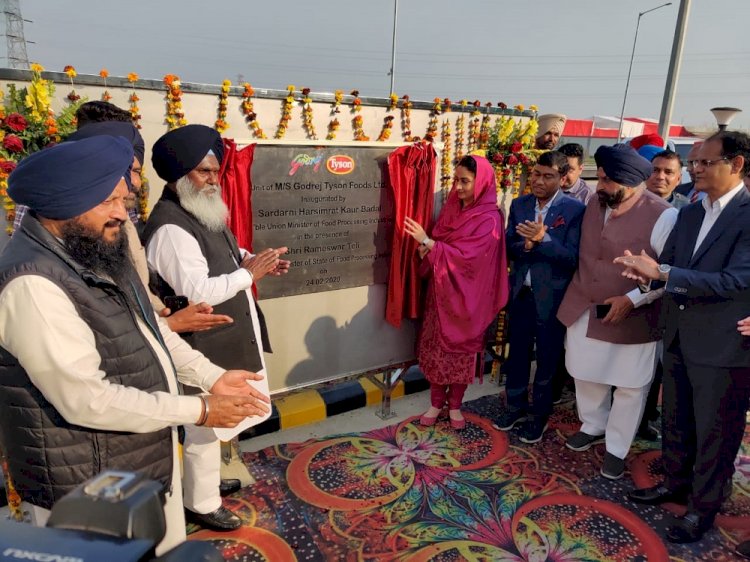 Ludhiana: Union food processing industries minister Harsimrat Kaur Badal today said chief minister Capt Amarinder Singh should not be presented with "Ideal CM" but "Idle CM" award for doing nothing for the State and its people for three years including not allowing the Ladhowal mega food park to be inaugurated.
The union minister, who inaugurated two food processing units - Godrej Tyson Foods Ltd and Iscon Balaji Foods Pvt. Ltd at Gur Kirpa Mega Food Park which have become operational even though the food park awaits inauguration, said the "Idle CM" was repeatedly scuttling her moves to dedicate major facilities to the people of Punjab. "The same thing happened in the case of the AIIMS, Bathinda institute and is being seen again in case of the Rs 117 core food park for which the ministry of food processing has given a grant of Rs 50 crore".
Mrs Badal said the park, which was approved in November 2015 was slated to be completed in May 2018, was being deliberately delayed and that there was a complete lack of initiative from PAIC to stick to mandated schedules which was detrimental to progressive farmers, employable youth as well as the industrial sector.
Divulging details of the two food processing units she inaugurated today, Mrs Badal said these would benefit the people of Ludhiana and nearby districts of Jalandhar, Moga, Amritsar and Fatehgarh Sahib as these were set up with a cost of Rs 95 crore of which Ministry of Food Processing Industries granted Rs 5 crore each. She said two units would run at a capacity of 7200 MT per annum patato processing and 5700 MT per annum frozen ready to eat and cook food products.

Stating that her ministry was doing its best to generate employment, Mrs Badal said once all 42 Mega Food Parks were ready at a cost of Rs 1,200 crore they would give employment to 50,000 people. "These are actual figures and not make believe figures of eleven lakh jobs as claimed by Capt Amarinder Singh in Delhi recently".
Later while interacting with media persons, the Union Minister shared the complete detail of her correspondence with the chief minister in a chronological manner and stated that except for formal acknowledgement of the letter nothing meaningful had been done.
To a query related to Punjab DGP's recent remark about Sri Kartarpur Sahib in Pakistan, Mrs Badal said that it was a clear case of sacrilege as Captain Amarinder Singh's handpicked officer had tried to defame the holy shrine where first Sikh master Guru Nanak Dev Ji spent 18 years of his life. She asked the chief minister to sack the police officer immediately for hurting the religious sentiments of the Sikh community. She said the statement was part of a well - planned strategy of the anti-Sikh Gandhi family-ruled Congress party to get the Kartapur Sahib Corridor closed down for Sikh devotees.
The Union Minister Harsimrat Kaur Badal and MoS FPI Rameswar Teli along with senior SAD leaders including Maheshinder Singh Grewal, Darshan Singh Shivalik, Hira Singh Gabria and others also toured the newly inaugurated processing units and asked the managements to ensure the compliance of all parameters. 
 
Manwhile, an official release reads as under: 
Ludhiana: Union Minister of Food Processing Industries Mrs Harsimrat Kaur Badal inaugurated two food processing units namely M/s. Godrej Tyson Foods Ltd & M/s Iscon Balaji Foods Pvt. Ltd located in Gur Kirpa Mega Food Park at Village Ladhowal, Ludhiana District today. She was also accompanied by Mr Rameswar Teli, Union Minister of State, Food Processing Industries.
    While speaking on the occasion, Mrs Harsimrat Kaur Badal said that the Gur Kirpa Mega Food Park and its food processing units will benefit the people of Ludhiana District and the people of nearby Districts of Jalandhar, Moga, Amritsar and Fatehgarh Sahib. These units has been set up with a cost of Rs. 95.31 crore. The capacity being created by these units 7200 MT per Annum potato processing and 5700 MT per Annum for frozen ready to eat and cook food products.
    She said that these units will leverage an investment of about Rs. 85 crore and will provide direct and indirect employment to about 950 persons. She further aid that the modern infrastructure for food processing created at units will benefit the farmers, growers, processors and consumers of Punjab and adjoining areas immensely and prove to be a big boost to the growth of the food processing sector in Punjab.
    Mrs Harsimrat Kaur Badal also thanked the State Government for the support extended by them in setting up these units.
    She said that the government is focusing on boosting the food processing industry so that agriculture sector grows exponentially and become a major contributor to doubling the farmer's income and 'Make In India' initiative of the government. To give a major boost to the food processing sector by adding value and reducing food wastage at each stage of the supply chain with particular focus on perishables, Ministry of Food Processing Industries is implementing Creation/Expansion of Food Processing & Preservation Capacities (CEFPPC) Scheme in the country.
    The processing activities to be undertaken by the individual units will cover a wide range of post-harvest processes resulting in value addition and/or enhancing shelf life with specialised facilities required for preservation of perishables. Under the Scheme, Government of India provides financial assistance upto Rs. 5 Crore per unit.