Chairperson of Punjab State Women Commission appreciates Women Cell of Police Commissionerate Ludhiana
Asks officials that before registration of FIR, reconciliation cases should be forwarded to commission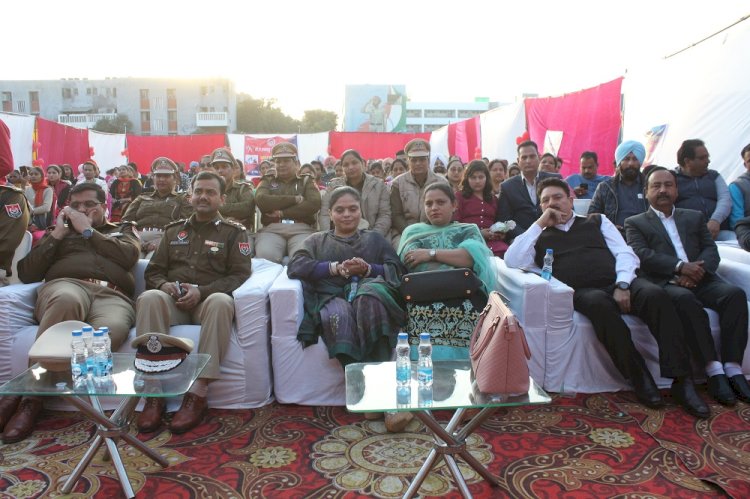 Ludhiana: Mrs Manisha Gulati, Chairperson, Punjab State Women Commission, today attended a function organised by the women cell of Police Commissionerate Ludhiana for the couples, who have restarted their lives after reconciliation efforts of the police. More than 250 couples attended today's function that was organised in the grounds of Police Lines, here.
Commissioner of Police Mr Rakesh Kumar Agrawal, Deputy Commissioner of Police Mr Ashwani Kapoor, ADCP Mr Jagjit Singh Saroye and ACP Miss Prabhjot Kaur, besides several other senior officers were also present on the occasion.
While addressing the gathering, she also appreciated the working of the Women Cell of Ludhiana Police and said that they had disposed off close to 4000 cases last year, and only 152 FIRs were registered. "This clearly shows that the Ludhiana Police is focussing more on reconciliation and compromise between both the parties, rather than just registration of an FIR," Mrs Gulati said. During the function, the police officials informed that 41 counsellors have been deputed in the city, who have been providing their services for the betterment of the society.
She asked the police officials that once they themselves carry out an investigation and fail to resolve a particular case, then before registration of an FIR, the police should forward those cases to the PSWC. She assured that the PSWC would try to resolve all these cases on priority basis.
Mrs Manisha Gulati informed that the commission has organised a Lok Adalat of such cases yesterday, in which 40 cases were put up, and 7 were resolved amicably. She said that the PSWC is committed to ensure that all cases of marital disputes are resolved and people live happily in their homes with their families. She said that in this fast moving life, sometimes, its just a matter of ego clash that leads to misunderstandings between a husband and wife or with families. She said that little bit of adjustment by both boy and the girl is a key to successful and happy married life.