Chaman Bhartiya School organises Kultural Sangam with Parikrma Foundation
To celebrate Global citizenship through an international intercultural exchange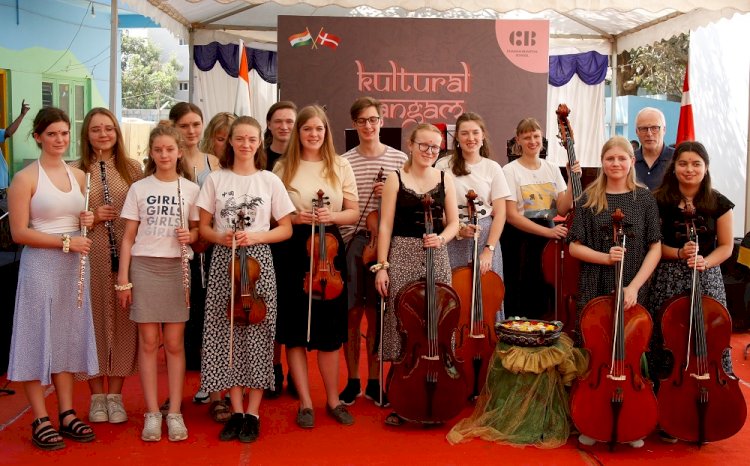 Bengaluru, February 11, 2020: Chaman Bhartiya School organized Kultural Sangam to celebrate Global Citizenship in collaboration with Parikrma Foundation, an India based NGO, and a Western Symphony Youth orchestra from Denmark. The event was graced by Thomas Sehested, Director of the Danish Cultural Institute and a renowned authority on Indian culture. With his profound knowledge about India, he is a regular commentator in Danish media about topics related to India and has written a book –'Indien – verdens næste stormagt'- India the next superpower.
The Danish Cultural Institute's vision is that the exchange of arts, culture and knowledge can contribute to handling the challenges of globalization and strengthen the Sustainable Development Goals. Education at Chaman Bhartiya encompasses similar aspects as well. This synergy in vision led to the inception of this international intercultural association.
Speaking about the event Mr. Allan Andersen, Director, Chaman Bhartiya School said, "School is not separated from life. Children are citizens of the world and school is part of society. Hence it is the responsibility of educational institutions to provide platforms that drive the development of global citizenship.'' He adds, "In line with this vision we have tied up with the Parikrama Foundation so that this international intercultural exchange drives global citizenship in the true sense of the word."
 
Says Mrs. Shukla Bose, CEO of Parikrma Foundation "We feel it is our responsibility to create 21st century citizens. We can do that by creating a curriculum that is accepting and understanding of diverse cultures, gender equality and global citizenship. We therefore look forward to such partnerships".
 
The Danish Symphony Youth Orchestra performed European music before 300 students at the Parikrma school in Sahakarnagar. The students were welcomed in a typical Indian fashion at the school. Children at Parikrma School were introduced to the diversity in music in Europe from Hungarian composition on the flute to an introduction to a nuances of various stringed (violin, viola and cello). A musical diversity which the students thoroughly enjoyed.
 
The event gave a platform to the students of both countries to interact and exchange their views on sustainability. The Parikrma students introduced the Danish students to Kannada culture by performing a Kannada song and a skit which showcased their thoughts about climate change. It was also an opportunity for the Danish students to get introduced to the local cuisine as they enjoyed a hearty meal of dal and sambhar along with the Parikrma students. Each of the Danish students were extremely touched when they were given special hand-painted cards especially prepared for them by the Parikrma students.
 
Thomas Sehested, Director of Danish Cultural Institute says "No man is an island" wrote the English poet John Donne in 1624. I think we could extend this anti isolationist idea to nations and cultures. We live and grow by inputs, insights and impressions – and isolation only makes us poorer in all aspects of the word. The role of cultural exchange is to ensure dialogue and continued understanding across borders, fences and distances – and by that discover that we are much closer – also in values –  than we are sometimes told."
 
With this initiative, Chaman Bhartiya Schools addresses the need for a cadre of citizen leaders who can play activist roles. Such global citizenship activism can take many forms, including advocating, at the local and global level, for policy and programmatic solutions that address global problems; participating in the decision-making processes of global governance organizations; adopting and promoting changes in behavior that help protect the earth's environment; contributing to world-wide humanitarian relief efforts; and organizing events that celebrate the diversity in world music and art, culture and spiritual traditions.
Chaman Bhartiya School strives to improve the quality of education in India, believes educational institutions should create such interactive platforms that will enable the development of future leaders.