Conference on oral anti platelet therapy
100 docs to attend the event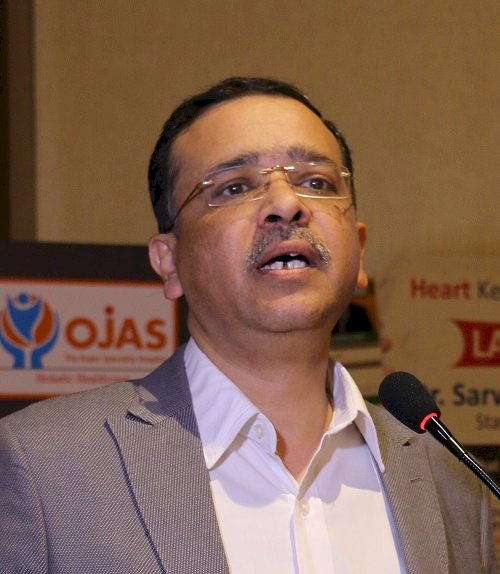 Dr. Anuarg Sharma chairperson of Jyotiragamaya Academic Foundation.


Chandigarh: Around 100 physicians including eminent cardiologists across region including from PGI will attend a conference on 'Oral Antiplatelet Therapy' at Hyatt hotel here on this Sunday. The conference is being organized by Ojas Hospital's Jyotiragamaya Academic Foundation.

Giving information about conference here on Thursday, Dr. Anuarg Sharma chairperson of Jyotiragamaya Academic Foundation said that in conference the various aspects of antiplatelet therapy would be discussed by prominent cardiologists of region. The conference will in fact be an enriching academic feast, he remarked.
The various topics that would be discussed during conference include; are we finished with aspirin the century drug, is the game over, prasugrel: the potent antiplatelet, is it staging a comeback, ticagrelor: is it the drug of choice for entire spectrum of CAD , clopidogrel : the old warhorse, is it running strong still and the critical analysis of the major trials of antiplatelet.
At the end of conference a platelets quiz will also be organized followed by prize distribution.
Dr Anurag said that today there are promising results from recently developed anti platelet drugs (APD) which is backed by robust scientific research.
However, administration of APD is often associated with increased bleeding risks, he opined.
To understand more about role of anti-platelet drugs in ACS, from patient selection to choice of drug, we have organized this conference, he remarked.
It will give an opportunity to listen and interact with learned and highly experienced experts in the field of cardiology, he maintained.
Meanwhile the panel of speakers faculty for conference  includes;  Dr. Sudheer Saxena director & head cardiology at Max Hospital Mohali, Dr. Puneet K. Verma director cardiology at Ace Heart & Vascular Institute Mohali, Dr. Arun Chopra director cardiology at Fortis Escorts Hospital Amritsar and Dr. Anurag Sharma, director cardiology at Ojas Super Speciality Hospital, Panchkula.
The chair faculty includes: Prof. Rajesh Vijayvergia , Prof. Ajay Bahl , Prof Rohit Manoj Kumar , Dr Parag Bharwad, Dr Himasnhu Gupta all from PGI, Dr HK Bali from Paras Hospital, Dr RK Jaswal from Fortis and Dr Arvind Kaul from Alchemist.