Covid 19: 93 Cases related to violation of curfew/lockdown registered in Ludhiana district
Open jails to be set up in Khanna and Jagraon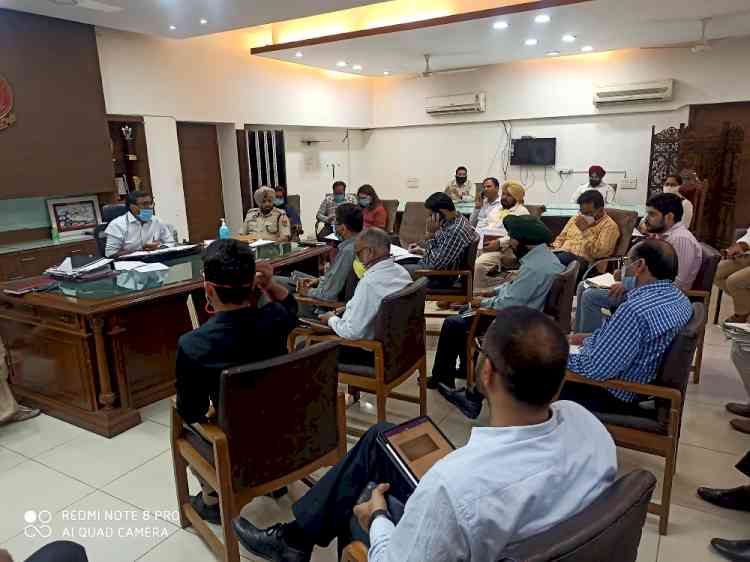 •    PRIVATE HOSPITALS SHOULD NOT REFUSE ADMISSION TO PATIENTS: DEPUTY COMMISSIONER
•    DISTRIBUTION OF ESSENTIAL COMMODITIES GOING ON SMOOTHLY
•    OUT OF TOTAL 200 SAMPLES TAKEN TILL DATE, 144 NEGATIVE, RESULTS OF 52 AWAITED
Ludhiana: Deputy Commissioner Mr Pradeep Kumar Agrawal today stated that if any person violates the directions regarding curfew/lockdown in district Ludhiana, strict legal action would be taken against them. He informed that till date, 93 FIRs have been registered against such violators, and strict action would be taken against any person caught violating the directions.
    While speaking to media persons in his office, the Deputy Commissioner said that today he visited the Ludhiana city as well as rural areas of the district, where he witnessed that residents were supporting the district administration. He said that four open jails have been set up in Ludhiana city for the violators, and similarly such open jails would also be set up at Khanna and Jagraon.
    Taking serious note of reports that some private hospitals are denying admission to the patients, the Deputy Commissioner appealed to the doctors to help the patients by offering them treatment. He said that it is not necessary that every sick patient is suffering from COVID 19. So that is why, no private hospital should deny admission to sick patients.
    Mr Agrawal informed that the work related to distribution of essential commodities is going on smoothly in the entire district. He assured that the district administration would assure the supply of essential commodities to every doorstep so that people do not suffer.
    On a question related to migration of migratory population to their home states, he said that the migration have stopped now as they have come to know that not only Punjab, but even Haryana, Delhi and Uttar Pradesh have sealed their borders. He informed that shelter homes have been set up by the district administration, where such persons are provided shelter, food and medical aid.
    While replying to another question related to entry of some persons from Nizamuddin (New Delhi) into Ludhiana, he informed that he has received information about entry of 17 such persons in the district, out of which medical tests of 7-8 persons have been conducted upon their verification, whereas the district administration is looking for the remaining persons.
    Mr Agrawal informed that till date, samples of 200 persons have been taken in district Ludhiana till date, out of which 144 were negative, four positive (three from Ludhiana and one from Jalandhar), whereas reports of 52 samples are awaited. He clarified that the two deaths that took place at Christian Medical College & Hospital, here today, the reasons of their death were not COVID 19. He said that as a precautionary measure, the health department has taken their samples, whose reports are awaited.
    Earlier, he chaired a meeting of all senior district administration officials and reviewed the works being done to check the spread of COVID 19 as well as distribution of essential commodities.