Covid 19: No shortage of essential commodities in District Ludhiana: Bharat Bhushan Ashu
Says essential commodities being supplied to area residents in entire district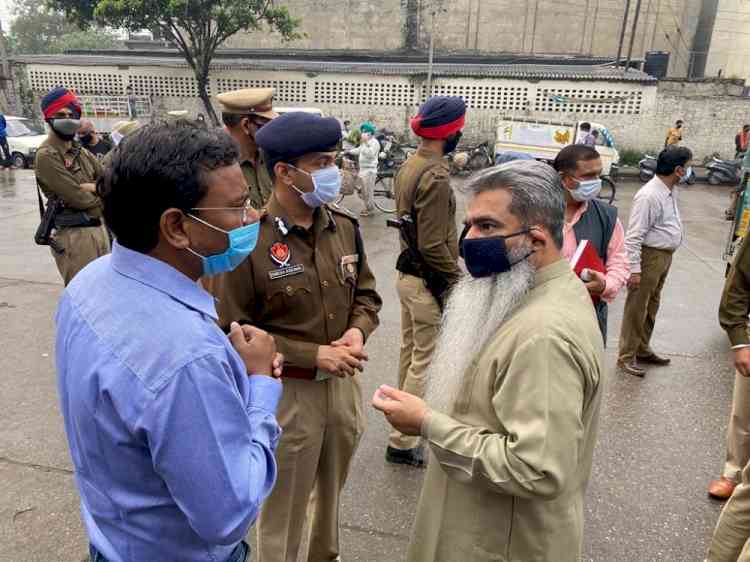 Ludhiana:    Punjab Food, Civil Supplies & Consumer Affairs Minister Mr Bharat Bhushan Ashu today said that there is no shortage of essential commodities in district Ludhiana. He said that all the essential commodities such as  vegetables, fruits, eatables etc are being supplied to the residents by the District Administration. 
    Mr Ashu today visited the Sabzi & Fruit Mandis in the city and inspected the ongoing arrangements. He was also accompanied by Deputy Commissioner Mr Pradeep Kumar Agrawal, Commissioner of Police Mr Rakesh Kumar Agrawal and other senior officials.
    He informed that the Capt Amarinder Singh led Punjab government is keeping a close tab on the situation in district Ludhiana. He informed that all the wholesalers of essential commodities have been allowed to transport essential commodities to shopkeepers so that they could be further supplied to the residents. He said that necessary directions have also been issued to the senior district administration officials.
    He informed that residents will have to apply with District Food Supply Controller (DFSC) for permissions regarding food, groceries, transportation of food grains and food items, fresh food, Mandi labour etc, with Secretary Regional Transport Authority for permission related to buses, autos, taxis, requisition of vehicles by District Administration etc, with Chief Agriculture Officer for permissions regarding potato farming, cold storage, farmers and harvesting related movements, with General Manager District Industries Centre for permissions related to industries, payment to industry labour, industry related to manufacturing items for COVID 19 control preparations, permission of food processing units and industry related to essential commodities.
    The Zonal Licensing Authority (Drugs), Civil Surgeon Office, would give permissions related to medicines, pharmaceutical, supply of medicines etc, Deputy Director Animal Husbandry would give permissions for poultry, fodder, animal related issues, Deputy Director Dairy regarding uninterrupted supply of milk, District Mandi Officer regarding Mandis and purchase centres, arhtiyas, fruits and vegetables etc, Municipal Corporation Ludhiana for street venders/rehris, Additional Commissioner Municipal Corporation for home delivery chains of district Ludhiana.
    He said that for any other permission regarding individual emergency cases, permissions can be taken from respective Additional District Magistrate, SDM, DSP and Assistant Commissioner of Police.
    Later, Mr Ashu also visited the quarantine facilities earmarked by the District Administration and issued necessary instructions to the officials. He showed satisfaction over the arrangements at Meritorious School and Parker House in PAU, the two places which have been earmarked as quarantine facilities. Mr Ashu said that the quarantine facility at Meritorious School would be managed by Dayanand Medical College & Hospital while the facility at Parker House in PAU by Christian Medical College & Hospital. He said that some other facilities have also been earmarked which can be used as quarantine facilities in case of any emergency.
    He assured that the COVID 19 is under control in district Ludhiana and urged the residents to contact their area councillors in case they need any support. He said that essential commodities are also being supplied to residents of Ludhiana (West) constituency, which is being represented by him. He informed that the residents are also being distributed free ration from his office in Model Gram area.