Covid 19: Second phase of sanitising all 941 panchayats of Ludhiana district starts
Foreign returned persons being verified by visiting door to door in villages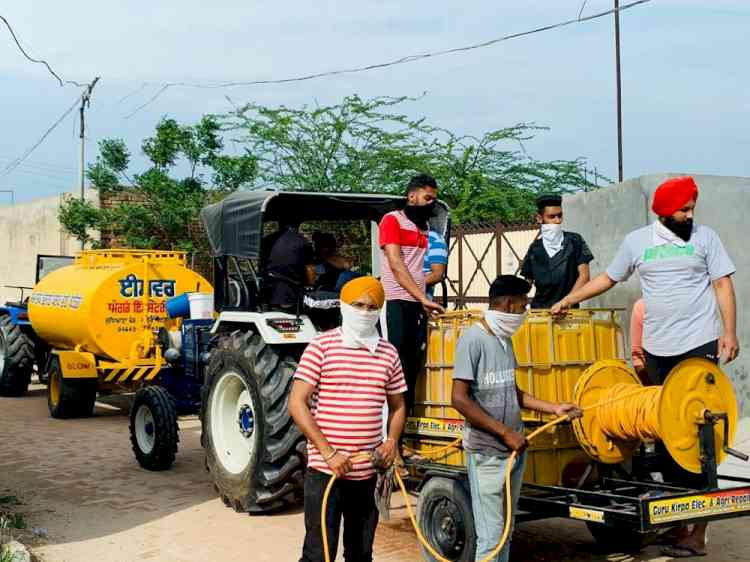 Ludhiana: In view of Novel Coronavirus (COVID 19) pandemic, the District Administration is making sincere efforts to check the spread of this disease. The district administration is getting all cities, towns and villages of the district sanitised with the help of spraying Sodium Hypochlorite mixture. In rural areas, this work is being done by Rural Development & Panchayats Department Punjab.
While providing information, Deputy Commissioner Mr Pradeep Kumar Agrawal and District Development & Panchayat Officer (DDPO) Mr Piyush Chander stated that in the second phase, sanitising spray has been carried out in 21 panchayats of the district today and it would continue in coming days as well. They said that under the first phase, Sodium Hypochlorite mixture has already been sprayed in all 941 panchayats of the district.
They informed that in all wards of Ludhiana city, spray is being done by teams of Municipal Corporation Ludhiana. Whereas in all Nagar Councils of the district, the sprays are being carried out under the supervision of Executive Officers.
Mr Piyush Chander informed that officials of the department are also verifying the foreign return travellers/NRIs by going door to door in all villages of Ludhiana. Upon verification, special stickers are being pasted outside their houses so that other people do not come in contact with them.
He informed that they are also distributing food and ration amongst people from weaker sections of the society as well as daily wage labourers. He said that the shopkeepers are being made aware that they should follow the guidelines of Punjab government and should not open their shops and do not let people gather at one place. He said that people are also being made aware about social distancing, besides services of residents as well as panchayats are also being taken in this regard.