Covid 19: Work on manufacturing cloth based masks starts in Payal Sub Division
Payal being rural area, there was shortage of high quality masks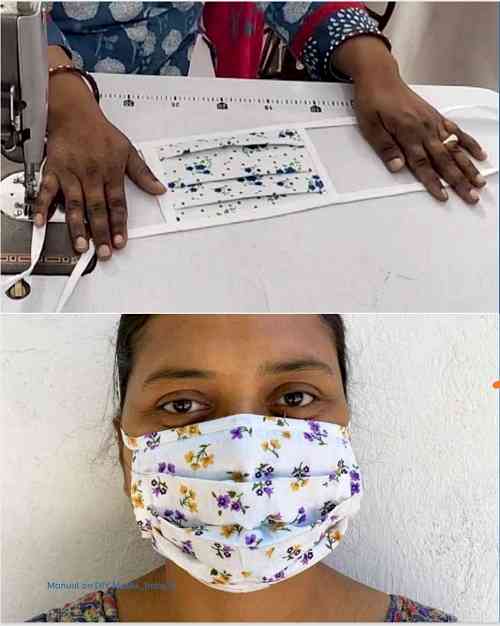 MORE THAN 2000 MASKS BEING MANUFACTURED WITH HELP OF LOCAL TAILORS
PEOPLE SHOULD STAY INDOORS & FOLLOW GOVT GUIDELINES: SDM SAGAR SETIA
Payal (Ludhiana): In view of Novel Coronavirus (COVID 19) pandemic, the District Administration is making sincere efforts to check the spread of this disease. Due to shortage of high quality face masks in some parts of the district, efforts are being made to encourage handmade cloth based masks in Ludhiana so that maximum number of persons can save themselves by wearing them.
While providing information, SDM Payal Mr Sagar Setia said that as Payal is a rural area, there was shortage of high quality masks there. To end this shortage, he is encouraging local tailors for manufacturing handmade cotton-based high quality face masks. He said that in the first phase, around 2000 such masks are being prepared, which would be provided to area residents on a cost to cost basis. He said that these masks would be distributed free of cost to the needy persons through the District Red Cross Society.
Mr Setia stated that the masks of first phase would be ready in next two days time. He said that more such masks would be prepared keeping in mind demand by residents. He said that people can also purchase these masks directly from the tailors too.
He informed that a certified manual for manufacturing masks have been provided to the tailors in their houses itself, besides they have also been asked to manufacture these masks by downing shutters of their shops so that rush of people can be avoided.
As per the health experts, most important thing to stay healthy is not to come in contact with any person suffering from some disease. They said that a mask should be worn in all places where there is huge rush of people as well as in sensitive areas. 
He informed that most of the masks available in the market can be used only once, but these handmade masks can be used after washing and ironing at home daily. He said that besides wearing mask, people should wash their hands regularly, should not touch their mouth, eyes or nose, should maintain a distance of at least one metre from each other. Mr Sagar Setia have appealed to the residents to stay indoors and follow all government directions if they want to stay healthy.