Distribution of wheat through electronic point of sale machines start in Ludhiana city
These machines are being used for biometric aadhaar-based identification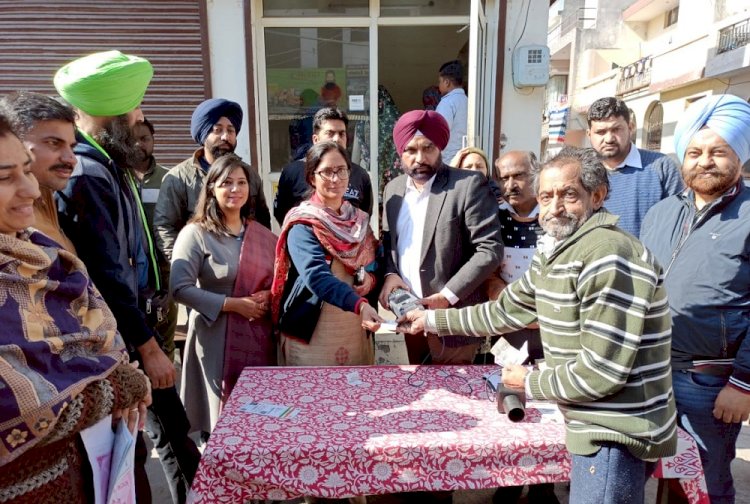 Ludhiana: The distribution of wheat through e-POS (Electronic Point of Sale) machines was started in the district today. This project was inaugurated in the city by Municipal Councillors Mrs Mamta Ashu, DFSCs Mr Sukhwinder Singh Gill and Mrs Geeta Bishambu, besides several others at a function held at New Model Town, here today.

Councillor Mamta Ashu informed that as per the National Food Security Act-2013, smart ration cards scheme has been started in the state and it is mainly aimed at bringing transparency and accountability in the Public Distribution System (PDS). The e-POS machines are based on biometric system and besides elimination of bogus/ineligible card holders, the consumer-friendly new system would also help curb pilferage of food grains.
DFSC Mr Sukhwinder Singh Gill informed that there are around 3.89 lakh beneficiaries of this scheme in Ludhiana district and the distribution of ration is being done through these machines.
He said that each beneficiary gets five kilograms of wheat per month, and with the start of distribution of ration through e-POS machines, only genuine beneficiaries would be left. He informed that today, the beneficiaries in New Model Town were distributed wheat at Rs 2 per kg for a period of six months. 
Mrs Mamta Ashu informed that these e-PoS machines are being used for Biometric Aadhaar-based identification of the department's functionaries and beneficiaries. They have also been linked with weighing machines and IRIS (eye) scanners.