Dr Ajay Sharma's 12th Novel 'Udhran' released
Language used in novel gives feel of freshness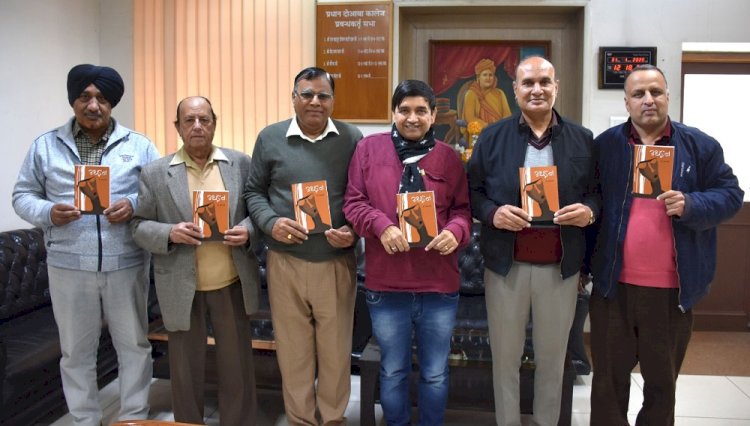 Jalandhar: Department of Hindi and Hindi Sahitya Sabha of Daoba College, Jalandhar organized released ceremony of renowned Hindi Novelist Dr. Ajay Sharma's 12th Novel 'Udhran'.  Avid critic, poet, story writer Dr. Simar Sadosh, Prof. Somnath Sharma- Head, Hindi Department, Dr. Orminder Johal-Head, Punjabi Department, Dr. Ajay Sharma and Prof. Sandeep Chahal formally released novel 'Udhran'.  Dr. Simar Sadosh said that the Novel 'Udhran' creates a new milieu in a logical way in the genre novel because the author has successfully created the psychological aspects of vibrant characters. 
Prof. Somnath Sharma said that the central focus in the novel is the dilemma of the protagonist who is caught in the cobweb of relationships and he struggles to sustain himself under the pressure and pulls of the marital life and extra marital relationship.  Author Dr. Ajay Sharma said that in this novel he has tried to portray the predicament of a married man who initially succumbs to the societal pressure and psychological problems and there after tries to cope up with the cultural and marital issues. 
Dr. Ominder Johal said that the language used in the novel gives a feel of freshness and the incidents created are realistic akin to the current scenario. Prof. Sandeep Chahal said that the novel highlights the fact that in the modern age there are certain relationship which cannot be given any name or tag but they still exist in the society by the virtue of their existence and strength as portrayed effectively in the novel.