Dr Amar Singh directs district administration to take steps to ensure hassle-free harvesting and marketing of wheat
Assures farmers of smooth procurement operations amid covid-19 and curfew restrictions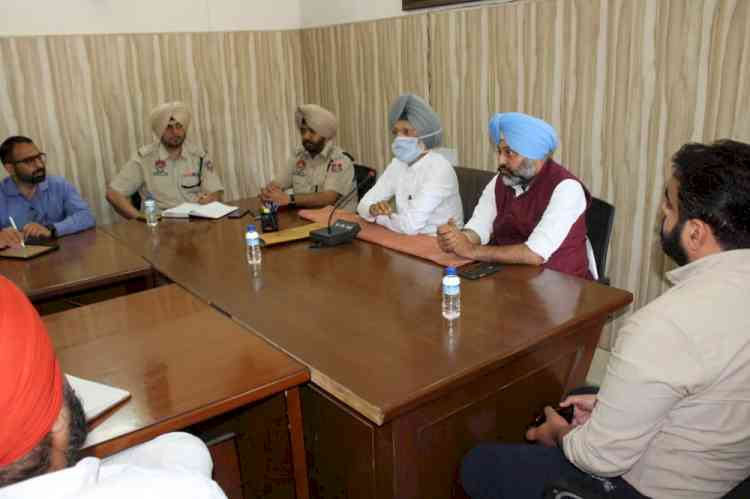 URGES RESIDENTS TO STAY INDOORS & FOLLOW GOVT DIRECTIONS
Khanna (Ludhiana): Fatehgarh Sahib MP Dr Amar Singh today directed the District Administration, that amid the continuing COVID-19 and curfew/lockdown restrictions in place, to take all necessary steps to ensure hassle-free harvesting and marketing of wheat.
    During a meeting held at Khanna today, Dr Amar Singh asked the officials to ensure micro level planning to ensure seamless farm operations and maintenance of the supply chain of food at the field level. He said a detailed advisory had already been issued by the Agriculture and Farmers Welfare Department in this regard.
    The MP assured the farmers that elaborate arrangements are being made to harvest and procure every single grain of wheat. He urged them to ensuing harvest and marketing of wheat, and other summer field crops apart from the horticulture produce. He said that the Punjab government is ensuring that adequate availability and supply of farm inputs for the sowing season with focus on ensuring free movement of farmers and farm labour for agriculture operation of harvesting and sowing thereafter.
    He informed that the Deputy Commissioners have also been instructed to ensure free movement of farm operation machinery including tractors, trolleys, combined harvesters, other harvesting machinery and transport vehicles for carrying the farm produce, tilling and sowing implements etc. They have also been asked to permit operations of the farm machinery repair workshops and the related spare parts shops, besides allowing the sale of seeds, fertilisers, pesticides, insecticides and their adequate availability.
    He also directed the officials of Civil Hospital Khanna to use funds from his discretionary quota for their fight against COVID 19. The police officials were directed to ensure law and order is maintained in the district and appealed to residents to stay indoors and follow all guidelines of the Punjab government.
    Prominent among those present on the occasion included MLA Mr Gurkirat Singh Kotli, SSP Mr Harpreet Singh, SDM Mr Sandeep Singh, Executive Officer Mr Ranvir Singh, besides several others.