3-day end-of-life nursing education consortium workshop begins
DMCH is organizing the event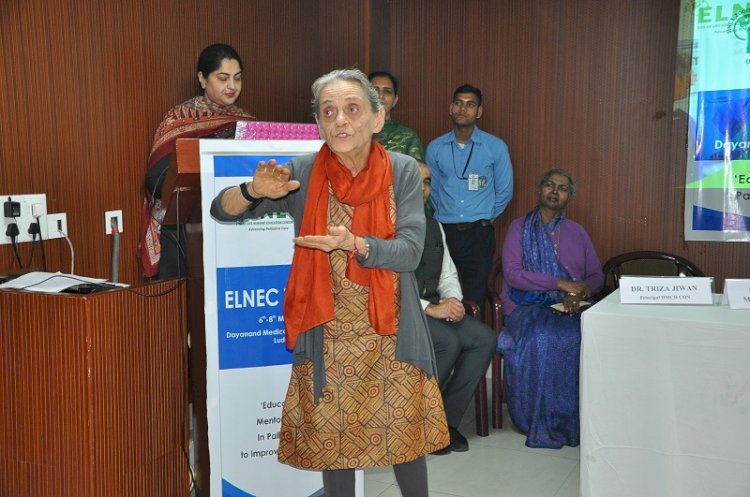 Chief Instructor-Halife MacGamwell addressing the workshop at DMCH, Ludhiana.


Ludhiana: Dayanand Medical College & Hospital (DMCH) is organizing a three-day End-of-Life Nursing Education Consortium (ELNEC) workshop from 6th to 8th March, 2020 in Medical Seminar Room, focusing on palliative care.
The course provides nurses with education in palliative care and preparing them to teach about improved ways of providing palliative care to the patients with end-stage diseases and also helping out their family members of such patients with terminal illness.
Inaugurating the workshop, Principal Dr Sandeep Puri along with Medical Supdt. Dr Ashwani Chaudhary said that such nursing education programmes are very essential to update the knowledge and skill of nurses, which form backbone of the institution.
Nursing Supdt-Ms. Sunita Dev extended warm welcome to the dignitaries and guest speakers. In her message, Mrs Dev said that role of Palliative Care Nurses has increased manifold due to rising incidences of cancer in the society.
Ms Halife MacGamwell, a renowned Oncology & Palliative Care Nurse specialist, is the chief instructor for the workshop. Other instructors include Nursing faculty from AIIMS, New Delhi & Jodhpur.
Dr Kunaal Jain (Assistant Professor, Medical Oncology) proposed a vote of thanks to all those present on the occasion and said that Palliative Care Nurses play a very important role in reducing suffering and improving the quality of those who are in end-stage disease.
Dr Vivek Gupta from Department of Cardiac Anesthesia and Dr M Rupinder Kaur from Department of Anaesthesia said that such training in workshop also involves psychosocial, spiritual and emotional aspects of patient care.
Dr GS Brar (HOD,Surgical Oncology)  and Dr Mrs Triza jiwan,College of Nursing.,DMCH were present during the inauguration of the event.