Evil intentions of congress government derailing state: Sukhbir Singh Badal
Addressed huge gathering at protest rally of SAD against Congress government's anti-people policies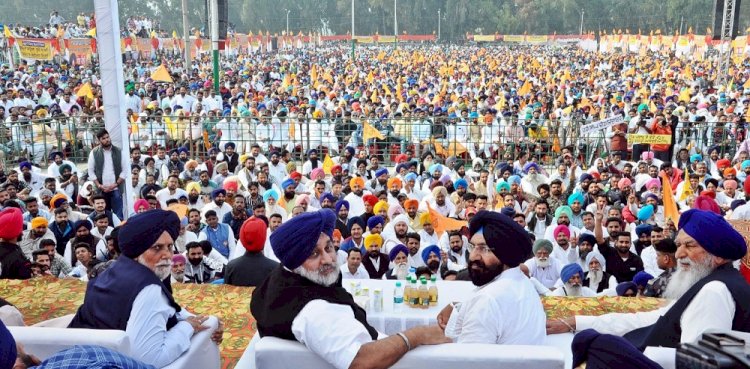 Ferozepur: Shiromani Akali Dal (SAD) President  Sukhbir Singh Badal today said the evil intentions of Congress government were pushing the state behind on every parameter, not the 'empty coffer' as it had halted all development and welfare activities in the state despite collecting thousands of crores as annual revenue in the form of GST and other taxes.   
Addressing a huge gathering at the protest rally of SAD against the Congress government's anti-people policies as well as U-turn on all poll promises, the SAD president said the government coffers never became empty. "Mismanagement and ill-conceived policies of the Captain government were real reasons behind the current economic mess in the state". He said the government collected around Rs.25 ,000 crore as GST taxes, around 5,000 crore from Power tariffs, 7,000 crore from liquor including Rs.5,000 crore from land revenues," he said adding that even after making manifold increases in all taxes, the Congress government was refusing to give any welfare benefits to the downtrodden.
Promising a better future for the people of Firozpur constituency after the return of SAD-BJP government in the state, Badal said only one and half years were left of this 'inefficient government' and it had annoyed the Punjabis with its fake promises and deceptive policies to such extent that Congress would never come to power for next 20 years. "After coming into power, the SAD-BJP government will rollback all anti-people anti-Punjab decisions of this present government and start a new era of development, welfare and prosperity in the state," he said.
Making some big announcements for the Firozepur constituency, Sukhbir said that all people will get tube well connections once the SAD-BJP formed the government. "The irrigation channels will be cemented during the first year of our government. All villages will be provided with concrete streets, sewerage system and water supply facilities on the pattern of our cities," he said adding that we will immediately restart SC scholarship and other social benefits which had been stopped by the Captain government.
Issuing a stern warning to the police officials who had been indulged in the malpractice of slapping fake cases against the innocent people at the behest of congress leaders, the SAD president said, they will have to pay the price for victimising people.  "We will not only dismiss and terminate them from their jobs but also put behind the bars at the same police stations where they were used to detain the innocent people," he added.
Among others present in this rally were Jathedar Tota Singh,Hari Singh Zira, Janmeja Singh Sekhon, Sikander Singh Maluka, Jagmit Singh Brar,Charanjit Singh Brar, Joginder Singh Jindu, Vardev Singh Noni Mann, Avtar Singh Minna, Surinder Singh Babbu,Montu Vohra,Shivjit Tripalke and other SAD-BJP workers.