Ferozepur bags three national awards
Outstanding performance in poshan abhiyan, skill development and smart school project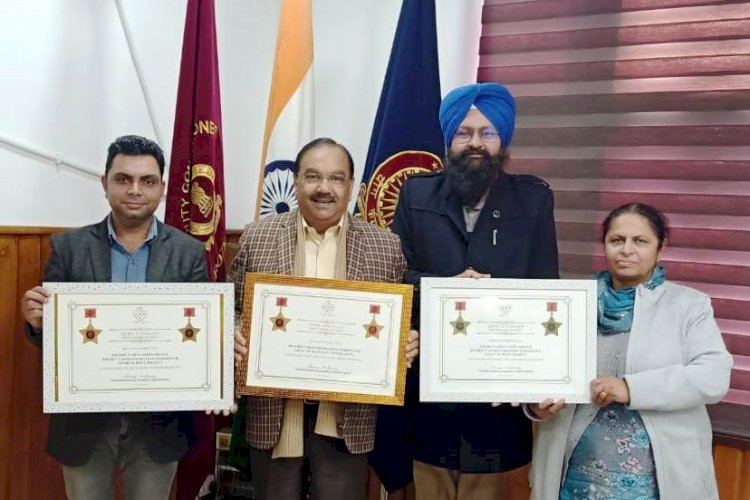 Ferozepur, January 15-
Under the dynamic leadership of Deputy Commissioner Ferozepur Mr. Chander Gaind, Ferozepur district had bagged three national Skoch awards for outstanding performance in Poshan Abhiyan, Skill Development and Smart School Project. The award conferred at the national level Skoch award function held at New Delhi.
Crediting the visionary team of district administration for winning three awards, the deputy commissioner Mr. Chander Gaind hailed the efforts of key departments to achieve the goal under various pro-people schemes of the state government. He further added that it was the hardworking and sincere efforts of our officials that brought laurels to this border district.
Divulging more, Mr. Gaind said that the Ferozepur district in a tough competition among hundreds of districts won a silver medal for distinctive performance under Poshan Abhiyan ranging from setting up nutrition gardens for pregnant women to the construction of about 200 new Anganwadi centers with the cost of Rs. 20 Crore.  Similarly, a slew of efforts was made under skill development mission adding he said that the skill development training has been imparted to as many as six thousand people besides bringing them the job opportunities under Ghar Ghar Rojgar's mission and helping them with the self-employment by getting them low-interest bank loans. He said that ten new skill development centers are in the pipeline for Ferozepur district.
The deputy commissioner said that the smart school project was another unique initiative to provide infrastructure in government schools at par with private entities. He said that all government schools in Ferozepur are getting RO system and sanitary napkins vending machines and most of the work has been done under CSR program adding he said that around Rs. 17 Crore has been spent on education infrastructure development in the district.  The deputy commissioner reiterated his commitment to making Ferozepur district one of the best districts on the state with a slew of projects and coordination between the various departments. On the occasion district education officer Kulwinder Kaur, deputy DEO Sukhwinder Singh, Sanjiv Maini from district planning board were present.