Ferozepur police solves mystery behind robbery within two day
Rs 14 Lakh were robbed from assistant manager of private finance company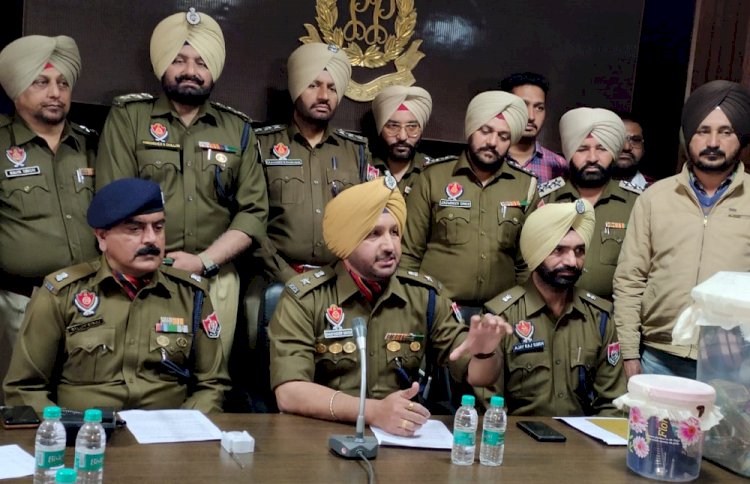 Bhupinder Singh, SSP, Ferozepur addressing the media persons.


Ferozepur: Acting swiftly, Ferozepur police claimed to solve the mystery behind the snatching incident in which Rs. 14 Lakh were robbed from the assistant manager of a private finance company during broad daylight within two days.
Giving details, Bhupinder Singh SSP said that following the incident, a special investigation team was constituted under Ajay Raj Singh, SP (Investigation).
"During the investigation, the needle of suspicion tilted towards the assistant manager Nishan Singh. Later, during interrogation, he also accepted that he was the mastermind behind the entire conspiracy.  Nishan along with his other relatives Akashdeep alias Deepu, Satnam Singh, Daniel, Sagar and Gurmukh alias Gogi hatched the entire robbery. On February 17, when Nishan was going to deposit the money in the bank, as per the planning, the money was robbed from him", said SSP Bhupinder.
The SSP said that following the information provided by the accused Nishan, police also arrested Akashdeep, Satnam Singh and Denial while Sagar and Gurmukh are yet to be arrested.
"Interestingly, the accused used an airgun instead of some original weapon to stage the robbery which has also been recovered besides the bike and the entire amount. Out of these 13.87 lakhs, one of the accused Daniel had used around 40,000/- to purchase gold ornaments for his family. However that money has also been recovered", said SSP.