FICO celebrates 71st Republic Day 
10 personalities given award of excellence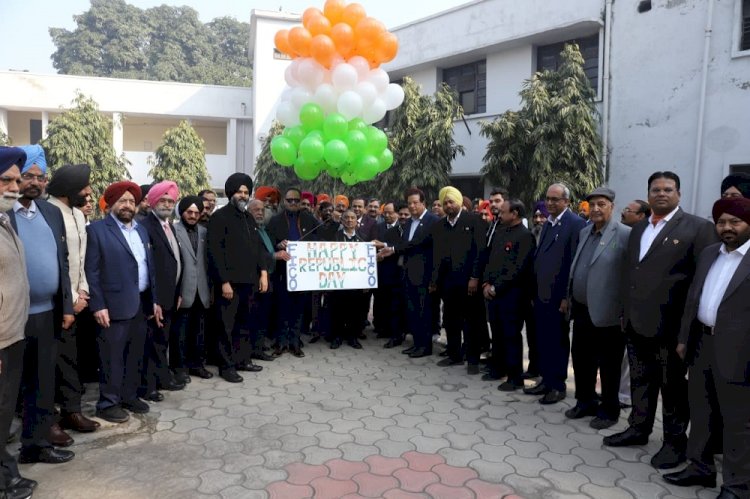 Ludhiana: FICO (Federation of Industrial & Commercial Organization) celebrated the 71st Republic Day at MSME Development Institute (MSME-DI), Opposite Sangeet Cinema, Ludhiana.  Shri D. L. Sharma Managing Director of Vardhman Textiles Limited was the keynote speaker; who along with Shri Jaswinder Singh Bhogal Managing Director M/s Uniparts India Limited unfurled the National Flag on January 26. FICO celebrated the Republic Day with the Theme of Making Every Day an Earth Day.
On the occasion, FICO honoured 10 personalities with Award of Excellence for their distinguished services in their respective fields. These personalities were as under:
•    Amrik Singh Sondh - M/s Nexo Industries Limited (Fasteners)
•    Surinder Pal Singh Birdi - M/s Birdi Engineers (Bicycles)
•    Surjeet Singh Lotey - M/s Vishkarma Mechanical Corpn.(Sewing Machine)
•    Harsimjeet Singh Lucky - M/s Lucky Exports (Bicycles)
•    Gagnish Khurana - M/s Machine Parts (Agricultural Equipment's)
•    Inderjeet Nagpal - M/s Haveli Ram Bansi Lal (Trade)
•    Sanjay Dhiman - M/s D.A.V. Engineering Works (Machine Tools)
•    Inderjeet Singh Navyug - M/s Navyug Engineers (Social)
•    Kamal Chopra - M/s Foil Printers (Social)
•    Dr Preet Mohinder Singh Sohal D.M. Nephrology- Dayanand Medical College & Hospital (Medicine)
FICO, pledged to serve the trade & industry more vigorously in the coming years. This day is of great significance to all Indians when the constitution of India was brought into force. This day needs to be celebrated with great enthusiasm. Let's all pledge on this day to make the country corruption free, said Gurmeet Singh Kular, President, FICO.
The event was held by 25 associations under the Banner of FICO-IamSMEofIndia. These associations were as under:
•    Integrated Association of Micro Small & Medium Enterprises of India (IamSMEofIndia)
•    Federation of Industrial & Commercial Organization (FICO)
•    Bicycle Research & Development Organization (BRADO)
•    Ludhiana Effluent Treatment Society (LETS)
•    All India Cycle Rickshaw & Parts Manufacturers Association (AICMA)
•    PHD Chamber of Commerce & Industry (PHD)
•    Confederation of Indian Industry (CII)
•    United Sewing Machine & Parts Manufacturers Association
•    Federation of Auto Parts Manufacturers
•    Ludhiana Plywood Manufacturers Association
•    Dhandari Industrial Welfare Association
•    G-13 Bicycle Forum
•    Ludhiana Knitters Association
•    Ludhiana Dying Association
•    Confederation of Industrial Machinery Manufacturers
•    Apex Chamber of Commerce & Industry
•    Ludhiana Sanitary & Pipe Dealers Association
•    Plastic Carry Bags Manufacturers Association 
•    Textile Colony Manufacturers Association
•    Dhandari Development Club
•    Associated Chambers of Commerce & Industry of India (ASSOCHAM)
•    Small Scale Industries Association 
•    New Janta Nagar Small Scale Manufacturers Association
•    Ludhiana Plastic Manufacturers Association
•    Fasteners Manufacturers Association of India 
•    Focal Point Phase VIII Association 34 Acre Mangli