Honda sells 261,699 two-wheelers in March'20 with 5pc growth
Closes FY2019-20 with 5 million+ total sales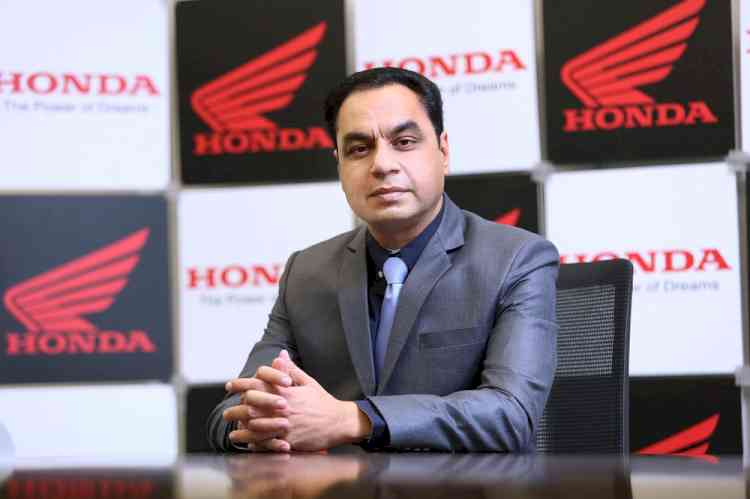 Mr. Yadvinder Singh Guleria - Director, Sales & Marketing, HMSI.


Chandigarh: Honda Motorcycle & Scooter India Pvt. Ltd. closed March 2020 with total sales of 2,61,699 units as against 2,49,136 units in March'19. Honda's domestic sales in the month of March grew 11% from 2,22,325 units last year to 2,45,699 units in March'20 while exports moderated at 16,000 units.
 
Overall, the challenging fiscal 2019-20 saw the domestic two-wheeler industry sales slowdown for the 16th straight month. Honda closed FY2019-20 (April 2019 to March 2020) with total sales of 50,31,297 two-wheelers. This includes domestic sales of 47,06,572 units and exports of 324,725 units.
 
In wake of the COVID-19 pandemic, Honda suspended its operations across the country on 22nd March.
While adhering to the lockdown in full spirit, Honda's associates working-from-home are ensuring business continuity and all possible support to its business partners during this difficult period. We have ensured all due payments for the month of March'20 are released to our business partners on time including some advancements to support all our service providers to give salaries timely to their respective associates.
 
Parallely, Honda is fully supporting customers during this period. For all customers whose scheduled free service/ warranty/ extended warranty was originally ending between 15th March to 15th April 2020, Honda has extended the same by another 2 months.
 
Speaking on the current market scenario, Mr. Yadvinder Singh Guleria, Director – Sales & Marketing, Honda Motorcycle & Scooter India Pvt. Ltd. said, "Honda was the first two-wheeler manufacturer to lead the BS-VI transition almost 6 months ahead of the deadline with Activa 125 BS-VI in September'19.  Over 6.5 lac customers are now experiencing #AQuietRevolution led by Honda's six advanced BS-VI models. Despite all efforts, 2019-20 has been a challenging year in more ways than one. COVID-19 impact derailed industry's plans and has severely impacted the automobile ecosystem – right from supply chain to dealers. As a responsible manufacturer, Honda is committed to taking care of all its stakeholders and society at large in these uncertain times."
 
Fulfilling its Corporate Social Responsibility for society at large, Honda India Foundation has pledged Rs. 11 crore aid to combat the deadly impact of COVID-19 pandemic. As a part of this aid, Honda is supplying 2,000 units of Honda engine powered high pressure backpack sprayers to various Govt agencies and will also contribute financial aid to Central & State governments' relief funds. Honda associates across all 5 Honda group companies in India have voluntarily pledged to donate one day's salary towards the total relief aid. Additionally, Honda will support local administration by making available its ambulances stationed at all plants for medical emergencies and provide food packets for the poor and underprivileged in these difficult times.