In times like the coronavirus pandemic, robots like Sophia could prove to be a blessing
Sophia looks immaculate in a Punjabi outfit as the cover girl of The Lifestyle Journalist Magazine's April 2020 edition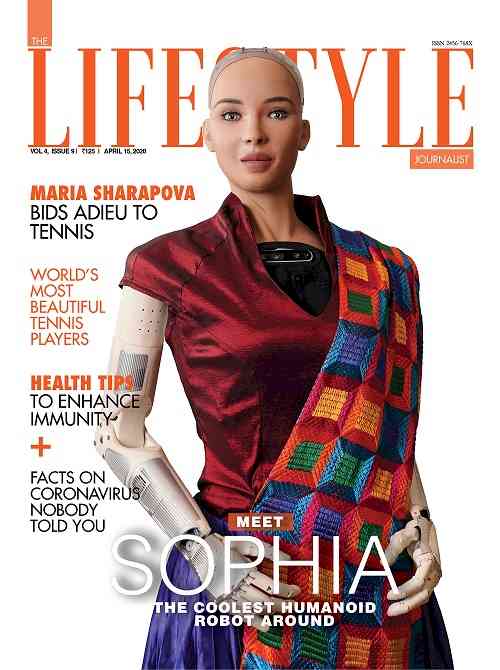 Her developers were aiming to make a socially interactive robot that could fit in the human domain much better than other robots. Now with the onset of Coronavirus pandemic, nobody could have imagined or anticipated that the world needs robots like Sophia much more than before- who can help in medical tasks and still be close to human needs and expressions!
Even as her utility in the healthcare sector is yet to be ascertained fully and the global crisis is huge for her existing applications to handle, Sophia looks immaculate in a Punjabi outfit as the cover girl of The Lifestyle Journalist Magazine's April 2020 edition. This is among the first few and rare magazine covers in which Sophia-the robot has appeared in India.
"I wish humans can simultaneously see their past and future so that they don't repeat their mistakes and also know the impact of their actions on future generations," says Sophia in her cover interview to TLJ magazine.
The digital issue of magazine entails the details of her recent Punjab visit and interaction with Amit Kumar Panday, President and Chief Science Officer at Hanson Robotics, a Hong Kong based firm who developed Sophia.
The cover story also includes an exclusive interaction with Sophia, on interesting enquiries like which country would she like to permanently reside in. "Well, right now I do not have a choice since most countries are in lockdown. But the place I call home is Hong Kong. And the place I like most to visit on vacation is probably Chandigarh, India. The architecture there is fascinating," she adds in her interview. Sophia was developed by Dr David Hanson, an American roboticist who founded the Hong Kong based firm and is currently heading it as Chairman and Chief Creative Officer. David and his team of scientists are constantly working on enhancing skills and features of Sophia. 
"I think it was the founder- David Hanson's ability to understand art and science both phenomenally that Sophia looks more like humans. She is most certainly a rare combination of scientific accomplishment and artistic work," adds AnkurVadhera, Founder and Creative Director of TLJ Magazine.
"I am sure the originators and other robotics firms are working fast on making robots who can ably contribute in global crisis like the one we are facing currently, where communicable diseases put health workers and doctors at risk. It will certain help the medical fraternity which is struggling to save lives of millions," adds Ankur.