IOB, Ludhiana Region, organized MSME related customer support and outreach programme
Programme was chaired by J.Satyanarayana, General Manager, Zonal Office, Delhi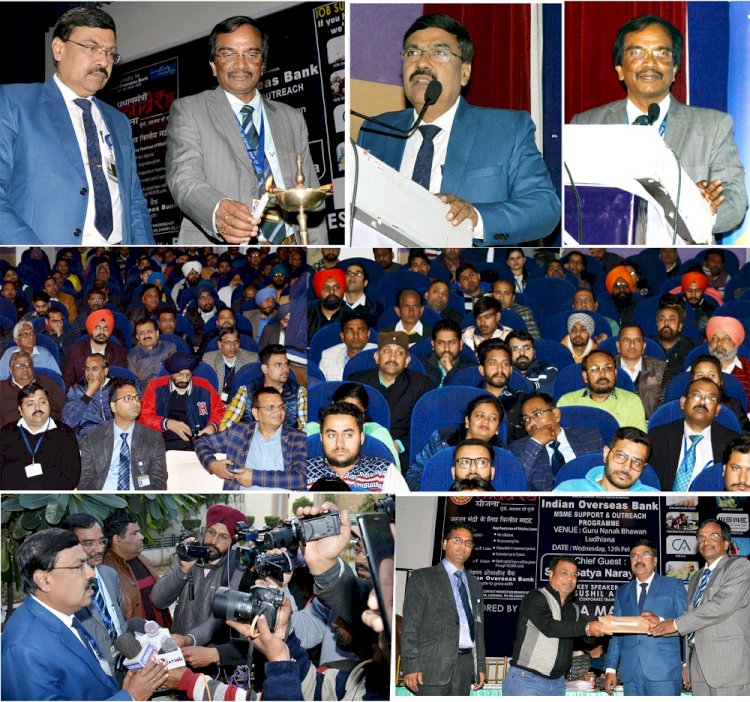 Ludhiana: Indian Overseas Bank, Ludhiana Region, organized on Wednesday MSME related Customer Support and Outreach Programme at Guru Nanak Bhavan Ludhiana, for new/ existing Small and Medium entrepreneurs of Ludhiana. The programme was chaired by Mr. J.Satyanarayana, General Manager, Zonal Office, Delhi. 
During the Programme, Mr.Ajay Tembhekar, Regional Manager informed that Indian Overseas Bank is one of the prominent public sector bank, engaged in development of MSME sector of the country. Ludhiana, being a prominent industrial hub, it has special focus in financing the existing and new MSME units of the city. 
IOB is having around 23% of its total exposure in MSME advances. In Ludhiana region, its exposure to MSME sector is 40% spread over Hosiery, Auto/ bicycle parts, other ancillary units, textile, pharmaceuticals etc.  
MSME being the priority sector, IOB is encouraging the new entrepreneurs for establishment of units under Micro, and small category by extending financial support. At the same time it is helping the existing MSME units to expand its capacity to enable them to grow its capacity and undertake new business. The Bank also helps exporters by extending pre and post shipment facilities at concessional interest rate. 
In order to achieve the corporate targets, IOB has linked loans to micro and small units at RBI policy repo rate. Loans to Medium enterprise continues to be linked to MCLR. 
To cater the needs of MSME sector, IOB extend tailor made products like SME Easy  for self-employed, manufacturers, retail trade under micro and small sector having sole banking with IOB. MSME PLUS: For micro and small enterprises engaged in manufacturing/service activities eligible under CGTMSE cover. MSME JEWEL LOAN: For short term requirements to meet all business needs, INSTA FUND: To meet working capital requirement units enjoying credit facilities with IOB for meeting additional bulk orders over and above regular orders. Bank is also extending 1 % interest concession rate to textile industry and bicycle parts for all the medium enterprises
For women entrepreneur, IOB has extended exclusive loan product MAHILA PLUS, a loan upto Rs. 2.00 cr for manufacturing and Rs, 1.00 cr for Service sector. Apart from this, Stand up India scheme is available for SC/ ST and Women borrower extending loan between Rs. 10 lakhs to Rs. 1.00 cr.   
For small entrepreneurs, loans are extended under MUDRA scheme up to Rs. 50000 under (Shishu), Rs 5 lacs under Kishore and Rs. 10 lacs under (Tarun).
IOB is organizing MSME Customer Outreach programmes pan India. In Ludhiana region, bank has identified one MSME Intensive branch at Civil Lines, and Focused MSME branch at Millar Ganj and Sunder Nagar to have focused growth, quality assessment and improved turnaround time. In Ludhiana region, bank has targeted for extending loans of Rs. 100 Crores before March 2020, under various schemes to cover more numbers of MSME units to enable them to benefit from the various schemes.
 IOB is taking all precautionary steps to prevent MSME accounts becoming NPAs by scrutinizing the individual accounts and follow up from first sign of financial sickness.  Bank is restructuring all eligible loans as per RBI guidelines, wherever the unit has inherent strength but under stress.