It's breaking news. LPU scientists working on coronavirus treatment.
LPU researchers are constantly sharing data with scientists of China and England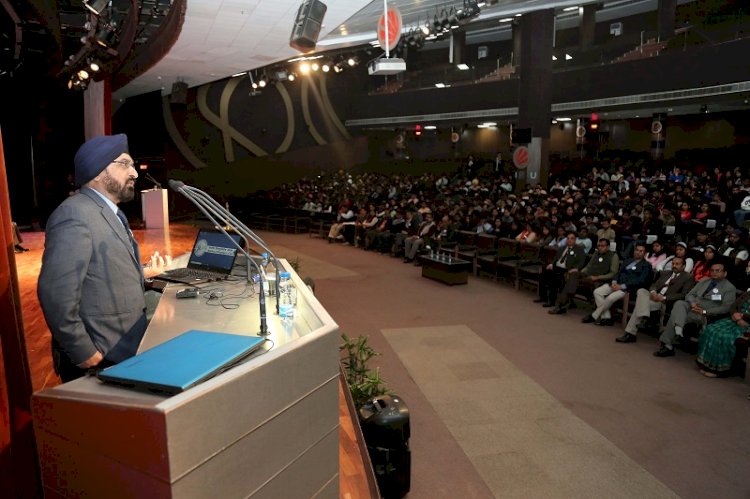 President of the Association of Microbiologist of India JS Virdi advising students to adopt multi-disciplinary researches during National Conference at LPU.


Jalandhar: Two-day national conference on 'Microbial Bio-Prospecting' commenced, today, at Shanti Devi Mittal Auditorium of LPU. The School of Bioengineering and Biosciences and the Association of Microbiologists' Unit at LPU are organizing the conference. On emphatic invocation made by LPU Chancellor Mr Ashok Mittal to hundreds of microbiologists and researchers gathered from across the nation to save and secure the global society from CoronaVirus, LPU Scientists affirmed to control CoronaVirus soon.
One of the research scholars, Bhupinder and his guides at the school, Computational Biologist Dr Ayan Roy and Immunologist Dr Shelly Gupta affirmed that they are constantly working on and collaborating for important data with the scientists of China and England on these lines. These researchers also expressed that they are also working on inventing a vaccine against this ghastly considered easily transmitting virus. Head of the School Dr Neeta Raj also asserted about this dire need of the society in present scenario.
During the inaugural session of the conference, President of the Association of Microbiologist of India and Keynote Speaker at the conference and renowned Microbiologist Prof J S Virdi advised students to adopt multi-disciplinary researches and studies to have great career ahead. He awakened students on his intensive research work on "Genomic insights into clinical and environmental strains of 'yersinia entero-colitica' bacteria, isolated from India". Similarly, former Vice Chancellor (Jiwaji University Gwalior) Professor Emeritus PS Bisen talked about "Pro-Biotics and Central Nervous System".
Senior Scientist, CSIR-National Institute of Oceanography Regional Centre, Visakhapatnam, Dr Belle Damodar Shenoy awakened students on "Fungal Species Complexes". Prof Naveen Gupta of Panjab University guided students to be creative and as per the need of the hour to take the research works from class-rooms to labs and then to the society for its proper utilization. Along with, sessions for poster and oral presentations were also organized at different venues of the campus.
On the second day of the conference, eminent scientists from ICAR-National Dairy Research Institute, Karnal; Patanjali Research Institute, Haridwar; Jai Narain Vyas University, Jodhpur; Himachal Pradesh University Shimla; and, many more will address the microbiologists and researches of various domains at LPU.