Latest CNC machines, robotic technology, smart manufacturing on display in Mach Auto Expo 2020
Mach Auto Expo 2020 supporting Industry 4.0 and smart manufacturing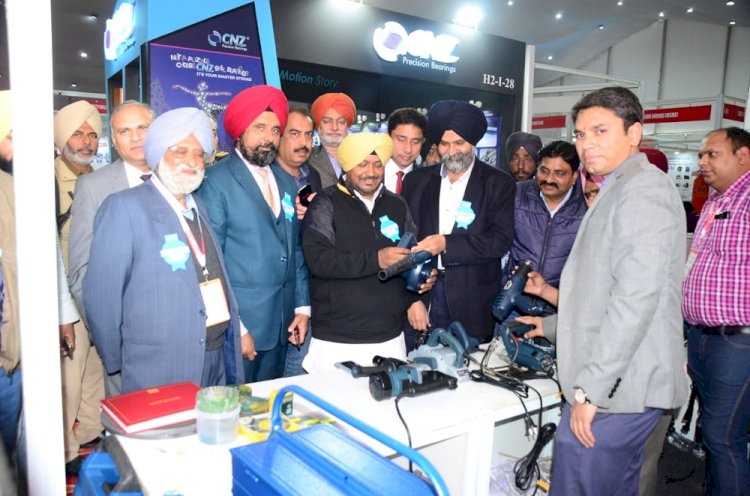 Ludhiana: Supporting fourth Industrial revolution (Industry  4.0) and Smart manufacturing, Mach Auto Expo 2020 exhibits latest Technology, Automation in Smart Manufacturing. From CNC machines, laser cutting machines, elevators, scanners, tools used in medium and small Industries were exhibited in the expo. The expo will be spread over the area of 500000 sq FT Display Area and 1200 Brands and 10000 products will be on display.
Spread over 500000 Sq Feet Display Area with 1200 brands, 10000 products and 850 live running machines, the four days Expo started on February 21 and continue till February 24 at GLADA Ground, Chandigarh road, Ludhiana.
The Smart manufacturing machines which can done work of eight factory workers were on display. Now there is no need of manpower for welding as smart welding robotic machines were introduced in the market. the machines gives Smart manufacturing results without manpower and with just one click on computer screen fitted on machine. The robotic technology in welding machines, weight lifting machines and other were the star attraction among the visitors.  The latest technology of laser cutting machines and scanning machines were also displayed.
The 3D scanners which were used in every Manufacturing Units were presented in the expo. The experts informed that for reverse engineering, Data Input, restoration, 3D scanners will produce results in just few seconds.
In Expo, machine tools, CNC Machines & SPMs, Hydraulic products, electrical/ Electronic equipment, Engineering Machinery and parts, Power tools, Welding and cutting Equipment's, Material handing Equipment's, Quality control Accessories, Hardening and heating Machines, industrial robots and many others were on display.
A training camp will also be held in the Expo which will guide the industrialists about the use of latest techniques and machinery. The Expo will be supported by MSME and NSIC, Association of Ludhiana Machine Tool Industry, Auto Parts Manufactures Association (India) and other associations.