Ludhiana Breaking: Door-to-door home delivery of essential commodities to be held during curfew
No person would visit the shops himself: District Magistrate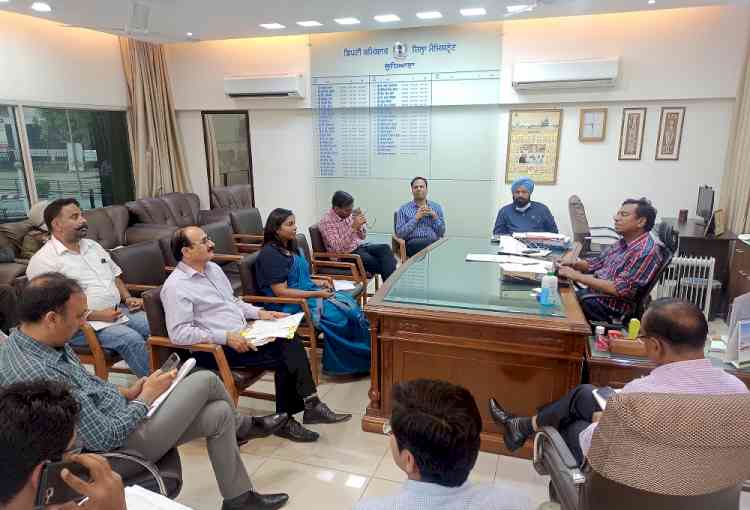 Ludhiana: To check the spread of Novel Coronavirus (COVID 19) in district Ludhiana, the district administration, on the directions of Punjab government, have imposed curfew. During this time, the district administration is trying hard for the home delivery of essential commodities to its citizens. For this purpose, the suppliers would strictly have to take necessary permission for the district administration in advance.
While issuing formal orders in this regard, District Magistrate-cum-Deputy Commissioner Mr Pradeep Kumar Agrawal informed that home delivery of essential commodities such as milk, vegetables, ration, medicines, green fodder for animals and LPG would be done. For taking permission in this regard, the suppliers would have to submit their details such as name, firm name, address, email ID, mobile number (having WhatsApp account), proof of reason, timing for which permission is required at district administration's email ID "[email protected]". The delivery of commodities would be allowed only after getting proper permission.
He said that due to COVID 19 threat, there will be complete curfew in Ludhiana tomorrow, i.e. on March 25, 2020 also. Public is requested to remain in their homes and not allowed to come out.
Besides this, all vehicles of government departments, vehicles ferrying milk, vehicles ferrying food grain, vehicles ferrying vegetables, bread vehicles, vehicles of LPG supply, vehicles supplying diesel/petrol, vehicles carrying green fodder, have been allowed to operate during curfew. He also stated that these vehicles should not have more than three persons, should have a hand sanitiser in it, and every person should be wearing a mask.
Mr Agrawal further informed that officials of PSPCL, PSTCL, BSNL and other telecom services, sanitation workers of Municipal Corporation and Verka Milk plant Ludhiana having official identity cards (on the production of official identity card) are exempted from the orders passed related to curfew.
However milk, vegetables and other essential goods will be supplied to them at their home door to door by milkman, vendors and rehris etc. The District Administration is taking help of best price shops, Swiggy, Zomoto and other online companies and they will also be supplying grocery items door to door. But when they reach in any locality, people should not crowd the vendor vehicle and should wait for it to come to their home. They should maintain the distancing norm of 5 feet while making purchase from them. All of them must wear mask and only one person should come out of the home to purchase from the cart. Try to make payment online as far as possible.
General public is not allowed to come out of their homes during curfew. If anybody requires any pass to move in the curfew he should apply in the DC or Commissioner of Police offices online.
However Doctors & other Hospital Staff of Govt and Private Hospitals, Electricity and water supply Department Employees, Municipal Corporation Staff, ATMs/Banks, Private Security Guards going to duty in uniform, Patients having Medical Emergency cases, Telecom Company Employees on duty during office hours, All types of Goods/Fodder/Supplies carrying vehicles including Interstate goods vehicles, petrol Pumps  (06:00 AM to 08:00 PM), Hawkers of Recognised News papers (05:00 AM to 08:00 AM), LPG delivery vehicles for door to door supply (06:00 AM to 08:00 PM), Milk Plant vehicles and their Employees on duty can come out without passes during curfew but some ID card of the Individual is mandatory.
Following category of persons will require passes to move in the curfew but till the time passes are made they can move without passes. Milkmen  with milk cans (06:00 AM to 09:00 AM & 05:00 PM to 08:00 PM), Rehries/carts/vans used for Door to door supply of Vegetables & Fruits  (06:00 AM to 08:00 PM), Door to door Medicines delivery (06:00 AM to 08:00 PM), Door to door delivery of Breads/Grocery Goods (06:00 AM to 08:00 PM), Factories making essential food products, Media persons with ID cards, Wholesale Sabzi Mandi  (3 AM to 2 PM) to enable rehri persons to buy from them and sale vegetables door to door to public, Wholesale Karyana Store (06:00 AM to 08:00 PM) to take online orders and supply door to door, Employees of Flour Mills and bread companies.
All others will require prior permission from DC Ludhiana or CP Ludhiana or Commissioner Municipal Corporation Ludhiana or SSPs of Ludhiana (Rural) and Khanna to operate in curfew. One can apply online at [email protected] and passes will be sent online after approval. During the Door to door supply of items, the person should wear masks and use soap or hand sanitizers to clean the hands after every house, whereas the person coming out of the house to buy should also wear masks.
The District Administration has assured that there will be no shortage of essential supplies.