Middle-aged woman with pus in heart treated successfully
Dr Bedi said that in such complicated cases a multispecialty backup is essential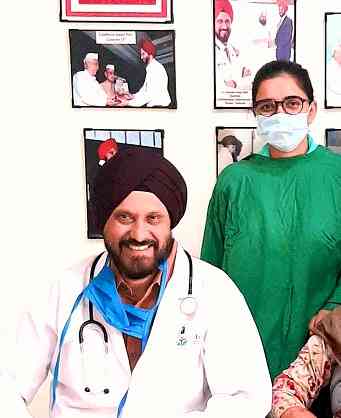 Chandigarh: A 53-yr old woman from Malerkotla was successfully treated for severe infection on a heart valve, which got complicated with heart and kidney failure besides sepsis at Ivy Hospital, Mohali recently.
Dr Harinder Singh Bedi, director of cardio vascular sciences who operated the woman informed that patient condition carried a very high death rate if left untreated. In present lockdown situation, elective surgeries are not being done to conserve resources for Covid-19 patients, but dire emergency cases are needed to be done, he maintained.
Dr Bedi who has seen such cases in Australia where he had worked earlier knew that this case could not be postponed at all as the heart failure was worsening.
The whole cardiac staff came together as soon as possible and an emergency surgery was performed.
The woman's heart was stopped and replaced temporarily with a heart lung machine. Dr Bedi then opened the heart and took out all the pus and damaged valve. This was replaced with an imported metal valve. Dialysis had to be done even as the heart surgery was in progress.
The woman recovered well post-surgery. The other members of the cardiac surgery team included Dr Vikram Arora and Dr Jatin Singh and trained nurses and paramedical staff. 
While stressing upon that emergency cases are being taken care of Dr Bedi said that in such complicated cases a multispecialty backup is essential which is available round the clock at Ivy Hospital.