Narayan Seva Sansthan extended help by offering 1.80 lakh to lives of mother and baby in premature delivery 
Narayan Seva Sansthan's team also distributing 2000 food packets each day to needy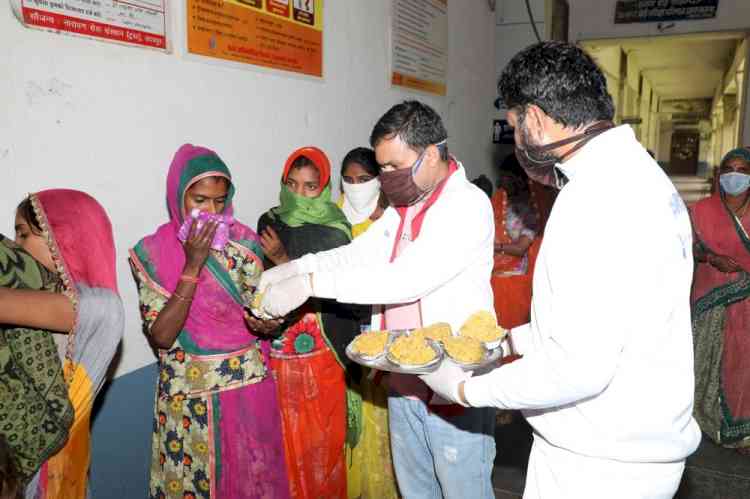 Udaipur:  Narayan Seva Sansthan, a charitable organization that works toward inclusive welfare of differently-abled individuals, saved the lives of a mother and child, born prematurely. The organisation extended financial help. 
Kalpana, a resident of Narsinghpur in Madhya Pradesh, gave birth to immature twins, born just after six and a half months of conception, in a hospital. One of the babies died a few hours later, while the other infant and mother struggled to survive. The treatment was carried out under the supervision of Dr. Suresh Jangid, Chairman of the Department of Nanology at Jivanta Hospital. The treatment was expensive, but husband Vinay was concerned about saving the life of his daughter and the wife. He was told by someone at the hospital to contact Narayana Seva Sansthan for necessary financial assistance.
Prashant Agrawal, President of Narayan Seva Sansthan said that, we have ensured that the mother and child should be provided with immediate assistance. Kalpana and her girl child are now completely safe and healthy after about 3 months of intensive treatment. NSS wished the mother and baby good health and paid 1.80 lakh to the hospital in lieu of their medical expenses. The premature baby girl was named "Durga".
In the midst of the 21 days lockdown in Rajasthan, differently abled individuals of the Sansthan came forward to sew 2000 COVID-19 masks that are to be distributed for free amongst police officials and underprivileged people living in the shelters in Udaipur. As a part of the initiative, the Narayan Seva Sansthan's team is also distributing 2000 food packets each day to the needy.