Nekoee Foundation and Kiran Nadar Museum of Art presents "ऋत"
A site specific sculpture by the artist Vishal K Dar'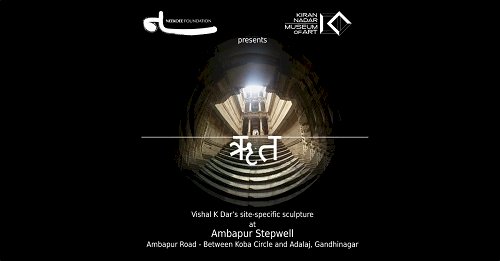 New Delhi: A very large droplet of water, stuck inside the Ambapur Vav (stepwell) architecture. The droplet expresses a ghostly ephemeral being, distorting and mimicking the empty architecture around on its reflective skin. And in doing so, it reminds us of the presence of this vav, a water monument of the past, which emphasizes the present day water crisis.
Vavs have been an integral part of the semi arid landscape of Gujarat, dating back to as early as 600CE. The vav, as a significant architectural invention, propagated community bonding, collaborative efforts where the water resource was shared, and acted as a place of refuge for weary travelers. Over a period of time they have lost their significance, and Ambapur is one such stepwell. The purpose behind this project is to gather communities around the vav and share our common concerns about water and heritage in the sanctum of its magnificent architecture.
AT A GLANCE
Begins from 29th February 2020
Venue: Ambapur Vav (stepwell), Ambapur Village, Gandhinagar
From 10.30am to 6pm
On view till 1st March 2020