Noted gangster Happy Mall nabbed in Ferozepur
Happy sent for two day police remand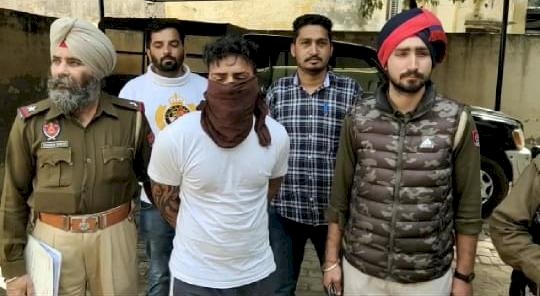 Ferozepur: Ferozepur police has nabbed noted gangster Harpreet Singh alias Happy Mall in Ferozepur. It is pertinent to mention here that Happy was booked in several cases including murder, attempt of murder in various police stations of the state. Bhupinder Singh SSP while giving details said that on November 8 last year, Harpreet along with other members of his gang had killed a youngster identified as Inderjit Singh alias Dida in Mohali.
 
Notably, Inderjit was shot dead by three unidentified motorcycle borne assailants during broad day light in Kharar. Later a case under sections 302, 120-B IPC and 25, 27, 54, 59 Arms Act was registered against Harpreet and his accomplices Rohit Sethi, Ajay Kumar, Ashish Chopra, Amarjit Singh, Mani, Baba Major, Lalli and Gagan Judge at Kharar police station on November 8, 2019 (FIR No. 256).
 
Besides this case, Happy was booked under25, 27, 54, 59 Arms Act at city police station (FIR No. 188). In another case lodged at city police station in Ferozepur, Happy was booked under sections 452, 307, 324, 323, 427, 148, 149 IPC (FIR No. 366 dated 16.12.2017).
 
SSP said that Happy was produced in the court today and was sent for two day police remand.