Oxford Street Zirakpur to house London Hotel Episode
Already tied up with 50 plus top notch internationally acclaimed brands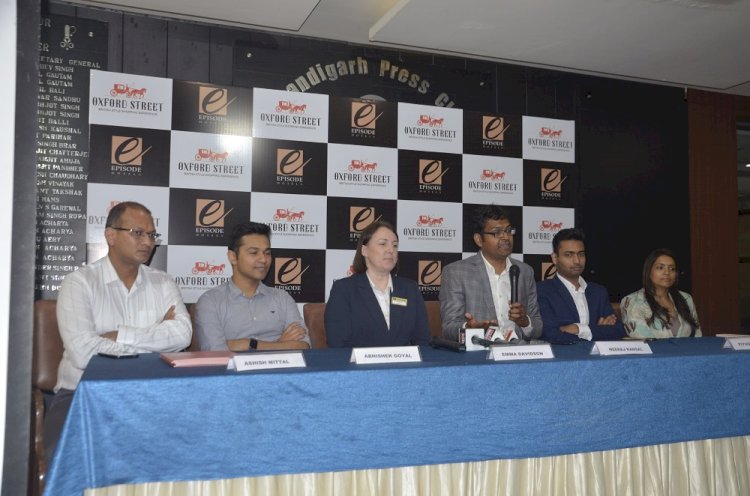 MD Episode Hotel Emma Davidson along with Directors of Oxford Street Zirakpur after signing of agreement between Episode Hotel England and Oxford Street Zirakpur.


Zirakpur: Oxford street London is the world's most promising high street, offering more than 1.5 miles of unrivalled shopping. It has more than 90 flagship stores with hundred of restaurants and luxury hotels including Hotel Episode with unique British Architecture.
Now Replica of Oxford Street London at Zirakpur , spread in  4.5 acres of land, one of the biggest commercial plaza in Zirakpur, 10 minutes drive from International Airport, Catchment of 3 Lakh residences, Waterbodies, pedestrian boulevards & stone cobbled colonnade walkways, British inspired lighting and landscaping, Splashing floor spouts & central sculpture step sit out will soon be ready.
An unprecedented decision of signing an agreement between the Emma Davidson GM Hotel Episode Leamington Spa Warwickshire England and Oxfords street Zirakpur  where the hotel will be managed and operated by a British team of professionals.
Tricity will soon boast of the replica of the world class Oxford street-Open air plaza at Zirakpur's most central location right on Chandigarh Ambala Highway with direct entry from the highway. Anyone can be a proud owner of Oxford street which offers 9 years lease.
World's top brands will be featured in the Oxford street which will be maintained and managed by JLL Company.
Neeraj Kansal post signing agreement with Emma revealed features of Hotel Episode and also offered Inaugural offer 7 nights stay at London's Hotel Episode on booking of share /site at Oxford Street Zirakpur. Neeraj further said Zirakpur has several commercial real estate projects at lucrative locations providing buyers a chance of great profit in the form of assured returns,rentals, business gains and capital appreciation but at Oxford Street we have specially designed offers that are affordable yet profitable due to our soulful management of the project and prime location within heart of city.