Physical possession of land acquired for Ferozepur PGI Satellite Centre
Construction to start soon on 27 acre land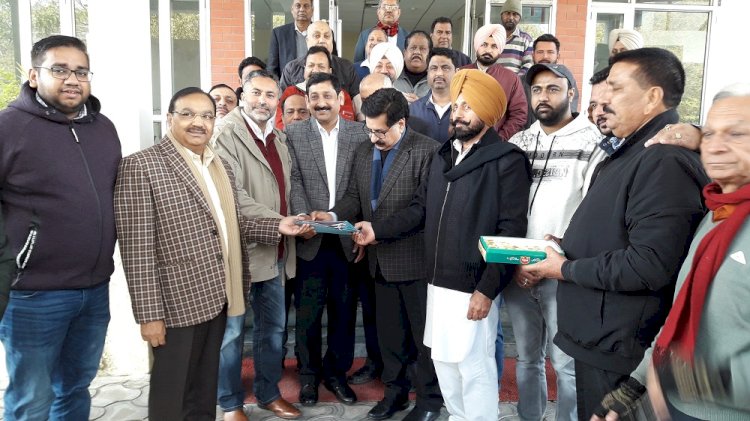 Ferozepur:  In another major development, the management of PGI has taken the physical possession of the land acquired for the PGI's Ferozepur Satellite Centre on Tuesday.
The exercise of the possession completed in the presence of Deputy Commissioner Mr Chander Gaind.
Mr Gaind gave the possession documents to Professor Mr Vipan Kaushal from PGI administration department and Professor Mr Sameer Aggarwal from the Orthopaedics department. Around 2.25 acre land of Fishery Department has been given for the construction of 100-ft widened road for the centre. This road would provide an smooth access to the centre. 
Deputy Commissioner Mr Chander Gaind called the day historic for the Ferozepurites as the centre would soon be a reality. 
He credited MLA Mr Parminder Singh Pinki who left no stone unturned in personally pursuing the issue of land acquisition and completing the formalities.
Mr Gaind said that the construction work would start soon and told it would benefit the people of nearby five-six districts.
Professor Mr Sameer Aggarwal said that PGI centre would be completed in three phases and it would cost Rs 490 crore. He said that around 27-acre land has been acquired for the entire project. 
Mr Aggarwal told that in the first phase, OPD services would commence and general hospital to start in the second phase and the whole project would be completed in the last phase.
Professor Mr Vipan Kaushal said that though the project would take three years to be completed and we would try to finish it before the designated time. 
He said that there is not the paucity of funds for the centre and construction work start in the next two-three  months and OPD services would be initiated soon.
Congress leader Mr Bittu Sangha said that MLA Parminder Singh Pinki had delivered his promise of bringing PGI centre and it would offer world-class health facilities to the people of Ferozepur besides would also open avenues of the employment.

400-BEDDED HOSPITAL IN PGI SATELLITE CENTRE- MLA PARMINDER SINGH PINKI
MLA Ferozepur City Mr Parminder Singh Pinki said that the PGI satellite centre would have a 400-bedded hospital besides  having a nursing institute and medical college. 
He said that the centre would directly or indirectly offer employment to nearly 15000-20000 people. 
The MLA said that the PGI satellite centre on GT road would ensure smooth flow of the traffic in the city as roads are quite widened there due to national highway. He added that Gurdwara Jamni Sahib is also situated near the centre's land where the people can stay and partake in the langar for day-night. 
He said that the people who would visit the PGI along with the patients, will not face any kind of problem of accommodation due to Gurdwara. 
He said that he would deliver on each promise he made to Ferozepurites and the construction of PGI centre would further contribute to the development of this border district.