Prof Kamal Chopra and Ashwani Gupta, Hon Treasurer at AIFMP visit Guwahati under print yatra project of OPA
Visit was to understand style of working and problems being faced by printers of Eastern region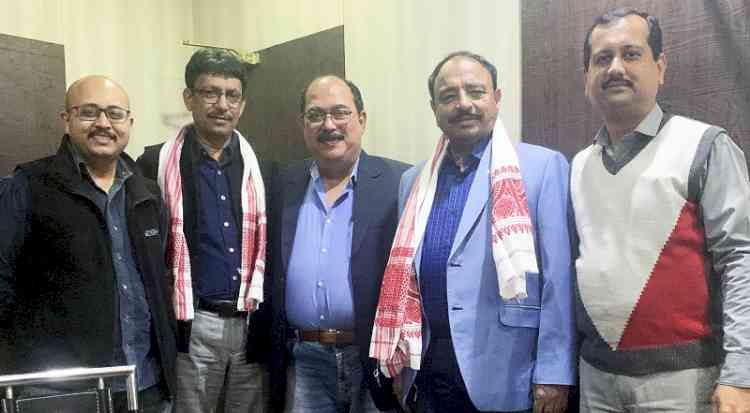 From L to R: Mr. R N Dutta Baruah, Hon Joint Secretary AIFMP, Mr. Ashwani Gupta, Hon. Treasurer AIFMP, Mr. Dibajyoti Kalita, President AIFMP, Prof. Kamal Chopa and Mr. Shahjahan Kazi.


Ludhiana: Just to understand the style of working and problems being faced by the printers of Eastern region Prof. Kamal Chopra and Mr. Ashwani Gupta, Hon. Treasurer at AIFMP visited Guwahati under the Print Yatra project of Offset Printers Association (OPA) on 6-7 February, 2020. While landing at Lokpriya Gopinath Bordoloi International Airport, Mr. R N Dutta Baruah, Hon Joint Secretary AIFMP was there to welcome us. While driving towards the city we noticed the beauty of Guwahati, which really is a sprawling city beside the Brahmaputra River in the northeast Indian state of Assam. It's known for holy sites like the hilltop Kamakhya Temple, featuring shrines to the Hindu deities Shiva and Vishnu. To the east, 18th-century Navagraha Temple is an astronomical center with planetary shrines. Umananda Temple, dedicated to Shiva and covered with engravings, stands on Peacock Island in the river.
They visited the Navanita Printers, one of the biggest printing unit of the city with class machinery and in-house pre-press and post-press facilities. Mr. Dibyajoti Kalita who is President of AIFMP greeted us with cheers. We also visited some other printing units before the dinner meeting with the leading printers and office bearers of the All Assam Press Owners Association. Mr. Shahjahan Kazi brought to notice the problem he is facing with some roller manufacturing company it was solved on the spot with entire satisfaction of Mr. Kazi. While discussing the problems, Prof. Kamal Chopra emphasized on the need for working in close cooperation and to build greater networking. It may be best to adopt the CDP scheme of the government of India for the development and growth of the printing and packaging sector of Guwahati, Mr. Ashwani Gupta added.  
Elaborating the purpose of their visit, Prof. Chopra said, Print Yatra is very humble beginning of Offset Printers Association (OPA) to establish complete networking between 250,000 printers of India. Through this project OPA is motivating the printers to work jointly, form associations and come together for the overall benefit of the printing industry.