One village one officer campaign launched in Ferozepur district
SSP Bhupinder Singh unveiled details of campaign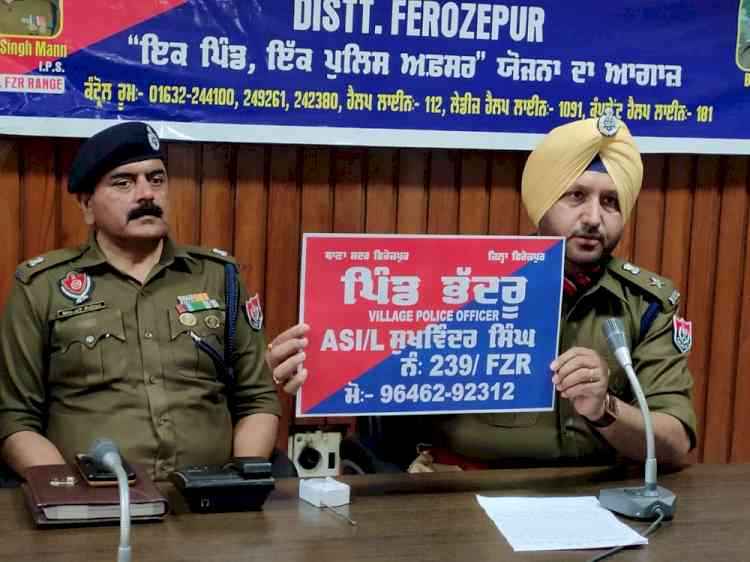 SSP Bhupinder Singh during the launch of the "One Village One Officer" scheme in Ferozepur today.


Ferozepur, March 17: Today, a unique initiative of the Ferozepur Police under "One Village, One Officer" scheme was launched. As per the scheme, 803 Police officials were given the responsibility as Village Police Officers (VPO) and  to check the safety and security of  699 villages of the district.
Unveiling the details of the campaign, Bhupinder Singh SSP said with the help of this scheme the police will not only tighten the noose of anti-social elements, the bonding of the police with the common man will also be reinforced", said SSP.
"There are 699 villages and 127 wards in the entire districts. 803 police officials have been deputed in these villages and wards who will maintain the record of the village/ ward designated to the VPO in a "Beat Book". The record will include information regarding the important points, colonies, markets, streets, religious places etc. besides, the VPO will also contact the residents of the villages to collect important information and to take stock of the law and order situation.", said SSP.
"The police official will also sort out minor issues by bringing into the knowledge of senior officials at his own level. Regarding major issues, he will apprise his/ her senior officials", he further added.         
The SSP said that the number of the VPO will be displayed at the Panchayat Ghar so that the villagers could easily contact him.