Punjab government organises "multi-speciality medical camp" at Village Chowki Mann 
Doctors from USA and other countries conducted health checks of patients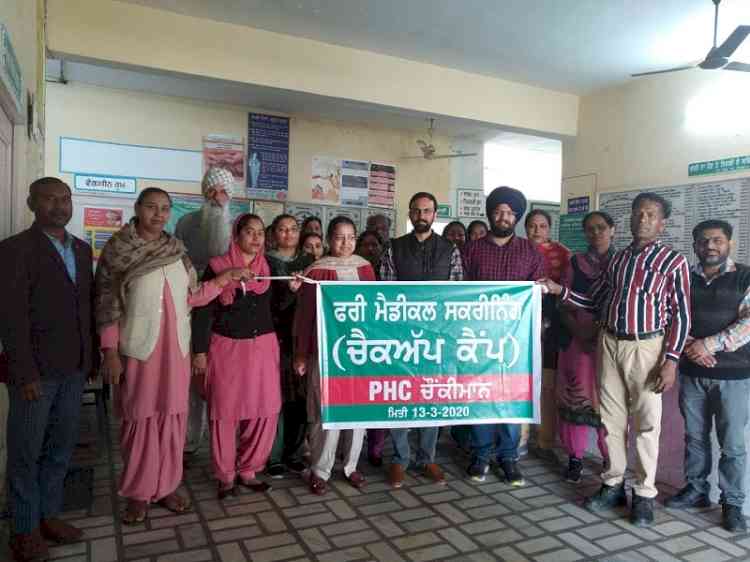 Ludhiana: In a bid to provide best healthcare facilities to citizens, the Punjab government would be organising "Multi Speciality Medical Camps" in different parts of the state. These camps would be organised in different rural areas of the state from March 13-28, 2020.
    While providing information, Civil Surgeon Dr Rajesh Kumar Bagga informed that today, a Multi Speciality Medical Camp was organised at the Primary Health Centre in village Chowki Mann. He informed that a total of 262 patients were checked, tests of 40 patients were carried and two patients were referred to Civil Hospitals for further treatment. This camp was inaugurated by Senior Medical Officer Dr Ripjeet Kaur.
    Dr Bagga further stated that another such camp would be organised at village Pakhowal on March 23, 2020. He informed that specialist doctors from USA and other countries are attending these camps.
    The Civil Surgeon stated that for the benefit of patients, ambulances, adequate number of doctors and paramedical staff are being deputed. He stated that tests of diabetes, lipid profile, ECG, blood pressure, heart related ailments etc are conducted on the spot. He said that the patients who require further treatment, are being treated as per the guidelines of the health department. Medicines are also being provided free of cost to the patients, along with regular followup for a period of three months.
    He stated that "Multi Speciality Medical Camps" would be organised at village Desian Kahna (Jalandhar ) on March 14, at village Chathe Sekhwan (Sangrur) on March 15, at Kartarpur (Jalandhar) on March 16, at village Kotli Arian (Adampur) Jalandhar, at Khadoor Sahib (Tarn Taran) on March 18, at village Kang (Gurdaspur) on March 19, at village Shikar near Dera Baba Nanak (Gurdaspur) on March 20, at village Sursing (Tarn Taran) on March 21, at Sultanpur Lodhi (Kapurthala) on March 22, at village Baduwal (Moga) on March 24, at Tarn Taran on March 25, at village Pallasaur (Tarn Taran) on March 26, at Sarhali (Tarn Taran) on March 27 and at village Kot (Tarn Taran) on March 28, 2020.