Punjab government should dismiss tainted DSP Balwinder Singh Sekhon immediately: Mayor Balkar Singh Sandhu
MC Councillors from Ludhiana (West) Constituency urge CM Capt Amarinder Singh to make police force free of such tainted officials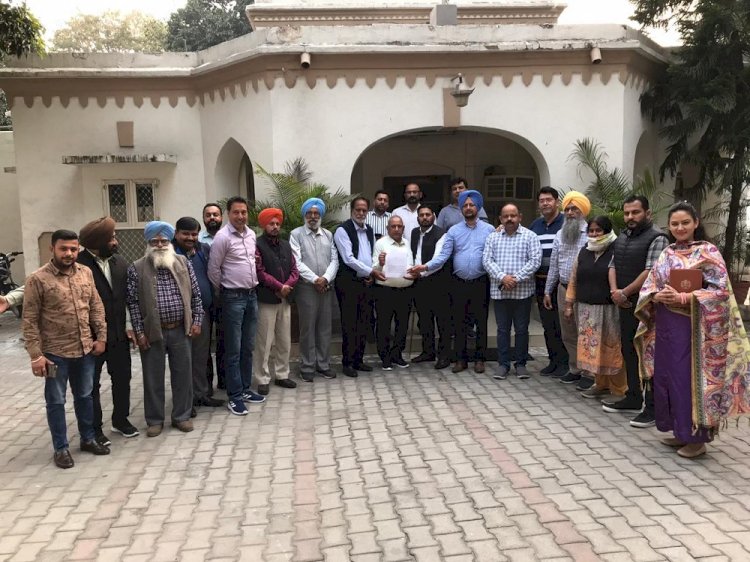 Ludhiana: Mayor Balkar Singh Sandhu today demanded from the Punjab government that tainted official DSP Balwinder Singh Sekhon should be dismissed from the police force immediately. He said that the suspended DSP is levelling baseless allegations against Punjab Food, Civil Supplies & Consumer Affairs Minister Bharat Bhushan Ashu, who represents the Ludhiana (West) constituency since 2012.
He was accompanied by MC Councillors from Ludhiana (West) constituency namely Dr Jai Parkash, Narinder Sharma, Dilraj Singh, Seema Kapoor, Maharaj Singh Raji, Gurpreet Singh Gogi, Hari Singh Brar, Sunny Bhalla, Rupinder Singh Sheela Dugri, Poonam Malhotra, Jaswinder Kaur Thukral, Pankaj Kaka, Baljinder Singh Bunty, Senior Congress leaders Sunil Kapoor, besides several others.
The MC Councillors have come in support of Bharat Bhushan Ashu and have urged Chief Minister Capt Amarinder Singh to make the Punjab Police free of such tainted officials.
Balkar Singh Sandhu said that he had got several complaints against DSP Balwinder Singh Sekhon, who was earlier posted in Municipal Corporation Ludhiana. When DSP Sekhon was reprimanded over his corrupt practices, he started levelling baseless allegations against the leaders, who are known for carrying out development in the state.
The Mayor said that suspended DSP Balwinder Singh Sekhon has alleged that a case of year 1992 should be reopened. "When Bharat Bhushan Ashu was given already clean chit in that particular case when the Shiromani Akali Dal-BJP was in power in the state, does the state government also reopen all cases in which DSP Sekhon also got clean chit? It is a baseless allegation levelled by DSP Sekhon, who himself is of a dubious character," alleged Mayor Balkar Singh Sandhu.
"We all know that DSP Sekhon has been suspended in the past too and a video showing his harassing and misbehaving with a city resident over a petty issue had also gone viral on social media some time back," alleged the Mayor. He further said that the opposition parties should not politicise issues for their petty political gains. While speaking over the entire issue, Mayor Balkar Singh Sandhu said that Chief Minister Capt Amarinder Singh have already openly supported honest leader Bharat Bhushan Ashu.
Senior MC Councillor Dr Jai Parkash Sharma said that due to his positive and pro-development approach, Bharat Bhushan Ashu has won five back to back elections (three as MC Councillor and two as MLA) and levelling such false allegations against Ashu and that too by a DSP with dubious and tainted character, is insult of the electorate of Ludhiana (West) constituency. He demanded that DSP Sekhon is a blot to the entire police force and should be terminated immediately.
MC Councillor Sunny Bhalla said that Bharat Bhushan Ashu is a grounded leader who has always stood for the people, whereas DSP Balwinder Singh Sekhon is a tainted official, who was once suspended for his illegal activities./(Feb 26)