Punjab State Scheduled Castes Commission members visit village Kalakh
Take stock of allegations of village residents against sarpanch and panchayat officials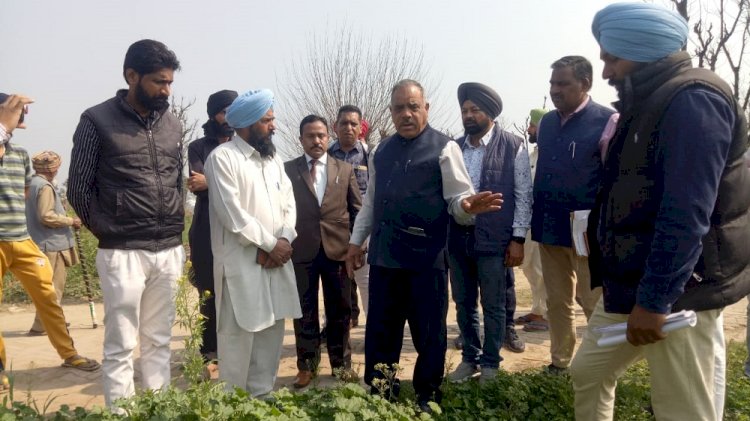 Ludhiana: Punjab State Scheduled Castes Commission Members Mr Gian Chand and Mr Prabhdyal Singh today visited village Kalakh of the district. They visited the village following the complaint filed by Mr Kamaljit Singh son of Mr Gurcharan Singh, resident of village Kalakh with the commission.
    It is pertinent to mention that in his complaint, Kamaljit Singh had alleged that village Sarpanch Mrs Randhir Kaur and concerned BDPO have harassed him. He had alleged that when a drain was constructed for the disposal of waste water near his house under MGNREGA, it was intentionally constructed in a way that the waste water enters his house.
    He also alleged that the work related to construction of road in front of his house was left incomplete for more than a year by the Sarpanch whereas all other roads of the village have been completed. He said that during rainy season, it becomes very difficult for him to commute as he is unable to come out of his house and can also harm him physically. He had mentioned three different places in his complaint, due to which water accumulates in front of his house.
    While taking up this complaint, commission member Mr Gian Chand said that all three points being raised by Mr Kamaljit Singh are right and directed that Sarpanch and Panchayat officials should rectify all three points and submit a detailed report in this regard with the commission by April 8, 2020.
    The Commission members directed the officials to ensure that the level of the area around the complainant's house should be levelled so that waste water does not enter his house and submit report in this regard. The commission members said that no person should be discriminated against on the basis of caste and the state government is committed for their welfare.
    Naib Tehsildar Mr Harish Kumar, Patwari Mr Ram Singh, Panchayat Officer Mr Harmel Singh, JE Mr Sapjeet Singh, secretary Mr Kaushik, Sarpanch Mr Bakhshish Singh, Panch Mr Rajnish Kumar, Panch Mr Kamaljit Singh, Block Samiti Member Mr Harpreet Singh, ASI Mr Harmesh Lal, besides several others were also present on the occasion.