Rai Azizulla Khan releases Gurbhajan Gill's collection of Ghazals at Lahore
Release takes place during 30th World Punjabi Conference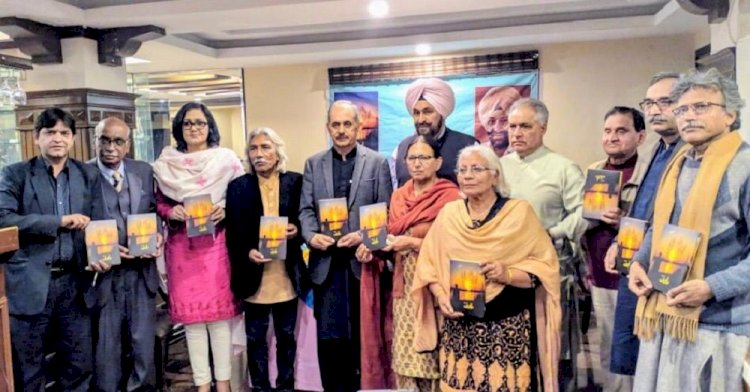 Ludhiana: A newly published collection of ghazals "Ravi" in Shahmukhi script was released by the former Member of National Assembly of Pakistan, Jenab Rai Azizullah Khan during the send-off function of the 30th World Punjabi Conference held recently at Lahore (Pakistan). Those present in the Presidium included Prof Zahid Hassan, Dr Sugra Saddaf, Baba najmi, Afzal Sahir, Dr Deepak Manmohan Singh, Dr Sukhdev Singh Sirsa, Mrs Jaswinder Kaur Gill, Dr Sultana Begham, Gyan Singh Kang,(Toronto), qamar Mehndi and Amjad Saleem Minhas.
The author Prof Gurbhajan Gill was introduced to the audience by  the Presenter of Sada TV,  Yousaf Punjabi. The Chief Guest, Rai Azizulla Khan described Prof Gill's writings as deeply soaked in Humanitarian Thoughts and Welfare of All.  Prof Zahid Hassan, a scholar from University of Management Sciences lahore said that Ravi airs the philosophy of cultural fraternity  and pride of Punjabis that has transformed their fate over the period of time. He expressed that Prof Gill has tried to present the essence of fraternity from Dera Baba Nanak to the place of Baba Sheikh Farid in his  exclusive poetic style.  
The former Director General of the Punjab Institute of Language and Culture Dr Sugra Saddaf, said that Ravi includes the ghazals that reflect benevolence through aptly used words.  
Famous Scholar Dr Ghulam Hussain Saajid  presented an elaborate paper on the released book and summed that the contents of the book connects the reader to the cultural grassroots.  
Dr Deepak Manmohan Singh also appreciate the writings of Gill as connecting the people and said that the book was earlier presented by him at Sri Kartarpur Sahib (Narowal) during his recent visit there alongwith singer Pammi Bai and dr Rattan Singh Dhillon and Khalid Hussain.
Amjad Salim Minhas of Sanjh Publications, said that the launched book "Ravi" gives a message of peace and fraternity across the borders.
Sarfraaz Shafi of  Press Club Lahore also addressed the audience on the occasion.  Present on the occasion were Darshan Butter, Dr Harkesh sigh Sidhu, Sehajpreet singh Mangat, Dr Jaswinder Kaur Mangat, Dr Narwinder Singh Kaushal, Dr Sunita Dhir, Dr Tejinder Kaur Dhaliwal, Sushil Dosanjh, Kamal Dosanjh, Nidharak Singh Brar, Pammi Bai, Anju Sharma, Dr Gurdeep Kaur Delhi University, Dr S S Sangha, Dr Tarlok Bandhu and others. The stage was ably managed by Afzal Sahir, an eminent Punjabi poet.