Report of all 13 suspected coronavirus cases come out negative in Ludhiana district 
People should not fall prey to rumours spread on social media about novel coronavirus: DC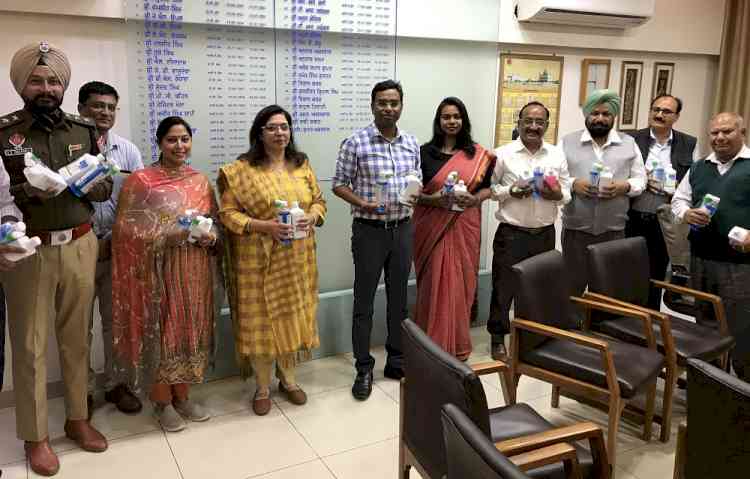 Ludhiana: Deputy Commissioner Mr Pradeep Kumar Agrawal today informed that there is no positive case of Novel Coronavirus (COVID 19) in the district till now and stated that the district administration is in total control of the entire situation. He informed that in a good new, the reports of all 13 suspected cases of district Ludhiana have come out negative.
    The Deputy Commissioner today chaired a review meeting regarding COVID 19 at his office here today. The meeting was also attended by ADC (Development) Mrs Amrit Singh, ADC (General) Mr Iqbal Singh Sandhu, ADC (Khanna) Mr Jaspal Singh, ADC (Jagraon) Mrs Neeru Katyal Gupta, besides several others.
    Mr Agrawal informed that two new suspected cases were reported in last 24 hours in the district and their reports have come out to be negative. He informed that isolation wards having complete facilities have been set up in several private and government hospitals in the district.
    The Deputy Commissioner stated that as a precautionary measure, all SDMs, Tehsildar's, and other senior officials have been asked to scout for suitable places for setting up of quarantine facilities. He said that the teams would visit different parts of the district tomorrow and submit their report by evening.
    He informed that as a precautionary measure and in public interest, the "mulaqat" (meeting) between the inmates and their family members have been stopped till March 31, 2020. He said that the "mulaqat" can be done only in urgent cases and that too under the supervision of jail superintendent, and after the family members are sanitised properly.
    He further informed that district administration would start another separate awareness drive which would be held under the supervision of AROs and the BLOs. He further informed that another awareness drive on the lines of Pulse Polio campaign is being held in the district till March 26, 2020. He said that this drive would be led by the health department and would have officials from education, aanganwari and cooperative departments. He said that more than 2000 teams have been formed for this purpose and they would visit all houses in the district and educate the masses about ways to protect themselves from Novel Coronavirus.
    The Deputy Commissioner urged the residents of district Ludhiana to not believe in rumours on social media and only share credible information so that it does not create panic amongst masses. He also urged the residents to not believe in rumours and act as responsible citizens. He also urged the residents to visit offices only in case of an emergency and should postpone their visits to crowded places in their own interest and safety.
    Hand sanitisers were also distributed amongst government officers, in whose offices, the footfall of people is more. He said that hand sanitiser should be offered to every person entering the government office for work
    He also appealed to the residents of district Ludhiana to ensure that they follow all guidelines and instructions being issued by the Punjab government and Health Department so that one is able to save himself from any untoward situation.
    As per the advisory, it has been stated that one should not shake hands or hug anyone, do not spit in open, any person having fever should not go out in public, and keep at least 1 meter distance from any person having sough or fever. If any person is having cough or fever, he should always keep his mouth covered with a mask or handkerchief and should report immediately to their nearest government hospital. Similarly, if any person has travelled to China or Nepal in last 14 days, he should be quarantined for 14 days in his house and should not visit any crowded place. As per the advisory, any healthy person who does not have cough or fever, need not need a mask.
          The helpline number for state is 104, for district Ludhiana is 0161-2444193, or Dr Divjot Singh can be contacted at 9041274030 or Dr Ramesh Kumar can be contacted at 9855716180. He appealed to the residents that this disease is fully curable and there is no need to panic.
    He also said that people should not fall prey to rumours spread on social media about Novel Coronavirus. He clarified that the District Administration has already made adequate arrangements to tackle any situation if any case of this disease surfaces in the district.