Rotarians donate Rs.1.75 crore to The Rotary Foundation
Author(s): City Air NewsShailesh Gummideli seen presenting a cheque of 1.75 crore to the Rotary Foundation through the hands of Sivanarayana Rao, Rotary District Governor. This donation is biggest amongst all clubs in South Asia, says...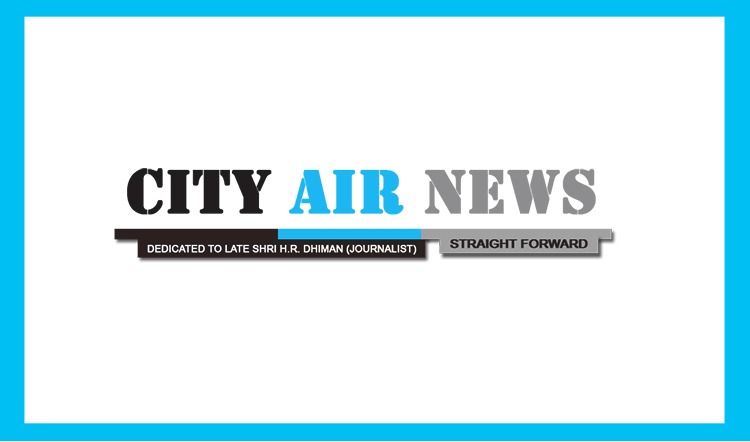 This donation is biggest amongst all clubs in South Asia, says outgoing president Rtn.Uday Pilani
Hyderabad, July 13, 2019: Rotary Club of Hyderabad Deccan (RCHD) a primary wing of Rotary District 3150, India, today presented a cheque of USD 2.5 lakh or INR 1.75crore to the The Rotary Foundation on the occasion of the Installation of the President, Rtn Sailesh Gumidelli for the year 2019-2020.
Sailesh Gumideli, presented a cheque along with major donors to District Governor Rtn Sivanarayana Rao.
It is a very large donation. Biggest amongst all clubs in South Asia commented Outgoing President Rtn.Uday Pilani.
RCHD is a 30 years old club and adjudged as the best club in the Rotary District. It provides free Dialysis to 10,000 patients every year translating into the value of Rs 2.5 crore per annul. It recently donated Flow Cytometer to Basavatharakam Cancer hospital costing Rs 66 lakh and saving 400 lives of Cancer ridden children, he said giving his acceptance speech immediately after he was installed as New President.
The theme of the Rotary International for this year is "Rotary Connects the world". And our RCHD's theme is RCHD Reconnects the world said Sailesh.
The Glitzy ceremony held at the Westin Hotel on Saturday night included Rotarians of the Club along with the District Governor Rtn Sivanarayana Rao and the Chief Guest M Jagadeeshwar IAS, Principal Secretary Woman & Child Development Telangana State.
Outgoing President Rtn. Uday Pilani, who took over as the Club's Rotary Foundation Committee Chairman said, "On behalf of Rotary Foundation, I thank all our Donors that have contributed generously towards the foundation. My aim is to cross USD 500,000 in the current year and this is a good beginning. Last year, we contributed US$270,000 and this year we hope to double the amount.
The newly installed President Sailesh, himself is a Major Donor to the Foundation, outlined the plans for the year which include Expansion of the Dialysis Centre at Secunderabad Gurudwara along with a Medical Diagnosis centre, Major Foray into improving Literacy in Schools all over Telangana and Andhra Pradesh, Improving the existing projects done by the Club and many more. President Sailesh committed himself to addressing all the focus areas of Rotary and pledged to devote all his energies to take the Club to higher levels than before.
Rotary in India spends Rs 100 crore every year through its Rotary Foundation's International Grant. Indian Rotary is the second biggest in the world in its contribution to Rotary Foundation. This year alone Indian Rotarians have contributed 18 million US dollars he told.
Since it was founded more than 100 years ago, the Rotary Foundation has spent more than $4 billion on life-changing, sustainable projects.
With contributions like Rotary Club of Hyderabad giving INR 1.75crore to Rotary Foundation, it can make lives better in the community and around the world.
The Rotary Foundation awarded $86,677,399 in funding to 1,306 grants during fiscal year 2018.
Rotary Club of Hyderabad Deccan is part of the global network of Rotary International. It is chartered in 1988, today has 94 members from various vocations
RCHD has impacted lives of over 20,000 school going children by providing them with safe water, classrooms and desks, and over 200,000 villagers by provision of RO plants in fluorosis affected areas. In 2016, RCHD set up a Dialysis Centre at Secunderabad and a state of art Blood Bank at Ameerpet at a total cost of over Rs. 2 Cores, in partnership with the Rotary Foundation and the Rotary Club of Naperville Chicago. The Dialysis Centre, housed in the Secunderabad Gurudwara and run by the Mahavir Charitable Trust has
Completed over 10,000 dialysis at a charge of a mere Rs. 300 each. The Rotary Blood bank housed in Challa Hospital (Ameerpet) has collected over 7000 units of blood used by the needy. Recently, in June 2019, the Club donated a 11 Colour Flow Cytometer to the Indo American Cancer Hospital to help in diagnosis and treatment of Poor Children afflicted with Blood Cancer at a cost of Rs 60 Lacs and completed 23 Toilets, Electrical Works and other items at the Govt Girls Junior College Marredpally at a cost of over Rs 12 Lacs.