Salute to women change makers
Nine women who made difference in life of others or society felicitated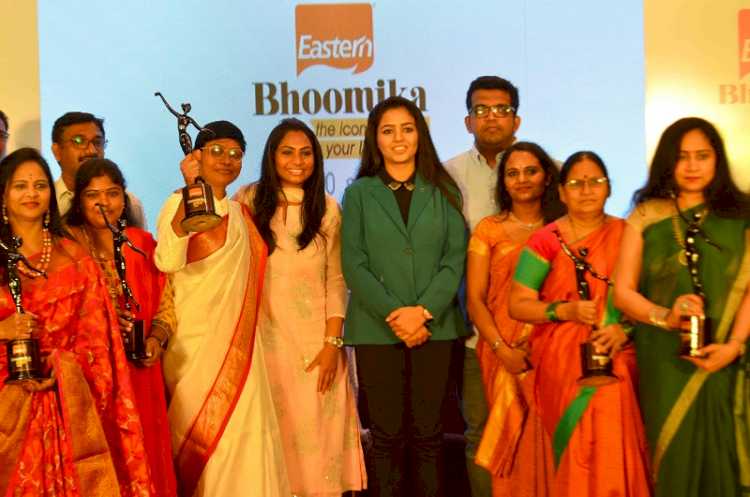 Eastern Bhoomika The Iconic Women in Your Life Award Winning Women Achiever.s


Hyderabad: Eastern Condiments presented "Eastern Bhoomika, the iconic women in your life" awards to nine accomplished women from Telugu States here in the city at hotel Hyatt Palace on the eve of World Women's Day
 
The Awardees include a woman who sold property to provide shelter to elderly; a girl who provides Sanitary napkins free to slum dwellers in Miyapur; a woman who despite of two mentally retardate children, provides funeral service to destitutes; a woman who has come out with Worlds's first India's own doll.
 
Bhoomika is a social initiative by Eastern Condiments, India's major player in Spice Blends and a makore exporter, strives to bring to light the iconic women in in our lives.
 
Capt. B. Susan Nelson, Indian Army, Capt Arpita Indian Army; Vibhi from Eastern Condiments were chief guests and gave away the awards.
 
The receipients of the awards include: Gattu Indira, a Social worker who runs Matrudevobhava Anadha Ashramam; Hima Shailaja Theerdhala, a IT professional turned Fashion designer who created India's own fashion doll called 'Kiya', what Barbie doll to the West, 'Kiya' to India; Mattupalli Satya Sunita, who is into Service; Lavanya Gudelli, who founded a NGO, "Be The Changer Makers", which started with 20 strangers as volunteers, it has now 200; S. Sujatha, Athidi Divyangan Ashramam; Krishna Veni, who trained many women by training them with the tailoring skills; Amma Sridevi, sey up home for the elderly; Kasthuri Vijayalakshmi, Founder of Kasturi Vijayalakshmi Bharat Social Service Society and others
 
Giving details, Vinod, AGM of Eastern Condiments said, the objective of this program is to identify outstanding women, recognise and felicitate them to encourage to carry out good work in the society.
 
Recognising women with Eastern Bhoomika Awards is the brain child of Mrs Nafeesa Meeran, Director if Eastern Condiments. The accomplished women are feliciated for the past six years. This years Eastern Bhoomika Awards program for iconic women in life is being organised in three different locations—-Hyderabad, Bangalore and Luknow where 30 women achiever are felicitated for their outstanding work.
 
The largest manufacturer of spice blends in India, and has successfully attained India's largest exporter of spice powders award from the government of India continuously for 20 years, Eastern Condiments with a turnover of Rs 900 crore is a 35 years old organisation, has 3500 employees, off which 47% are women, off which 22% are in
Management cadre.
 
Mrs. Nafeesa who is the brain behind the annual awards program believes that women who have made a difference in the life of others or society at large to be celebrated. The aim of this campaign is to recognise every woman who supports, leads and works relentlessly to make our society a better place for every one.