Searching My Land- A Novel By Parul Sharma
A complete Novel in English for the Readers of `City Air News'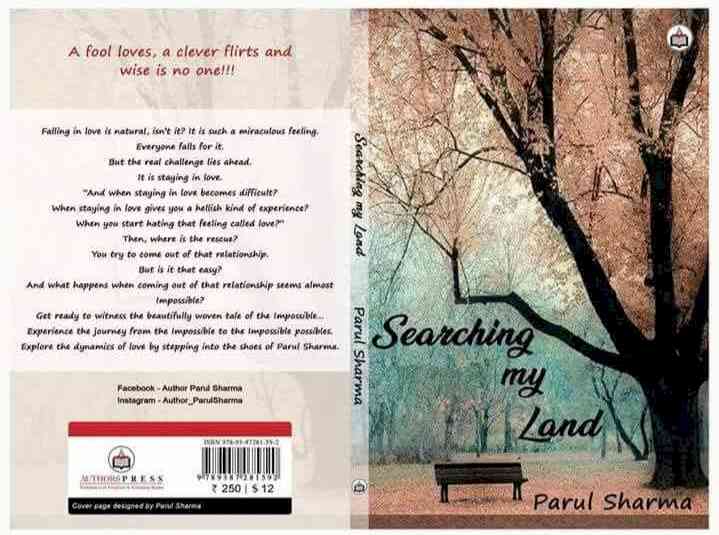 The book is dedicated to
My Dadi
Today, she is not with me physically and is with God in his own world, but her traces are present within me.
The Book is for My Saintly Warrior
 My Father
The book is inclusively and exclusively for my pops. Whatever I am today, the little I have achieved today is only because of one man, my father. In a society where parents have monopolized the dreams of their children, my father freed me from the clutches of science after my 12th when I told him that I had nothing to do with the roots of science and was interested only in the fruits of science. He firmly backed my decision to go for the humanities and gave me a new sky to fly into and expand my wings.
That was the time I found my land and that was also the time, when the darkest phase of my life was rested in peace.
It is the result of that one decision, that today I am surviving with confidence in society. Maybe, it is the result of that one decision that I am able to give birth to a novel.
He is my ideological think-tank, my friend, philosopher and guide, my architect, my sculptor, my spine, my everything.
Lastly, I thank my pops for providing those genes of writing in me. Though he is an established figure in Hindi literature and knows no introduction and I am just a novice but I really pray that I can keep up his legacy in my own capacity.


  

Somewhere between Pleasure and Pain, 
Creativity springs.
Acknowledgements 
My Doting Family
My Mother – I always say, my father feeds my mind and my mother feeds my belly. To feed an epicure like me must be an onerous task for her. But, the way she feeds me, takes care of my taste buds, no one can. Thank you mom for all the delicious and yummy food.
It is the magic of that energy that I am able to complete my novel and I assure you mom, this magic would continue in my future ventures too.
My Love Bhupinder for being cooperative and understanding, for sacrificing her nights to make my days. Her selfless duty towards me draws to the conclusion that woman is the real architect of a man's destiny and also proves the belief right that dreams can be fulfilled at any point of life and that too with full vigour. Thanks my love for believing in me and supporting me at every step. Without your support, it would not have been possible.
My younger brother Rahul who provided me the much-needed Elixir-Diet Coke which I consumed while writing my book and which kept me awake during those nights. 
My Teachers 
Seema Jain Mam (Head PG Department of English & Dean, Academics, KMV, Jalandhar; President Litspark: A Literary Forum) my gratitude would be incomplete without mentioning this name. She is an epitome of a true teacher. I always say, a teacher is the one who rectifies your errors and not advertises them. I remember how humbly she discussed everything, from typological errors to grammatical errors, from title to vital, from gaps to wraps. She is the only teacher who stood by me and took pains for my draft. My heart wishes the best for her.
Sandeep Chahal Sir (Associate Professor, PG Department of English, Doaba College, Jalandhar) for helping me in his own capacity. I share a unique kind of bond with him. Teachers may come and go but some teachers remain forever. He is my all weather teacher.
Prof Amit Kauts Sir (Head and Dean, Faculty of Education, GNDU, Amritsar) A man of intellect and wisdom, whom I adore so much, from whom I have learnt so much in life and whose guidance I have always sought and Dr. Deepa Sikand Kauts Mam (Associate Professor, Department of Education, GNDU, Amritsar) for always pampering me like her own child and for giving me the finest exposure in education college. 
Dr. Charanjeet Kaur Mam (Retd I/C Principal & Associate Professor and Head, Department of English, Smt Chandibai Himathmal Mansukhani College, Maharashtra) for her meticulous guidance, direction and motivation that worked wonders at the last moment.
Google, my Language Guru – for being there when no one else came to my rescue and for helping me out wherever I got stuck.
My Committed Friends
Arkaza Sahajpal – My first and ever-ready reader. I remember when I sent the first chapter to her, she literally phoned me to go ahead with that. A kind of push I got that day. That was the day, I didn't look back, went on and on and completed the whole draft. She is my only friend who has stood by me firmly and never let me down throughout the process. My research scholar friend may seem busy for the people around her but for me, she was never busy.
Rohit Jassal – For giving a sincere reading to the draft. The experience he shared with me on phone after reading the draft filled my soul with all the happiness of this world. His suggestions and reflections worked for the betterment of my novel.
Rashmi Sethi (Assistant Professor, Department of English, HMV College, Jalandhar) – for giving me her opinion as a reader and not as a friend, which was my first condition to her. She played her part well and came out with valuable feedback. 
My School Friends
Ishaan Joshi, Arvind Sharma, Rishu Sharma, Rupesh Sharma, Vaibhav Chawla, Kanwal Dua, Sahil Malhan – my confidants, my key witnesses to the journey of my life till date.
My Happening Friends
Parul Dua, Aman Singh and Gaganpreet Arora, my trio, for giving me beautiful memories in education college and for leaving unique imprints on my heart. 
The Divine
Saraswati Maa, Ganga Maa and Lord Krishna for kindling that light within me.
The Rest but the Best
Professional courses B.Ed and M.Ed that played a pivotal role in the grooming of my overall personality.
Sports College where I used to recreate myself, discussed ideas and thoughts with my father wherever I got stuck, during morning and evening walk.
All those experiences, those incidents, those names, those places that helped me in building my plot and giving a vent to my creativity.
My friend Navni Sudeora whom I know from DAV college days but she came into my active contact only during the writing of this novel. She, very nicely, helped me in overcoming the language technicalities I faced while editing the draft. 
My Publishers Authors Press for being a friendly publishing house. I am highly indebted to them for addressing even my minutest queries and handling my impatience. Thanks for introducing Parul Sharma to the world.
My well-wishers who kept me going and also my unwell wishers who only made me formidable.

That Day I Searched My Land in Writing…
To bring life on the pages was once a dream, now a reality. Writing a novel was like romancing with life. A few lucky people get such a chance to romance with life like this and I feel myself fortunate that God has made me that 'Lucky One.'
Experiences are key to writing and experiences when treated with the power of imagination lead to creation. My work is also an amalgam of both; but how successful I am in doing that depends upon you – 'my reader'.
You know what all a writer has? The creative process. Yes, the process of writing. From naming of characters to framing of characters, from plot building to thought building, from experiencing pain to witnessing pleasure, from riding on the crest of confidence to surviving on the trough of despair, from being nothing at one time to being everything at the other time, these are the varied experiences and extremities a writer lives through this process.
And what all a reader lives? The creation. Yes, the creation.
My creation 'Searching my Land' is in your hands. Now, it's your time to come into action.
I have fully lived my part, and now your turn starts.
In the end, I would say – Human creativity has no limits. Human imagination knows no boundaries. Human capacities are infinite. Human language is profuse in nature. In such an abundance, my piece of writing just attempts to create a niche for itself in a world of unending human endeavours.
I hope you would like my amateurish effort. Your remarks are something I am eagerly waiting for.
Good luck to me and you.
I welcome you to Searching My Land.
Prologue
'Dhruv, you know I am living under a strange kind of fear these days. That fear is tearing me apart, that fear is not leaving me, that fear is taking my everything away from me, the fear of the known. The greatest fears in life are not always unknown, the fears are the worst when known. I know this fear would turn my moments into memories, my dreams into nightmares and my everything would be reduced to ashes.
This is destiny…
Sometimes I look around and I don't find you and the very next moment, I find you within me. Sometimes, I feel the whole sky belongs to me and the very next moment, I start searching my land.
Days promise me of your presence and nights remind me of your absence.
When I don't accept my reality, I go into illusion. When I imagine things, reality haunts me.
Sometimes you become sunlight that brightens my everything and sometimes, I crave for my identity in moonlight.
In moments, I am happy and in moments, I shed tears.
Sometimes, everything seems permanent and sometimes everything momentary.
In moments, I am on the verge of making and in moments, I find myself breaking.
Sometimes, I answer myself for hours and sometimes in seconds, I start questioning myself. 
Sometimes…
Dhruv, Heaven and hell are not places, they are experiences.
All of a sudden, I fell into a lamenting kind of situation. I felt suffocated in a few seconds. I took some pause and finally spoke:
'Tarushi, the best of everything is waiting for you and very soon, the worst will die its own death. Soon, you would be free from the cage and that day you would have fresh air to breathe in, a new earth under your feet and a new sky above your head. A new life would spring that day and there would be festivity all around you. 
That's your destiny…
In my life, there have only been two ways – one way and no way. Very soon, I will rest my life in my destined cage.
And that's my destiny…
Chapter 1
The time had come to bid goodbye to the capital city, my second home for about eight months. I was super excited. The joy of going back to my home was overpowering everything. My pops rang me in morning to wake me up to get all the packing done and to clear all remaining dues in time so that I could board my afternoon train with ease. During these eight months, there was hardly a single day when he didn't call. It was his daily habit to wake me up for my early morning classes, say 5.30 a.m.
In fulfilling a child's dreams, parents have their own share of sacrifice that is hard to see.
But, was I able to see that?
I very well remember the day when I boarded Shatabadi train along with my pops after my final masters' examination. Actually it was already decided that I would take civil services coaching from a reputed institute at Delhi when I was doing my masters in Political Science, the subject which I had refused to take in my graduation, the subject in which I then did honors and finally post-graduation.
Once a chance, now a choice.
My pops had declared that the road from our city would lead only to Delhi because it serves the best for the kind of exposure required for this type of exam. For that matter, Delhi is the Mecca of the civil services aspirants in the country. 
Early morning, my pops would come to my room with newspapers in his hands and ranking of various academies in Delhi to which I would respond half-asleep but he would continue his chores until I woke up.
He had made all the arrangements for my admission single-handedly. The only thing left was to reach Delhi itself. This was the reason the family cry after my final exams was Chalo Dilli.
My pops stayed with me in the initial days for my settlement and helped a homesick boy gain confidence in a new land that was completely alien.
Well, things settled in the course of time but my life never settled. Only I knew how I spent these months. I came here with a purpose in hand and now I was returning empty-handed.
But thanks to God, the exile of eight months was finally coming to an end.
Lying in bed, I looked at the wall clock to check time. It was 10.00 a.m. I held my phone in my hand to check whether Aditi had called. As usual, nothing new happened and in disgust, I kept it aside and thought about everyone back home calling me, waiting eagerly for me and planning to welcome me; but she didn't find it important to even call me. Sometimes I wondered what was important to her.
At least, it seemed I was not.
But, then I thought it was not worth wondering at this point of time. The best way of saving the day from getting ruined was not to think about her.
As I had planned lunch with Haider, so my first target was to finish my work speedily.
I didn't have much baggage as most of my belongings had been already sent when my pops visited me last time. One golden rule of travelling was to travel light, he told me that. But, still certain things were unpacked.
I quickly got out of my bed to pick up The Hindu, the religiously read newspaper by all the aspirants here, lying at the main entrance of our three-storey apartment. Well, in my case, I only bought it religiously. It was now a habit not to read newspapers. Newspapers were just killing space in my room, nothing else, which in turn would only exert bad psychological pressure on me.
While coming back, I knocked at Haider's room. It was locked. It meant he was already onto his business. I was late, I thought in my mind.
Keeping the newspaper on my study table, where I hardly studied, I proceeded with my work and started to think about Haider. How I met him the very first time and how he showed his hospitality to a newly arrived stranger and how in a cosmopolitan city like Delhi, such things were rare and how rare things astonished me. For the first time, I had felt Being Human didn't appear only on the T-shirts branded by Salman Khan.
In a world of people having big pockets and big minds, big hearts were there, though rare.
I very well remember how I had completely turned down his offering of cigarette and beer at the very first go. In this matter, it was impossible to penetrate my tough exterior. From that day till now, he had never asked me again. That was a gentleman's gesture and till date I respected his gesture. But yes, he was able to convince me for having chicken and mind it, only chicken and no other forms of non-veg. That was Haider effect! 
He was from Ghaziabad, U.P. He had been in Delhi for the past three years preparing for the same coveted exam. But frequent interactions with him made me realise one thing, he was no longer an IAS aspirant because aspirations make you an aspirant and he was nowhere near those aspirations. I had hardly seen him studying on a regular basis. Actually, I also came to know that he belonged to an affluent political family and had come here to fulfil the wishes of his parents. For that matter, you would easily find such Haiders who prepare at the behest of their parents. Actually, civil services is a kind of thing that has status symbol attached to it. Even the ones who are just preparing are held high in the esteem of everyone. 
One of my teachers in the class said – 'Civil Services has become more of a national hobby these days.'
And to compound this fact, some aspirants are ignorant to such an extent that they keep on crooning IAS without even bothering to know about the host of services UPSC offers. For them civil services means just IAS, nothing more than that and nothing less than that.
Is that something peculiar about this exam or about the aspirants?
Well, God knows better.
But, undeniably, children are carrying the unwanted burden of the aspirations of their parents in our country. Life is not about carrying burden of others, so what if they are parents. That may not sound emotional but yes it's pragmatic. That's the sorry state of affairs in the country. Haider often starts in a humorous and light way but ends up sarcastically dangerous.
"My parents didn't pay heed to my wishes and I didn't pay heed to theirs.
Was this the reason they brought me to this world?
To impose their will, their wishes and their stack of dreams?
What about my life?
They were granted their share of life.
Who gave them the right to rule my life?
Is this the authority parents enjoy over their children? 
If this is the case, the license of such parents must be cancelled.
Parenting is not about procreation only. Even animals do that. What is big in that?
It is not about bringing up a child. It is about growing with a child.
If such tyranny of parents continues, a time will come when children will resort to revolution against them.
That reminds me of Karl Marx and his clarion call:
You have nothing to lose but your chains.
The day is not far when children will also unite to end the tyranny of parents.
That is fair and square enough to keep the unchallengeable dictatorial tendencies of parents in check and to protect their dying individuality."
Haider had all the luxuries in his room such as a mini refrigerator with beer bottles surpassing the number of water bottles all the time, an air conditioner, a small screen television on which we enjoyed viewing many cricket matches, a laptop and a motorcycle to roam around the city. That was perfectly king size. I was permitted to avail of everything except beer and cigarette which I had refused at the very first instance. 
Well, parental luxuries have their own side effects.
He was a dab hand at creating impressions on newly arrived aspirants. He would skillfully take them through the nitty-gritty of civil services that even they would never know when they were under his hypnotic spell. He very well knew the tricks of the trade. 
For this reason, he had a long list of fan following. Among his list of fans was a pretty girl called Zahira, his girlfriend. After a few days, he introduced me to her. She was beautiful and yet so humble. You know that day, I had looked at the plumpy Haider and concluded – 'Faces still didn't matter more than hearts and that was in actual the heart of the matter.'
We three had a few outings together in Delhi. 
I was also victimized and had to undergo his guidance session. It was in this session that I showed and then proved my worth to him. He was taken aback when I tracked the history of India starting from the Indus Valley Civilisation to the partition of India in 1947 in a chronological, organised and systematic manner. He went into a state of shock for a few minutes and returned bringing lofty words in my praise. I very well knew which cards to play, when to play and how to play.
I had learnt this thing very well from my father.
That was the point when our friendship grew stronger. Today, if I was coming back home with all my senses intact, it was all because of him. After my pops left me, he supported me and guided me and never let me feel the heat of a new place.
In the course of time, we shared almost everything. Everything means everything.
Haider had come to know of my strained relationship with Aditi, how I was consuming my days and nights fighting over the phone for many hours that resulted in skipping of classes, eating frequently, putting on weight and not studying up to the level required for this exam and how this thing was acting as a stumbling block in my career.
There were times when we used to discuss my relationship late into night but that was only to waste our nights. In short, these eight months didn't turn out in the manner I wanted them to happen, everyone back home wanted them to happen and hopefully Aditi too.
And that was the bitter reality of my life.
Around 12.00 noon, there was a knock at the door and it was Haider.
'Any help you need bro,' he said.
'It's almost done bro,' I replied, while still busy in work.
Haider: 'That's great. I have arranged an auto-wheeler that will take us to the railway station and also, I have cleared all the dues. Don't worry about that.' 
Me: 'With Haider, I am always free from worry.' 
My reply was instantaneous.
Haider: 'Last night, you were shouting and screaming. Was that required with just one day left in Delhi? Why are you ruining your life?'
Me: 'Don't call it ruining. Say it is ruined.'
Haider: 'I am damn sure that you would not have called her.'
Me: 'Why can't she call? Why should it always be me?'
Haider: 'Be a big heart, just cool down and dial her number.'
Me: 'I will not call her. What does she think of herself? Is she God?' 
Haider: 'Are you God? Don't let your ego take your life. When I say this, I mean it. Please, for my sake.'
On his insistence, I reluctantly dialed her number and found her phone switched off.
Foaming at the mouth, I said, 'Just see. The picture is before you. I need not tell you anything now and I hope you will not insist on me performing this act of kindness again.'
He was quiet with no option left with him.
'Leave this dead and dusty story and let's go for lunch,' I said.
A few moments later, we were on our way to have our lunch together. The orange ball in the sky showed its full presence and made our five minute walk tough. It was only after barging into our favorite eating joint; we heaved a sigh of relief with the air conditioner coming as a rescuer. 
Taking our respective seats, we ordered our favorite dishes. Waiting for the order, I said, 'Haider, we are having our last lunch together. I will badly miss your company, man.' 
Lightening up the mood, he said, 'First thing, I am not dying and second, my visit to Punjab is still pending, and once I come, I will compensate for all the pending lunches. You don't worry.'
'Makki di roti te saron da saag.'
He made me smile and meanwhile our ordered food was on our table. Hypothalamus was trying to ooze out. Under the aromatic spell of the food, we took no time to load our plates. We gulped it. We were that hungry and the waiter kept serving us while we ate. 
We finished off leaving nothing in the plate and filling everything in the belly.
The poor belly!
My exhortations had no effect and Haider paid the bill. A few moments later, we walked back and kept praising the food. We were food lovers of that type.
On reaching, Haider called up the auto-wheeler driver with whom he had settled things. Within five minutes, the vehicle came. We dumped the luggage and took our seats. On the way, we didn't talk. A strange kind of silence prevailed that had never existed before.
We kept on observing the busy pedestrians, honking vehicles, array of commuters, the congestion of the city growing at zip zap zoom speed with constricted smiles exchanged only on a few occasions and that was all.
After paying the fare, we shared luggage and reached our destination platform where the train was scheduled to arrive.
We placed the luggage near us and sat. The same silence persisted for a few minutes.
Finally breaking the silence, I said, 'The train is just few minutes short of arrival.'
On the spur of the moment, Haider turned around and hugged me warmly. I saw him crying for the first time during these eight months.
'I wanted to stay strong till end but couldn't control myself. I know crying is unmanly to man. But sometimes you just cry out,' he said, sobbing.
The effect of departing.
After that, I noticed a different Haider. 
"Now, let me be very fair and square, Dhruv.
All these eight months I have spent with you, one thing I can tell you with my experience and observation is that having such a calibre and potential is a rare kind of thing. You are genuinely blessed with the things people crave for. So don't let anyone ruin all this. At the end, only frustration resides, everything else subsides. I just want you to transform your potential energy into kinetic energy. I want to see you on a higher pedestal in life.
You truly deserve, Allah Kasam.
Above all, as I always say, the success of your career rests on the success of your relationship. If you would keep on fighting with Aditi like this as you have done in these eight months, you are going to falter sooner or later. In my opinion, if it is to falter, it is to be sooner. The later is not an option.
Haider becoming Dhruv is fine but Dhruv becoming Haider is not at all fine.
Everyone falls but not everyone rises!
Remember that."
He kept on speaking in flow and I comprehended his each and every word. His power-packed words energised me and instantly, words of gratefulness came out of my mouth. I hugged him and thanked him for everything he had offered me in Delhi and that I would always be indebted to him for his benevolence.
Very soon, the crowd around us budged and moments later, the Amritsar – New Delhi Shatabadi came into sight.
Finally, time had come to depart.
With a heavy heart, we carried my luggage towards the train and in between, I said, 'Haider, no more years in Delhi. Set things right before they get out of hand. Give your life a chance.'
He just nodded with a devilish smile and pretended as if my advice was all Greek to him. But my heart knew that my words had affected him and that was enough for me. 
The train stopped.
'Just rush inside and take your seat,' he said.
We both parted ways in the hope of meeting again in life. I moved inside the compartment and waved to him as far as I could see.
SLOWLY THE TRAIN PULLED OUT OF THE STATION.

Chapter 2
As soon as I entered the sitting compartment, I came across a maze of people jostling each other to take their seats and that was a typical Indian scenario. Patiently, I looked for my seat. Having found it, I rested my bags. The window seat added to my joy. 
Trains have always been my first preference. I don't like travelling by bus. Buses don't give me the type of comfort I want. During these months, I have hardly travelled by bus. And when it comes to Shatabadi, I remember those days when I used to fantasize about it and it was my dream to travel in it once but now the scenario is this, I don't even remember the number of times I have travelled.
Once craved, now flooded.
Before I could think of something, I felt my phone vibrating in my jeans. 
It was Aditi on the other side.
Without saying hello, I said, 'So, finally, you have spared the time to call me. How should I thank you?' 
Aditi: 'Why do you always find reasons to fight? What is your problem?' 
Me: 'The problem is that we have made a smooth and beautiful life hell and I wonder if that is not a problem. It was a big day for me. I was coming back. I was happy and you spoiled all that.' 
Aditi: 'What was big in that? You had not conquered any world.'
Her reply was potent enough to hurt me.
Me: 'For you my happiness is not a big thing?'
Aditi: 'Why are you always concerned with your crying heart?' 
Me: 'This is the problem with you. Whenever I try to express the pain of my heart, you start your melodrama. This is the reason our relationship has met such a fate.'
Aditi: 'Don't digress from the issue. You know very well why I didn't call you. The reason was your animal like behavior last night. You know that. Don't blame it solely on me. When you are at fault, you do such pathetic acts.' 
Me: 'Look, I am not blaming anyone. I just want to say that we are doing injustice to this beautiful life. Aditi, it was my last day at Delhi. I had gone to shop for my family, for you and then, a small get together had been organised by my friends. I told you about that and assured you of calling back the moment I got free. 
My friends had strictly told me to put my phone on silent mode and seriously, I had no idea that your calls would come in between. The moment I got free, I called you but you overlooked my calls and after almost an hour, when you picked up, I lost my temper and control over my words and you also didn't leave behind and went way past me in your words.
Sometimes, there can be some genuine problem. If you will not understand, then who will understand that? I was so happy and you spoiled my happiness.'
I put my heart before her.
Aditi: 'For you, your family, your friends, your happiness is important. What about me? Have you ever thought about me?'
Me: 'Aditi, if you seriously think like that, even God wouldn't be able to change our stars. I guarantee that. I don't know why you can't understand simple concerns of life? Look, in spite of repeated claims that we love each other and can't live without each other, we have failed to develop this much of understanding in these years and that is an utter failure on our part.'
Aditi: 'Shut your mouth and don't say that ever again to me. I am not among those girls who silently bear the nonsense of self-important boys like you. 
She lost her temper.
I also got irritated and said, 'Control your nonsense otherwise I would disconnect the call.'
'Don't threaten me. Cowards like you can only run,' she roared.
'And girls like you can never understand the purpose of life and repent one day,' I said out of annoyance.
'Don't get on my nerves and just go to hell,' her words stung me.
Unable to bear her anymore, I disconnected the phone in anger and disgust.
Literally, I wanted to throw my phone somewhere. The nerves of my brain became hyper-tense. Anger wanted to gush out of my body to do the damage. Unable to do anything, I simply closed my eyes to pacify things.
I took long and deep breaths.
Baba Ramdev types. 
'Sir, water please.' 
I opened my eyes and found a boy who was holding water bottles in his hands. He was, I think, one of the boys serving in the train. I took one chilled water bottle from him. I was completely parched. I opened the cap and guzzled it down in one go. That gave me some sort of relief.
Adam's ale – the rescuer.
Meanwhile, I talked to my mother to tell her that I had boarded the train safely.
You know mothers, the most worrying creatures in every family.
Glancing around, I found all have settled well on their seats and my immediate middle-aged neighbor was busy in scrolling his gadget.
I didn't know when I started brooding over my relationship with Aditi.
From where had we started and where had we reached.
This was not the life of my dreams and her dreams and of course our dreams. These were the first thoughts that came to my mind.
It all happened at Youth Festival of Guru Nanak Dev University, Amritsar, when single handedly, I led the Quiz team of my college to an emphatic victory. I was in my first year of masters then. I won many hearts there but in the process lost my heart. It was after the end of that epic quiz; Aditi stopped me outside the Auditorium and congratulated me. 
I remember that incident even today.
That day when I left auditorium, a graceful voice came from the back. 'Congrats, you did really well.'
Turning around, I saw a bespectacled girl in blue jeans and smart fit moderate length jacket that was zipped up till her neck. Her hair was tied in a messy bun. She was dead smart. 
Bewitched by her smartness, I forgot everything including the thanks that was still awaited from my side.
'Congrats,' she said again, this time a little louder.
'Thanks a lot,' my response came in reflex.
'You stole the show with your genius and intellect. I have seen many Quizzes in this Auditorium but this one was just a class apart. You really pulled off things single-handedly.'
'No it's not like that. That's so much for me. You have made me so big with your words,' I said innocently.
'You all bloody geniuses are the same. Your words never match your actions,' she responded smartly.
I smiled like a genius.
'Did you participate in some event?' I asked.
'Yes, In Giddha.'
'So, how was your performance?' 
'We practised very hard. So, it had to be a good performance,' she said.
'That's over confidence,' I said.
'No that's my confidence. At least, my words match my actions,' she said.
She was firing on all cylinders with her witty behavior and the genius within me felt somewhat irritated.
'The college bus is waiting for me. We are already late. I have to leave,' I said out of ego.
'That's fine,' she said, may be out of her ego.
'But that's not fine. I have to make things finer,' I said keeping aside my ego.
'But you look stupid,' she said.
'No, I am clever. I haven't asked your phone number,' I said.
'That is what makes you stupid,' she said and stole the show outside. 
That day, we went back home taking each other's phone number. That was the day I loved being intelligent, I swear.
That night, post dinner, we exchanged messages and narrowed our strangeness. That very night, I came to know that we were from the same college, in the same year but not from the same class. She was doing M.Sc. Chemistry.
She was from highly regarded sciences, Natural Sciences that I had left way before after my 12th when I told my pops that I had nothing to do with the roots of science and was more interested in the fruits of science and then, I joined highly degraded sciences, Human Sciences. Well, that was a thing of the past. 
Astonished to know that, I confirmed, 'Really? Are we from same college?'
'Yes. You never saw me in college?' she said.
'How could I see you in college? You are not a celebrity,' I said and burst into laughter.
'Yes, I am not and don't even aspire to be. I love being a commoner,' she said being cool.
'The best way to win a situation is to surrender,' I said. 
'Call it that way. I damn bother,' she said and surrendered.
Who says everything happens over a cup of coffee or tea? A lot can happen over the mobile phones too. That night was really magical, I swear.
With each passing day, we became more frequent in exchanging messages. Soon, our conversations didn't limit to messages only. We switched over to every mode of communication. Every mode of communication means every mode of communication.
In one of our conversations, I came to know that she also wanted to prepare for civil services examinations and that was the time, we came really close to each other.
We were like birds of the same feather.
A time came, when I couldn't contain my feelings for Aditi. Difficult to contain my feelings, I thought of giving my life a smart chance.
One evening, I was on Facebook chatting with her. All of a sudden, I didn't know what came in my mind; I posted Enrique's song that had been close to my heart those days:
Somebody wants you
Somebody needs you
Somebody dreams about you every single night
Somebody can't breathe, without you it's lonely
Somebody hopes that someday you will see
That somebody's me!
The moment I posted it on Facebook, the very next moment I inboxed her message regarding the same and went offline. I isolated myself from the digital world for next few hours. 
When it's about your first love, you don't fear, you just die. 
I was literally dying to hear a Yes from her. I became hyper-nervous and my heart was getting squeezed in my body.
The world needed millions and billions to survive but I needed only one and that was Aditi.
The time ticked and late that night, I ended digital isolation to check if something went in my favour. I met with disappointment. Whole night, I tossed and turned in bed with thoughts flooding in my mind like anything.
Early morning, I tried to act normal and not conscious as if nothing had happened because you know, consciousness kills.
I simply wrote in message-'Did you listen to that song Aditi? The singer sang it very beautifully. I felt like sharing it with you.'
I deliberately focused on the singer and his singing and didn't mention the lyrics in which my feelings were shrouded.
I messaged her in the morning. I didn't go to college that day. I was almost dead that day. The reply came in the evening and I was alive again.
'Sorry, I was unable to text you back. I slept early and then was busy whole day in college. And yes, the music is awesome, composer is brilliant, the singer is mind blowing. He sang really well. Thanks for adding one beautiful song to my kitty,' she said.
She was playing with words very well. After all, she had every right. But, I think she forgot I also enjoyed rights and, now it was time to exercise my right.
'I think you forgot to mention the lyrics,' I wrote instantly without any delay.
The very next moment, she came out with naughty and smiling emoticons as if she had caught me red-handed.
'What happened?' I asked.
'Nothing…Should something happen?' she wrote after a few seconds. 
The mood of Aditi was giving me positive vibes that yes; my smartest ever dream is going to be fulfilled today. In these giggling moments, I could see my love flourishing. I had turned the tide in my favour. I could sense it.
And then her one message made me go maniac in love. I was just flabbergasted when she texted back that same but her edited version of song:
Somebody wants you
Somebody needs you
Somebody dreams about you every single night
Somebody can't breathe, without you it's lonely
Somebody holds that someday you will see
That somebody's me!
Finally, my hopes were held by her.
That was the moment when I felt a sense of completeness and newness. That was the moment when I felt the feeling called love.
That day, I remember, we gave each other a lifetime promise to be with each other which was followed by next big promise of marrying each other the moment we would stand on our feet.
Sometimes, I feel it is a moral binding of that one promise that I haven't back-stepped yet. 
I don't say that there were no happy times but yes, it was also true that happiness didn't stay longer. 
I remember, one day, we were sitting in a restaurant when Aditi joked – 'You thank God that you have been blessed with such a beautiful girl in your life. What else would you have wanted?'
I answered and said, 'I am not smart but I have a personality of my own. I may not be a choice of thousands of girls but a handful of girls I always have to my liking.'
She said, 'Oh my philosopher, please stop here. I can't digest you anymore. Can't you see I am teasing you? Don't be so serious.'
I said, 'O poor girl, who is serious? I only pretend. I say this to tease you and then, to get a lot of love from you. You can't get me. My ways of love, you can't understand.'
'Even I also act that way. You are the man of my dreams. You are the most beautiful feeling of my life. So what if you don't score well on my rating scale. For me, you will always be my best,' she laughed and made naughty faces.
Thereafter, I held her in my arms and we melted into each other.
Today, when I think of time, I wonder, where is that love gone? 
Where are those jokes gone? 
Where are the naughty moments, our dreams and promises gone?
My stream of consciousness was soon broken when I saw a boy. He was the same fellow who served me the chilled water bottle. This time he was up with snacks. He served them with a missionary zeal. I found the train was heading super-fast towards its destination, people were busy in collecting their snacks and the compartment had come to life again. 
The middle-aged person sitting beside me was busy in his affairs without bothering about anything around him and that made me feel that I should also mind my own business.
I took sandwich with tea. Holding a cup of tea in one hand and sandwich in the other, I kept on observing the scenario inside and outside the train.
Things normalised after a few minutes. My thoughts focused again on Aditi.
Everything was going so fine, I swear. We were loving, we were caring, we were sharing, we were happy. It just seemed that we had with us the greatest and mightiest power of love; we could conquer anything and everything in this world.
This was here I went wrong and this was where we went wrong. 
Soon, our relationship took a U-turn, an unexpected turn that brought about serious repercussions in our life. Such a twist in the tale would ever come and my life would plunge into the deep slumber, I had never anticipated. I couldn't even locate that point when things began to go out of hand and the relationship which I had nurtured and nourished with my own hands began to wither away in front of my eyes.
First year of our relationship was a year of idealised and romanticised life.
So perfect and so complete!
It was in the second year when our relationship acquired centrifugal tendencies, when problems began to erupt; the year of skirmishes, quarrels and petty fights. At the start, it felt it was common and natural to fight in a relationship. But who knew, it was just a start and the remaining path would be horrifying and frightening. We came to know only after moving on it. Confrontations had become almost regular. Just as the peace is interval between two wars, we were fighting with peace acting as just a halt. 
Life flooded with love was becoming dry and barren with each passing day.
The small and trivial issues in life became big and magnified and I think I wasn't able to digest that. The more tragic part was they were still the issues in life. Gradually, the smaller issues had also started to engulf bigger issues.
I had never thought, a time would come when I would have to wrestle both with my career and my relationship. Between the devil and the deep sea, my life was stuck.
In course of time, I came to know that civil services was more of a hobby for her But for me, it was my passion.
One means of constructive engagement fell apart that day, I realised that day.
Actually, I was going with this viewpoint, that now our relationship had strengthened and I could afford to give my time towards preparation, but she wanted and then demanded more time than ever before.
She might have been genuine in her demands but that was not the time to be genuine. Sometimes 'Being In genuine' works. The same thing prevailed in Delhi too…
Distance makes the hearts grow fonder, but that also didn't work in my case. 
I tried to convey my part multiple times but in vain. And when I tried to act selfish by extracting time for myself, then, I was perceived wrongly. This thing increased her possessiveness, pre-assumptions and fixations regarding me which I had been suffering till date.
I was blamed and questioned for no reason and then, days and nights were consumed in settling the things. One after the other, all self-created troubles hit my life and I was just sorting them out. Life moved like this only. Now, the scenario is like this the real problems seem like self-created problems. 
Name one place where we didn't fight, be it in college, restaurant, any public or private place. 
I was reminded of one incident in college. I was sitting with my classmate in the canteen. We had free lecture and were terribly hungry also, very normal in college life and nothing special. But, when normal things in life become abnormal, it means something wrong is obviously happening. 
I didn't know when Aditi suddenly appeared and lambasted me:
'You didn't tell me you are in canteen,' she said, authoritatively.
'I thought you were in class,' I said.
Aditi: 'But you must have called me out of your duty. That would have been up to me to come or not.'
Me: 'But Aditi, all of a sudden, we came. Nothing was planned as such.'
Aditi: 'Dhruv, why are you ignoring me these days?'
Me: 'Aditi, Is there any reason to ignore you?'
Aditi: 'How could I know the reason?' 
Me: 'Aditi stop behaving like a child and act maturely. People are watching us. Let's go somewhere and sort out all this. Let's not be a laughing stock in the eyes of everyone.'
Aditi: 'Don't you move from the issue. Tell me how many times have you come with her?
And mind you, those who prepare for civil services are found in library, not in canteen.'
Me: 'Now, this is height of heights. You are crossing your limit. Are you out of your mind? How can you blame someone like this? No one has given you this right.'
I felt very bad for my friend as she was being blamed for no reason. 
Aditi: 'Why are you taking her side? Is she more important to you?'
I was about to say something when my friend left the canteen silently. 
Me: 'Can you just stop your crap?'
Aditi: 'Yes, one who loves truly and deeply is a crap.'
Me: 'But, this is not love. Doing injustice in the name of love is not at all just. You are destroying this life with your own hands. Life doesn't give enough chances. So let's not falter. 
Let's respect our love and celebrate our life before it's too late.'
Feeling embarrassed of our altercation in the canteen; I left it with my eyes down because that was enough to malign my image in front of everyone and Aditi stood there like a rock and watched me till end.
I remember, afterwards I had started maintaining a considerable distance from the girls in the college. The best way I found was to change myself rather than change her. This was one of such incidents.
A time came when we stopped sharing things. I started avoiding her call to keep the things in order but that didn't work and the situation became worse. In a bid to keep things in order, I always ended up in disorderliness. I tried every means but nothing worked. Neither words nor silence created an impact. 
From simple threats to suicidal threats, from being human to inhuman, from dead days to deadly nights, from everything to anything, everything happened in our relationship. 
Things just changed from just to unjust, unjust to injustice happened and finally injustice to grave injustice.
That was my failure.
No, that was her failure.
Yes, that was our failure.
What I learnt from life was,
A fool loves, a clever flirts and 
Wise is no one!
The end of the story is I am still in a relationship and I fight with a strange kind of helplessness every day. All my attempts to move out of this relationship have been an utter failure. Now, I have concluded that this scenario would never change and I have to live with this fact for the rest of my life.
'Ticket please.' The ticket checker broke the chain of my thoughts.
'Let me take out my phone. I will show you the message,' I said.
'And your ID proof too,' he said.
He took a few minutes to validate my ticket and ID proof. Luckily, I was not found fake.
The day was growing dark but my eyes glittered with excitement and hope, the excitement of meeting my people whom I had left months ago in the hope of searching a new land for me. This thought revitalised my mind. Sometimes, one such thought is enough to get rid of all unwanted thoughts.
That's magic of one!
The dinner, a few moments later, brought a kind of charm to the people around.
The food is such a charm!
The same serving boy was on his way to deliver his best. I gave my share of food back and took only mineral water because today, I would dine with my family. All are eagerly waiting for me. I know my mom would be busy making my favorite dishes since morning and for that she would have especially taken leave from her office.
My pops has still not dined, going against his habit of taking dinner early. My brother, the Benjamin of our family has been calling me multiple times out of enthusiasm in spite of the fact I couldn't answer every time.
Let me accept here, I have a nasty habit of not picking up calls. I don't know the reason, but that's a fact beyond any doubt. My parents especially my mom, has a lot of complaints with me as her calls go unanswered every time she calls. She even goes to the extent of saying, 'Dump your phone. What utility is it providing to us?'
My reply would be, 'Mom, I use my phone for my purpose, for listening to songs, watching movies, clicking pictures and for writing something. I find it completely viable for myself. And if someone is not finding it fruitful, then I am helpless.
Sorry, I beg your pardon; that's my way and I can't commit a crime going against my way.'
Many a time, I wonder – Where would you find such love?
That's the magic of family.
Meanwhile, I noticed, I was on the last leg of my journey. I think it was near Phagwara when I rang my pops to pick me up from the railway station. Soon, I took possession of my bags and kept juggling the range of emotions that passed through my mind in the remaining few minutes.
However, the time ticked and I reached my home, my JALANDHAR SAFELY AND IN TIME.
❖❖❖
Chapter 3
I got down at the platform and felt the air of my city welcoming me. Under the darkness of the sky, my city was spangling in its light and color. That feeling just removed my fatigue and completely filled me with freshness.
Rolling my wheeled bag, my eyes sprinted here and there in search of my pops and my brother. People around me were also doing the same business. Some had met their near and dear ones and some were still wandering, of course, like me. At last, the envoy of my pops, my brother caught me with his eagle eyes and he waved his hand in joy. I did the same. My pops was a few steps behind him.
Finally, the much awaited Sangam happened.
I hugged them tightly and showered my love and affection for the next few seconds. Hugs are really the purest form of touch. They are so magical. They have the magic of healing your heart in a few seconds, the magic of making you feel alive in a few seconds, the magic of filling your soul with contentment in a few seconds…
'How was the journey, son?' my pops asked.
'The journey was quite comfortable in the Shatabadi,' I said.
'Mom has not come?' I asked.
'She is eagerly waiting for you at home,' my pops said.
I very well knew that but still I asked because I wanted to tell my heart that for my family, I was everything.
Sometimes your heart direly needs that. 
We, then, left the railway station to get into our car that would take us home. Meanwhile, I intimated Haider about my arrival. My pops also talked and thanked him for being a support to me. 
Today, I felt more responsible towards him. I don't know why? 
'It's been so long since I drove my Santro Pops,' I said.
'The seat is yours, the car is yours. What are you looking for? Drive your way,' he said.
I then, drove car to home and we kept talking about whatever came across our mind.
The famous sports park, pretty unlike a normal park, on the way made me nostalgic. This was the place where I used to do my morning jogging from my adolescent days. Built in natural settings, it has been one of my favorite places right from those days. Thanks to my pops who used to take me to this park off and on. In Delhi also, I used to jog in a park but the feeling of this park always remained high on my mind.
Well, we reached within twenty minutes.
That was zippy.

Chapter 4
It was around 10.00 p.m. when we reached home. My mom ran to the main gate to welcome me. After all, this was the moment she was eagerly waiting for right from the morning. Her happiness knew no limits and she showered infinite love on me. The pent-up emotions made their way through tears that flowed abundantly from both sides to witness mother-son love. All was happening under the sway of emotions.
God would have seen all this from the sky.
Meanwhile, my pops came in between and said – 'Save your tears for some other day.'
We all smiled lightly and went inside.
'I want to meet dadi,' I said to my pops after resting my bags.
'It's already late. See the clock. It's better if you meet her in the morning.'
'My heart is oozing out to meet her,' I can't wait pops.
'Your uncle and aunt must have slept by now.'
'Come what may, I have to see her now. Please pops,' I said and made an innocent face. 
'Ok that's fine. You may go then.' 
My innocence worked and I got the green signal.
Actually, my dadi lives with my uncle and his family and their house is right in front of our home. My uncle is the elder of the two sons of dadi.
My dadi is into her seventies and her brain is still active and sharp. She can easily trick anyone with her witty behavior and quick presence of mind. She is mentally that agile. Everyone at home is fully attached and devoted to her.
She is my friend, philosopher and guide. I always turn up to her whenever I feel low and her one sagacious advice is all set to get rid of my all worries.
She is my most favorite person in this universe, God has ever created. She is such a light of my life.
I knocked the main gate but nobody came outside. Then, I pressed the doorbell. After a few minutes, my uncle opened the door.
'Hello uncle,' I wished him and touched his feet.
'I am back from Delhi. Sorry for the inconvenience I am giving you late at night.'
'It's your house. We are happy that you have successfully completed your course. Come inside.'
I obediently followed his words.
As expected, aunt and her younger daughter didn't come out of their room. Actually her younger daughter was not able to clear IIT exam in spite of repeated claims that she was intelligent. But, the lies, well dressed up as they are, have a shorter life.
The aura which she had created around her parents was soon broken when the results were out. Now, the weakness was exposed, her younger daughter, out of inferiority complex, maintained a respectable distance, especially from me.
That was a competition out of nowhere, what I called negative competition.
Moreover, she was into that engineering college whose name she didn't even want to hear. Sometimes, you bear the brunt of your own words.
The end of the story is she sees a rival, not a brother, in me.
I wonder if this is called assassination of relations!
But frankly speaking, my dadi is the only reason, I visit this house because she will falter if the two houses wither, otherwise with ripped up hearts, I can't move even an inch.
And of course, the sansakaras of my parents.
Her happiness is everything for me. This much I am mature.
Well, I straightaway went to my dadi's room. She was resting in her favourite pose. I touched and pressed her feet. 
The moment my dadi saw me, she woke up and affectionately clasped me in her arms – 'Aa gya mera puttar, aa mere kol,' I felt shielded in her arms.
And that was heavenly!
The feeling of having grandparents is one of the best feelings in the world. Unlucky are the ones who remain bereft of it or are made to remain bereft of it.
These thoughts made me emotional and I thanked god that very moment.
'Dadi I missed you so much in Delhi. Do you know that?'
'Mere putt main sab jandi han… mera putt dase ohdi tyari kida?'
'Vadiya dadi.'
'Apni budhi dadi nu lal batti wali gaddi vich kado bithana?' I saw hopes in her eyes and shame in my eyes.
A kind of pressure built on me. May be I didn't want to hear that question! 
'Soon dadi,' I could only say that.
'Ok dadi, see you tomorrow. All are waiting over the dinner. Got to go. Good night.'
'Sawere awangi odhar tere peo de office jaan to pehle,' my dadi said.
I kissed on her cheek and left the house.
At home, all were pre-positioned on bed eagerly waiting for me. I washed my hands and got into bed where my favorite food was ready to be served.
Actually, we don't have a dining table culture in our home. We always dine in bed. That's a tradition.
'So how are your relatives?' my mom asked.
'As usual, depressing. Forget about them and tell me what's on the menu?' 
'Your favorite kadhai paneer, chana masala and vegetable pulao.'
'My mouth is watering and I can't resist,' I said.
Following my directions, mom spooned a bit of everything into my plate and I started to gulp down the food as if food was going to end today and tomorrow there would be no food to eat. The food was so tasty that I couldn't reserve my appreciation.
'Mom, you perfectly know the nuances of cooking. Only you can take care of my taste buds, only you can feed an epicure like me, I swear.'
'I trust your words son and you know you are the reason I cook and cook better,' my mom said.
Well, I took my time and finished last.
Done with the dinner, I unzipped my bag to hand over the gifts.
'I tried to shop the best for you, guys,' I said.
'You think of us. This is enough for us,' my mom said.
My younger brother was almost mad with excitement. He had worn new jeans and t-shirt multiple times and was wandering here and there.
Sometimes, money buys you happiness. More so, when it is happiness of your family.
Post dinner, when we all sat together, my pops asked me about my experience in Delhi.
I simply said, 'It was a perfect learning experience.' 
'What is the status of preparation? Now, you have very less time left with you,' another question fired, it was again my pops.
Actually, he takes a lot of keen interest in all these things while my mom is usually passive in these matters.
I always say, my father feeds my mind and my mother feeds my belly.
Nervously, I said, 'Pretty ok. Rest depends upon the luck. Luck plays an important role in this exam.' 
'Luck! From where have you learnt this word? Those who do hard work never bet on luck. Bet on what is in your hands and I think hard work is all in our hands, not this bloody luck. I am baffled by your words, your approach. Remember,
Pre fixations always lead to desired results.'
I wanted to say many things but kept mum.
For a moment, I felt, I should tell them everything, the tale of my head and heart, I should dispel the ignorance I had enveloped around them that I hadn't done anything in Delhi and pinning hopes on me would be their next blunder.
But I don't know what stopped me.
When you have such a caring and nice family, you are not supposed to hide anything. But, then also, what is their fault? If I am not able to manage my life, why should they be sufferers? They provided me every comfort, gave every bit of their life to make my life.
Where were they wrong?
I am not the first one to love and probably, not the last. The path of love has never been smooth and will never be. It's inherently tough.
What is special and different then?
Nothing.
I am just a loser trying to win sympathy and pity of others. I am a worthless son, useless brother, hopeless friend, pointless lover and above all a purposeless man.
'The night is growing dark. My son must be tired. Stop giving lecture to my son,' my mom said, coming into the picture and taking a dig at pops.
'These are not lectures, this is healthy talk, father son talk, and much needed talk my dear wife. When will you understand?' my pops said.
'You and your talks,
Never ending!
Have mercy on poor people like us!' my mom said.
Here, poor people are my mom and my younger brother who take least interest in our talks.
'Ok, madam, your wish is my command. I am a henpecked husband who is completely domesticated,' my pops said in a sly manner.
'Domesticated and henpecked. My foot,' my mom stole the show with her last dialogue.
We all burst into laughter and the seriousness in the environment suddenly disappeared.
I wished everyone good night and went into my territory – my room.
Entering into my room was like re-entering my world that I had left months ago. It embraced me wholeheartedly and in moments, I absorbed into it.
I got into bed and checked my phone.
Oh my goodness, twenty five calls and some bloody messages. I had intentionally put my phone on silent mode. That was the only way I had discovered to have some moments of peace.
A drowning man catches at a straw.
But what the hell does she think of herself?
When her mood permits, she calls and calls insanely and when her mood doesn't permit, neither does she call nor does she pick. Why is her mood important? Why is her everything important?
I am fed up of this cat and dog life.
So many burdens, so many responsibilities, so many hopes! 
How will I fulfill them?
I am gonna explode one day.
That's the only way of my deliverance!
Switching off my phone; I went into sleeping mode, the mode I liked these days.

Chapter 5
It was 8.30 in the morning. My mom had left for her office and my brother was loitering from one room to another for no reason.
I was accompanying my pops over the morning cup of tea. 
Sipping tea, my pops said, "The countdown has begun and now that you have met your near and dear ones, you should isolate yourself as early as possible.
Remember, only solitary confinement leads to solitary refinement.
These final days are the decisive ones; either they can put you above others or behind others. It's up to you how you take these days. 
You know the final stretch, 
The deciding stretch.
This may not sound something new to you. But being a father, I have to repetitively knock at the doors of your conscience.
That's my part."
I simply replied, 'Yes pops.'
He was right in his own way. I was a wrongdoer. I was a spanner in the hopes of my parents. I was a big zero.
And that was my part!
Unable to bear the pressure anymore, I took leave from my pops for studies and left the room.
In my room, I struggled to focus on my favourite Indian polity book by M. Lakshmikanth. This was the only book I had read multiple times in Delhi. But, today I was not able to concentrate on it. All of a sudden, I started to think about civil services exam.
Civil Services is not the kind of exam that you wake up one fine morning and simply decide to take the exam. You need proper planning and organisation, ample amount of time, well thought-out strategy, proper exertion of mental faculties of your mind and above all, a focused frame of mind and I was nowhere near these requisites.
It is the kind of exam that overhauls you, takes your everything, assesses your overall personality and then, gives you something. It squeezes you like a lemon and by the time you finish preparation, not even a single drop of you remains because everything under the sun is your syllabus.
Before preparation of this exam, preparation of mind is utmost important and my mind, it is nowhere near the preparation.
In such a scenario, there is no question of going unprepared.
I can't keep my parents in further darkness. I need to tell them about the reality of my preparation. I need to tell them that I am not ready for this exam. I know they will be deeply pained to know all this but it is necessary to avoid future consequences.
Screwing up courage was the need of the time. This much guts I needed to display.
It was around 11:30 a.m. when my pops came to my room. He was dressed up in his short length kurta and jeans, a style he had been following for the past many years, a style that suited his personality very well, a style that had become a trademark in his circle of well-wishers.
Mind boggling sort of situation had developed. All of a sudden, I was in a great fix.
What should I say? And how?
One strategy that came to my mind was to pour out the things right at this moment but then, I feared sudden outburst of the emotions of my pops.
How would he react to all this?
Second strategy was to let him reach office first and then, telling him everything on phone. Doing all this would give a cooling off period to the welled up emotions and that would avoid sudden outburst of emotions.
Third strategy said to face the parents combined and then, to put up the agenda but that was possible only in the evening when my parents would be back from their work. Then also, I thought about combined effect of parents and if that would be more risky actually.
The time was ticking, so was my heart.
Finally, after gathering courage and adopting the first strategy, I straightaway said – 'Pops, I don't want to give exam this year.' 
I looked at the face of my pops. That made me jittery.
He took some time and finally spoke, 'You know, I found something wrong yesterday and then, in the morning. But, I left it to you. I wanted you to speak your heart. This much guts I can expect out of a guy who is preparing for the most challenging exam of India. Any specific reason or reasons?'
'Actually, I am not in the right state of mind to take this exam. I need some break. I want some time. I don't know how much…Moreover, I am not confident about the newly introduced CSAT paper and haven't done much practice.
And yes, pops I am delaying not denying,' I put up my case. 
I gave justification on my own if that can heal the situation to some extent and hid the actual cause.
Everything muted for a few seconds.
My pops took a deep breath and then resumed, 'I have understood everything. That's perfectly alright, son. If you don't feel positive about this exam and you are not satisfied with your preparation, don't give it at all, not a big deal.'
'I am sorry pops. I couldn't live up to your expectations. I know I have never been a good son,' I said.
'Don't say like that. Rather, I am happy that at least you have shown the courage to say all this. Remember, Civil Services is not life, it's a part of life,' my pops boosted my morale in seconds.
'The world is your oyster. Mind it.'
This was not the first time; my pops had supported me without knowing the actual cause. After my 12th when everyone around pressurized me to continue with science and to pursue engineering as my career in spite of my repeated insistence that science does not fit into my scheme of things and in spite of the fact I performed poorly in science, it was my pops who backed my decision to go for humanities.
He was the lone warrior who freed me from the clutches of science and empowered me with the feeling that yes I could go ahead with my dreams in a society where many parents had monopolised the dreams of their children.
This time also, I had looked for same empowerment.
'What about mom?' I said, coming out of my thoughts.
'You have taken care of your pops; your pops will automatically take care of your mom,' my pops said lightening up the mood. 
'Thank you for your support. It was much needed,' I said.
'Don't mention it, son. Listen, I am leaving for my office. I am getting late. Rest of the things will be discussed in the evening when your mom comes back from the office. Till then, listen to songs, watch TV, read books, eat well and above all, do whatever you want to do. Relieve yourself from pressure. Be stress free and happy.
That's the key,' he said and left for his office.
I was in the seventh heaven with my soul celebrating the liberation that ran within me.
That day, even my pops didn't know what he had given me.
Abundant happiness!
Fresh hopes and positivity!

Chapter 6
The whole afternoon, I read 'The Fault In Our Stars', the new novel that I had bought from Delhi. From what title, it appeared to me somewhat relatable to my life. This was the only reason I picked it without even checking its price. 
Literature had become my refuge at Delhi. That was the time novels became my soul and also my sole companions. I became a voracious reader during that period of time only. One means of constructive engagement I discovered those days was creative engagement and that engagement was still intact.
A cancer based love story was indicated by the cover page of the book. The succeeding pages of the book took me to the world of people battling with this curse called cancer and still trying to live their life, and not just lamenting, stopping and cursing.
How hard is it to live a life of consciousness, where every moment, you are being hit by cancer more mentally than physically?
What was my life? 
There was not much difference in the life I was leading.
Fault in stars is fine. What about faulty stars?
It was 5.00 p.m. the standard tea time at our home. I dog-eared the page where I had left. While mom was preparing tea in kitchen, I gesticulated to my father in order to get assurance of the task to be performed very soon. Managing mom is sometimes very difficult. That's why I choose my pops for this task.
My mom entered the room with the tray, carrying tea cups and some snacks which I wanted to polish off but given the gravity of the situation, I had to bridle my hypothalamus.
No one spoke for a few seconds.
'Why is everyone mute? Is something wrong or just enjoying silence?' my mom said.
'Nothing wrong. Is it so Dhruv?' my pops said after looking at me.
'Nothing,' I replied instantly and nervously.
This happens when an unexpected question blasts at you. You respond like that. Moreover, my pops has this ability to terrorise someone in a few seconds and out of nowhere.
'Dhruv doesn't want to appear in the civil services exam this year!' my pops hit the nail on the head. 
Changing the facial expressions, my mom said – 'Why?' 
The obvious why!
After all, it took me only a few seconds to say a curt 'No' to exam. Being parents, they had every right to ask me.
'Actually, the syllabus of prelims has changed. They have substituted one subject paper with CSAT paper. He is not confident about that paper but, yes he has prepared well for the second paper, general studies paper,' my pops took up the cause of preparation.
'I don't approve of that. This is a lame excuse. The change is for everyone,' my mom said.
'This is not an excuse. This is his actual position,' my pops said.
'What about relatives? About society when they will ask me why is he not taking exam this year?' my mom was right up with her concern.
'That's a secondary issue. The primary issue is he needs some time and I think we should not force him. Rather, we should be happy that at least our child has discussed his problem with us,' my pops came up stronger.
Secondary issues were never the issues for my pops. He was steering my ship through a turbulent ocean with a sole motive to settle my career.
'He has around one month left before exam. If he is confident about one paper, he can still prepare for the second.' This was an irrational argument from my mom.
'The CSAT paper involves a lot of skills, techniques and practice. To prepare at such a point of time when you have some few days to go is totally a futile idea to go with. It's better to drop,' my pops said.
'What's the idea of discussion when everything is already decided?' This was another meandering turn by mom. 
'Even if it is decided, it is for betterment. What's the fun of going unprepared? Just taking the exam is not important, everybody will do that. What matters is clearing the exam,' my pops came up stronger.
'Mom, I am just delaying not denying,' I repeated my same punch line to create impact.
Actually, my mom was right in her own way. She was the one who bore the brunt of all revolutionary decisions of our family – whether it was my decision to go with the underrated humanities, whether it was my decision to take music as one of the subjects in my graduation in spite of the firm resistance from my maternal grandparents and so on.
About my maternal grandparents, let me tell you they are perfect strikers of the situation; their action is slow but strong.
I remember my old bloody days when the result of 12th board exams was declared. I called them bloody because they had sucked my blood pretty well at that time.
"First of all second division in 12th standard, then, humanities and finally, music. He has tarnished the image of our family. Children are scoring above 90%, doing engineering and look at him. It is the result of your pampering. He says something and you support him blindly. People quote examples of their children and we feel ashamed when they ask us about his performance. Your womb has produced a spoiled brat; he is a blot on the family and blah blah blah …" Mom had felt emotionally down with these bullshit words of my maternal grandparents.
What's the point of feeling ashamed when people themselves are not ready to shed their old skin? What's my fault? What's the fault of my parents?
Some decisions are way ahead of time and only far-sighted persons can envisage that and such persons are rare. And I salute my pops for his foresightedness.
To dare is the key to be rare.
Today, when I see the fate of engineering, the emerging level of saturation in it and engineers eking out a meager living by staking their life and blood in the MNCs, a corner of my heart always smiles.
Meanwhile, the words of my pops had done the magic and we succeeded in getting mom's favour. 
Moreover, when father is your lawyer and mother is your judge, the decision is bound to come in your favour.
The tension in the environment eased off. While mom carried the tray back to kitchen, I passed a grand smile to my saintly warrior. He reciprocated.
Seriously, I was relieved of the mountainous pressure looming over my head and in moments, I began to feel positive about the things. Something new and positive, fresh and vibrant infused within me.
Congestion in my mind cleared.
Late that night, I became optimistic about my relationship with Aditi. Life is short and beautiful. People crave for love and I am blessed. Why are we messing out? It's time to cut the Gordian knot. I love her. She loves me. Is this not enough? Rest is understanding. That I will work on.
After all it takes two to tango.
It was 10.30 p.m. when I dialed her number.
'Hello my girl,' I wished her lovingly.
'Hi,' somewhat rude voice wished me.
'Sorry my love, sorry for everything. I will not hurt you anymore. I will understand you more. I will give you time, all the moments that went missed, all the memories that we couldn't make. I love you. All I want is you, nothing else.'
Emotions were gurgling and splashing from my heart.
You know! What goes around comes around.
'Even I also want the same my love. You know without you, I am nothing. I become a dead lump of mass without you. Never ever leave me in the lurch. That day I will choose death over life.' 
It took her only a few seconds to melt down.
Girls have a low melting point and if not wrong, low boiling point too.
'Don't worry, you will not die easily. You will take many into your fold before dying,' I teased her.
We both laughed loudly, what they call LOL. 
'Why will I leave you my girl? I am always there with you, within you,' I pampered her with my words.
'No, you are not with me. I am all alone in my room. I have swept my hand on the bed sheet. You are not there. Are you?' 
'Don't entice me,' I said.
'But that's true.' Her voice had shrewd innocence.
'Late night cravings are dangerous. I am warning you,' I said.
'I have already surrendered. You are late,' she said. 
Aditi ignited the fire and the animal within me completely hunted that beautiful soul.
Mind plays and body pays.
Secretions made their way, what they call hormonal flow.
Wet-Wet
White-White.
We did all the damage over phone. Completely drenched and obsessed, we slept with the feeling of oneness and completeness. 
That night, we scripted one of the beautiful chapters of our life.

Chapter 7
It felt grand to be back at this place after almost a year. I enjoyed a unique kind of affinity with it. An unparallel energy came into me the moment I entered. The dawn was about to break, birds were chirping on the branches of long standing trees, fresh air was soothing my soul, and to see the drenched morning walkers was something delightful and a feast for the eyes.
That's Sports Park for you.
This was the reason, with only one call of my pops; I got out of my bed for a morning walk.
This park is a blessing to all residing near it. No doubt, it is dedicated to sportspersons; they toil here day and night but it is also thrown open to general public. A few years back, there were voices to close the main gate of this park but due to connectedness of general public with it, the park authorities had to step back before popular pressure.
It almost took us fifteen minutes to reach here on foot.
We had just started to walk on a 400 metres track when a totally unexpected but genuine question came from pops – 'What next?' I mentioned you the same terrorising ability of my pops.
Because my mind was lost in morning pleasures; I could only say, 'Sorry pops, I didn't get you.'
'I mean if not civil services, then, what's plan B? That's a question now? What do you think?' my pops said.
"Yes pops, I know…,' I said.
What about teaching? Teaching is the finest option I can explore or you can say I wish to explore. With this, my gathered knowledge will be best complemented and supplemented,' I, then, said instantly as I had been contemplating on this issue right from the day I decided not to take civil services.
Further, I can prepare for UGC NET exam by sitting at home. Six months of self-study will do the business."
'Yes, teaching is a pretty safe and secure option and even I personally feel the same that for civil services aspirants it is the most apt and potent weapon. If I am not wrong, teaching was something latent in your mind,' my pops said.
'Yes, exactly pops,' I said. 
'But rather than sitting at home and preparing for NET exam, you must go for some professional course. It's my personal suggestion to you.'
'Professional course, like?' I interrogated.
'Hmmm...like B.Ed.,' his words seemed strange to my ears. 
'B.Ed? Are you serious pops? You mean school teaching? School teaching does not fit into my scheme of things. If not more, at least college teaching.'
'Son, I can understand your pain. You are right in your own way. But, as of now, nothing concrete is in our hands. The doors of college teaching are still closed. And who has stopped you from going higher? My concern is to secure your bread first.
First and foremost challenge of life.
The decisions must be taken keeping in mind the present circumstances. This is my personal belief. Still if you feel, you want to prepare by sitting at home, you are free to do that.'
The thoughts of my pops gave me some food for thought. For a moment I thought, what did I have in my hands?
Nothing!
Parents are the real well wishers of children in the world of virtual relationships. 
"And one more thing, remove all fixations from your mind about school teaching. Teacher is a teacher everywhere. His karma is to teach. Performing that karma is primary. Rest are mental constructs, nomenclatures and name tags. Call them by any name, it doesn't matter.
The tag of a teacher in itself is the greatest tag. Earn that tag first. Let me tell you one fact, I have seen worthless teachers in colleges and universities and worthy teachers in schools. So, don't worry about anything. And moreover, you can prepare side by side for the NET exam. By doing this, there will not be a lose-lose situation if not win-win," my pops said. 
A kind of push I got that day. By the end of last round, it was almost decided that I would go for B.Ed.
With the official stamp of mom back home, it became CRYSTAL CLEAR THAT YES, I WAS GOING FOR B.Ed. 

Chapter 8
Everything had happened favourably well. I was spared one more time by my parents. I had settled things with Aditi. I was a happy man. Happiness had knocked my life after a big gap of time, like an oasis in a desert, like a spring after prolonged autumn.
Why not share my happiness with Aditi? I should meet her and tell her about my decision. She would be very happy to know all this. 
That very day, in the afternoon after my parents left, I called her. She didn't pick up. Then, I realised she might be taking her class. After I went to Delhi, she had joined a private college of the city and was into the vicious circle of Adhocism.
You know that circle.
After half an hour, her call came. It was decided that after her college, we will be meeting at our favorite restaurant. I had about two hours with me. I thought of buying something that would make her heart feel special.
You know sweet little surprises in love!
Moreover, it was my first meeting after I came back from Delhi.
But what could be that?
Then, I bought her favorite strawberry cake with her picture inscribed on it, a popular trend in the market that I followed. But the fact was I hadn't tried that trend; it was all new for me. That picture made the piece of cake more impressive in appearance. I also bought one card and pasted her pictures in different moods and wrote my feelings for her. Nothing was more magical than the magic of words, I knew that.
I reached well before time. I handed over the cake to the waiter and told him to bring that accordingly.
The first surprise of my plan!
She came five minutes late and that was absolutely genuine especially in a country that is always in genuine in matters of time.
I hugged her decently and offered her a chair. It was only after she sat, I took my seat. She called that a gentleman's gesture.
'You were not like that before?' she said.
'Time changes everything, my darling,' I said lovingly.
'Ahan! Nice change, I must say.'
'This change is for you,' I said.
'I am overwhelmed,' she said and smiled.
"By the way, how are your days going? Must be busy in preparation and all. After all, it's high time. Lot of syllabus, lot of expectations!
Go hard. Our future rests on it," she continued.
Before I could speak something, the waiter appeared. His timing was perfect, I noted. She saw the cake with glittering eyes. The excitement, the emotions, the innocence, the smile and those tears on the face were really touching. My heart was moved to see that. The cake had done the magic. 
By the way, what about the magician? Ok leave that.
'Thank you my love for all this. I can't explain how much I am fortunate. Thanks for holding me high in your eyes. I am not worthy of it. Only you can treat me the best in this world. No one can be like you because there is no one like you.'
I had just trained my eyes on her to notice her feelings and expressions. The small little things really make you so happy and new. Happiness and positivity was all around.
We, then, fed each other strawberry cake. A small finger licking session also took place. That was only to add more sweetness!
'You were about to say something at the time waiter arrived,' Aditi said.
'Yes Aditi. I want to share something very important with you.'
'Yes, tell me Dhruv.'
'Actually, I am going to drop my exam this year.'
'You mean civil services?' 
'Yes, civil services,' I said.
She was almost stilled and stunned.
'Are you serious?' she asked again.
'Yes, today only, at home, we all decided this. And next thing, I am going to join B.Ed. soon.'
'B.Ed.?'
Her face had turned strange.
'Yes, B.Ed.,' I said.
'From IAS to school teaching. This is what you want to do! This is what you have decided? Tell me the reason. Why are you not taking exam?' Aditi demanded answer from me seriously.
'Don't ask me the reason. I won't be able to tell and you won't be able to listen. But believe me, I have reached at this decision keeping in mind every aspect. Life will be smooth. The issue of time will no more be an issue with us. We will be able to build a strong relationship and overcome all the complexities,' I said.
'Then, what was the fun of taking coaching and wasting a full year? How could your parents agree to that?' her voice was rough.
'Because, they are my parents', I said in my mind.
'You didn't feel like asking me once. Is this the importance I hold in your life?' she continued.
'It's not like that. My parents had taken this decision when I expressed my concern of not taking the exam. My discussion with you would also have led to same decision because you are not in the eyes of my parents yet. Moreover, we were also not on speaking terms at that time, if you remember. In all that confusion, I decided.
And yes, I am delaying not denying,' I said and rested my words.
'Don't you give me that lollipop! You know yourself very well. Now, how would I tell my parents that the person whom I love is now thinking of becoming a school teacher? My mother lives with the fact that you are preparing for civil services. Let's assume it will be fine for my mother. What about my father? On what basis my mother would talk to my father about our relationship. He would never agree. This much I know about my father,' she spoke non-stop.
'This is the problem with you. You know everyone except me. You understand everyone except me,' I said.
'Don't lecture me about understanding. I know your level of understanding. When I am not a stakeholder in your decisions, what is my utility? I am leaving.'
'Try to understand the situation in a wider perspective,' I was still patient. 
'The end of the story is I am no one in your life. I know that.' her facial expressions were changing.
The mess was about to happen. 
'Ok fine. Think whatever you want to think. I don't have that time to listen to your rubbish,' I said angrily.
As expected she stood up from the seat and started to walk. I let her go without creating any nuisance.
The purpose of meeting her was defeated. For that matter, the purpose of life was already defeated.
Meanwhile, the waiter came with a menu card that had a card inside, my second surprise of the day and to take order. The order couldn't be placed. Fuming, I took out the card, scrunched it, torn it into pieces and threw it into the bin.
My feelings had found place in the bin.
That day I again felt lack of understanding literally ruins love. 
On the way, I kept debating in my mind until I reached the conclusion, that now it's all over.
And that's final.

In a relationship, 'it's all over' is only a repetitive phrase that is highly exploited without much sense. The moment you say it's all over, the very next moment you realise, it's never over. At least for me, it was the reality till date.
I reached home and after a few minutes, her call came, as expected. I very well knew that the purpose of her call would not be to pacify the things but to bring more complexity and confusion.
All this was not new; it was now an old and settled affair.
I put my phone on silent mode.
AND MYSELF TOO.

Chapter 9
Amidst the prevailing tensions, one day, there came an advertisement in newspaper regarding the opening up of admissions in education colleges.
I decided to keep my strained relationship at bay at least for some time. I didn't want any further complication.
The first step was to fill an online application and then, deposit the fees. I was quick to respond. I completed formalities well in time. 
THE NEXT STEP, NOW, WAS TO WAIT FOR THE COUNSELING DAY. 

Chapter 10
I was fortunate enough to get admission in the finest education college of the city and a one km ride from my home was the icing on the cake. To my knowledge and delight, it was a college of fine repute, class and discipline as compared to the other counterparts in the city. That sufficed me and my parents.
I was selected on the basis of merit. I was happy that finally, marks mattered. Otherwise, in my eyes, marks are something, not everything.
Maybe it was the turn of that something today!
My parents were elated to hear the same. That day, I also took blessings of my dadi for this new quest. Her wishes were precious for me.
Out of my duty, I dropped one message to tell Aditi about my admission.
A simple best of luck came in return and that was enough to weaken my enthusiasm and charm and made me feel that I was all alone. Loneliness in a relationship literally kills. Who knew better than me?
Only the wearer knows where the shoe pinches.
Well, the environment at home was pleasant; discussions had commenced for shopping and soon, shopping session was going to take place.
AND ONE THING, ALL THAT WAS FOR ME.

Chapter 11
Finally the day of admission came. I was busy organising my required documents and side by side, I was rebuked by my mom for not placing documents at one proper place. This was not a new thing. Whenever there is requirement of documents, I face the similar tyranny of mom. Now, I am used to it. 
'When will you improve? When will you be responsible?
See your age and your acts. Have some shame. How will you be able to survive in the future with this attitude? I worry of that day,' my mom's anger was in full swing.
It was very difficult to break the flow of her anger. Even my pops had not dared to stop her. How could I?
We both had maintained status quo.
I heaved a sigh of relief when I found all my documents. It was only then that the anger curve of my mom showed a downward trend and she started to walk on the path of silence. 
A much needed silence.
It was only after my mom ended, my pops showed his existence and said, 'Leave all this now. My darling! cheer up, we should wish him for his day. He is starting his new journey.'
After receiving loads of love and blessings from my parents, I finally left for college. 
Having parked my car, I glanced around and found college premises comparatively smaller than the regular degree colleges.
Small and compact, perfect and idealised!
But then, for only two courses, B.Ed. and M.Ed., the college area was sufficient. 
After taking directions from one of the teachers sitting outside the main hall of college, I entered the hall where chairs were arranged in a systematic manner.
Some students were already sitting. Some had come along with their parents and some like me were sitting lonely and alone. To my surprise, all of them were girls. I couldn't find even a single boy.
I had started to feel somewhat nervous among girls. I couldn't come to the conclusion whether I was looking different sitting among girls or the odd one out?
I had heard that in education colleges, girls enjoy a thumping majority and boys have a tiny minority. Now, I was witnessing this fact with my wide open eyes.
The stage in the hall was occupied by the teachers who would be entertaining the students in a short while. In between, announcements kept reaching the ear drums.
Finally, I got some confidence when one well-dressed stout boy in perfect salesman look wearing formals entered the hall. I raised my neck and passed a mild smile so that he could see me and take the adjacent chair. My wish was heard when he took the seat right next to me.
'Hello, my name is Dhruv,' I initiated.
'Hi, myself Prateek.'
'Thank god you came, bro. I was feeling uneasy among girls,' I said.
'Don't worry, after some days, you will make the girls uneasy. Boys are always in demand in education colleges.'
So much frankness in first go, I was surprised. I can't say like this to anyone in first go. He was 21st century agile guy, I thought in my mind.
'I have no such plans,' I said decently.
'Forget all this. See the paradise around. Give your eyes a treat,' he continued.
It seemed as if he hadn't seen girls before in his life. He was not at all concerned about his purpose of coming. All I could visualise was his lustful eyes and playful mind. He was scanning every single girl.
'See that girl in yellow top.
That girl in baby pink.
That heavenly beauty.
Look at her bosoms.
That girl, look at her back.
She is making me horny.
Oh my lord, these girls would make me go wild. Save me.' 
Prateek almost looked like a savage. He seemed to be a rapist in his tendencies. It looked as if he had led his life in chastity till now and soon, he was going to break his celibacy. His trends seriously appeared dangerous to me. 
'Bro control your emotions, don't forget it's a girls' show. They enjoy majority. We should not ignore this fact,' I said.
'Absolutely wrong. Let me correct you, with the progression of time, you will realise they don't enjoy this majority; in fact we are enjoying this majority. Have you seen such a democracy where minorities are better placed than majority?
This is the democracy of education colleges.'
He was bold and fearless and shameless. And I was speechless.
'Can you get that bro?' he asked.
'Absolutely bro, I have my post-graduation in Political Science,' I said.
For a moment, I felt as if he had done a PhD on education colleges and knew about democracy more than me.
Soon the hall was jam-packed and amid the razzle-dazzle, the process of admission started. The population of boys had hardly reached two-digit number and that was a dismal performance. But, the overall strength of college was moderately perfect, around two hundred students in total. All students in the hall were identifiable entities and it was unlike regular degree colleges where your identity is confined to your department only. In regular degree colleges, 'Identity Crisis' is one issue but in education colleges, one has a bright possibility of making his or her identity.
We were filling forms.
'Gold in political science? Great. I didn't know you are that rich,' Prateek found that on my form.
'Doesn't matter bro, that is a thing of the past,' I said. 
'M.Sc. Physics? That sounds good,' I said after looking at his form.
'It only sounds good. In fact, I didn't find any goodness in physics,' he said and laughed.
'And one thing, don't overestimate the potential of science students. Just see your case, people don't have gold to wear in this country and you are a gold medalist in your subject. Let me tell you, though we are held high in the eyes of society but believe me, we can be as bad as arts students.'
I became perplexed and wondered what he actually meant by his words! He had killed many birds with one stone and I was only left with the option of counting them.
But in all this, I began to feel a sense of connectedness with him. He was a real jovial and happening fellow to be with. After filling forms, we submitted them to the teacher-in-charge. Depositing fees was the final formality and soon we were allotted sections. Luckily, we both got the same section. 
'You just pray all beautiful girls come in Section A,' said Prateek.
'Have faith. When the magnet is in section A, where will they go?' I said pumping him up.
'And in case this doesn't happen, I will change my section.'
He was bragging as if it was his dad's college and he was the bloody chairman and I was an enslaved Yes man hired by him.
We sat in canteen afterwards and explored each other superficially. We came back home after saving each other's phone number and sending friend request on FB.
I recounted the whole experience of college back home.
The plan of going out for dinner that night was spontaneous. Let me say it – I hadn't taken admission in some IIT or IIM, neither had I qualified for some all India exam. The reason of going out was my admission in the education college. Thanks to my pops, who believes there is a lot to celebrate in this world than to cry for.
To cry more is to celebrate less.
He always says, 'You don't need something big to celebrate. Big things in life aren't the real big things. Real life resides in small moments and happiness that must not go uncelebrated.'
The day ended on a happy note.
And the achievement of the day was my new friend PRATEEK.

Chapter 12
A total of five sections were made and corresponding houses were allotted to each section. 
Section A – Plato House
Section B – Aristotle House
Section C – Tagore House
Section D – Froebel House
Section E – Gandhi House
Boys were proportionately mainstreamed in each section and I felt good to be associated with Plato house. Actually, Plato had been one of my favorite thinkers of all time. His ideas had a charismatic influence on me.
But, what was Prateek feeling? It was important to find out that. 
Ours was a fair looking section when compared to section E. Beauty dwelled in that section. 
That thing had affected him.
He had a mix of emotions. He was happy because something was better than nothing and sad because he wanted everything but had to compromise with something. He was physically present in section A but his heart was in section E.
'No worries Prateek, still we have something to cheer,' I said boosting him up.
'Yes, I have also started thinking on same lines,' he said.
'Yes, that's the spirit.'
With the entry of first teacher in the class, all students stood up from their seats to greet her – 'Good Morning.'
'Hello, my future teachers,' she greeted us back.
'Welcome to the education college. My name is Namrata Awasthi. I am your teacher-in-charge. I would be taking your 'Education and Development' classes.
A light brown complexioned, naturally voluptuous, well-dressed lady into her late thirties was also not spared by Prateek.
'She has a figurative edge better than all the girls in the college. What do you say?' he demanded the answer from me seriously.
'What could I say? How could I say?' I said.
Just look at her, 'Khandar is baat ke gawah hain ki imaraten kisi samay pe buland rahi hogi.'
He was shameless and limitless.
'She is our teacher. At least spare her. Don't be a sinner,' I said.
'Appreciating beauty is not a sin. And don't act like Mahatma Buddha all the time. Even he had to be Siddhartha first to become Buddha.'
In seconds, he appeared to me a symbol of lust, Prateek!
He almost forgot about the girls in the class and consumed his whole energy in secret admiration of Awasthi Ma'am.
'Let us overcome strangeness. Let us start introduction,' Mrs Awasthi said firmly to the whole class.
Introduction, you know, is a typical tool in the hands of teachers on the very first day.
We were told to speak out our names, educational qualifications and areas of interest.
'In this one year course, we focus on the all-round development of an individual. That's why areas of interest are important to me. So, be very clear and specific about that,' she stressed on that. 
"This course will offer you everything – be it the platform or the exposure, be it the teaching skills or the learning, be it the relationships or the experiences, be it the moments or the memories.
You may not understand my words now, but you will definitely realise them at the end of this course. This one year will definitely touch your life in a meaningful way." The words of ma'am aroused our curiosity and left us to wonder about this course. 
We then started our intros, one by one.
While I was listening to everyone with the purpose of extracting something interesting out of the introductions, Prateek was busy sorting out the faces of his interest.
The real concerns were never his concerns.
Let me tell you one interesting fact here, in education colleges, the students belong to different streams and educational background unlike regular degree colleges where students are usually from the same educational background.
In education colleges, you have students from arts, science and commerce background. You also have students of fine arts, literature and music. Then, you also have graduates and post graduates. In short, you have students from almost every background and they all study under one roof at the same time.
A perfect melting pot you can say.
I wonder if this diversity adds beauty to this professional course! 
The bell rang and the first period came to an end. The students managed to finish off their intros just in time.
Mrs Awasthi stepped out of the class by saying – 'Girls, take care of the boys. Don't make them feel alone. Boys tend to feel shy in Education Colleges. Be a support. Help them in gaining confidence. That's your collective responsibility. Look at them, they are very innocent.'
Prateek? Innocent? From what angle? 
That's a fatal calculation.
But that was not the fault of Mrs. Awasthi because his face could easily make someone commit error of judgment.
Saint from outside,
Devil from inside!
He is such a crooked fellow.
But yes, I was genuinely feeling shy and needed a push and was innocent also. Well, in my case, it could be a SWEET INNOCENCE OF MRS. AWASTHI. 

Chapter 13
The struggle with my career may have been eased but the struggle with my relationship didn't end.
The moment we thought of maintaining a healthy relationship, the very next moment, we were quarreling and fighting and in turn destroying and withering ourselves.
Mind had accepted it fully that this scenario would never be changed. Many times, we ended our relationship in anger but that too was of no use.
She didn't want to listen, she didn't want to understand. She would move heavens and earth to prove her point. I would consume my energy in my justification.
I was a puppet whose strings were in her hands. My reins were in her full control.
All I was waiting for was that one day, when my life would be exclusively mine. I would be the master of my own fate and there would be no one to dictate me about how I should live my life.
BUT IN REALITY, LIFE WAS STILL ON A POINT BLANK RANGE.

Chapter 14
Soon, the interested candidates of all sections were called for the interview of Class Representatives.
I had heard the Principal was really a learned and an intellectual fellow. He makes every second count in the interview. For seconds, I thought if it would an IAS interview. 
Prateek didn't apply but forced me to face the interview. With initial reluctance, I agreed.
All the aspiring candidates were seated in a small conference room and one of its doors led to the Principal's room.
'I have gone through the educational profile of candidates; there is no one who could challenge us.' These words pricked up my ears.
'Look at those two morons. One is from arts background and the other is from science but that doesn't matter. At least, keep these two out of the race.'
Now, that thing had hurt me and compelled me to peek into the face of That Evil One.
That girl left no stone unturned on her part in putting me down on this occasion. The moment I turned my face, I noted, two girls were sitting exactly opposite to us in the row divided by a narrow passage. My eyes stopped at the Evil One and I found the Evil part was her mind that was high-headed and certainly, not her face.
The face was rather angelic!
'The rest of the girl candidates also seem to be nowhere near us,' she resumed while the other girl seemed to be decent and was just listening patiently.
The CR-ship is ours. The reign of power will soon be in our hands.'
The overconfidence was ruling her voice and was capable of destroying the morale of the sitting candidates. Her words had irked me but I kept listening and didn't show I was affected.
I then, cleverly turned away my face.
In my mind, I thought action is better than reaction. Let the game begin. I would show her and that too, very well.
When I don't allow anyone to disturb my inner peace, how could she?
Still for my satisfaction, I tactfully asked Prateek by pointing my thumb towards them and not looking at them.
'Are these two from our section?'
'Yes bro,' he said.
'How do you know? I didn't notice them earlier.'
'You must be noticing someone else bro,' he said and laughed.
'Can you be serious?'
'Ok listen then, when I was collecting your application form for CRship, these two were also present collecting the same form and it was there I came to know. I think they joined the classes late,' he explained the whole picture to me.
'Ok, got it,' I said.
The murmuring and whispering came to a standstill when the first candidate was called. A little nervousness and anxiety prevailed in the atmosphere.
The girls were called first and boys were pushed to the last.
Democracy favors majority.
I generally looked around to sense the environment but my eyes were again fixed on her, The Evil One. This time, she was seeking celestial blessings and her eyes were closed and I swear upon god, she was really sweet to watch.
And that was a fact, vengeance apart!
For that matter, my prayers were also with me. I focused on myself.
Her name was Tarushi; I heard that when she was called into the Principal's room. But, why should I remember that name? What was my concern? Nothing.
I minded my own business and started to wait for my turn.
In the meantime, I noticed – She came out happily and confidently from the Principal's room. The same applied to her friend also whose name was Bhavya. 
Anyhow, the time ticked. 
Dhruv, the voice called me from the room, almost after an hour.
'Good luck bro, give your best shot,' Prateek wished me.
'I will try my best,' I said and left him.
Within fifteen minutes I returned and within thirty minutes, results came out.
'The two CRs of section A are Dhruv and Bhavya,' announced one of our teachers and likewise, the CRs of other sections were announced. Prateek stood up from the seat to hug me and to show his energy on my win. I was super happy because that sweet stupid fellow was super sad. I know that's childish of me!
We all CRs then, shook hands and congratulated each other and Prateek didn't hesitate to derive benefit from this act. He had started to entertain girls across the sections. He was such a ghost.
'Congrats Bhavya,' I walked up to my Co.CR
'Thanks and same to you,' she nicely responded.
But that sweet stupid fellow Tarushi turned her face around and avoided me. As a matter of fact, I also don't like talking to such low-headed girls who actually think they are high-headed.
'See you in the class then.' Bhavya left with her.
I then turned to Prateek. 'Let's go buddy. The show is over and you should also end your proceedings,' I said while he was still busy in interacting with the girls.
'Hey Dhruv, meet Neha and Neha, he is Dhruv my new friend.'
Prateek was up with his new melodrama.
And being a friend, you are bound to play your part and that too well. 
'Hello,' I passed a decent smile to her.
'She is from section D. She is also M.Sc. Physics and from the same college. See the destiny,' he said.
Destiny? My goodness! He was ridiculing destiny for his cheap concerns!
'Yes! the small round world,' I said.
'Absolutely, small, round and beautiful world. 
A real monster, he was!'
'We are in section A and in case of any help, don't hesitate. Straightaway come to us,' he acted like her father.
'Yes certainly,' she said, like an obedient daughter.
We, then, left the place. That day Mrs. Awasthi introduced new CRs to the whole class and assigned us some responsibilities.
Responsibilities???
PLEASE, NO MORE.

Chapter 15
Very soon, it was Aditi's birthday. I understood from the very first call she didn't pick what would happen next. Now, a series of missed calls would follow. I knew that. This was not for the first time. She was perfect in performing such type of useless emotional stunts. She very well knew it's her birthday. Birthday would give her absolute license to do anything and I would not be able to speak even a single word because if I do that, I would be held responsible for the whole day and will be punished every single second. I had sensed the whole scenario but still, I performed my duty.
I started to call her, left many messages the previous night before her birthday but in vain. Seeing no response, my anger rose, blood boiled, nerves tensed but I pacified myself. One wrong action by me and I would be blamed for the whole day. The best strategy was to quarrel with myself rather than quarrel with her.
I was making strategies, conscious efforts. Was that love? 
Love is not like that. Love grows naturally, comes naturally. What was this? Was that an unnecessary compromise in the name of love? But how long?
The whole night was spent in that tussle.
Next day, on her birthday, in the morning, I again called. The result was same.
I went to college without giving any further thought. To my gut feeling, her call came in college. I knew she would leave me helpless.
'Where are you?' she asked.
'I am in college,' I said.
'As expected, Great! At least, you should have acted sensibly on my day.'
'Leave all this, first of all, happy birthday to the love of my life,' I wished her lovingly.
'Thanks,' a simple thanks came from her side.
'It's my birthday and you are in college. Have you any sense?' she came harder on me.
'See your phone. How many times have I called you? You didn't pick up even a single call,' I said.
'But what was your duty? I just wanted to check you. You were more interested in your bloody college.'
'It's not about college,' I still said softly.
'Now, you would get free late in the afternoon and in the evening, I will be busy with my friends and family. Thanks for spoiling my birthday,' she completely knocked me down.
'Aditi it's not the case. I called you many times, asked you in messages about the plan, but you didn't respond.'
'But what was your part? You should have stayed at home and waited for me to pick up your call. But see, you benefitted from the situation and went to college.' She was not ready to listen anything.
'Aditi, still we can meet. We can celebrate. Where lies the problem?' I urged her.
'No, it's absolutely fine. You enjoy your college and yes, thanks for making my birthday the worst ever in my life,' she said and disconnected the phone.
I was nothing more than a helpless paralytic. This is not love. This is a tragedy.
A tragic life in fact is not a life.
In moments, my mind took a different plane.
From now onwards, I am not going to tolerate this nonsense and rubbish. If anything wrong happens in her life, why is it because of me and why is it always because of me.
If she doesn't want to make things fine, then it is not my fault.
If she doesn't care for her day, why should I? Love is a two-way affair. She is an equal stakeholder and should be held equally responsible.
If you are blamed like this every time, you start holding yourself responsible and in turn, turn irresponsible.
To hell with my responsibilities and duties.
What about her duties? She only knows to claim rights.
This is the reason she is suffering, I am suffering and we are suffering.
Every day, every moment, there is a new puzzle, new riddle and I start solving that.
Am I that free? She has trivialised life, I can't!
I have lots of important things to do in my life. My life is not made for such small things. By indulging myself in this shit, I am doing injustice to myself.
The gravest injustice!
I switched off my phone to get some relief. Prateek saw all this. I narrated my heart to him. I shared all because I needed someone to share. He tried to suggest me to his best. But what could he say and suggest?
Suggestions were now failed remedies.
After my college, I went to Sports Park. There only, I switched on the phone.
I received about forty odd messages, some full length and some short ones, all were written in abusive and unparliamentary language. I was blocked from Whatsapp and Facebook.
I went into a state of hollowness where my thoughts were congested. I didn't know what to do? How to react?
Life has become a battlefield and it seemed that some martial law is imposed in my life.
All around, there was a reign of terror and the reign of love was nowhere.
Either everything should end or everything should improve.
I was sailing in the ocean having no shores, I didn't know where to steer, where to stop. The winds were destructive and there was no one to my rescue. The tale of days was the same as that of nights. 
Meanwhile, my mom called me in worry. I made an excuse to her for switching off my phone and for not coming home.
That day, in park, I decided, I needed peace more than love. 
Love is what I didn't need and peace is what I didn't have.
I WONDERED IF THAT WAS THE TRAGEDY!

Chapter 16
It was the turn of our section, to organise first morning assembly in the college. Being first section of the college, it was a challenge for us because we had no idea how to conduct it. No doubt, our class teacher was there to guide and support us fully but it totally depended upon us at what level we could take the things and set parameters for other sections. 
Morning assemblies are a trend in education colleges. One theme is picked and then, students collectively work on that theme.
One way of engaging students in constructive pursuit.
We, as CRs were officially at the helm of organising the Teachers' Day.
But the real CR-ship was in the hands of Bhavya and that sweet stupid girl who now had a name. I was only a rubber stamp, a de jure CR. All the activities to be performed on Teachers' day were decided, manipulated, sequenced and approved by these two with Mrs Awasthi offering a helping hand wherever needed.
Tarushi, the pet of Bhavya loved doing all this. She had created such a strong shell around Bhavya. She just wanted me to be away from the affairs. The reason was obvious, how could a rough and tough looking guy from humanities be the choice of interviewers.
Trivial girlish concerns!
But, the fact is we are also humans so what if we are from humanities.
Truth be told, I didn't have any interest in leading that way. For me, it was totally a harmless pursuit. All this was adding to my joy rather than affecting it.
Poor and innocent girls!
But, I made it a point that I would share my experience of college in the morning assembly. For that purpose, I would need ten to fifteen minutes on the stage.
Tarushi was the first to react and object. She said – 'We are already running short of time. With one skit, a few speeches and role playing, we won't be able to extract time.'
'Who the hell was she to dictate me terms?' I thought in my mind.
'I want time on stage; otherwise I would try other means,' I said firmly to my Co. CR, discarding her totally.
'Literally, we have paucity of time. The students have prepared by now. We have sequenced everything. Sorry for this time,' she responded humbly.
'At least, you should have talked to me once before finalising everything. After all I am also CR,' I said empowering myself.
'Sorry this time. There would be better next time,' she said.
'But, I can't wait for next time. I have my own limitations.'
'Ok fine. It would be better if you talk to Mrs Awasthi. Only, she can permit changes now,' Bhavya suggested.
'Yes, that is fair enough,' I said.
I went to staff room directly leaving behind these middle women but I noticed both chased me to the staff room. May be to put up their case!
Typical girlish instinct!
'Ma'am, I want to speak something in the morning assembly,' I said.
'Speak beta. Who has stopped you?'
'Ma'am, but they are saying exactly opposite of it,' I said pointing towards them.
'Actually ma'am, we have finalised everything now. He told us late about this thing,' said Bhavya who pretended being helpless.
'Where were you beta? You should have informed them earlier,' Ma'am still spoke softly.
It seemed as if Tarushi was about to win and I was about to lose but a sudden unexpected move from ma'am turned down all her hopes.
'This time, I allow but next time, this act should not be repeated. You, being CRs must act in coherence. Don't come to me as a divided house. Immature behavior is not expected out of you two.'
My heart danced in joy not because I was allowed to speak, not because I had acted being an active CR but because Tarushi's ego was devastated and crushed.
Her eyes looked murderous and revengeful when she left the staff room. She looked like a walking assassin.
All I could give back to her was my killing and winning smile. I was also not less than a smiling assassin.
But, yes, I was happy because she was sad.
I was cool because she was boiling. 
I was flying in the sky because she was dashed to the ground. 
Above all, it was my day simply because it was not her DAY. 

Chapter 17
The morning assembly was a hit. I spoke on the stage. Our section was praised in front of everyone. Everything went well with our section and with me too.
'My assessment about you was deeply flawed. The way you expressed your thoughts, I have fallen in love with them. They have created a hypnotic spell on me. When I say it, I mean it.' These were the words of Tarushi after the morning assembly was over.
Those few words washed away the negative impressions in split seconds and I began to feel happy and positive about her.
Unexpected things can happen anywhere anytime and when they happen, they just fill your inner with an indescribable contentment.
Real magic of life lies in meeting the unexpected!
'Thanks Tarushi if you extracted something meaningful out of it,' I said when she was finished.
'Hey, sorry for being rude to you,' she said.
'No need to say like that. It happens. I have no hard feelings. That's human nature,' I said.
'You know, I want to know more about you. Your personality sounds interesting to me,' she said.
'Interesting! I don't feel so. But still, if you want to know something, you can.'
Back in classroom, we four sat together and formed the first group of the class. The eyes of the whole class fell on us and we enjoyed being privileged in that sense. That day, we looked distinct from the class. 
A new identity of four of us had evolved and that process WAS STILL IN THE MAKING. 

Chapter 18
The friendship of four of us was blossoming and flourishing. We four had become frequent visitors of the canteen of our college. Built in the natural surroundings, we loved to visit this place. Our free and bunked lectures were fully devoted to it. In class also, our seats were fixed. We had started to move as a group in the college. At our homes also, we were known by names. 
We were like one for all and all for one.
One day, we were five minutes late for our lecture after recess when our Research Teacher Mrs. Sekhon stopped us at the entrance and introduced us to the whole class like this:
'Class, look who are at your doorsteps? Your CRs. Don't you think we should welcome them? After all, they are VIPs.' 
The whole class burst into belly laugh.
I was enjoying all this from inside. 
On asking about reason for being late, we four looked at each other in eyes to decide who would take the lead? It was Tarushi who voluntarily came to the front and said – 'Ma'am actually, we were having tea…'
Before she could speak further, Ma'am immediately said, ' Beta jao ek ek cup aur pee aayo, pehle wali chae bhi jaldi jaldi mein pee hogi.'
That was nothing but Tarushi's innocence. That day, the whole class laughed inside the classroom and we four laughed outside it. We were thrown out of class.
At canteen, we then enjoyed coffee because tea had betrayed us.
That day show was ours and Tarushi was the show STEALER.


Chapter 19
One evening, when I reached home and opened my Facebook ID, I saw one notification and to my surprise, it was Tarushi's friend request. I accepted it in seconds. I was that fast. The moment I left hello in her inbox, the very next moment, she came out with an instant reply.
'It seems as if you were eagerly waiting for my message,' I also said, instantly.
'No, this is not the case. FB is 24x7 active in my phone. I do get notifications all the time but I respond only to those whom I feel necessary and important,' she said.
'So, my message holds importance to you?' I said.
'May be,' she said.
'How did you find me at the facebook?' I fired another question.
'Hey listen, are you a God?'
'No, but still.'
'What still? Grow up. In which century are you living? I didn't know you are that dumb,' she was crisp and quick.
I am a spoiler sometimes. I admitted in my mind.
'I am not dumb. I only act that way,' I responded back and still tried to act smart.
'Ok, listen, can I ask for your phone number? Actually, Facebook is not that comfortable to talk,' she continued.
'For a phone number, the clarification was not required,' I said and put naughty emoticons at the end.
'It's genuine,' she said.
'And I like this genuineness,' I said. 
The chat ended in a bubbly mood with the promise of TALKING AT NIGHT.

Chapter 20
That night I talked with Aditi, not with Tarushi. But, I felt strong urge to talk to Tarushi.
I didn't know why? I wanted to avoid Aditi's call but couldn't.
Avoiding her call meant disturbing my whole night as she would not stop calling. In case she stopped calling, she would leave lengthy messages in my inbox that would be unbearable to read and if I switched off my phone, then, the next morning would not be a good morning for me. In short, there was no road to escape.
In a bewildered state, I picked up the call.
'Listen, I am going to Delhi to attend my cousin's wedding.' 
'What can I do then?' I said.
"You can't do anything. I know that. I have no hopes from you. You just listen. I would be busy and surrounded by my relatives. So, I will contact you as per my convenience and the most important thing for which I have called you, keep your phone with you. I don't want any negligence on this aspect. This habit of yours irritates me the most. So, be careful. I would be in a happy mood and I expect you will not become the reason of my unhappiness," she ended the call after dictating me terms and conditions for the next week.
It felt as if our relationship was an agreement and she had monopolised me.
Let me tell you about this agreement, sometimes I am made to believe, that this agreement is the best for me. Sometimes, I am made to feel, that there is no other option than to bind to this agreement. Sometimes, I object to this agreement but that too, of no use. Sometimes, sometimes and sometimes…The reasons to bind to this agreement changed but the terms and conditions never changed. This was how life had moved.
But, something unknown moved within me that night and I felt little inclined towards Tarushi.
THE REASON WAS YET TO FOUND OUT.

Chapter 21
Next day in college, while standing in the corridor waiting for our teacher, Tarushi said, 'Where were you? You didn't reply to any of my messages.'
I at once said – 'Actually I was busy in some work and couldn't reply. Sorry for last night.'
'Busy in some work or with someone?' she hit the nail right on the head.
'Someone as in?' I questioned.
'Are you like that always?' she said.
'Not always. But, I love to be sometimes,' I twisted my words.
'You know what I mean,' she said.
I became silent and sort of avoided that question. But, the very next moment, I felt a dire need to initiate the things further.
After a few seconds, I resumed, 'Do you think a rough and tough like me can have someone in his life?'
'You never know. That's why I am asking you,' she said.
'But still, girls like stylish, handsome and good looking boys and I have none of these traits,' I said trying to test her opinion about me.
'Poor logic! Who told you this? Girls are still not that wise,' she said and smiled.
'But I know that,' I said firmly.
'If you know that, you know that wrong Mr.' she said.
'Let me know the right one, then,' I said.
'Let the right time come,' she said.
In between, our teacher came and we went into the class. But something surely kick started in our hearts.
Kuch kuch hota hai in the heart types?
No, that was Bahut kuch hota hai in the heart types.
That day our eyes met several times. Both Bhavya and Prateek were unaware of what was happening between us. For that matter, even we didn't know what was happening but I think we were doing what our hearts were permitting us. All this was happening naturally, I swear.
We human beings just fail before our heart!
We had spent the whole day in deciphering something. Something stimulating happened that day from both the sides. Whatever happened within me was beyond my control. I just went with the flow.
I COULD ONLY SAY THAT.

Chapter 22
Why I am going closer to Tarushi? Is this God's plan? Is this a new lease of life to me?
Is she my prophet?
Is this a second life to me ?
But, I am in a relationship with a girl for the past three years? What is her fault?
For that matter, what is my fault?
I gave every bit of my life to her. I put my parents' hopes, my dreams at stake and always thought of her happiness, her wishes and her priorities.
What did I get in return?
A fucking life!
Didn't I go the extra mile to pull this relationship? Now, I am tired. Nobody paid heed to my concerns, my pain. No one listened to the cry of my ailing heart.
After all, this organ matters.
Is it possible to lead a love-deficit life? Am I demanding something extra, something out of this world?
All I need is love, all I demand is love.
Why all concepts are eternal? Why sometimes it is difficult to break that eternity? Why does it seem to be a lifelong process? 
Why relations lack rationality? Life cannot be wasted in removing tangles. Fair chances should be given. If they don't work, they should not be workable at all. Life is about creating self not destroying it. 
Are relationships bigger than life? 
Why acceptance is still the ruling law when there are ways of deliverance?
You can't control someone's life against his will and if you do that you are destined to land nowhere. 
I can't do that. I have to search my own land.
I am pushing and pulling myself against my will. Every new promise is a new compromise. I am tired of all this.
I want to break this rule. I want to work for my happiness and for that, I don't need someone's permission. It's time to break away the chains and let myself be free from every bondage, every responsibility. It time to get rid of pain.
Unbearable pain!
This is my life, my choice.
AN AIMLESS AND NAMELESS LIFE HAS TO GO. 

Chapter 23
On the other hand, I was experiencing a sense of freedom as Aditi was far away in Delhi. Life seemed to be beautiful and new. Literally, my life appeared to be mine.
I picked Aditi's call as per my convenience and gave a damn fuck to her calls.
My whole energy diverted on Tarushi. Our interactions became frequent and a strong emotional bonding developed between us in a short span of time, I never expected that. 
One night, in one of our conversations, Tarushi came up with the same question – 'Do you have someone in your life?' she seemed to be serious this time.
That made me serious too. The time had come to answer the question.
'What do you think?' I asked her. 
'By the poor logic you gave that day, you shouldn't have,' she was damn confident about her logic. 
I don't know why her words gave me absolute license to think about her, dream about her and fall in love with her. Why her words kindled a new hope, rejuvenated my dead inner and revitalised a new life within me. All of a sudden, powerful currents of love started to gush out from the heart and began to flow in the whole body.
I had sensed her total inclination. For that matter, I was also inclined. 
All of a sudden, I was at a crossroads. That very time, the face of Aditi flashed in my mind, I became frightened and my conscience jolted. The very next moment, my heart also demanded justice from me and my life begged before me. 
That night, I had to make a decision and that night, I made a decision.
In all that turbulence, I decided to fill my life with love. I simply decided to fill the vacuum of my life. I didn't know whether I had done right or wrong but I did that.
That day, I told a lie to Tarushi because in that one lie, I saw my life. I had to tell a lie because the truth of my life was Aditi which I wasn't able to change till now and on the other hand, I didn't want to let go Tarushi out of my life. 
I admit I acted selfishly without even bothering to think that I was playing with two hearts. For me, my heart mattered more and I took no time in bluffing two lives.
I was that much lonely and deserted in life that I wanted someone to hold me and I found shelter in Tarushi.
That day I took the road less travelled by without thinking WHERE THAT ROAD WOULD LEAD.

Chapter 24
Soon, the hunt was on for finding talent in college, what they call Talent Hunt. We were asked to assemble in college hall where Principal Sir would address us and announce the schedule of the talent hunt.
'The winners of the talent hunt will represent college in the upcoming youth festival,' he said.
The CRs of all the sections were directed to write down the names of interested students of their respective sections.
Tarushi was surprised to know that I was participating in quiz.
'Quiz? Am I hearing right?' she seemed curious.
'Do you have any doubt?' I said at once.
'Did I say that? You cranky mind, I mean you are a mine of talent. How much more talent is left for display?' I mean that.
'Sometimes, you are useless. Admit it,' she said.
I happily admitted. 
'I sing also,' I said blowing my own trumpet.
'I knew that. Didn't I tell you that day-'Your personality has definitely something interesting! My sixth sense is never wrong. So, tell me which song are you going to sing?' she seemed excited. 
'Singing is something I have kept personal. I never felt like displaying it in public. I sing for myself. It's a kind of my thing,' I said.
'Ahan! What about ones who are close to your heart?' she saw me and smiled.
'Well, that requires permission from my heart,' I smiled back.
'Don't worry, then. I will take permission on my own.'
After a long time, I felt like singing for someone and it was luckily Tarushi. That day I assured her that I would definitely sing for her. Otherwise, the fact was music had died within me in all these troubled years of my life, a detached sort of thing.
'Are you participating in some event?' I asked to divert my attention.
'Yes, Bhavya and I are participating in a play. Bless us that we act well.'
'Girls are born actors. Don't worry about that. They are already blessed,' I said in a frisky mood.
She winked at me with a lovely smile. Her smile was enslaving and I looked into her eyes for a while. A sort of staring session took place afterwards, which, you know, I won.
No, let me correct, I lost to her bashful eyes. 
The class that day had almost turned anarchic. Bhavya was still busy scribbling down the names of the students while Prateek had turned all his attention in enjoying the company of girls. He was almost lost in his mundane affairs.
I had lived up to my reputation of not at all doing any work as CR. Thanks to Bhavya. It was all because of her. She had given me such concession. 
That was the overall state of affairs of the class that period, that day and in all this, we both had managed to live our day well and had stepped further into each OTHER'S HEART.

Chapter 25
The environment of the college had turned festive on the day of Talent Hunt. The girls were looking dazzling, even the ones with conventional looks. All were flaunting their outfits like celebrities.
I had seen such an incarnation for the first time in college. Even, the teachers didn't lag behind. They displayed their peculiar versions of style and class. Everyone seemed to be talented in terms of looks. This one talent I had already discovered in the morning.
The college looked like a fairyland and the devils were onto their business of squinting and peeping at the fairies. 
That much heat and energy was in the environment.
I came in simple blue jeans and black shirt. Boys don't have much to wear and much to show and girls obviously have an edge in this matter.
I was waiting in the canteen for my three idiots.
To my surprise, Tarushi entered college in a sober light orange colour dress. She epitomized elegance, simplicity and grace.
Her dressing sense led me to the conclusion – It's not about what you wear, it's about how you carry yourself.'
Noticing me in the canteen, she came to me with a positive, bright and powerful smile, as always.
'Black looks nice on you,' she said and shook hands.
'Orange looks nicer,' I said.
'But I didn't say to win your praise in return,' she said.
'But you are wearing a killing orange.'
'Ok let me conclude, black and orange together are more killing,' she nailed everything at the end including me.
I had just started to stare at her when villain of the moment Bhavya appeared and took my girl away from me. Both went out of sight for their bloody backstage practice.
It was only after Prateek arrived, we both walked towards the college hall. 
'These twists and turns, bends and curves will ruin me,' he said on the way.
'Shut up. You are already ruined. Move inside,' I commanded him. 
The Talent Hunt kick started with the formal address of Principal Sir. Quiz was scheduled at the third spot. My Quiz members had got their heads down into the books the moment they heard the announcement.
I messaged Tarushi to sit in front of my eyes during the Quiz. She responded naughtily and said – 'Why should I?'
I didn't text back; because sometimes you simply want a straight Yes and no bending.
That Why had hurt me.
After a few seconds, she messaged again and said, 'You would find me sitting before your eyes, stupid. Sometimes, you spoil the fun.'
I simply responded – 'This is me and put smiling and winking Emoticons at the end.'
The Quiz started and the first round of the quiz didn't go well. That was sports round. Well, that is never my round in Quiz. In the audio-visual round also, we only managed to open our account, nothing more and were way behind the other teams.
This is something intrinsic to Quiz. Luck fluctuates from round to round and no team is sure of success till the last round. Sometimes, you score heavily, sometimes badly and sometimes fairly. The advantaged team becomes disadvantaged in no time and the disadvantaged emerges as a dark horse at the end. Quiz leaves so many possibilities and flickering till the end.
Tarushi had rested her hands under the chin which indicated her hopelessness. But I wanted those hands to rise in the sky with joy. I wanted those hands to clap for me. I wanted those hands to envelop me after my win. I wanted those hands to hold me forever.
That feeling just charged me and I geared up myself for the next rounds on which I had always betted, the rounds which were my forte.
The history, geography, polity and current affairs rounds went well and they managed to put our team on a level playing field. The last rapid fire round was going to be a decisive round that would seal every team's fate.
The reputation of every team was on stake but I was more concerned about my reputation in Tarushi's eyes. I decided to hold the mike in my hands for the last round.
You know our team finished at 4 out of 6. It would have been 5 out of 6 if I had spelled the name of Rani Mukherji's movie 'Mardaani' instead of 'Marjaani.' That was a blunder out of haste, not out of ignorance.
The result was the smiles that I earned on that answer and certainly not the point.
After a few moments, the hall came to life, my girl rose to energy when the last team finished 3 out of 6 and we were declared winners. Section A had managed to live up to its reputation of being No 1. 
Clapping, whistles and hooting glorified our victory.
Tarushi was the first to meet me outside the hall and congratulated me for the emphatic victory.
'This win is for you. This win is because of you,' I said.
'Oh! I see. I didn't know that,' she said.
'My heart knows that,' I said.
'You and your heart are difficult to comprehend sometimes,' she said.
'No, it's very simple and straight. It feels connected to you, it is concerned to you, it beats for you and I wonder if it is difficult to comprehend?' 
She blushed and smiled. I stared and stared more. Meanwhile, Bhavya and Prateek arrived to congratulate me.
Prateek gave me a tight solid macho hug. Bhavya and Prateek kept on speaking continuously to us but we weren't listening to them. To what were we listening?
We were listening to the language of our hearts.
I noticed Tarushi looked more conscious than before and I looked more confident than before. Her body language was narrating the tale of her heart, so was mine.
'Let's go backstage for the final rehersal. Sir must be waiting,' Bhavya again emerged as a devil of the moment.
She caught her hand and took her away from me.
The scene of Dilwale Dulhaniya Le Jayenge had been repeated again. My Simran turned around while entering back stage and made her Shah Rukh Khan the happiest man in the world.
That day Tarushi and her team also performed well but my entire focus remained on my budding and loving artist rather than on the art form. 
I just watched her, her and her only. 
The talent hunt ended with the prize distribution ceremony and the announcement of selected candidates for the upcoming youth festival.
The talent hunt had a catalytic effect on my new life in making.
That day I realised, smile and happiness had become my NEW COMPANIONS.

Chapter 26
The comeback of Aditi from marriage set my life again on fire but she was unaware of the fire that was kindling within me.
I had just come back from college when her call came.
'You bastard, you leave no opportunity of showing your true colour. I called you from my busy schedule and you completely ignored my calls,' she roared.
'I must be busy in some work at that time and when I am busy, it means that work is more important to me at that time,' I said, fearlessly.
'To hell with your work, I know bloody work in education colleges. You are a fool, I am not.'
'That's good if you know,' I said.
'The stupid and dull girls with whom you are spending time these days, I know everything. Don't act clever in front of me. I very well know how to cut feathers,' she was still on fire.
'Stop your all time rubbish and go away,' I was rude. 
'You have time to post pictures with those stupid girls on Facebook and with me, you become inhuman, you animal.' 
'If I have become inhuman, that is also because of you. I am like this only, either live with this fact or leave me with this fact,' I was courageous.
I became a revolutionary like this for the first time. Earlier, I used to look for reconciliation and now, I was thinking on parting ways. This was a change I noticed.
After I vented out everything, I disconnected the call and took a chill.
CHILL, YOU KNOW WHAT I MEAN.

Chapter 27
My nearness and dearness with Tarushi blossomed in the cozy hues of late autumn when we stayed back after college for youth festival preparations. The fabric of our love was going to be knitted stronger. I felt that. I sensed that. God seemed bountiful to me.
What else could I have prayed for? I was on the streak of having happy days.
The preparation was my secondary concern and the primary concern was Tarushi. During preparation also, part of our head and heart always remained engrossed in each other.
While most of our time was consumed in preparations and all that, the much anticipated time was the half an hour that was granted to all the participants for refreshment.
It was the time where we used to have grilled sandwiches and coffee. Sipping coffee had become my favorite exercise these days otherwise coffee was only a once – in-a-blue moon beverage for me. A lot happened over the coffee. We explored each other further, more of our families, became aware of our likes and dislikes.
One of her weird likings I came across was her sheer love for animals, so much so that she wanted to make a zoo of her own. It was obviously weird for a person who is scared even to touch the animals.
On asking her once, why she loved and what she loved about animals?
She said – 'Animality'
On asking her about the Animality, she said,
"Yes animality. That's unlike humanity. Actually, we humans can't understand. In a world where humanity is dying, I found solution in animality. Animality is embracing the qualities animals possess that are depleting in humans.
I mean the unadulterated love, unconditional care, unflinching loyalty and the unexpected everything.
This is the reason my boozy, my doggy till date remains my first love," she was emotional.
That day I became frightened about what would happen when she would come to know of the truth?
Who was I? 
A human or an animal in the form of human?
But at the same time, my mind and heart were not ready to listen to anything. They just wanted to be with Tarushi at any cost.
You know the fire of love,
It burns everything.
Our rendezvous became more meaningful with the progression of days. There were days when I demanded something to be cooked by her with her own hands and of my choice and in greater quantity. Something less in quantity was never acceptable to me. She knew that very well. She would happily feed me with my favourite snacks and brownie.
Let me tell you, the chocolate brownie was her invention. In love, you invent many things on your own and that was one of the inventions.
I would pick chocolates for her that used to surprise her sweetly.
You know sweet little surprises in love!
Occasionally, Bhavya would accompany us but only when we wanted. I admit that was selfish on our part. She never minded this thing and was mature enough to understand the tale of igniting hearts.
At times, we used to turn playful. She would tease me, would tousle my hair in spite of knowing the fact that I become irritated. Then, she would act innocent in front of me and say – 'I have a habit of tousling the hair. Please don't mind.'
I would say, 'You naughty, do you see your boozy in me?'
She would laugh out so loudly on hearing that and I would be delighted on seeing that. I would tickle especially on her stomach to make her feel the butterflies of my love. Sometimes, I would fix my gaze on her breasts and she would shy. Then, I would stare at her intensely to make her blush more. She would cover my eyes with her hands which in turn were kissed by me. I loved doing these acts of love. Lovingly, I would call her Taru and she would call me Dhruvi.
We would freeze many frames that included selfies, sidies and many other poses, some of my choice and some of her choice. She would, then, send me the collage of our photos. 
Our sauntering in the college garden would catch many eyes but who wanted to care. Many a time, the decrease in the temperature outside led to the increase in temperature inside. Everything around would then become wondrous – be it the weather, the evening, the greenery, the sky and Tarushi. Gusts of chilly air would only make the scenario more romantic. She would rest her shoulders on mine and would exhibit her confidence in me and in turn I would feel a sense of responsibility towards her.
Warm hugs, soft kisses and tender touch strengthened emotional bonding between us. Sometimes, I would croon a song for her and she would urge me to sing more and more.
One evening, I got a chance to drop her at home. The heavy downpour that day made this possible. Though she was on her scooty and I was in my car, I kept escorting her all the way under the beam of my car headlights. She thanked me many times on phone for this gesture and I had spent my whole energy in convincing her that I naturally followed the course of my heart.
It was nothing out of formality.
By the end of these never thought days, we had started exercising our dictates on each other. Our relationship had taken altogether a different height, I had never imagined.
We had landed into that emotional plane where life was appearing in our full control.
That was a healthy and welcoming sign I concluded. 
Love was within me, around me. All I could visualise was a NEW WORLD, A CHANGED WORLD! 

Chapter 28
I had booked two tickets in the top separate row for the movie that had failed to create ripples at the box office. But, was that my concern? Obviously not.
I had some other concerns like I wanted a movie hall with less audience where we two could enjoy each other's company, holding each other's hands, resting our heads on each other's shoulders, where there is no one who could see us, where we don't know anyone and where the dark enclosed movie hall will provide the much needed safety and privacy and protect us from the shitty eyes of the known and the unknown world of people. You know once the safety and privacy is ensured, environment automatically becomes comforting. 
Popular movies attract a large audience and there is a bright possibility that you will meet someone known. I wanted to remove all such possibilities. This was the reason I preferred the first morning show. I had informed Tarushi regarding the same on the previous night we talked. She became super happy and kissed me multiple times on phone.
As per the plan, we reached just in the nick of time to avoid unnecessary glimpses of the people outside the movie hall. We intentionally walked at some distance through the passage leading to the movie hall. A few young couples and bachelors and that too unknown and scattered in the lower seats in the hall added to our joy.
I thanked God for this time.
'Finally we are together and alone,' Tarushi said after high fiving me.
'Say thanks to me. Otherwise, you are impossible,' I teased her.
'You are not that smart that I should thank you,' I was being teased in return.
My loving and naughty revenge kick started when I touched here and there on her body trying to hold her and she, in return trying to get out of my grip.
We were enjoying and playing like small kids. Within a few minutes after trailers, the movie started and there was complete darkness.
I held the hand of Tarushi and we both saw into one another. Her glossy lips and eyes were sparkling under the cover of darkness.
I faltered and kissed her lips. Her fragrant lip gloss made me more stimulating and the result was a long and passionate smooch for some handsome seconds. We kissed more and more until we stopped consensually.
But we stopped only to start further.
I kissed on her breasts and loved them. She hid me in them and ruffled my hair. I was being loved after a long time. She then kissed on my forehead and held me more tightly in her. We had surrendered ourselves completely.
We were literally one. Tarushi's touch infused a new life in me. I had found my land.
She was my land that I had been searching for. She was my land where I wanted to stop. She was the land I wanted to be mine forever.
It was during the interval, we freed ourselves from the clutches of each other and had some snacks.
The feeling of freshness and happiness dwelt within and after the interval. Afterwards, we struggled to focus on the movie. We had developed altogether a changed body language. The eyes were reflecting something different, the mind was thinking something else and the heart was echoing something else.
Our love and affection gleamed and strengthened under the cover of darkness.
The movie had failed to create ripples but that day ripples ran ferociously and fiercely through our bodies.
The movie was a super flop but we had a super hit day. 

The sense of emotional connectedness we felt after the movie show was unbridled and uncontainable. That night Tarushi told me that my love in her life was God's blessing. She said: 
"Love could be so miraculous I didn't know until I met you. It could be so magical I didn't know until I felt you. It could be so new I didn't know until I touched you. You have conquered my senses. You rule over my inner world. I am not the same anymore; I am no more an ordinary being. You have made me special and your love has given me my new identity. Thanks for residing in me. When I move, you move with me. You are with me, you are within me. You have made an everlasting impression on my heart. 
I want you in this life. I want you from this life. Be mine and make me yours."
No doubt, I was a happy man that night but in the remotest corner of my heart, something was haunting me.
An unknown fear was scaring me!
Unable to cope with that, I remembered God and kept aside all future worries.
I couldn't let my future come in the way of my present BECAUSE I HAD PAID ENOUGH FOR MY PAST.

Chapter 29
The day of youth festival finally came. The college bus finally left at around 6:30 in the foggy morning for Amritsar falsifying the repeated claims by the teachers that the bus would leave by 6:00 a.m. with special emphasis on the word sharp only to take its meaning out and that the bus would not wait for anyone. 
But the fact was, the bus had waited for everyone and another fact, I couldn't wait was out of the simple single reason that Tarushi hadn't reached and it was already 6:00 a.m. Within moments, my head and heart had taken a different path.
What if she didn't reach in time? We both would go separately and if that would be more exciting actually.
All such thoughts ruled my mind until I saw her approaching towards me and that was only to ruin my reverie.
But let me admit, she looked impressive in her winter apparel that had enveloped her body from head to toe except face that was bare and visible and application of cold cream and lip gloss had made her appearance even more vibrant.
The end of the story was we were in the last dead empty row of the bus occupying one extreme. She smiled in a crooked manner as if she had completely understood my waggish mind. Bhavya occupied the other extreme in the same row against her will because she had neither chance nor choice.
Everyone in the bus had exercised right to choose the seat of his or her choice, then, how could I miss the opportunity to be at the forefront? I didn't sit with my quiz mates as the protocol bound me to sit with them on the stage while performing and surely not in the bus.
'Well, that's never a row of my choice in the bus,' Tarushi teased me.
'Who the hell has asked for your choice?' I was quick.
'Certainly you didn't,' she said and punched her elbow into me.
'By the way why did you come late?' I asked.
'You know girls; they take time in dressing up. You boys can't understand.'
'Dressing! They take time in everything,' I smiled and winked.
'But I didn't take time. Did I? I gave you my heart in no time. And I wonder if that was late?' she was my fast and furious.
'Oh please, hold on your bragging,' I responded out of reflex.
'Oh sorry, I forgot when the renowned bragger is sitting just beside me, how I can dare to brag?' she said and we laughed.
Soon, the bus drew out of the city to catch the national highway. The bus had gathered pace that was unlike the pace existing inside the bus. It was a sluggish scenario, you can say.
The morning effect!
'You know my hands and feet, they are icy cold and insensate,' Tarushi said while rubbing her hands and exhaling out the visible winter breath.
'I have a magic wand called touch. Let me see if that can help,' I said.
I was quick enough to take her hands into mine without even bothering to look at her face and started rubbing them to produce heat.
I was a success. After all, I had put my heart into hard work.
On looking up, I found her eyes glued to what I was doing and it seemed as if in fraction of seconds, she would pour out all the love that her eyes were reflecting. Those reflections, I tell you were only for me.
She looked at my hands that had done hard work and the time was perfect for the reward. She kissed my hands and left imprints of her lips that were kissed by me afterwards.
She blushed and blushed even more when we had a brief hug. What do you expect in a college bus? Lengthy hugs? No. You have to suffice with the economical hugs and to be within the Lakshman Rekha.
Next few minutes were completely ours.
Winters have so much to offer!
The sudden application of brakes by the driver woke up everyone in the bus and in moments, everyone gathered senses; otherwise the bus would have collided into a truck and my new life in making would have met a tragic end because it was nearly touch and go situation in a challenging weather outside.
Meanwhile, Tarushi waved her hand to Bhavya signaling her to come near and I was displaced from my seat. By then, I had derived the early morning pleasures and moreover, we had covered a good amount of distance.
Tarushi and Bhavya were quick enough to join their group of play members and thereafter, I invested time in ruminating about my life where it was heading and what would be its fate? Whether I had worked towards my better future or I had dug my own grave in which I would be earthed soon.
When I look at Aditi, it feels there is so much to suffer in this life. When I look at Tarushi, it occurs there is so much to celebrate in this life. And when I look at myself, it seems there is so much to repent in this life.
Thoughts began to conquer my mind. 
I immediately took out my earphones, plugged them into my ears and started listening to songs if they could divert my energy. I then eyed my girl warily whenever and wherever possible without making her conscious in the group.
That gave me much required relief and successfully diverted my attention. 
Soon, it was the turn of teachers to come into action because they can't wait for so long to exercise their dictates on poor children. To command at first, is the obligation of a teacher and then, the habit and ultimately the pleasure.
Same do's and don'ts were repeated to which all the girls sincerely lent their ears. I lent the same in the hope that this would be the last time. Actually, it was necessary to ensure the safety and security of girls and that was the only reason, they were extra cautious. 
The roars of hip hip hurray rocked the bus that very moment when our bus steered into the big main gate of GNDU campus. Till then, the sun had marked its presence in the sky, the fog had almost disappeared and the meadows inside the campus were narrating their morning tale. A different kind of energy and enthusiasm dwelled within us all the way until our bus driver slammed on the breaks to disembark us.
A kind of ruckus prevailed in the university mess that was ascribed with the responsibility of arranging morning meal for all the participants and teachers from different colleges and soon, it became a challenge to grab the aromatic hot aloo paranthas served with curd and tea.
The teachers had rested themselves on the chairs in authority to enjoy the breakfast to be served by us, the innocents.
The hard-earned paranathas were finally in our plates and yes, this time, we three sat together with Tarushi serving us every time we demanded another parantha or tea or curd. Bhavya and I would tease Tarushi by giving her order one after the other. The situation became more dramatic when one of our teachers said – 'Tarushi beta, please bring one parantha and some curd for me.'
Both Bhavya and I laughed and enjoyed the cute frowning face of Tarushi.
'I will kill you both, you big eaters and look at her belly, she has eaten four paranthas back to back. How could she?' Tarushi burst with anger. 
'We could only respond humorously that everyone has the right to eat as much as one can so what if she is a teacher.'
We were excited to see the pathways of the campus gathering momentum after we left the mess to converge at the point where our college bus was parked.
'Good luck for the day. Give your best and forget the rest,' Tarushi wished me first.
'Thank You my girl. And yes, the same applies to you also. Don't forget to stay relaxed and cool before performance.'
'Ok done. And one thing, I have put some packets of biscuits, chips and pineapple wafers in your bag to take care of your hunger. I know your mind will wrestle more with hunger than the questions the moment you get hungry. I know you and your deadly hunger. I don't want to take any risk.'
'Tarushi why are you so lovable? So concerned for me?
Why are you like this? Tell me.'
I became overemotional.
'Have patience. I will tell you everything in the bus while going back,' she was sweet-witted.
Meanwhile Bhavya came, took my girl away and left my heart in crisis. I had to surrender before the situation. All of us then dispersed in different directions for reaching the respective venues along with our teachers.
At around 10:00 a.m. we reached at our destination, the famous Dashmesh Auditorium. While, we three waited outside, our Quiz teacher went inside to enquire about the schedule of the Quiz.
Those few minutes outside, I invested in silent observation. 
"The Quizmaster is expected to arrive at around 12:00 noon and the quiz will start at around 12:30. This is the update till moment. Find a place free from disturbance where you can sit and study. I want earnest attempt in the final stretch of preparation. You have ample time at your disposal." These were the words of our teacher as soon as she came out.
'Ok ma'am, our responses came in unison.'
I glanced around to find one secluded corner where I can sit and prepare. It was difficult for us to find that corner in the razzle-dazzle that existed outside the auditorium. 
Somehow, we managed. After having a word on the strategy, we took our respective places. I sat at some distance from them.
Before taking out newspaper from my bag, I called Tarushi. 'Have you reached?'
'Yes, I was about to intimate you,' she answered.
'No issues. Listen, we will have our written round at around 12:30. Any update from your side?' I enquired.
'I will tell you when I get to know that,' she said.
'Fine then,' I said and we disconnected the call.
I was straight onto my business. I started to flip the pages of the newspaper to digest something viable for the Quiz.
I became busy in preparation as there was a lot to cover. I didn't know when my mind started wandering in the thoughts of Aditi. How the time had changed! Last to last time, she was with me, we were together, so happy, so engrossed that we enjoyed a handsome amount of time roaming the university campus.
See the fate today, I am here and she is unaware of this fact.
I wonder – Time changes or people change?
Well, the time ticked and as per the stipulated time, the written round started in the nearby hall where 27 teams from different colleges sat. The tall suited and booted gentleman from Chandigarh was our Quiz Master, a ruling and selling name in Quiz at the GNDU youth festival. Because of his might of knowledge, he was known as a Walking Encyclopedia, I knew that out of experience.
The test was a balanced one. We did fairly well but were unsure about the performance of other teams. The fingers were crossed. The faces of some participants were enough to break down our morale but we had managed our faces reasonably well and the reason was hope.
'Only four teams have made their way to the final stage round,' my heart oscillated to hear the announcement of the Quizmaster.
God became bountiful and we managed to mark our entry into the final stage round. Though we came last but that didn't matter. It was only then, we heaved a sigh of relief. Our teacher became super happy and she informed the principal on phone regarding our entry into the final round. Deep down my heart, I knew, the stage round would be a tough nut to crack as compared to the written test. The real task was ahead. I knew that out of experience.
We were asked to reach Dashmesh Auditorium where the formal announcement was to be made for the last round. We followed the directions and marched towards it.
On the way, I called Tarushi to tell her about this good news. She was enthralled to know that. Bhavya also congratulated me.
'What is the status at your end?' I asked.
'The play is about to begin. Our team has been placed at seventh spot. A long wait will surely follow,' she said.
'That's wonderful. May be it will help us in seeing each other's performance. What do you say?' I said.
'You don't know how direly I want to see you performing before my eyes,' she said.
'Even I also wish the same. God will definitely help us through this… 
Ok, listen, we are going to Dashmesh Auditorium for our last round,' I said.
The environment inside the auditorium was bewitching. The boys had occupied the last rows and were clapping, hooting, cheering and commenting on whatever crossed their minds. Even the girls weren't left behind. They were equally posing a challenge to the boys.
That was typical university culture.
The anchor was entertaining the audience with his Punjabi Shayari which seemed apt for the situation. Anchoring in such an environment is really tough, I personally believe.
Hats off to him! He was tackling the energy of young audience very well. Meanwhile, an announcement raised my ears and proved my assumption right. It was regarding Quiz. The anchor asked the participants of all the four teams to wave their hands as soon as the name of their team came.
The waving of hands made us identifiable entities in the auditorium and left us with an indescribable feeling. The time had come to exhibit skills and give out the best in us. The setting on the stage started. All teams had started to gear up for the Quiz. I was fully charged for the challenge.
Quiz is liked by the most sophisticated educated elite class, a choice of the gentry. Non-serious and mischievous elements usually stay away from this affair and this fact was visible in the auditorium.
The stage was set. A congenial environment had been successfully created by the quizmaster with his eloquence and style.
But my eyes were searching for my girl. I wanted her to sit in front of my eyes and watch me. I prayed to God multiple times. By any means, she should appear.
The Quiz started. We missed some questions and answered some. The initial two rounds went average. But I was high in spirits because my personal favourite rounds were yet to come.
The moment the Quizmaster turned to the audience for their share of questions, my eyes noticed a face in the audience. On fixing my eyes to that face, I was taken aback because it was Aditi. I was literally shocked.
For many seconds, my mind wondered – how could this happen? God can't do like that. I turned my eyes hither and thither to pretend that I had not seen her and made it look like a momentary eye contact in haste.
But I didn't know another disaster was waiting eagerly for me. I literally felt insensate when my eyes noticed Tarushi and Bhavya. 'Now, how has that happened? Alas! I am gone today.' These were the words from my mouth.
'Only prayers could save me now.'
Fear and nervousness gripped my mind completely for the crystal clear reason that if Aditi by any chance comes to know about Tarushi, she will kill me first and then, herself and if Tarushi gets to know about Aditi at this point, her heart will literally collapse.
In either of the situations, the damage was ruinous.
The tide of the time was making my breath difficult. My heavens and earth were shaking; conscience was jolting me and my soul was getting restless inside my body. In moments, the time had choked me and I felt strangulated. I grew pale and weak.
With a disturbed state of mind, I played next rounds. My entire focus was on the grave situation that had arisen. Even the easy picks were missed. That was unfair on my part as my college had relied heavily on me and I was doing injustice to them.
But, all that was not in my hands. The question of life had become more important than the questions of Quiz. This is what you call luck and sometimes, it simply sucks. 
Many a time, I noticed, both Tarushi and Aditi tried to match their eyes with me. But I didn't. I knew about its consequences.
It was in the last round, God showed his existence and the magic of God worked.
On looking up, I saw Tarushi and Bhavya had left and it was only then, I went into a normal state of mind and heaved a sigh of relief. God was really great.
By now, we had lost everything and nothing was left. 
Oops! Something was left – 'Encounter with Aditi.'
The Quiz ended and we pretended.
After the flop show, Aditi walked up to me.
'You can forget to tell me about the quiz but I haven't forgotten,' she said.
'Let's go outside and talk,' I said.
We were at the same place that I had occupied in the morning for preparation.
'I became very disturbed with your attitude of not at all informing me about the quiz. I am not your enemy. I love you; this is the only reason, every time I neglect your irresponsible acts.'
'Aditi, this thing, your habit of asserting claims in this relationship makes me feel that in this relationship, only you loved and cried. I did nothing,' I said.
'Now, when did I say that? Look, I am not in a mood to fight at this time. I have come here to make the things better. Already, our relationship has suffered a lot. No more sufferings. Look I have a plan. What about going back to Jalandhar in a private bus? You and me! Together! It's been so long we haven't enjoyed like this. I want to relive.' Aditi was in some different mood.
'I think that will not be possible,' I said. 
'I know that would be possible. Don't make excuses. Ok.'
She was still hopeful.
'I am serious,' I said.
'Don't befool me. It's not a kind of impossible. I have come straight away from Jalandhar to make this happen and you are spoiling everything.'
'But I am sorry. I am helpless,' I said.
I was letting the worse happen. 
'To hell with you and your sorry. Look anger is welling up inside me, I am warning you,' she said.
I didn't speak.
'You can never change. Bastards can never change,' she lost her patience. 
'Don't cross your limit,' I said.
'Don't you say that to me, you swine. Those bitches with whom you want to go back home, I know everything. I am not a kid,' she went mad.
'You have always acted according to your assumptions in this life. This time also, I will not stop you because I have no time for your nonsense. Even your nonsense has stopped making sense,' I said.
'You moron go to hell, that's the place you deserve. You swine! You barbarian! God will punish you for your sins. Then, you will know what it means to hurt a girl's heart. This is the cry of a wounded girl. Remember that.'
For a moment, I thought – 'What about a boy's heart. He also has a heart.'
'I am going and don't show me your face in this lifetime. I have thrashed you from my heart and for me, you are dead,' she left me in utter despair.
I stood there for some time and thought what was happening in my life?
What is my fault if my heart doesn't feel connected to Aditi anymore? 
What is my fault if my heart has become indifferent to the sensitivities of her heart? 
Why now even her love and care is unable to wash away the impressions that are permanently plastered on my heart.
After all, heart matters.
With a heavy heart, I came inside the auditorium and started scrolling my phone aimlessly. I saw Tarushi's calls and messages but was not in a right state of mind to respond. I took some time. I didn't know what came in my mind; I took permission from ma'am and raced towards the venue of the play.
May be the shattered inner was responsible!
I settled in one of the front rows purposefully to see my girl. One play was going on. I couldn't comprehend whether I reached late or early. I relied on patience. The announcement on the mike put an end to all the dilemmas of my mind. The play of our college was next in the row. I was dying to catch a glimpse of her. Now, I had become that impatient.
She was my refuge. My wish was heard when all the members of the play appeared on the stage. All was set. The play started. It was in the mid of the play our eyes glued and that too, so much so that Tarushi forgot her dialogues and was able to display her gestures only. The reason was my sad and gloomy face. I had failed to manage my emotions which she might have observed on my face. I felt more burdened. I put my head down.
After some time when the results came out, I was astonished. Tarushi's gestures proved to be a blessing in disguise. For that matter, my blessings for her were undisguised.
Those impressions had worked well on judges. While Quiz was completely evaporated, the play had managed to come at the second spot.
Late, in the bus, while going back home, Tarushi asked me one question multiple times about my sudden change of behaviour and I was unable to answer even once.
"You even missed those questions on which even I was pretty sure. You started off really well but I don't know what happened to you in split seconds.
Something wrong has definitely happened. I don't know what? 
You are not the same. I don't know why?
I want to help you out. I don't know how?' she looked so much concerned to me."
To all these valid concerns of Tarushi, I had only zigzag and meandering answers. 
But in my mind, something was certainly troubling me.
Now, what next? 
I became so busy in filling my life with love that I had almost forgotten that I was in a relationship with a girl and I was still not out of it. And now, one more life was attached with mine.
What should I do now?
I was totally stuck. That incident kicked me out of the illusion. A surge of remorse ran within me. Forget about my life. What about Tarushi's life? I can't let things go on like that. Before the complete mess up, I have to set them right. I will not let her suffer. I will not let her falter. I have to fight. Come what may!
In my heart, I knew that talking to Aditi won't make things better, they are going to be worse than ever, chances of justice would be bleak as always but I have to pour my feelings before Aditi. I have to perform this karma because I cannot curse myself for my whole life that I didn't try. At best, I could try. It was all in my hands.
This Karma had now become unavoidable!
I kept wrestling with these thoughts all the way until I reached home.
The evening had failed to produce the magic the morning brought.
Around 8:00 p.m. we were back to square one. At home also, I refrained from talking much to my parents. My only demand that night from my mom was a cup of coffee to which she happily agreed.
In my room, I hid myself with the quilt. The moment I was done with coffee, I switched off the light.
There was darkness everywhere in the room.
Within me.
AROUND ME.

Chapter 30
On the other hand, I tried to act normal with Tarushi to make her believe that the reason for my abnormality in the bus was loss in the quiz and nothing else. Though, it had become difficult for me to convince her on that, but somehow I managed.
One night, having made my heart strong and putting aside all other thoughts, I straight away dialed Aditi's phone number.
I think she picked up on the last ring. Without wishing her hello, I straightaway uttered, 'Aditi, I want to tell you something, something very important.' 
'Important! I know…yaa…speak up…but one thing try to avoid useless things. These days you are becoming useless,' she said.
'I am in love with a girl,' I said.
She laughed loudly on the phone to make fun of me. 
'That's great. Loving someone is not bad. May I know who that unlucky girl is?' she said after she stopped laughing. 
'That is not your concern,' I said.
"Listen you, girls can never be lucky with you. That poor girl might have spent a few days or a few months with you. She might be unaware of your cruelty. You are such a sinner. I pity that hapless girl. Either she doesn't know you well or you have impressed her with your useless philosophies of life. After all, you are skilled in that. Bragging and befooling is an integral part of your personality. Falling in love with you is easy but staying in love with you is a hell-like experience. I have experienced it for three years.
And one thing, just show your true colour to her. I bet she will leave you in no time," she spoke in one breath.
'If such is the problem with me, then leave me. If I don't fit in your scheme of things, then why are we not letting each other free? Why are we bearing this pain? Neither have I monopolised you nor have you. Let's get out of this entanglement. Let's break the chains of unwanted burden,' I cried my heart to her.
"All boys are the same. Bloody dogs! In the beginning of a relationship, you make tall and lofty promises to win a girl's heart and to tap her emotionally. Once, they get emotionally trapped, you start showing your real character. At such a point of time, when our relationship is three years old, don't ever think of quitting it. In these years, you have consumed me physically and mentally. Who's gonna pay for this? Remember, you were the one who came to my doorsteps and begged for this relationship, I didn't. You were dying every single day for my love. You told me that. At that time, I supported you and now when I am totally committed for this relationship, you are asking me to step back. Never ever try to think like this even in your dreams.
Loving and then leaving might be a casual affair for you boys, but when a girl loves, she loves forever and ever.
If I am pulling this relationship and not complaining about anything, if I have surrendered myself to the situations, then you must do the same.
And one thing, I am a modern and empowered girl. Don't ever think of leaving me midway, otherwise I have other means of keeping you in order. I know how to cut feathers. Take my words seriously. When I say it, I mean it and you know it."
Those words literally injured me. I seriously felt I have committed a crime by loving someone in life.
"Aditi what will you get from me by saying all this? Will you get my love, my care and my attention. You have only sown seeds of fear in my mind in all these years. This relationship seems to be a forced relationship where artificiality has come. Natural self is nowhere. My feelings have died for you. You are not in my thoughts. You are no more near and dear to me," I said.
'You should have thought all this before coming into a relationship,' she said.
It seemed as if my words didn't affect her at all.    
'Now listen, this time I have listened to your nonsense and these cock bull stories should not be repeated next time. Otherwise, you will be responsible for the consequences. Mind it,' she said and disconnected the phone.
My hopes were dashed to the ground ruthlessly and my dreams ended in smoke within seconds.
My attempt of leading my life, yes my life, in my own way was totally discarded. My attempt of coming out of this relationship met with the same fate.
I disconnected the call and landed into vacuum.
UNFILLED VACUUM!

Chapter 31
I was dying under the weight of my conscience. Why did I tell a lie to Tarushi? How could I commit this crime? Why did God choose me for this heinous act when I had almost concluded that it was impossible to get out of my relationship with Aditi and that life would move like this only. Why did God show me the light, Tarushi. For bringing light into my life, why did I throw her life into darkness? What was her fault? Why did I commit this sin? I should have tackled those moments of loneliness, those moments of nothingness.
Why did I love?
I should have understood that love is not everything in life.
But, yes I have committed this sin. Now, what's the rescue? Tarushi would be busy imagining her life with me. Her world of dreams would be ruined to know the truth. Forget about my life. What about her life?
But, truth has to come out one day. What would happen on that day? 
Love starts and sustains with faith. This is not love, this is betrayal. Crying and ailing heart is fine but how could I make the other person's heart feel the same.
After all, heart matters.
Lives matter.
I have to tell her the reality at the earliest. Hiding this truth further would be my second mistake. I would be called bastard, a sinner, a fraud or whatever and would be given every curse. I am ready to bear all that.
Come what may, the truth has to be exposed.
THIS IS THE ONLY ROAD TO RESCUE.

Chapter 32
My hands were trembling, so was my heart when I dialed Tarushi's phone number. It had never happened before. The reason was obvious, her reaction after knowing the truth. I feared that. 
Somehow, we began to speak normally on the phone and in between I said – 'Tarushi what if you come to know that I am in a relationship with someone.'
'Come to know? I know that.'
For a moment, I felt as if she really knew.
'Tarushi I am serious,' I said.
'Even I am not joking. Do you think I am joking?' 
'You are not getting what I am trying to say,' I said.
'I am getting you. Now, stop playing riddles and speak up my name. I am dying to hear that. You know I have closed my eyes even,' she said.
That was out of her resolute faith and was enough to break my courage. She won't be able to hear the truth. Even for me it was a do-or-die situation. One name and hearts will be broken, faith will be shattered. Was that so easy?
'I am still waiting,' her voice broke my resolve.
My inner being was literally corroding.
'Fast, I am counting.
5….4….3
I wanted to stop time.
2… fast…..1'
'Aditi,' I said.
'Don't play fast and loose with me. I know you are well-versed in taking my heart out but not this time. Fast. Speak up the name.'
'Her name is Aditi and that's the ugliest truth of my life,' I said instantly, sweeping aside all other thoughts.
'Dhruv, now this is height of heights. If you gonna behave like this, I won't talk to you ever.'
Her voice was growing weak.
'Look, my heart is becoming fragile now. Don't do this. I am collapsing from inside. You are scaring me na? I know this is the ugliest lie. Say Dhruv?' 
The intonation of her voice was rising and falling. I was dead silent.
'Say something Dhruv. Your silence is breaking me and proving my fear right.'
I was completely scared.
'For heaven's sake, speak up. Don't be stone hearted,' she literally begged.
The time had come to unveil everything.
In deep shame and regret, I finally broke silence and said,
"In the name of love, I have bluffed you. I played with your heart. I was in a relationship but still I kept you in the dark. Love sustains on faith and I have assassinated that faith. I have no right to be called as a human. Inhumans like me deserve the worst of everything.
But believe me, I wanted to tell you everything right at the start but I don't know what stopped me and made me move towards you.
Probably my heart!
Tarushi, I don't know why God sent you in my life when I had almost surrendered, I had almost accepted that love is no more a feeling left in my life and that I have to lead a love-deficit life.
Love is a beautiful feeling until it remains beautiful and a feeling.
You don't know how much have I suffered at the hands of my relationship. Sufferings in love are the worst sufferings! I have seen the worst face of love more than the loved face and you made me look to that loved face.
A diseased relation can only give you pain and believe me, there is a lot of pain in this heart. My vacuumed heart saw you as the panacea of all my ills.
Tarushi, in you, I saw my life. I saw my deliverance.
I admit it's hard for you to digest all this at this point of time when we have confided so much in each other but believe me; I couldn't locate that point where I could tell you everything.
I couldn't understand what force overpowered me and took me along the path that was divergent still beautiful.
If that path is what we call love!
But I am your culprit. Punish me. Curse me or whatever. I am a sinner."
I was about to say further when I heard heavy breath of Tarushi.
I felt restless and helpless on the other side.
Very soon, she broke into tears. I had also shed tears silently. But my tears were not important. For that matter, they had never been important.
In order to search my land, I had displaced her land.
The night had grown dreadful in no time and a kind of impasse developed that had become difficult to break. I didn't know when Tarushi disconnected the call. Even I hadn't the courage to call her back.
The night was dead cold and silent.
SO WAS ME. 

Chapter 33
The festivities in the college were over and in my life too. The time had come to take house examinations. We both had decided to go away from each other. The calls, the messages everything was snapped between us. In college also, we avoided each other.
But those expressions on the face of Tarushi, they had become difficult for me to avoid and moreover, the guilt was not leaving me in peace.
Many times, I tried to talk to Tarushi but in vain. She used to leave college immediately after the exam. Her silence was literally killing me and was intensifying the guilt within me. I just wanted that she should at least speak something and in the process if I can heal her wound to some extent.
I had told everything to Prateek but was unsure whether Bhavya knew all that or not because she met me as usual as before. I didn't actually know what exactly Tarushi had told her. I remained pretty normal with her.
The exams proceeded anyhow but I failed in having a WORD WITH TARUSHI.

Chapter 34
Today was the last house examination. As soon as it was over, I headed towards my car. Majority of the students had stayed in the college to relax as the exams were over. But I didn't. They were happy, I wasn't.
I was about to leave when my phone rang. To my complete surprise, it was Tarushi's call.
A strange kind of feeling ran in my heart. It felt as if my poor heart had become rich in fraction of seconds and my repressed emotions had met life again.
We met in canteen.
Two cups of coffee with less sugar, I ordered.
A few minutes of silence followed afterwards.
'Why are we humans so hapless creatures?' Tarushi finally broke the silence.
I wanted to say many things but was quiet.
'Why can't we get the person whom we want direly in our life? Why does life become so unpredictable at times? Why do we suddenly seem unwanted in other's life? Why do some tragic stories end up being strangers? Tell me Dhruv.
Is life like this only?'
To these questions of Tarushi, I literally had no answers. All I could do was cursing myself.
 'Am I a bastard? Am I very bad?' I, finally spoke. 
After listening to my words, she burst into tears.
I had also shed tears. We cried in each other's arms. I couldn't see that longer and wiped off her tears and hugged her. She looked totally broken and shattered. After all, she had not committed any mistake but was paying the price and that thing was hurting me more than anything.
I knew I was responsible for all this mess in her life; I was responsible for her sufferings. I had turned that innocent girl into a pathetic figure.
'Dhruv I tried to contain myself but couldn't control myself at the end. The fear of losing you was haunting me. I know I am fragile but believe me I will be alright with the passage of time. For me, you and your happiness is everything,' she said.
'Who told you, I am happy? I am not happy. My happiness is with you. My everything is with you. I want you in this life. You are my happiness. Can't you see that?' I said.
My words infused silence in the environment.
After some moments, Tarushi said, 'No, I don't want to see that and it would be better if you also don't see the same,' 
'For God's sake, be with me Tarushi,' I literally begged. 
'This is not possible Dhruv, at least in this life.'
'I want to make it possible,' I said.
'How Dhruv? How will we define our relationship? What would be its fate? Tell me.'
"Tarushi, in your eyes, love is not everything? Why do we human beings want to define everything?
Can't this love define everything? Why can't we appreciate this feeling called love? Why can't we simply love?
Does love need any certification, tag or approval of anyone? But yes, it needs approval and certification of heart. Yes, it needs two people with a caring heart and an understanding mind.
Why are we questioning this feeling? We are born to experience this feeling than to question it. Love is the natural call of our heart, isn't it? Can't we follow the natural course of our heart? Where lies  the problem?
What is bothering us so much? Love comes to us in various forms. All we need is to recognise this feeling rather than judge it. If we try to judge it, we will only end up in degrading this feeling. 
Tarushi,
Love is never bad, it is always good.
It is never wrong, it is always right.
It is never impure, it is always pure.
For a moment forget everything, just think why did we meet in this life?
Did you ever think about that? This was predetermined.
An act of God.
Why can't we understand God's design? Why are we coming in his way? Why are we questioning his ways? God has provided us this opportunity to love each other in this life. Is this a small thing?
Tarushi, one day, everything would fade away. Everything will perish. That's something beyond our control. But in that one fear, we can't stop living our life. If we do that, we are undermining the very purpose of life.
So, let us see this beautiful life. Let us enjoy these moments of present. They have everything to offer us.
Let us live a life bigger than life and forget that some world exists around us. There is a lot to discover in our world. Let us dance, sing, eat, walk and smile together.
At the end, what will matter?
Whether we loved or not!"
That day we decided to love without bothering to think of our fate and longevity of our relationship.
That day we didn't define our love.
THAT DAY WE SIMPLY DECIDED TO LOVE EACH OTHER.

Chapter 35
The result of the house examinations was out. We four had done remarkably poor in all the major subjects for the simple reason that we didn't study. As a matter of fact, who studies in education colleges? Otherwise also, boys have the tendency to study less.
And what about girls?
They have the tendency to study usually more and another fact, girls always study more whether it is required or not.
That's something intrinsic to girls! But why this thing didn't apply to girls of our group? Thanks to us – Prateek and me. 
But, the real danger was ahead in the research period of Sekhon ma'am. My gut feeling again proved right when she showcased our answer sheets in front of the class.
'Look at these answer sheets. These are so new and so same. The world is after saving trees and they are after wasting papers.' 
The class burst into loud laugh.
'Hold on students, hold on …How can we forget to mention our CRs? The star performers of our class. They have tried not to remain far from each other in terms of marks. They deserve applause. Don't they?' she was sarcastic as always.
Prateek was lambasted more but he was shameless because he says shame is all about feel. Tarushi had managed the things somehow. 
We were once again victimized before the whole class and the whole class got their dose of laughter.
AND THE REASON WAS ONCE AGAIN, WE FOUR.

Chapter 36
Soon it was Tarushi's birthday. I was super excited. Though it was her day but I wanted to make it memorable in my own way. For this reason, it was virtually mine.
I had planned everything for her birthday. The only task was to implement the thought-out things. We would be coming to college in the morning and from there, we would go on a long drive in my car.
A car and a card was all that I needed.
We would return by the time college ended and then, we four would go for our separate celebration. It was my plan.
You may call it my master plan.
I had allowed her evening time for friends and relatives.
This much right I had on her.
Exactly at 12:00 midnight, I called her and wished her musically.
Happy birthday to you...Happy birthday to you...Happy birthday...Happy birthday....Happy birthday Taruuu…
'Aww! That was really sweet and touching! I am overwhelmed.'
'Tarsuhi! my sincerest and noblest prayer to god is that you get the best of this world. You are a blessing of God and blessed are the ones who are in your association. You are such a pure soul.' I put my feelings before her.
'Dhruv you have made me rich with your words. I am not worthy of it. Thanks for blessing my life. Thanks for everything you have offered me in this life.
And of course, the most pious offering, Love!'
She was about to say further when I stopped her.
'Listen my girl, wishes and blessings must be lined up for you. Receive them first. We will have a blast in the morning,' I said.
'Thanks for making my night,' she said. 
'O my poor girl! Let the day come. It has a lot to surprise you,' I spoke in my mind.
'Once again happy birthday to my girl.'
We disconnected the call and I slept in a cheerful mood waiting direly for the sun to conquer the sky in the morning.
I was waiting in my car, next morning.
A few moments later, what I saw, Tarushi was dolled up in the black dress. She was looking smashingly beautiful and moreover, black was my favorite color. She knew it very well.
Sitting in the car, I scanned her fully.
I opened the front door as she approached near.
The moment she sat, I said at once, 'Ajj bada impress kiya ja raha hai?'
'Impress my foot.'
'I know you have beautiful feet. I know you want me to praise them,' I said.
'Now what was that?' she said.
'That was Kuch Bhi,' I was playful.
'Kuch Bhi?' 
'Kuch bhi has its own charm. It gives you freedom to express anything that comes across your mind,' I said.
'God is great, so are you. Now can we go?'
The smile ran on our faces. I was charged and accelerated the car in first gear.
The weather was perfect for the long drive. The cool breeze was blowing. The clouds were also in their full swing and heavens could open anytime. Nature was in full swing.
I drove the car out of the city to take a by-road. Luckily, we landed in a deserted village that had scores of tress standing tall on both sides of the road. The houses in the village were scanty and scattered, so were the people. Green cover and the barren roads were the only things visible all around. 
I noticed some perfect halting points. That village seemed to be the untouched paradise yet to be explored. After cruising off the whole village, I looked for a comforting halt. I found that under the shade of a grand banyan tree with its branches extending in many directions.
The moment I stopped the car, I closed the eyes of Tarushi with my hands and asked her not to open them without my permission.
Meanwhile, I opened one pack.
'Now, look at that,' I said.
'Wao! Truffle pastries, I just love them,' she was excited.
'That's why I brought them,' I said.
I spooned some chocolate icing in her mouth with my fingers. She licked them and I liked that. For the next few seconds, we relished our pastries. How could sandwiches lag behind? We then enjoyed sandwiches with pop cans of cold drink.
It was fun to have cold stuff in the cool weather.
A few moments later, I opened up the glove box and handed over something that was wrapped in a gift paper. Excitement and curiosity suddenly appeared on her face.
'Can I open it now?' she asked for my permission.
'Go ahead my girl,' I said.
'Searching My Land' by 'Parul Sharma'
She glanced at the title for a few seconds after opening the wrap.
'Wao! A novel,' she said.
A different kind of charm was on her face.
'Yes,' I said.
'Searching My Land…There is certainly something in the title. I don't know what? But, it is something I can relate to. It seems to be mine. I am feeling a sense of connectedness with it. I don't know why? You know, now this will be something on the top of my reading list,' she said.
'Do read it. It is very close and special to my heart as well,' I said.
'That's a done sort of thing,' she said and kissed the cover of the novel.
Her moist eyes, smiling lips and happy face indicated that I was rewarded for my hard work. She then placed the novel on the dashboard very delicately as if it was a sacred scripture. 
'Tarushi, just look at the weather outside, it's so pleasing!' I said when she was done.
We both looked outside and were lost in the beauty of Mother Nature. She rolled down the window and rested her chin on it to have a feel of the weather. The cool breeze was playing with the strands of her hair and she was enjoying that. The sky had turned almost grayish black.
I loved watching her.
I didn't know when my powerful emotions burst out and I took her hands in mine. She blushed and I stared.
'Tarushi I need you. Make me feel your love. I just want to get into your arms and absorb into them. Don't you need me?' I said.
'Dhruv, keep your emotions in control. They make me weak every time. Don't make your love a habit of mine. Don't add moments, I won't be able to live with the memories. I want to care but someone else is lucky enough to care for you. I am just a hapless girl. Leave me.'
'Don't leave me like this. I will die without you,' I said.
'I will die before you if you say this again. Come to me Dhruv.'
Suddenly, the heavy downpour started. The clouds that were planning since morning had now executed their plans. The downpour made inside out invisible and in this scenario, only we were the ones who were visible to each other.
The powerful vibrations of love ran within our bodies. We came closer and hugged each other tightly.
There was so much in those arms!
'Dhruv, come closer, hold me tightly. I want you only. Take my everything and in return, just love me. I am never loved in such a way,' Tarushi said and surrendered.
I ran my fingers in her hair, kissed her neck and the strong currents flowed in her body.
You know strong currents of love!
We kissed many times. I bared her upper part and clung to her bosoms. She pushed me more towards them. I loved them to the best. 
We were in the highs of love. She also came hard on me in between and physically overpowered me. We worshipped each other to the best we could.
Literally, we were one.
In all that, we almost forgot about our identity and our fate. We only remembered to love each other.
The moment I looked at her face, I noticed tears that were flowing down her cheeks.
'What happened to my girl? Why is she crying?' I said though I knew the reason behind her tears.
Those were the tears I had written in her destiny.
'See the fate of nature, we are so near yet so far and it is impossible to cover this distance in this lifetime. This is life. This is helplessness,' she said and shed more tears.
I simply consoled by taking her into my arms. 
"Dhruv, you know I am living under a strange kind of fear these days. That fear is tearing me apart, that fear is not leaving me, that fear is taking my everything away from me, the fear of the known. The greatest fears in life are not always unknown, the fears are the worst when known. I know this fear would turn my moments into memories, my dreams into nightmares and my everything would be reduced to ashes.
This is destiny…
Sometimes I look around and I don't find you and the very next moment, I find you within me. Sometimes, I feel the whole sky belongs to me and the very next moment, I start searching my land.
Days promise me of your presence and nights remind me of your absence.
When I don't accept my reality, I go into illusion. When I imagine things, reality haunts me.
Sometimes you become sunlight that brightens my everything and sometimes, I crave for my identity in moonlight.
In moments, I am happy and in moments, I shed tears.
Sometimes, everything seems permanent and sometimes everything momentary.
In moments, I am on the verge of making and in moments, I find myself breaking.
Sometimes, I answer myself for hours and sometimes in seconds, I start questioning myself. 
Sometimes…
Dhruv, Heaven and hell are not places, they are experiences.
All of a sudden, I fell into a lamenting kind of situation. I felt suffocated in a few seconds. I took some pause. After a deep breath, I finally spoke:
'Tarushi, the best of everything is waiting for you and very soon, the worst will die its own death. Soon, you would be free from the cage and that day you would have a fresh air to breathe, a new earth under your feet and a new sky above your head. A new life would spring that day and there would be festivity all around you. 
That's your destiny…
In my life, there have only been two ways – one way and no way.  Very soon, I will rest my life in my destined cage.
And that's my destiny…
Everything stilled for a few moments, a complete dead silence.
Sensing the emotional environment gripping us, I said, 'Look, someone is watching us.'
She suddenly pulled herself back to see if it was true.
'It was a sweet lie,' I said.
She looked at me with a cute frowning face and we smiled.
The weather outside was clearing up though not completely. We were almost back to normal mode. Within a few minutes, we were on the main road.
My plan till the moment had been a success. After college, celebration happened with Bhavya and Prateek. Later that evening, she celebrated her birthday with family and friends and kept sending me pictures.
Though, overall, everything went wonderfully well in a thought-out manner and that could be hailed as my achievement but something certainly left me wondering THAT DAY!

Chapter 37
"This man ruined my life, played with my feelings. I gave him my heart and he gave me betrayal. For me, he was my only man. Why couldn't I be his only woman? I didn't have any bad faith and never thought of cheating him. Why did he? How could his conscience allow him to commit this act of disloyalty? Didn't he fear of you God?
Now, you tell me what would I do by living? Do I see any reason? It's better I should leave this dishonest world and get rid of dishonest people having adulterated hearts. My soul is getting restless inside my body. I want to get rid of this pain. 
What is my fault? I want an answer.
Speak up your dog!" Aditi screamed on the phone.
"How can you dare to love again? Where are your tall promises and claims gone? Are you the same person whom I loved? Who I took pity on when he was craving for my love. But the reality is a man can never be loyal to one girl in his life. Sexual gratification is his only religion. The so called love of a man begins and ends at bed. Now, you would have needed someone else on your bed, you rascal," she resumed with more vigour.
I was silent though I knew some allegations were baseless. Silence was the demand of the time. But yes, I admit I needed love. I loved and that was my fault in her eyes.
'I see ending my life as the only solution.' These words of Aditi clogged my mind with fear. I broke my silence and said, "Don't do this please. I beg of you. I feel sorry. I admit my mistake. Don't say like this. Please pardon me one last time; I would not dare to love again in my life."
'What is the guarantee you would not commit this mistake again?' 
'Just trust my words and time. They won't betray you further. Just have faith,' I said.
'Your cloak of innocence has come down. Don't you say that swine? Faith is a fake word for bastards like you,' she shouted.
'Please Aditi, this is the only thing in our hands,' I urged her.
"I don't know what is left in our hands now and in our life, but yes, this mosquito repellent is surely in my hand that I would be consuming before you. You have taken the meaning out of my life. You have taken my colors, my dreams, my wishes, my everything. My body is no more soul-driven; it has become merely organ-driven. 
Expecting faithfulness out of a man is to expect nothing. I was wrong my man has a different color. But the reality is you men have the same colour and character. You men have left even chameleons way behind in colour and character.
Imagine the reverse of this story. You boys think you enjoy free license of enjoying with the girls, and if we do same, you call us whores. One thing I tell you if we girls become whores, in that case also, you boys are responsible.
I wonder why people tame animals when men are strong contenders.
Poor animals!
I see ending my life as the only solution. But before ending up my life, I will kill her, I will kill you. Then, I will kill myself.' Anger and disgust were again welling up inside her. She was screaming and crying loudly."
"Aditi, just last time. I am ready to do anything. Take a promise, take a swearing, give me punishment, give me curse, do whatever you feel right. But please put aside that mosquito repellent.
Please…please …" I almost begged.
"Listen, unfaithful like you otherwise don't deserve a mercy but the reason is that I am not the same, I give you a chance and a choice, either sever all the ties with her or see me dying before your eyes? You have to decide this very moment."
'I will break all my ties with that girl,' I said having no choice and chance.
"Block her phone number; block her from Facebook and all other apps, a total disconnection. I want, Right?
Even the shadow of that girl should not reside near you." 
'Yes, I will do the same in true spirits,' I said almost shattered.
'And one thing, I am giving this chance to my life, not to yours and remember, you will not love again in this life.'
Having said this, she disconnected the phone.
I fell into total voidness which nullified my senses. My mind was totally clogged and blocked to think of anything. All I could visualise was my falling world, withering dreams and faltering life. My feathers were cut, my wings were broken and I was tied in chains so that I couldn't fly further. My life was once again enslaved and captivated with no room for further liberation. My fate was sealed permanently.
This had to happen one day. In an attempt to make my life better, I had put two lives on stake. I assassinated two lives with my own hands. This holocaust was destined in my fate. How could I avert that? But I didn't know it would happen so fast and my world in making would be shattered in a fraction of seconds.
On whom should I pity?
Me? Or Tarushi? Or Aditi?
I was not even left with any option now.
Had Prateek and I not been thrown out of the class for being late, this would not have happened.
Had Aditi disconnected the call from the other side the moment I assured her of calling back, all this would not have happened.
Had I seen my phone disconnected before putting it into the pocket, this would not have happened.
Had unintended conversation not been fueled between Prateek and me regarding my embittered relations with Aditi and my falling in love with Tarushi, this would not have happened.
Above all, if my heart had been in my control, all this would not have never ever happened. 
After a few moments, when I checked my phone, the damage had already taken place. It was only to control the situation and to avoid unnecessary social drama that might follow afterwards in college, I steered my car towards the Sports Park in total mental disarray. Prateek that moment seemed to me a helpless friend who was just observing and witnessing my ugliest fate.

Looking around, I found the evening was shrouded in darkness. I was lying almost half dead in one secluded corner of the Sports Park. It felt as if this darkness would slowly take me into its clutches and I would be lost in that forever. In fact, I wanted to meet that darkness. I wanted the darkness inside me to meet the one that prevailed outside. My dark and dead lump be reduced to ashes; my name be lost to time; my soul be rested forever. 
My parents were the only reason I was still alive and my only reason of running my car towards home. Back home, I was rebuked heavily for not picking up calls, for not informing where I was lost and for repeating my same irresponsible acts again and again. My mom snatched my phone in anger and ditched it into the bin because she loves me more.
And about that bloody gadget, it rightly deserved that place and treatment.
The heavy parental dose I received that night only reaffirmed my faith that yes, my parents were the only reason I was still alive.
I didn't know when I slept and that terrible and horrified NIGHT SAW THE CRACK OF DAWN.

Chapter 38
Greatly perturbed by that night's incidence, I had stopped going to college. I was in a disturbed state of mind, so thought of staying back at home. My parents had almost decided that I was falling into depression. There might be visible symptoms. After all, outer is the manifestation of inner. I was obsessed by eating frequently, sleeping enormously and spending hours in thinking about my relationship.
My pops and mom were worried and asked me multiple times about my changed behavior but I was dead silent.
I was giving them pain for no reason.
But when your inner world disturbs, you start detaching yourself from the outer world and you are least bothered about what is happening around you. All this was happening with me. I was answering a tough call from my life.
On the other hand, Tarushi's calls and messages were coming countless on my phone. I didn't respond to a single call and a single message. I was at fault. I knew that.
I was escaping… I was running…but where? 
Perhaps I was trying to search a land where I could rest my life, find peace and be with myself.
In search of a much needed land!
BUT WAS THAT SO EASY?

Chapter 39
On the other hand, the date sheet for the final examinations was out. Only a few working days were left now. I got to know that from Prateek. 
In between, one night, Tarushi texted me– 'Dhruv I want to see you for the last time. Tomorrow is the last working day and I hope we can meet because life has already been so unfair to us.'
I hadn't much courage and replied back by a simple 'Ok.'
But, I had sensed everything that what would happen next.
THE LAST NAIL IN THE COFFIN!

Chapter 40
'Tarushi please stay in my life. Don't leave me. I will die without you.'
"Dhruv, if dying was so easy, everyone would have resorted to it. Dying like this is a sign of cowardice. It is escapism from life. Come out of your emotions and face life. Beautiful life is waiting for you. Aditi loves you a lot. Why are you making things difficult for everyone? If there is no future, then there should be no present."
'Tarushi I don't know about the future but I want to be your present, I want you to be my present. You take my everything but don't go away like this. I will falter.'
'Don't act emotional Dhruv. Emotions don't pay every time. I have come here to end the things gracefully. Our relationship started with a grace and it should end like this only. I know it will be tough time for both of us to get out of this. But have faith in time. If time is the problem, time is also the solution.'
'Tarushi I know why are you so hard? You want my happiness. You want that I should return to my old life. But I hate that life. I am scared when I think of it. Why don't you understand this very small thing? Don't leave me. Just be with me,' I held Tarushi from her back.
'Not this time Dhruv,' she pushed me back. 
'Dhruv try to understand the things. Don't behave like a child. We have to be mature. My role in your life is over. Why don't you understand this very thing?'
Her words were breaking me. Only I knew how I had controlled myself.
"And listen, today I want a promise. A promise that you will live that life which you have always visualised for yourself, the dreams which you have shaped for yourself. Promise me you will take your civil services exam. Promise me you will live your music. Promise me you will love you life.
Remember Dhruv there is only one life and there is only one You. I want to see you smiling and attaining great heights in your life, you know that."
'No, I will break every promise. I don't want any heights. I don't want anything in this life now.'
The tears burst out from my eyes.
'Tarushi, can I get last hug? I want to feel you for the last time. Please have pity on me,' I said being a looser at the hands of destiny.
She hugged me tightly in her. Her tender hug relieved me of my pain. I madly loved her in those few seconds because I knew only those seconds were mine now.
Moments later, she pulled herself back and said, 'This is it.' 
She started to move and I had started to feel helpless. My life was going out of my hand and I was experiencing that terribly.
'Tarushi we will not meet again in life? We will never be able to love and live like this in this whole life?  We will get lost in this world as strangers? Why is life so brutal to me? What big thing had I demanded from life?' 
She was moving and I madly followed her.
I was left unanswered today.
She silently went into the car, started it and left college. My roars of cry swallowed into the deathly silence that followed afterwards.
She was gone forever.
The light was gone out of my life.
In a quest of finding myself, I lost myself forever!
Vacuum and void filled within me. The joy and happiness vanished. The rejuvenated inner was dead again. Heart cried to speak its tale. Mind became numb and time stopped. 
Tarushi I know, you are totally broken from inside. I know, you took scars on your heart to heal my heart. But, I assure you my heart will always have a special place for you. I will worship that sacrosanct place.
There, I will protect you from the eyes of everyone. It will be a place where you will speak and I will listen. I will love and you will feel. Where there is no need to define a relationship and where love defines everything.
Where only we will be special to each other.
Where there will be no fear, no restrictions and no taboos.
Where the day will start with our love and end with our love.
Where we will croon our songs and dance to our tunes.
Mornings and evenings will welcome our love.
Days, months and years will be witness to our love.
Here, perfection will exist. This will be a heavenly place and all the blessings will be showered on us.
Even Gods would love to visit this place. Once they visit, they would find reasons to come. Reasons would become scanty but visits won't.
There would be festive environment where we would celebrate our love. The tale of our love would be on everybody's lips and every heart will sing our songs.
Where there would be your Dhruvi and my Taru. 
This is where I would keep you for the rest of my life.
Life is not about creating space in this world. It's all about creating space in the heart.
The residence in the heart is the best residence. 
Else is illusion!

With dead heart, dead hopes, dead dreams and dead everything, I reached home.
I didn't talk much at home and went straight into my room. My mom looked more worried than before as her son was not showing any sign of improvement.
In the evening after my pops came back from his office, my parents came to my room. They both looked at my gloomy face. It seemed as if they were begging for a smile on my face.
Even I wanted to help them through this. But I couldn't. 
I was sitting as a dead lump of mass. Meanwhile, my mom started to cry.
"What has happened to my child? What is troubling him so much? I want my happy child back. Look at your face Dhruv. It has grown so pale and weak. If there is any problem, you can tell me. You can share with your pops. I and your pops will take care of everything. We are here to take care of all your worries. Do you hear that? Dhruv – Love life, this is the only way of living life," my mom was trying every means to console me.
'Come here, come to me Dhruv.'
The moment my mom cuddled me in her arms, I couldn't contain my emotions and I burst into tears. The gobs of tears flowed as if they would not stop today. 
That evening, one cried with me and one cried for me.
My pops let that outburst happen. After I was over, my pops said – 'He is now absolutely fine. He is our brave boy. The ups and downs are part of life. Right Dhruv?' 
I just nodded.
'Now, leave everything and let us dine. You know your mom has cooked your favorite dish,' my pops said. 
After we had dinner, I assured my parents that I would be fine.
The only thing in my hands...
In my room, I switched off the light and got into bed. My mind started to wander in the thoughts of Tarushi. A strong urge to see her arose in my heart but I felt myself feeble.
Suddenly, the words of Aditi echoed in my mind and scared the wits out of me. "Even the shadow of that girl should not reside near you."
In moments, I felt as if some shadows were approaching towards me and soon they would engulf me. They were about to overpower me when I closed my eyes. I quivered. I didn't open my eyes for a few minutes.
By the time I opened my eyes; I found that all the shadows had disappeared but one shadow didn't leave.
I hid myself into the darkness of the room..
BUT THAT ONE SHADOW DIDN'T LEAVE!

Chapter 41
I woke up early next morning. It was still dark outside. The sky was waiting for the sun, so was I. 
I wanted the sun to conquer darkness and light up everything. I wanted to meet that energy and life. I remained in bed, closed my eyes and started to meditate.
A way of calming the mind.
In a quest between darkness and light, the light prevailed. The sun was able to search his land by dispelling the darkness. This was my first observation the moment I opened my eyes. I pushed the curtains of my room aside and allowed the sunlight, that energy to enter.
Soon, there was light all over.
But, within me???
After my parents left for their work, I didn't know what came in my mind; I picked up The Fault in Our Stars, got into bed and started to read it. After reading many pages, I stopped at one point that read – 'Pain demands to be felt.' 
I started to ponder over it until I came with a conclusion.
Just as pain demands to be felt,
Vacuum demands to be filled…
I was about to think further when my phone buzzed.  I didn't check that unfaithful gadget. 
I got out of my bed to keep the novel aside. But my eyes stopped at something. 
A pen lying on the table of my room.
IT WAS SMILING...
