Sensitization program on agribusiness entrepreneurship development through agro processing  
Event organized at Malakpur Bet by ICAR-CIPHET Ludhiana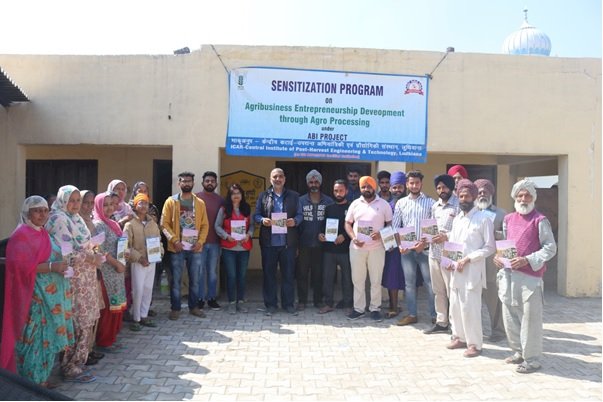 Ludhiana: Agribusiness, the business sector encompassing farming and farming-related commercial activities which involves all the steps required to send an agricultural good to market: production, processing and distribution. 
For the agrarian based countries such as India it can be an important component of the economy and growth.  But due to lack of awareness farmers/budding entrepreneurs are not getting any benefit. 
Keeping in view the above facts, under ABI project, ICAR-CIPHET Ludhiana conducted one day Sensitization Program on Agribusiness Entrepreneurship Development through Agro Processing on March 3 at Community Centre, Malakpur Bet, Ludhiana and 25 budding entrepreneurs/farmers attended the same. 
Dr. Ranjeet Singh, PI ABI delivered lecture to sensitize the agro processing activity under ABI and various post-harvest and value addition technologies offered by CIPHET and assured them that all possible help will be extended for establishment of agribusiness unit and start-ups.