Special Olympics made me self-reliant and also independent: Sahil Singh
23-year-old Sahil Singh from Lucknow suffers from Down's syndrome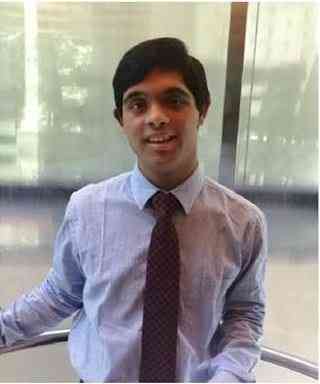 Sahil Singh.


New Delhi: 23-year-old Sahil Singh from Lucknow suffering from Down's syndrome was invited by Down Syndrome International which was to be held in Geneva to participate as a Speaker (Safety Advocate) on Down Syndrome Day 2020. This was nothing new for Sahil. he has been continuously participating in such international events and forums.
 
Sahil has been actively participating in various forums since 2015. Sahil attended the 12th World Down Syndrome Congress held in Chennai that year. It was in this event that Sahil got a chance to meet some other people suffering from Down syndrome and learn a lot from them.
 
After this Sahil introduced himself as a growing leader and participated in many events. Sahil was called to the Athletes Leadership University Program held in New Delhi in 2019. Subsequently, Sahil participated in the National Youth Summit 2019 and then became part of the Youth Activation Summit held in New Delhi in January 2020. The SNF funded Unified Sports Activities gave Sahil's personality a new height.
 
His moderation at 3rd International Down Syndrome Conference in Chandigarh in September 2019, inviting the speaker of keynote address, Dr. Bhavani Sriram, Specialist in Paediatric Medicine (Singapore) on stage, chairing her session with him.
 
All these achievements for Sahil and his family were unexpected because Sahil's condition was that he could speak only four words till he was four years old. The children usually start speaking in 6 to 9 months but Sahil spoke his first word when he was two.
 
 
Sahil is rich in multidimensional talent. He is a good speaker as well as quite good in sports. Under the supervision of his early-day coach Poonam and then later Mohammed Ayaz, Sahil achieved unprecedented success, winning medals and certificates in athletics, swimming, cricket, basketball and softball.
 
Sahil took part in the Special Olympics Asia Pacific Regional Games held at Newcastle, Australia in December 2013 at the international level. Here Sahil won a silver medal in the Aquatics 50m freestyle and finished fourth in the 25m freestyle event.
 
At present, Sahil is an assistant coach for Special Olympics and Yoga in his school.
 
On a regular day, Sahil loves to take his pet dog Whiskey on a sub-morning walk. Apart from this he goes to his school and then visits the cricket academy. Finally Sahil does not forget to go to the gym. Sahil has developed the power to concentrate within himself on the strength of his ability and will.
 
His mother, Dr. Bhavna M. Singh says that when he is alone and not accompanied by anyone, he is more comfortable.
 
Sahil also loves to be on his own and believes that the Special Olympics have helped him to a great extent in becoming capable. Sahil said- I like freedom. And that's why I love Special Olympics. I have made many friends. I want to open a cricket academy. I want to make many friends there too.