Surprise check of 30-bedded government hospital in Jawaddi conducted
It was done on directions of Cabinet Minister Bharat Bhushan Ashu BY MC Councillor Mamta Ashu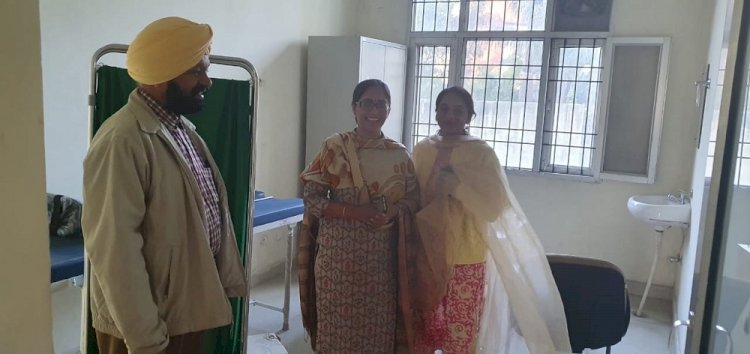 Ludhiana: On the directions of Punjab Food, Civil Supplies & Consumer Affairs Minister Mr Bharat Bhushan Ashu, his wife and MC Councillor Mrs Mamta Ashu today conducted the surprise check at the newly opened 30-bedded government hospital at Jawaddi, here today. Mrs Mamta Ashu informed that this surprise check was conducted after they received several complaints that a particular paediatrician, who is deputed in this particular hospital, either remains absent or reports on duty late.
Mrs Mamta Ashu informed that she visited the hospital at 9:40 am today and the paediatrician was absent. This matter was brought to the notice of Mr Bharat Bhushan Ashu, who directed the Civil Surgeon Ludhiana to issue a show cause notice to the said doctor.
It is pertinent to mention that this hospital was started on February 5, 2020, and would have all facilities such as operation theatre, private rooms, emergency facilities, trauma ward etc. This 30-bedded government hospital was lying non functional for the last several years and it was only after the efforts of Mr Bharat Bhushan Ashu, that it became operational.
A dispensary of ESI Hospital was shifted into this hospital building few months back and since then, it has been fully operational and a large number of area residents are visiting for treatment. New ultra modern equipments have also been shifted/installed here.
Mrs Mamta Ashu informed that this hospital was a long pending demand of the area residents, especially those from weaker sections of society. She said that Emergency Medical Officer (EMO) Dr Surinder Kaur along with four specialist doctors have been deputed in this 30-bedded government hospital, which would be like a branch of the main civil hospital.
Mrs Ashu informed that the specialist doctors deputed in this hospital include a paediatrician, medicine, dental, gynaecologist and a pharmacist, along with other staff. She said that regular surprise checks of all government hospitals and dispensaries would be held in the coming days as well as urged the officials to work wholeheartedly for the welfare of citizens. /(Feb 13)