Tanshu- rolling over the odds
He is being cited as a success story, a winner to other children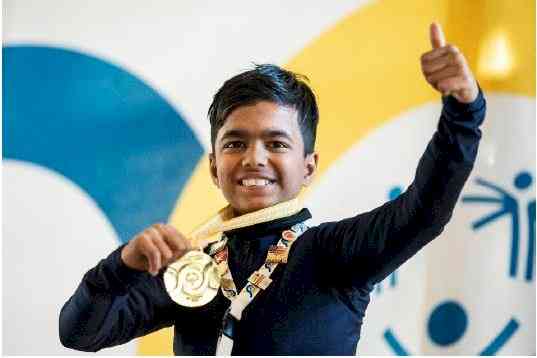 Tanshu.


Delhi: Tanshu, 15years, won two Gold, one each in 333 meter and 500 meter speed skating at the Special Olympics Invitational Games 2020 held in Sweden from 1-4 February 2020. Having fallen on the track and yet having continued to challenge his closest competitor would surprise anyone of exemplary grit and skill booming within such a small frame. This was at the Special Olympics Invitational Games 2020 held in Sweden from 1-4 Feb 2020. A participant along with 450 Athletes from 19 countries turned the conversation from disability to outstanding 'ability'. Tanshu proved everything that his mother had trusted in. Her strength, her conviction and resolve to bring out the best in her son glittered at the event. When he was born, there was nothing about him that told his parents about any challenges. As he grew the fact that he never spoke, and more of such delayed milestones drew attention of his parents to a possible anomaly, on which they were proved right. While they went ahead with getting him to join a mainstream school, the teachers once again confirmed that he is unable to cope with studies as is 'normal'. Tanshu too used to cry bitterly on his way to school. Nothing seemed right.
 
The confirmation hit his parents hard as he was their first child and they had to find a way to support him with restricted options in a small town. 'What lies ahead of our son troubled me immensely', said his mother. Tanshu stayed home for 5-6 yrs before he joined the Vatsyala School. He took naturally to sports- Skating and Swimming. Painting too caught his attention and interest. He even won a prize in painting, presented to him by the then Governor of the State , Mr Solanki.
 
About eight years back, the family stood by each other in the face of a tragedy- Tanshu lost his father. While attempting to come to terms Champion stories 2020 8 Feb 2020 with the tragedy , they also confronted financial difficulties. Coach Chandrahas Sharma from his school, became his mentor , guiding him in sport as well as facilitating with the equipment required for it. How to pay Tanshu's school fee caused the greatest strain to his mother. However, that was waivered, enabling him to continue with his education. Finances continued to pose a challenge as speed skating required a specific venue and equipment with an enormous regular practise fee. Fortunately people came ahead with the required support leading to his victory.
Having arrived in New Delhi early morning after the event at Sweden, he reached his hometown by 3PM where he had the members of the Ambala Cantt board as well as his school authorities waiting for him. Tanshu's victory and his thriving personality, the joy he feels brings great delight and a feeling of achievement to his mother , who runs a small tea shop to make ends meet. The remarks that had pierced her heart back then , now are just a faded memory. "He has no brain, he can't speak, and now he has hurt himself as well" , a comment from a neighbour , once when he hurt himself while playing.
 
"He never spoke with anyone, now he has become so social. He has learnt manners, he follows time and discipline. He has never gone out alone, and even I could never have imagined that he would some day.
 
Now he has. My Tanshu is being cited as a success story, a winner to other children. In his special moments he misses his father, shows his picture his medals and feels happy. Special Olympics has brought hope and has brought a smile to our face" – Ms Rajni Bala, Tanshu's mother.