The Making of Hero: Sunil Kant Munjal's New Book traces origins of Hero Group
The Book brings to life Hero Group role in revolutionizing India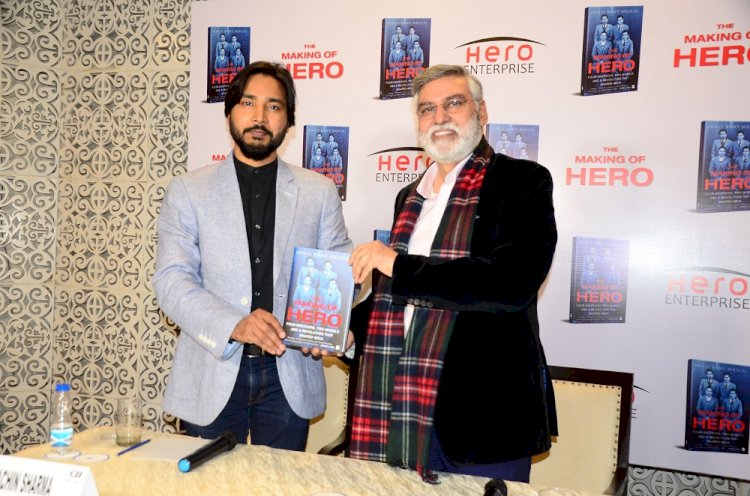 Authored by Hero Enterprise Chairman Sunil Kant Munjal, book narrates story of Munjal brothers whose vision shaped the world's largest bicycle and motorcycle manufacturing firms

Ludhiana: From a humble bicycle parts manufacturing business started by four partition-displaced brothers to a global force in the two-wheeler industry, the Hero Group has come a long way! The story of this historic journey, which in many ways mirrors the journey of Independent India, is the subject of Sunil Kant Munjal's new book 'The Making of Hero: Four Brothers, Two Wheels and a Revolution that Shaped India'.
The book was launched here today in the presence of leading industrialists Sajjan Jindal of JSW Steel and Kiran Kumar Gandhi of the GMR Group, the author, and members of the Hero family.
The book narrates a real 'Make in India' story that unfolded decades before the phrase entered popular lexicon. It captures, in myriad ways, the struggles that the Munjal brothers experienced while taking their modest business to great heights.
"When you look back at the journey of Hero, you see close parallels with the story of India's emergence. Hero Cycles was born out of a desperate attempt by my father and uncles to survive and provide for their families. However, with time, vision diligence and plenty of common sense, Hero evolved into a global force with leadership in multiple businesses. This book looks at how the Hero ecosystem was built, and the factors that led to the success," said Sunil Kant Munjal, Chairman, Hero Enterprise.
The book launch was followed by an interesting panel discussion: 'Togetherness Lesson for Gen Next' between Sajjan Jindal, Kiran Grandhi and the author, and moderated by eminent journalist Shekhar Gupta. Among various aspects, the panel spoke about the impact of elders in the family, forces of change, and the need for family members to communicate with each other even as the family grows new branches.
The book, in fact, makes a deep dive into the 'family spirit' that pervades the Hero Group; one that brought employees, customers, channel partners, suppliers and local communities together to create success, welfare and well-being for millions over the past seven decades.
"The story of India's transport revolution is intertwined with the story of Hero Cycles. I have also tried to show how people in a poor agrarian economy with limited means of transportation experienced freedom through our bicycles, and later, in the 1980s, as a middle class emerged, experienced aspiration through our trouble-free and long-lasting motorcycles," explains Sunil Munjal.
Hero began its journey in the 1950s by trading in and manufacturing bicycle parts. In subsequent decades, the founders diversified into bicycles, mopeds, automotive parts, motorcycles and scooters, and today the restructured group also encompasses service businesses and infrastructure. In 1986, thirty years after its inception, Hero Cycles became the largest bicycle maker in the world. In the next fifteen years, the motorcycle venture Hero Honda also became the largest in the world, and both pole positions are held firmly even today.