Throw garbage only at designated places, says Ferozepur DC
Stresses upon keeping surroundings clean and green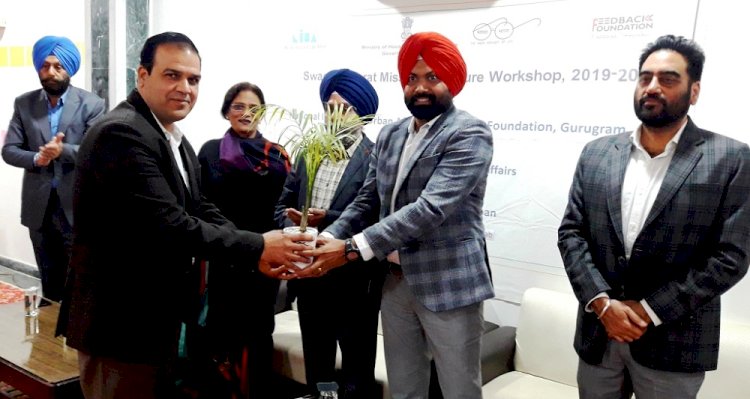 Ferozepur: Addressing the inaugural ceremony of a three-day workshop on solid waste management, Deputy Commissioner Ferozepur Mr. Kulwant Singh called upon people to be an active participant in the cleanliness drive. The workshop has been organized jointly by PIMDC and the ministry of Housing and Urban Development, in which representatives of 60 MCs are participating.
 
Inaugurating the workshop, the deputy commissioner urged the people not to throw garbage at any open space and use the designated places for dumping the garbage. He said that it was a matter of immense pride the Ferozepur city has been selected for the state level workshop as the Municipal Council Ferozepur has done quite a good job in waste management in the past. While soliciting the people's support, Mr. Kulwant Singh appealed people to keep their surroundings clean because that's how this drive could be made a mega success adding he asked the officials of various MCs to play a pro-active role to aware people about this drive besides enforcement job.  The deputy commissioner then urged people to segregate the bio-degradable and non-degradable waste at their home as both type of waste requires different treatment.
 
Addressing the gathering, ADC (G) Mr. Ravinder Singh said that today most of the diseases are spreading out of filth and it was the need of the hour to be cautious in terms of cleanliness. 
Divulging more, executive officer of Ferozepur MC Mr. Parminder Singh stated that the council has done an outstanding job in the field of solid waste management in the last three years, which made the authorities select Ferozepur for this state-level workshop.
 
He further added that during three days workshop there would be lectures on various techniques of waste management, production of compost from kitchen waste, adaptability of waste management practices as a source of income and many more important issues. He said that the teams of expert will make some field visits to evaluate the work done by MC under cleanliness drive.  Prominent among others present on the occasion were Joint Director Local Bodies Department Mr. Kulwant Singh, Mrs. Madhu Parashan from Dev Samaj College, CEO national institute of urban affairs Mr. Ajay Singh, SDO S.S. Behal, Sanitary inspection Sukhpal Singh and Gurinder Singh.